Our little meals of March 2022
Good morning !
Sometimes, we are trying to eat without starches, to make our meals lighter to digest .. and also because it uses less pans .. haha 😄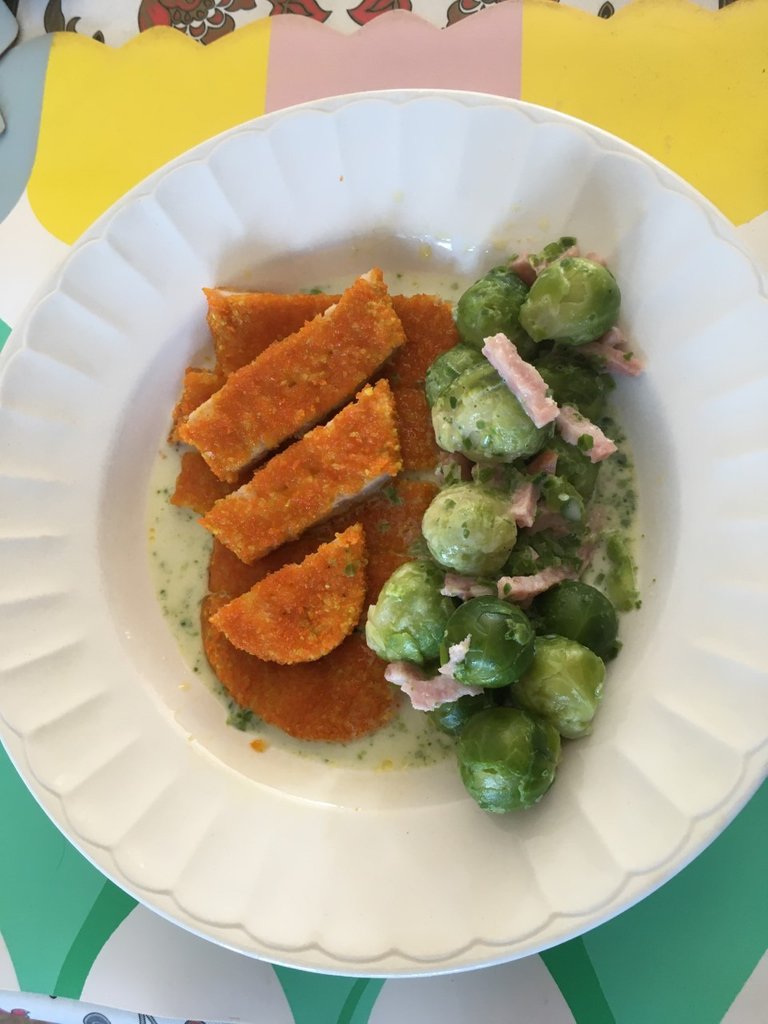 Turkey schnitzel with Brussels sprouts in a bacon cream sauce
We ended the pack of frozen kebab, yes ! It tastes good, but it's not as healthy, so even if it helps, we won't buy it anymore.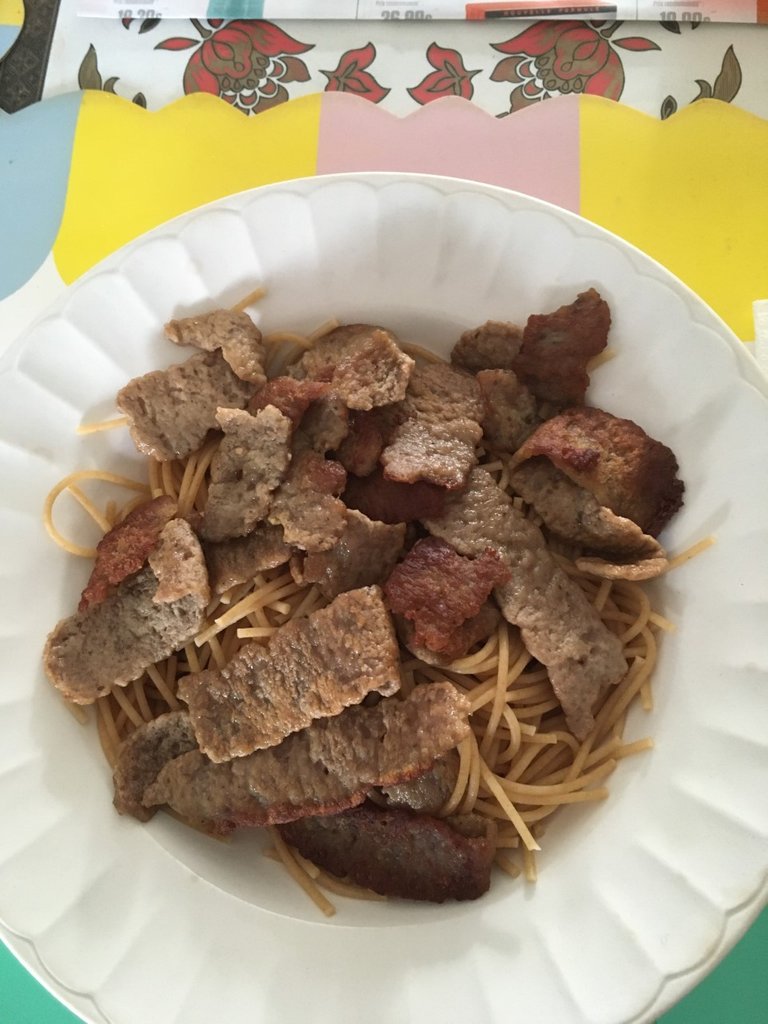 Whole wheat spaghetti and kebab
During a walk, we went to discover a butcher's shop not too far from our place and we took the opportunity to get a few things, like the American prepared beef that you can see below in our plate. I also tried the American prepared horse meat which was very good.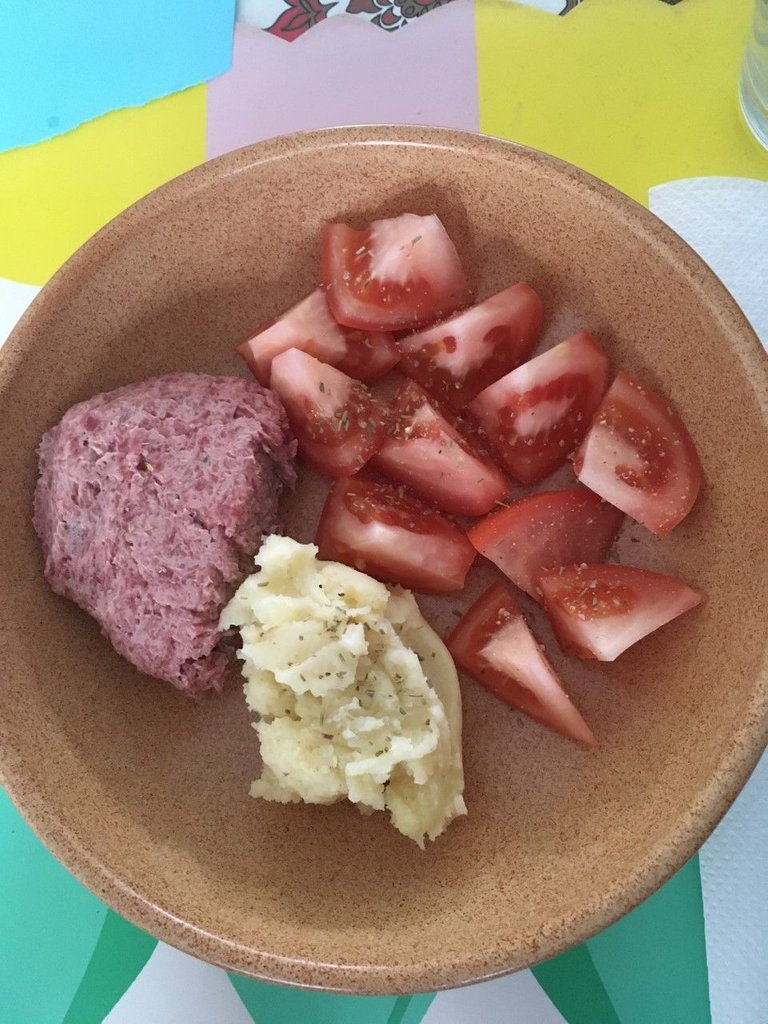 American prepared beef, mashed potatoes and tomat
It was a sunny day, so we wanted freshness on our plates too.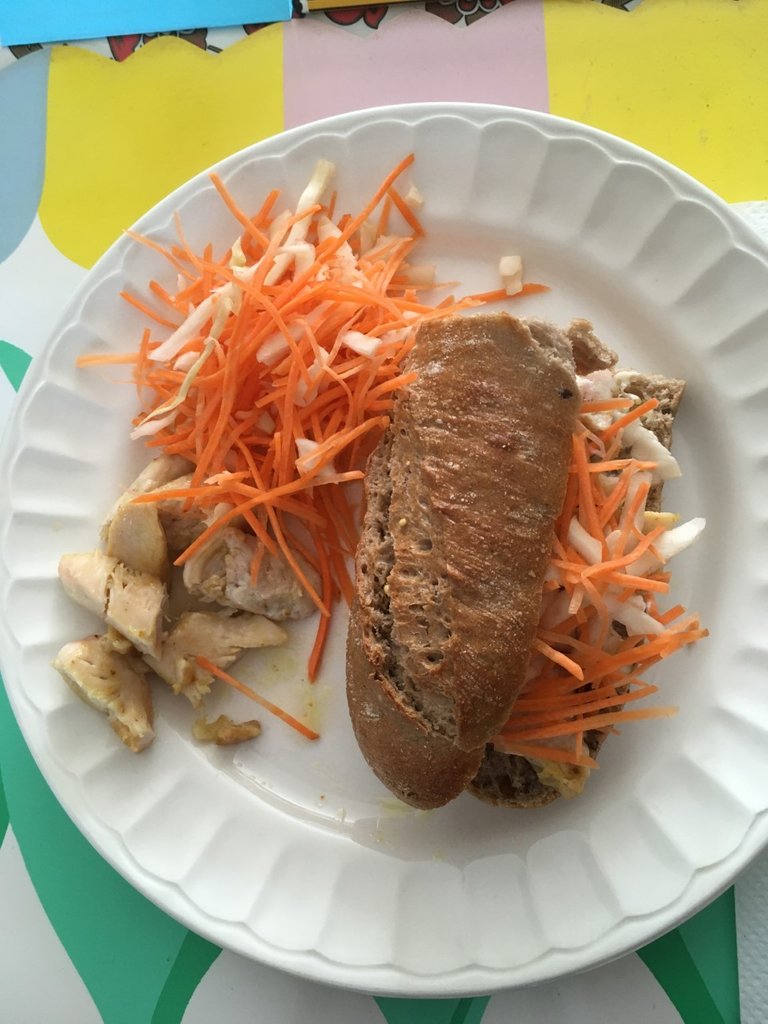 Wholemeal baguette, diced chicken, carrot and white cabbage salad and sauce of your choice
Sometimes we get free new products from our supermarket when we pick up our groceries. This time it was a Pilsner beer.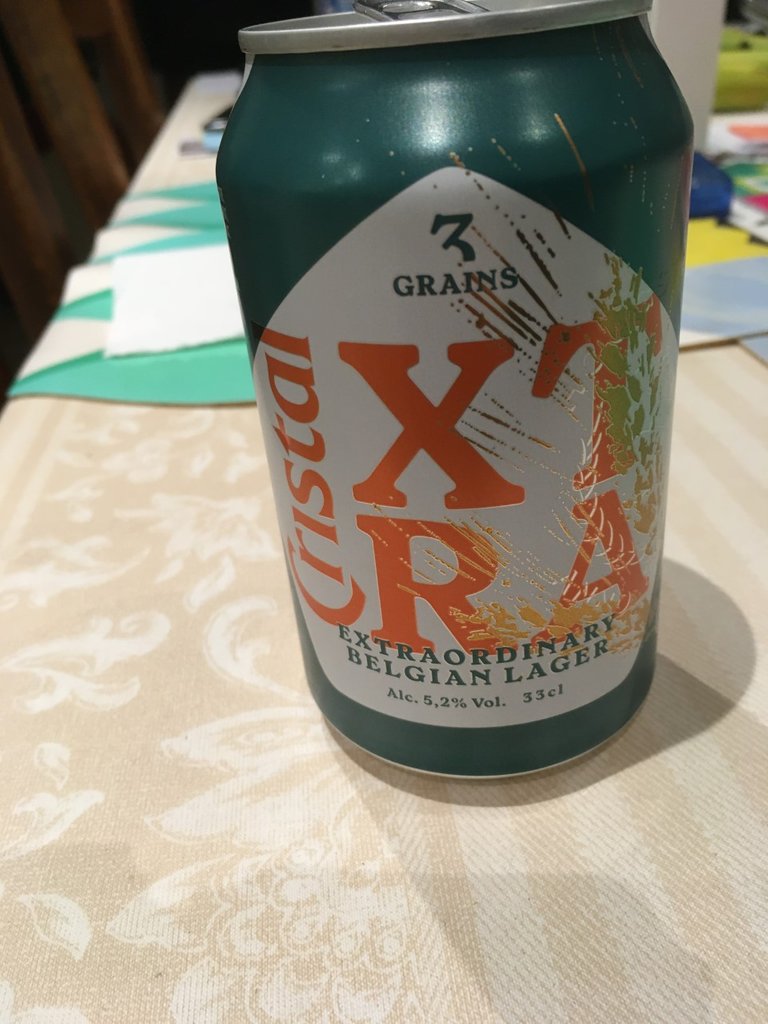 Beer Cristal Xtra Pils
It's not bad, but the Pilsner is not my favourite.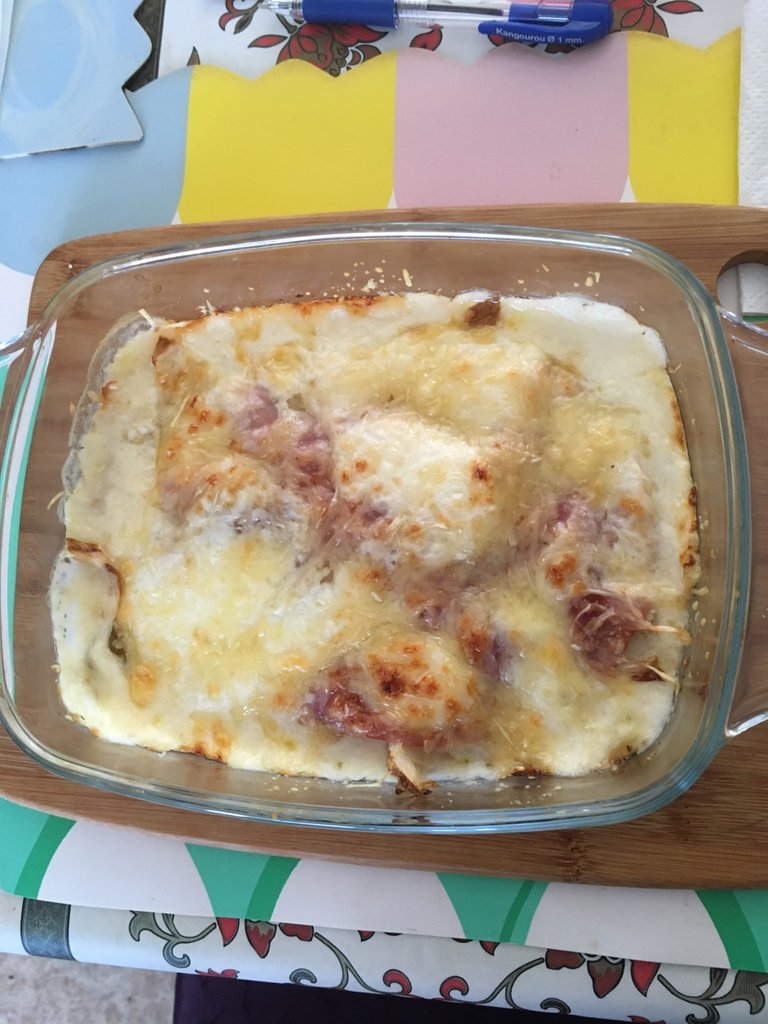 gratin of ham rolls with endives
Our famous "chicons" au gratin, always delicious! For non-Belgians, these are endives wrapped in a slice of ham with béchamel sauce 😋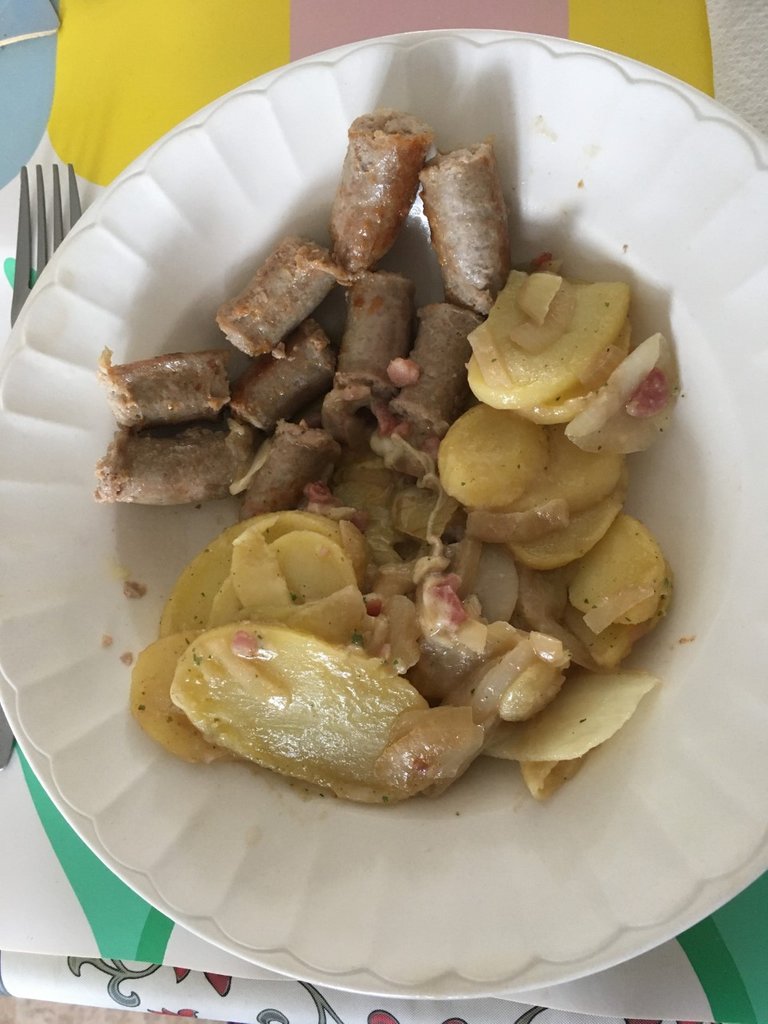 Chipolata and country-style pan-fried meat
I saw on our local facebook page that there was a burger foodtruck setting up shop on Wednesday mornings in a garage car park. The meat is Irish beef, the fries are very good, the raw vegetables and other toppings are fresh.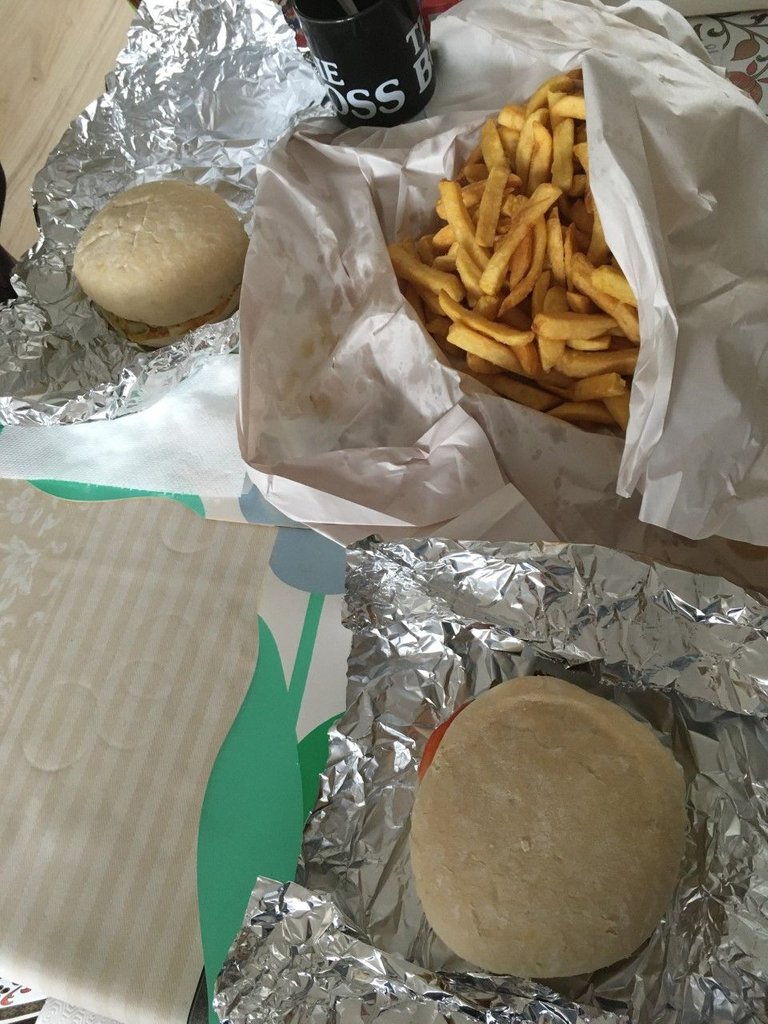 Cheeseburger and Melau Burger and a small packet of fries
The cheeseburger is made with cheddar cheese while the Melau is made with roquefort cheese. The prices are reasonable for the quality. 9,50 EUR for the average burger. The small fries pack was 2,50 EUR and you can see on the picture that it's overflowing from the rack that you can't even see it anymore!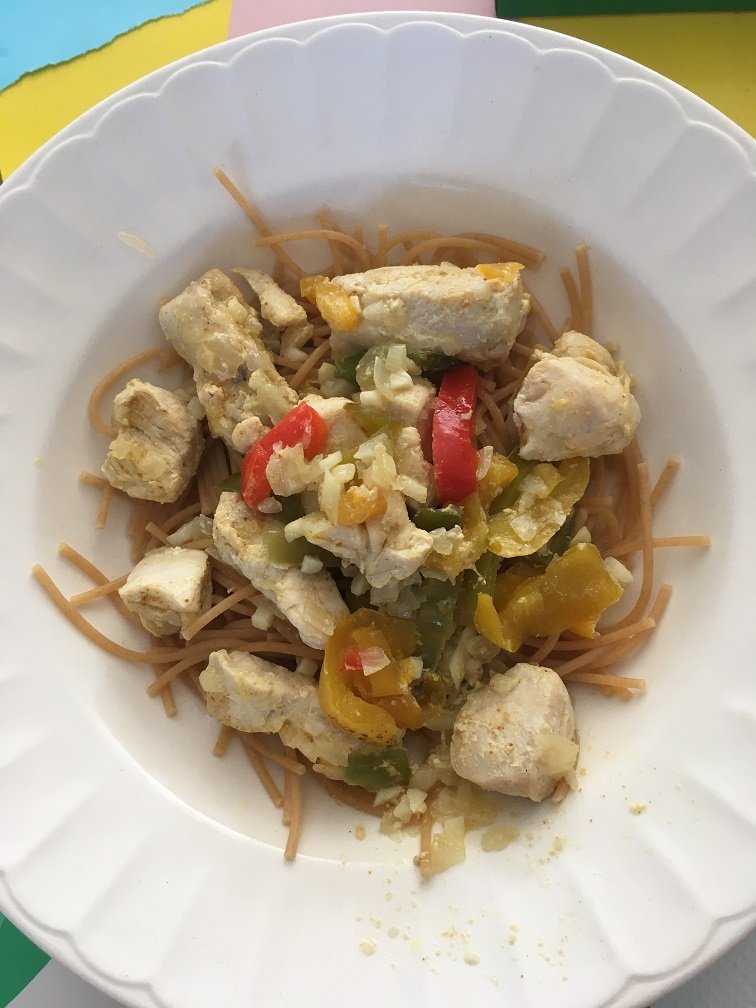 Chicken cubes, peppers, onions, garlic, white wine and whole wheat spaghetti
We reduce the portions, we are sometimes still hungry before the evening meal, but then we eat 1 fruit or a yogurt or we drink some soup.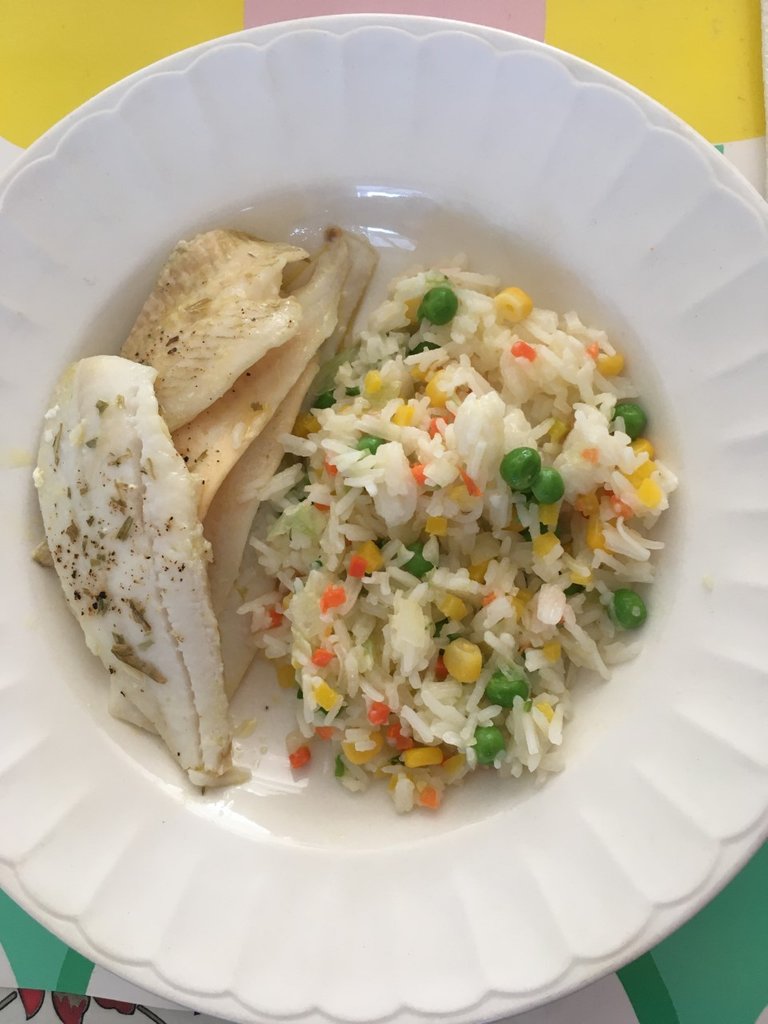 Dab fillets and basmati rice with vegetables
To change from hake or cod, I took advantage of a promotion to try dab. Well, it's very good!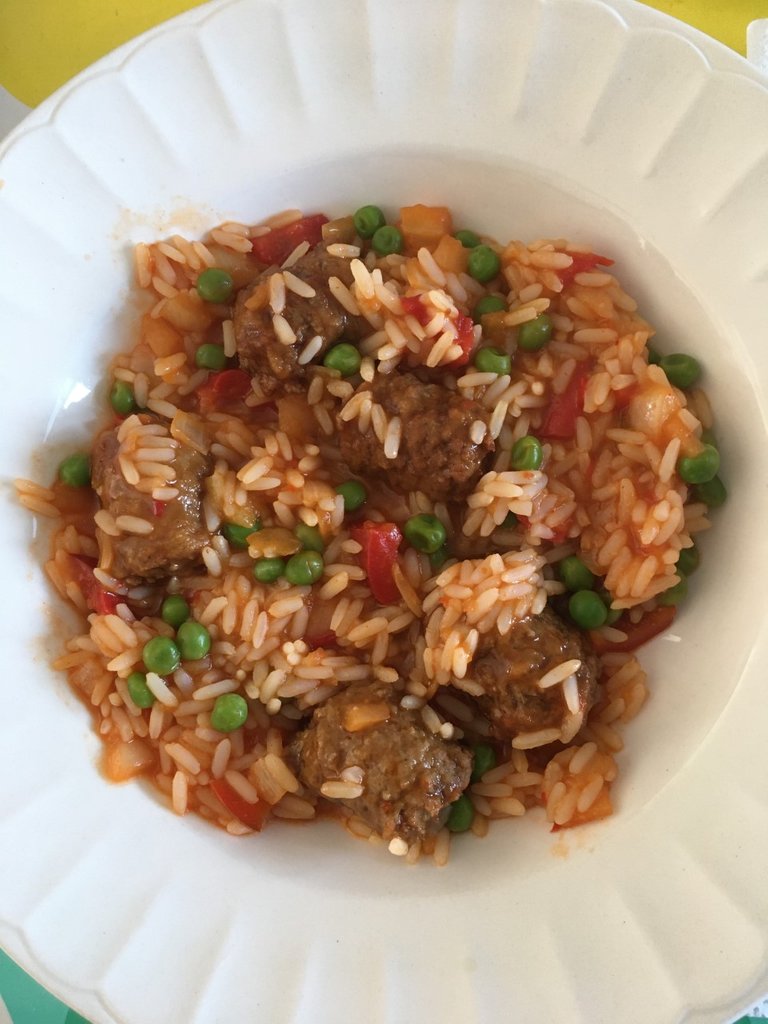 Pan-fried cevapcici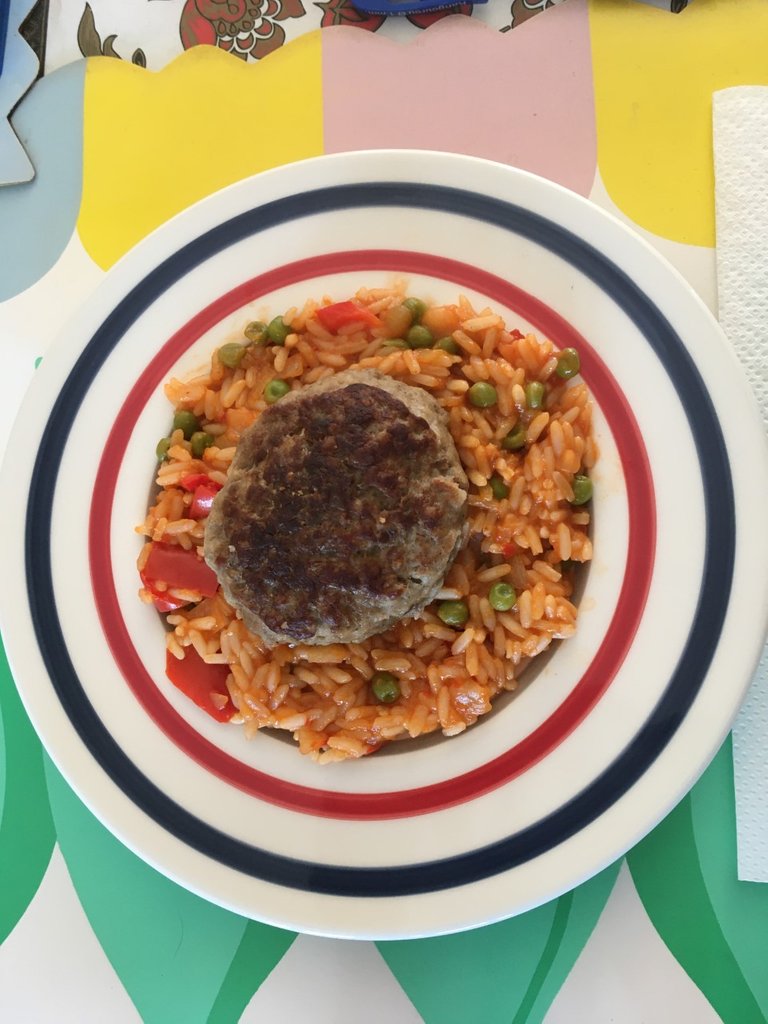 End of the cevapcici and fricadelle frying pan
Usually we ate the 1kg package of cevapcici in one meal, this time we divided it into 2/3 and 1/3. To complete the 1/3, we added a fricadelle as they call it, we would rather call it a meatball.
I used a smaller plate as well so it looks full anyways.
.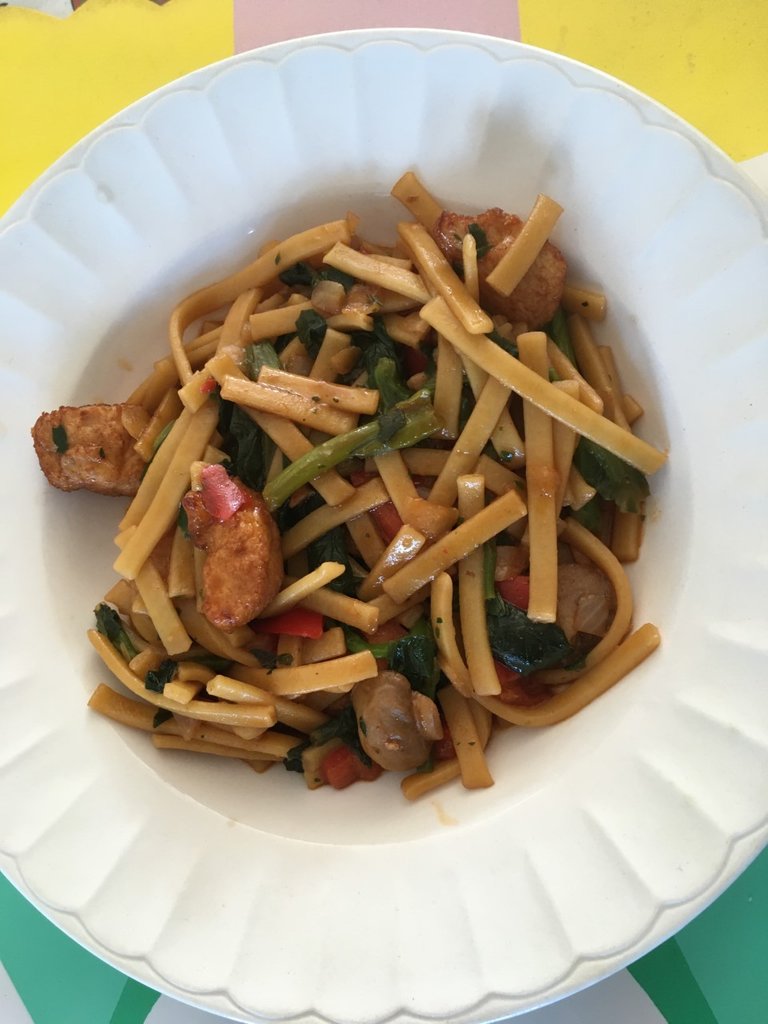 Teriyaki Chicken Fry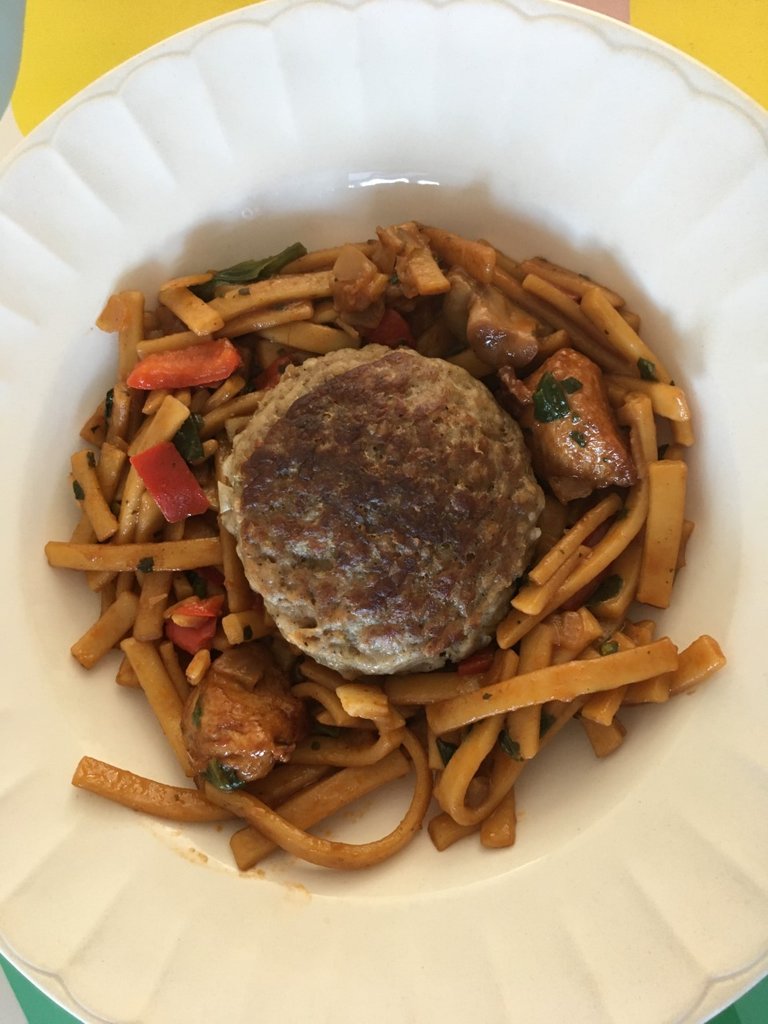 End of the chicken and fricadelle teriyaki pan
Again with this one!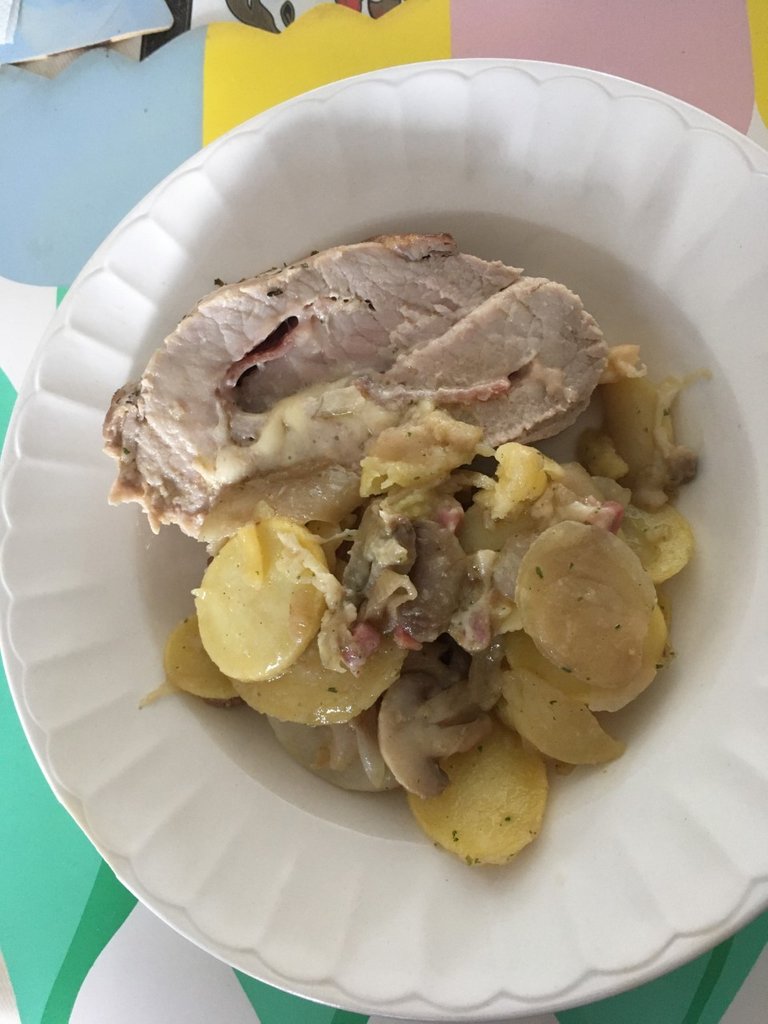 Orloff roast and country-style pan-fried meat
I ordered 10 steaks at the butcher's shop in the supermarket. Well, I got an Orloff roasted beef instead! The shop offered to keep and eat the Beef and promised to bring the steaks, later, free of charge.
I rarely order Orloff roasted beef for the two of us, because it makes 3 or 4 meals and you can't cook it several times making it way too dry.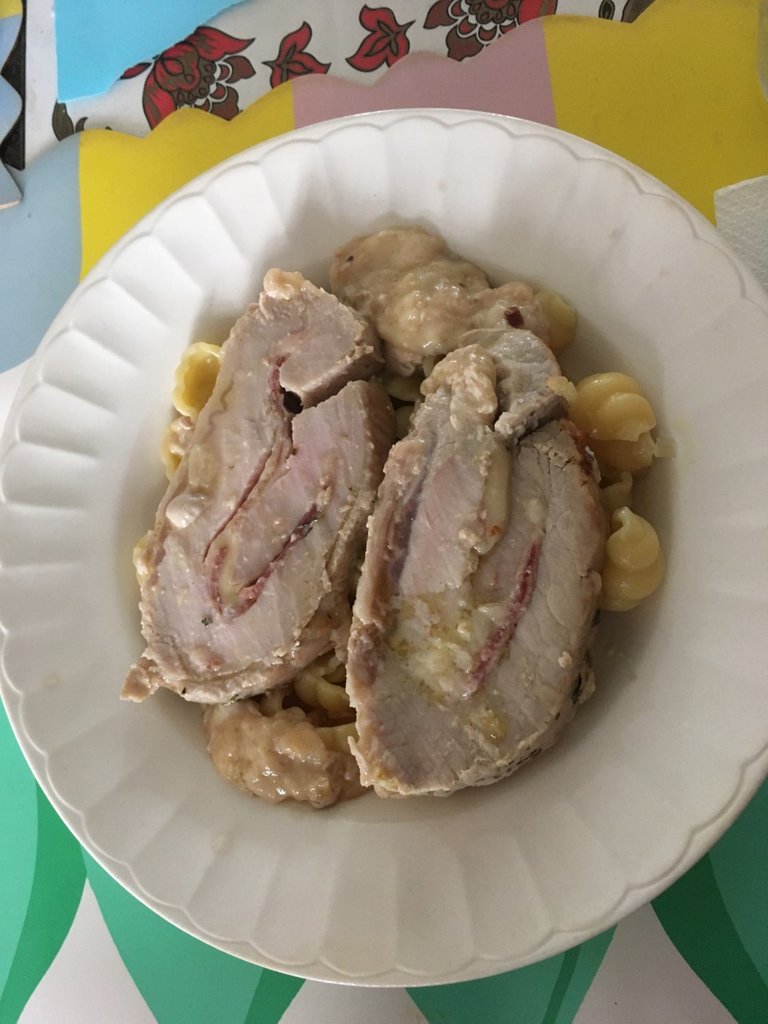 End of the Orloff roast and gnocchi
After these well-filled plates, we were no longer hungry! lol 😂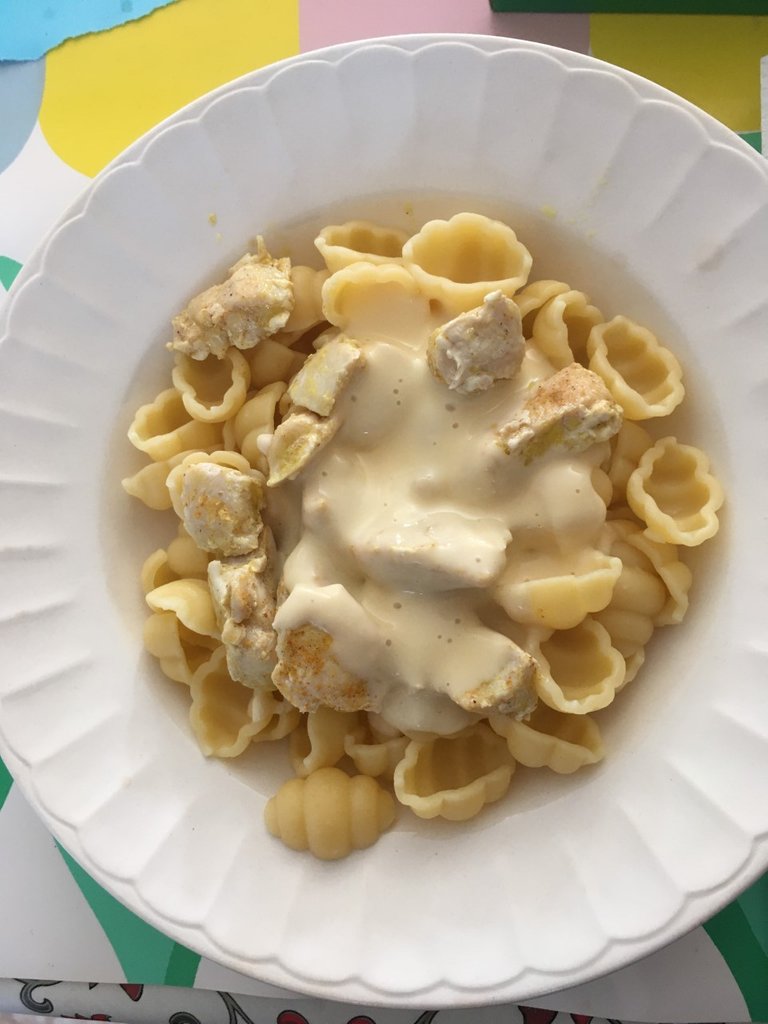 Chicken, gnocchi and cheese sauce
We are gradually eliminating our stock of white pasta, here with the gnocchi.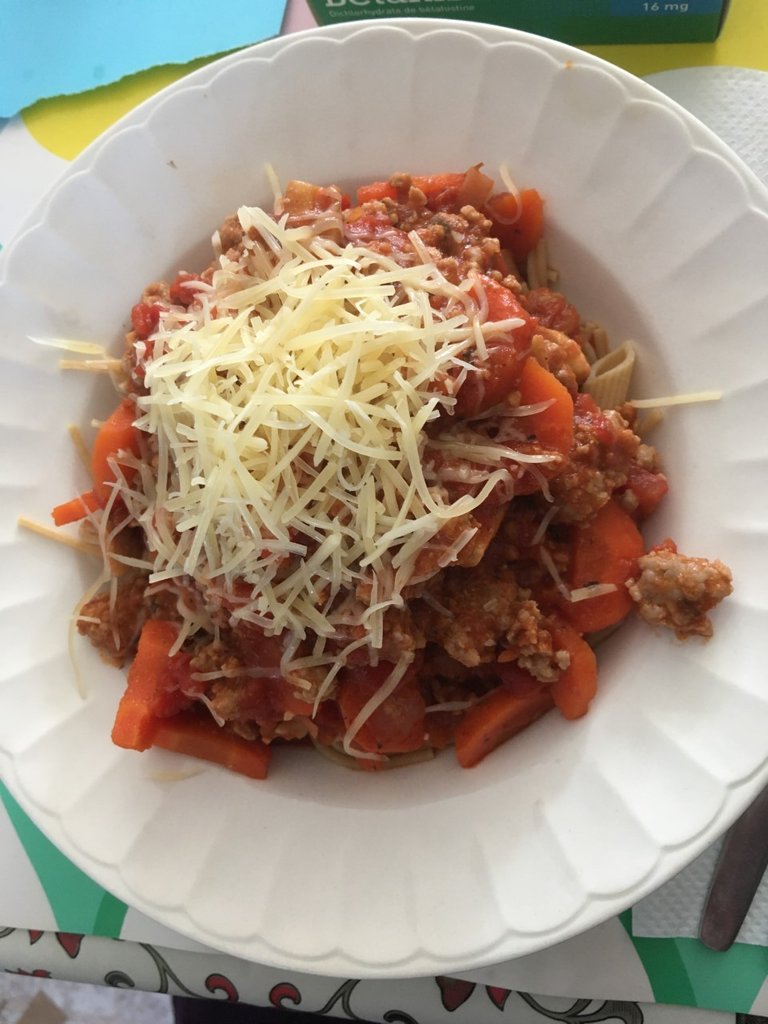 Whole wheat pasta with homemade bolognese sauce
Ithara would easily eat pasta bolo every day!
But to change the meal, I changed to a grilled version of it: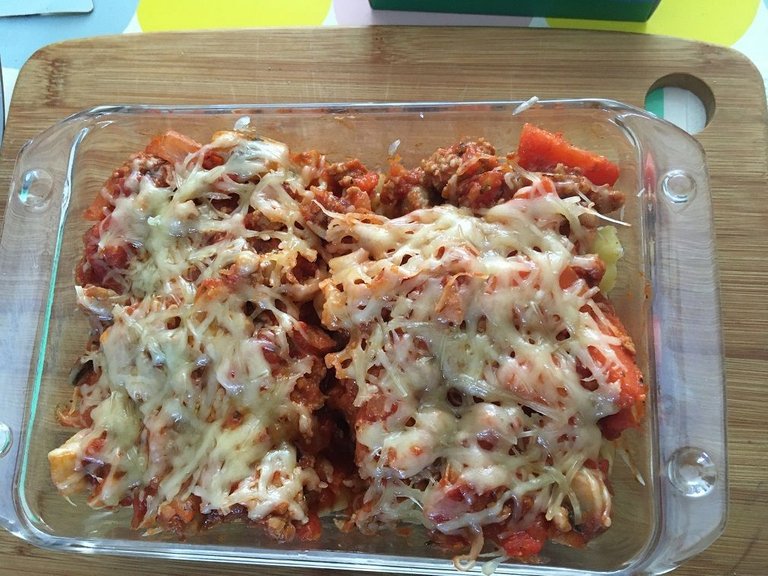 Pasta Bolognese Gratin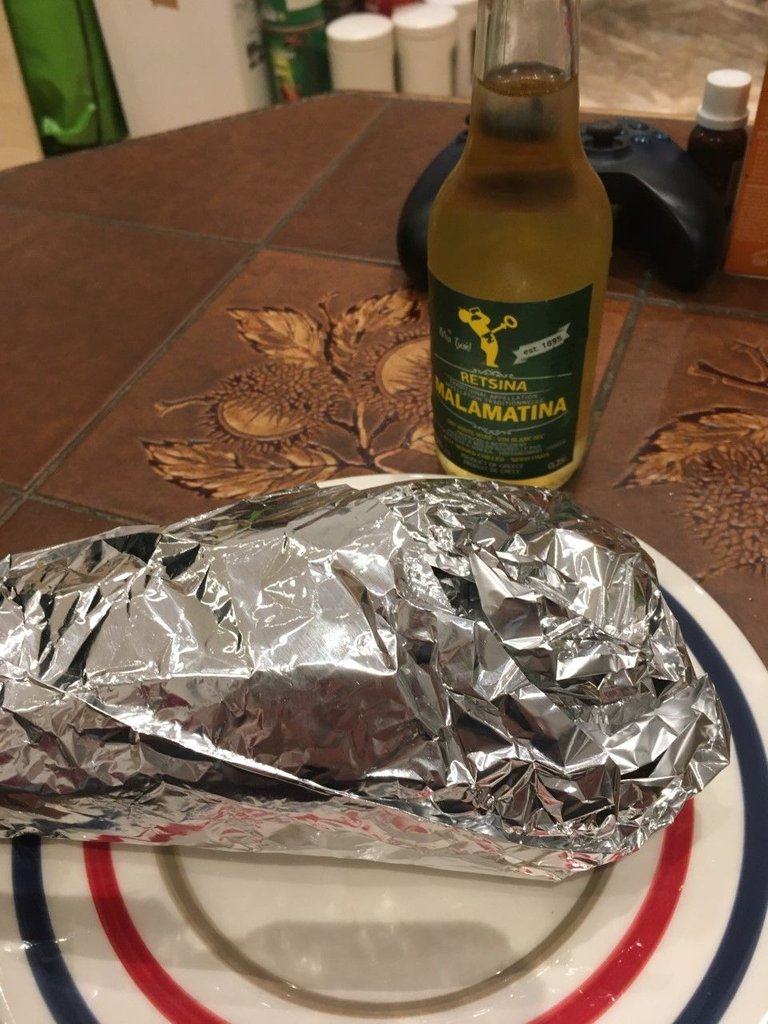 Pitta Gyros full options and 1 small bottle of Retsina
The full options are tomatoes, salad, potatoes, onions and tzatziki.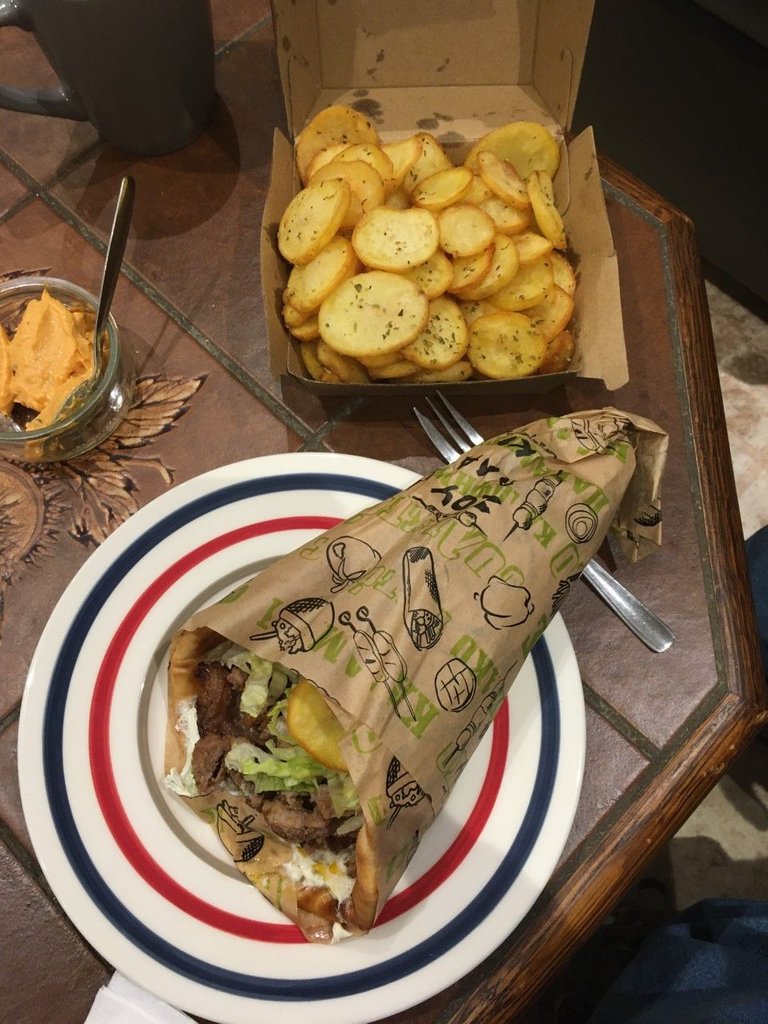 Pitta gyros without tomatoes with tzatziki, potatoes, lettuce and onions + 1 potato dish with rosemary
I really like the Greek white wine Retsina, so I took a small 25cl bottle (3,50 EUR), making 2 glasses.
There was no need for the potato dish, we were already well fed with the pitta.
This Greek foodtruck is located every Friday, Saturday and Sunday evening in the same car park as the Wednesday lunchtime burger foodtruck.
It wasn't bad, but we prefer Turkish pittas. The Turks apparently use chicken or beef, while the Greeks use pork (which is quickly overcooked and too dry).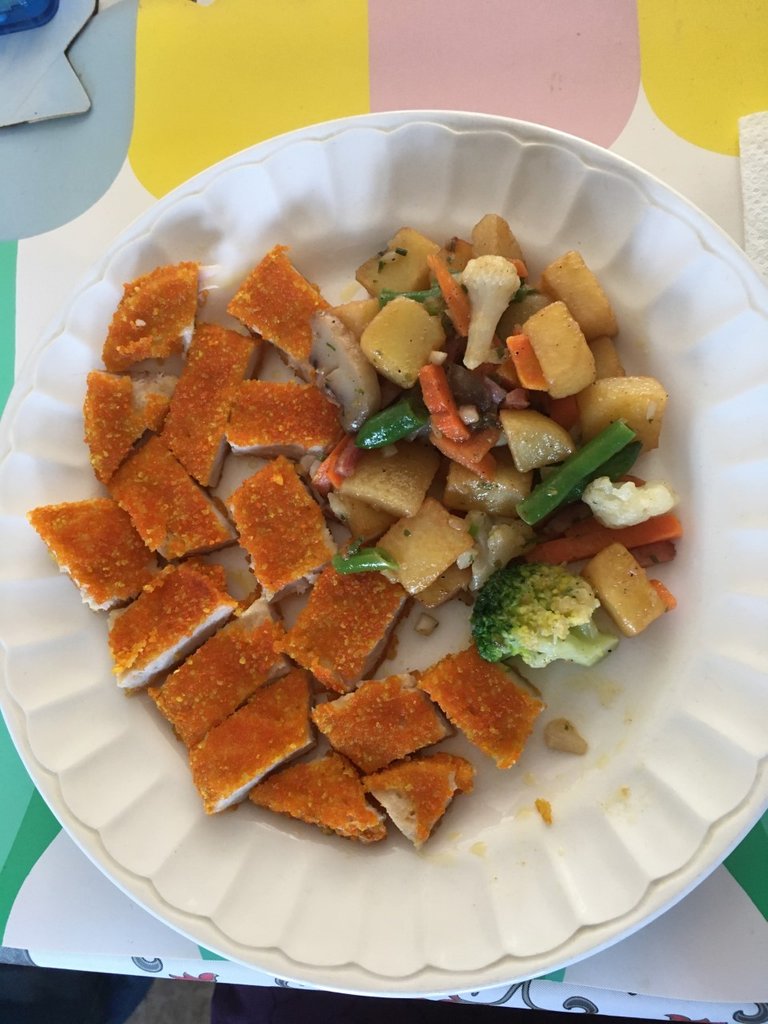 Turkey schnitzel and pan-fried Breton meat

Chicken rice curry carrots white wine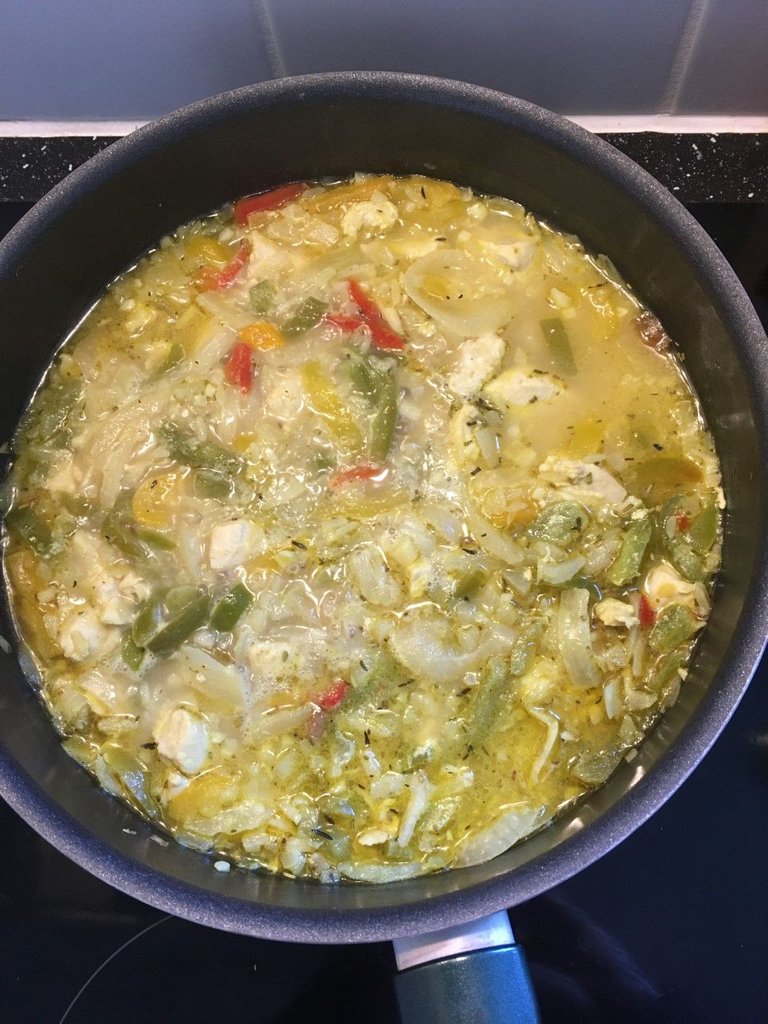 Chicken rice curry peppers onions shallots garlic rosemary thyme white wine
Our quick and easy dish with or without carrots 😋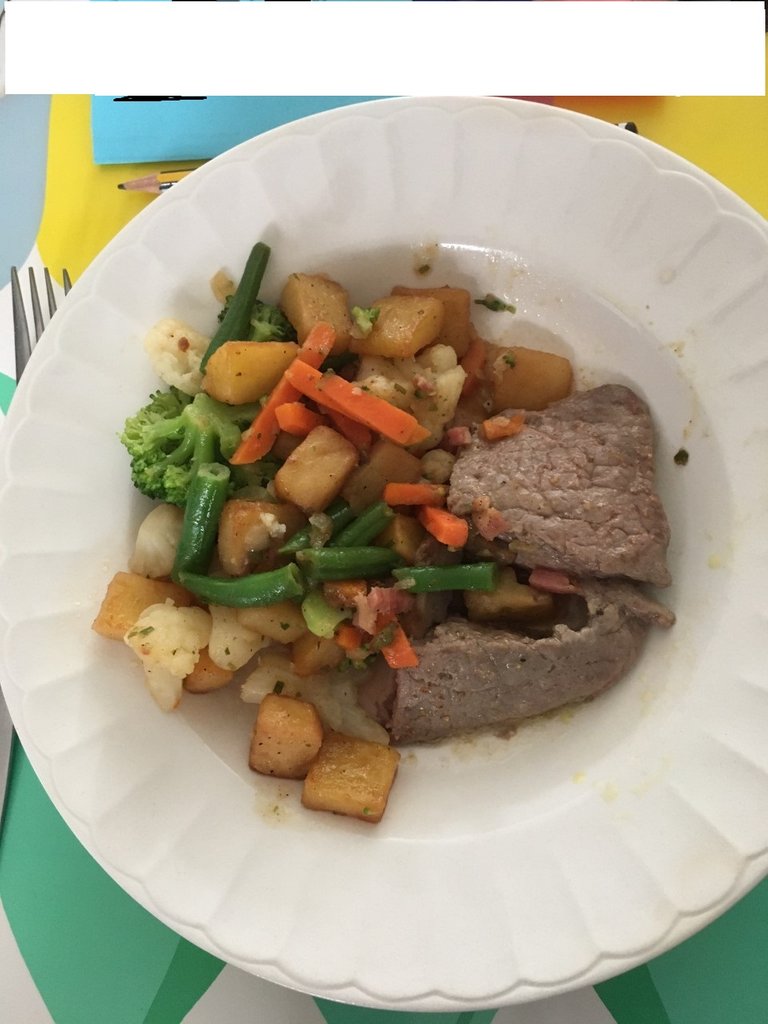 Steak 85gr Bretons' pan-fried vegetables
So we got the steaks, which I packaged to put in the freezer, 170gr each steak.
I simply cut them in 2 to make our daily rations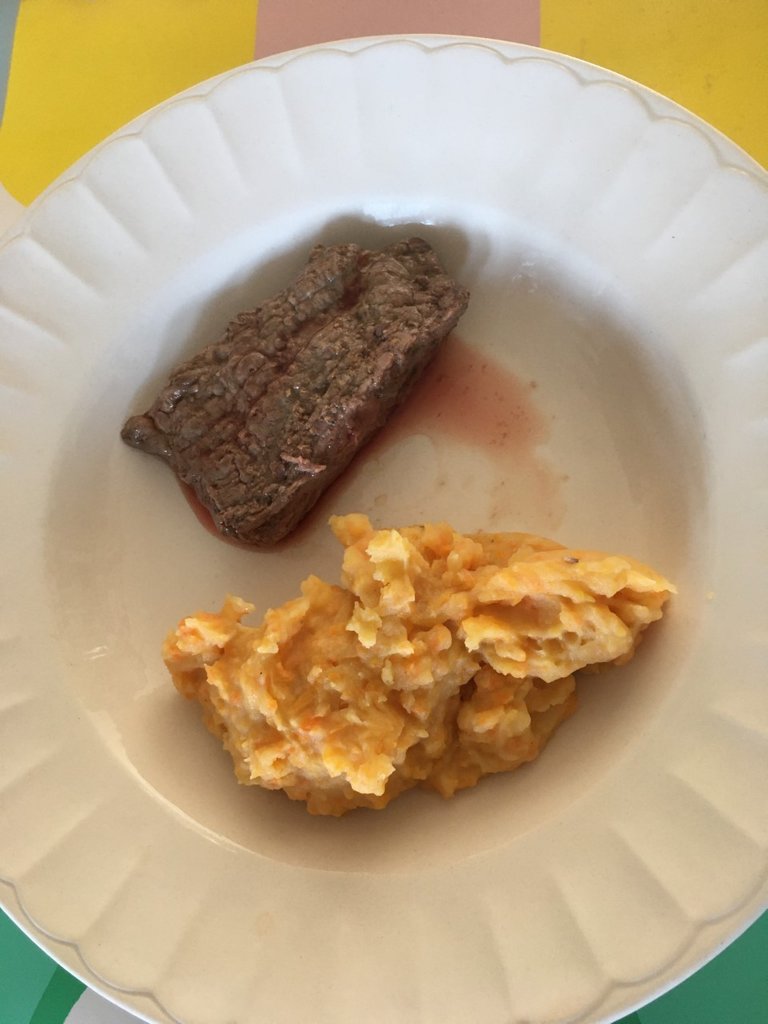 Steak 70gr and carrot stoemp
Stoemp is mashed potatoes mixed with one or more vegetables, here with carrots. It is a typical Belgian word.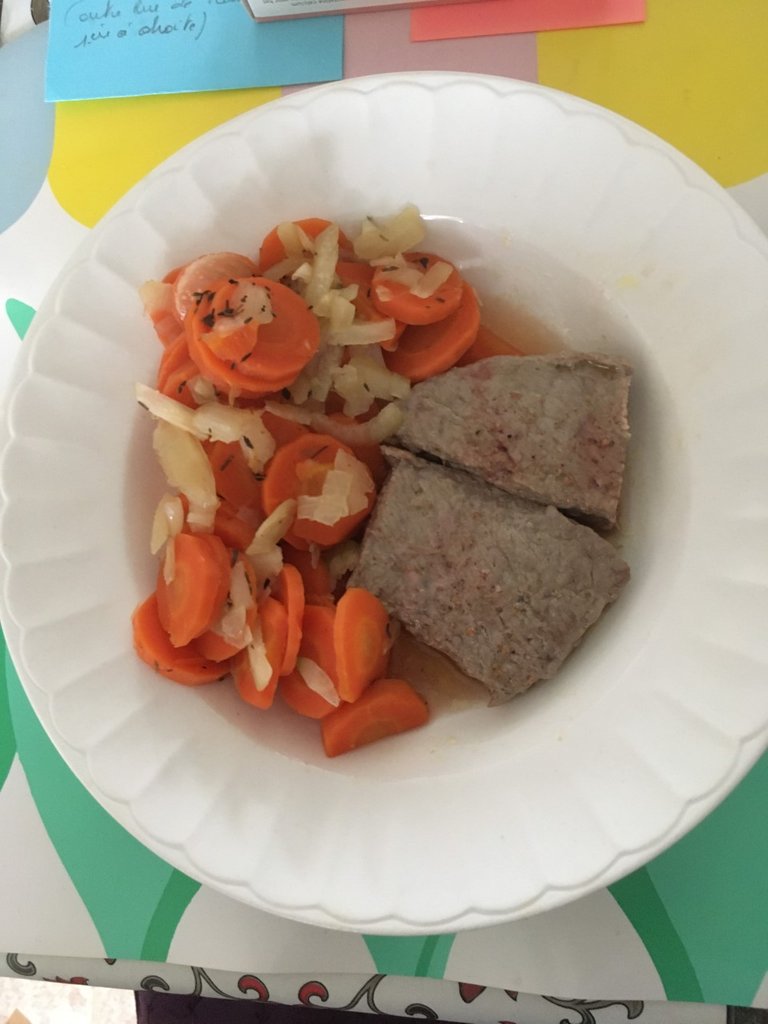 Steak with carrots, onions, thyme and honey
I had some carrots left over, and as it was freezing and snowy here, I made a honey sauce to warm the atmosphere up a bit.
With this lunch, I'm already a bit ahead of April's meals.
Enjoy your meals, Bon appétit !
Isiksen
Author of the pictures : florenceboens
---
---