Michael Flynn - Patriot Saint or Occultist?
I Support God Fearing Patriots
There is a very unnerving thing happening in the United States of America - we are watching every trusted institution betray the people. Starting with the banks, then the hospital system, then the election system - or society is being forced in a direction that many God-fearing people do not want to go. It's the same evil philosophy that the United States has fought in the past.
In a situation like this, many of the sleeping masses wake up and look for people who are sturdy and confident and can reverse the trends that will inevitably destroy this society and nation.
General Michael Flynn is one of those patriots the people have turned towards to "save America". Of course one man isn't going to "save America", even the former President isn't able to do that. The only salvation for America is genuine repentance and a seeking the will of the Most High God.
Although there are things citizens can do to change the course of the United States of America, the situation is truly in the hands of God.
Michael Flynn
Is Michael Flynn a God-fearer? That's a difficult question to answer, and it's really not our job to judge other people's faith. But it is our job to discern potential deception, especially in regards to what "god" a person is serving.
I say "god" in quotation marks and lower case "g", to represent the "god" of this age.
The god of this age has blinded the minds of unbelievers so they cannot see the light of the gospel of the glory of Christ, who is the image of God. 2 Corinthians 4:4
Of course Paul, in his epistle to the Corinthians, is speaking of the "god" of his age, but it's clear to many that there is a "god" of this age also. Paul continues later in that same epistle, speaking of the "god" of this age, disguised as an angel of light:
Such men are false apostles, deceitful workmen, disguising themselves as apostles of Christ. And no wonder, for even Satan disguises himself as an angel of light. So it is no surprise if his servants, also, disguise themselves as servants of righteousness. 2 Corinthians 11:13-15
This is not a hit-piece on Michael Flynn
Here is my opportunity to explain why I'm investigating Michael Flynn. I'm not calling him a "false apostle", but I'm testing his words against the words of the Most High to see if they are consistent. The enemy of our souls does have servants disguised as servants of righteousness. What more righteous cause is there than to restore God-given rights?
Many assume Flynn is a "good guy" because he was persecuted so heavily in the past. It has been reported that one of the few pieces of advice that Obama gave Trump when he became president is to beware of Michael Flynn. Of course, consider the source.
Michael Flynn was fired as National Security Advisor and he was generally "disgraced" for his supposed ties with Russia. Of course we find out later that it was manufactured to get Flynn out of his position. Later, Trump officially pardoned Michael Flynn.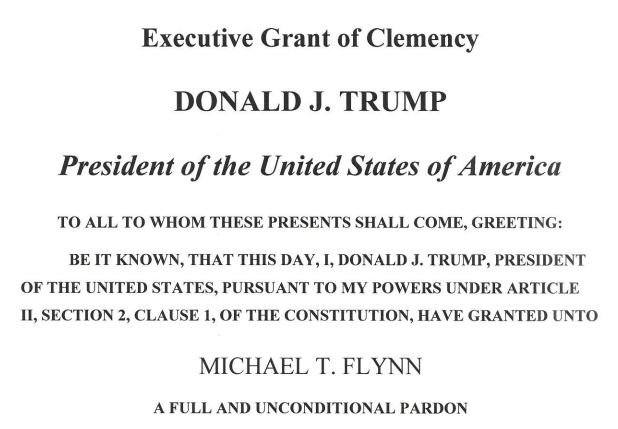 Source
So Flynn is a Good Guy?
Since BO doesn't like him, Trump pardoned him, he's a leading figure to expose election fraud, leading campaigns of "awaken America" and "save America", is it safe to assume he is a trusted God-fearing Patriot?
Patriot, yes. God-fearing.... let's test that one. Michael Flynn has made some very concerning and odd public statements.
"If we are going to have one nation under God, which we must, we have to have one religion," Flynn said Saturday at a rally in Texas for ReAwaken America, a Christian-themed speaking tour backed by the Christian news network America Faith. "One nation under God, and one religion under God." Source
One Religion: Theosophy
One religion under God? No mention of Jesus? No acknowledgment of other faiths and beliefs? Just "we have to have one religion". A theocracy?
So who will be the administers of this "one religion"? Flynn gives us a hint in a prayer he led to the audience of over 100 people: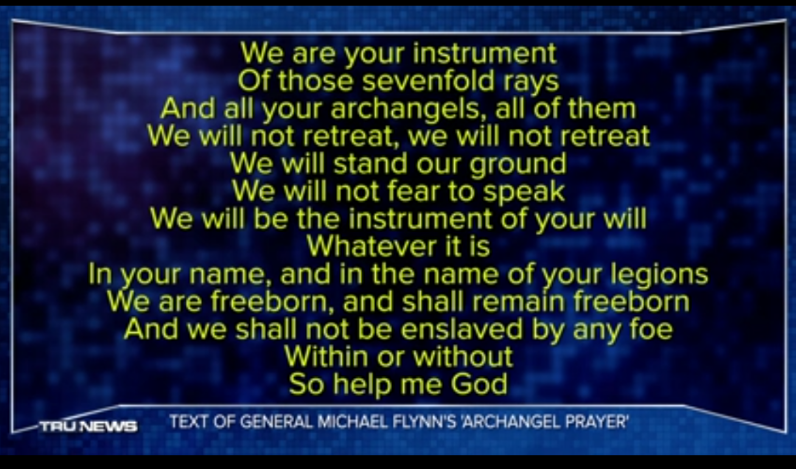 We are your instrument of those sevenfold rays and all your archangels, all of them. We will not retreat, we will not retreat. We will stand our ground. We will not fear to speak. We will be the instrument of your will, whatever it is. In your name, and in the name of your legions. We are freeborn and shall remain freeborn, and we shall not be enslaved by any foe within or without. So help me god. - Michael Flynn
Sevenfold Rays of Light
There is no doctrine anywhere in scripture concerning sevenfold rays of light. Michael Flynn was asked about this unusual prayer and his response is that it's Catholic, and any criticism is just anti-catholic rhetoric.


Source
Is this a Catholic prayer? Are criticisms and questions about this prayer just anti-catholic sentiment? When asked to explain more about this prayer, Michael Flynn responded on his Telegram channel: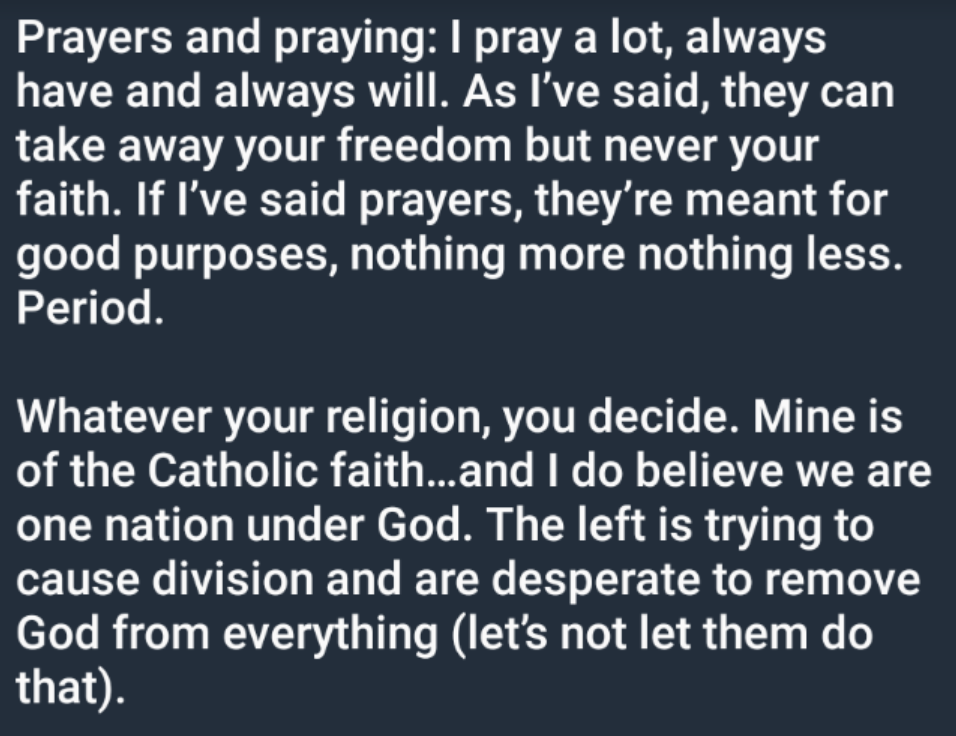 "Meant for good purposes." What good purposes? He never makes clear what "god" he's talking about, he didn't answer any concerns over the prayer. No explanation of "sevenfold rays of light" no explanation of "in the name of your legions". This is not a prayer "of the Catholic faith", if it is Catholic it's unlike any Catholic prayer I've ever heard. It sounds occultic.
But is it really an occult prayer? Yes it is.
Elizabeth Clare Wulf
Turns out the prayer that Michael Flynn prayed (and had his audience repeat after him) wasn't from himself, but mostly plagiarized from a prayer from Elizabeth Clare Wulf back in 1984.
Elizabeth Clare Wulf is not a Christian, but a "clairvoyant" Theosophist instructed from the mystery schools about "Ascended Masters" and "Reincarnation".


Source
A Wulf in Sheep's Clothing?
The prayer is clearly NOT Catholic, nor is it even Christian. It makes one wonder what education Michael Flynn received outside of his military training.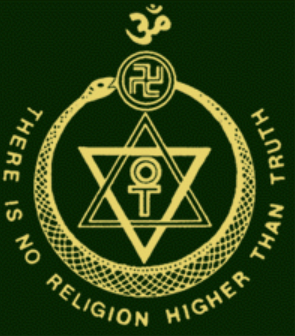 If a prominent Christian prayed a Muslim prayer, would his faith be questioned? If a Jewish Rabbi prayed in the name of Jesus, what do you think would happen?
The patriot Michael Flynn might be doing good to help fight the cause of freedom, but for what end? Does he want to restore the original nation or bring about a new nation with a new national religion... or maybe even greater, a new order.
A new world order.
A Spiritual Battle
This is not just a battle of Good and Evil - this is a battle over the very DEFINITION of good and evil. Has God already determined the standard of morality (as recorded in scripture), or can we channel "ascended masters" and learn a new and more evolved form of righteousness?
This is the idea behind the "I AM" movement, the "Christ Consciousness" or "Divinity within" doctrine. The idea is not new, it's "You will not die, your eyes will be opened, you will be like God, knowing good and evil [for yourself]", that old lie of the ancient serpent.

The Doctrine of the Deceiver of the Whole World
This might be a hint as to what Albert Pike wrote about to Mazzini on August 15th, 1871: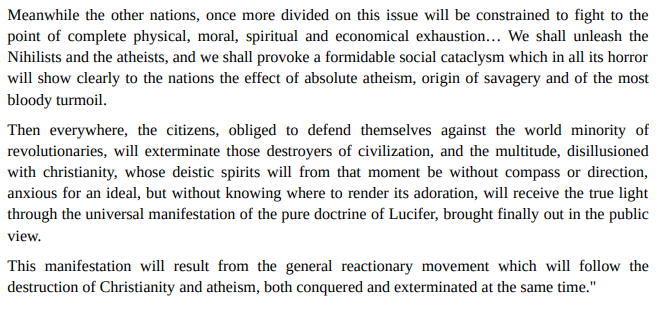 We are witnessing the Nihilists and atheists that have been unleashed throughout the world - and it's ugly. A "formidable social cataclysm" does seem to be coming, and society will only tolerate these demented "revolutionaries" for so long before the citizenry rises up and exterminates them.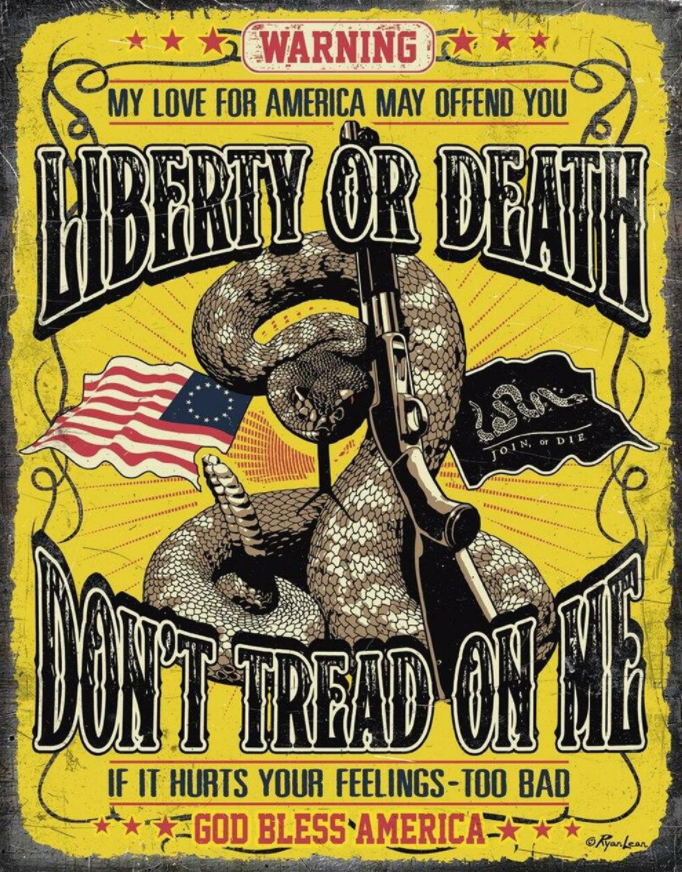 Satan's net will be ready and waiting for the "disillusioned" believers, those with blood on their hands, ready to proclaim the doctrine of the "Sevenfold rays of Light" and "divinity within". The world will be ripe for a "one religion under god", neither Christian or athiest, but the illuminated religion of the future.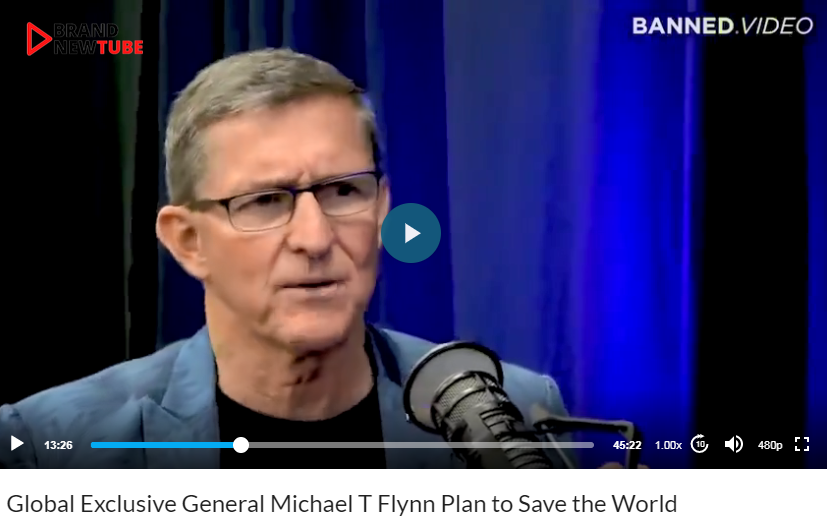 Michael Flynn's Plan to Save the World
The True Plan to Save the World
There is a true plan to save the world, it's been written from the beginning of time. It does not involve secret doctrines or initiations. It involves surrendering your pride and arrogance before the Most High God and accepting the salvation that He offers us, that is Yeshua the Messiah.
If anyone teaches another doctrine and disagrees with the sound words of our Lord Jesus Christ and with godly teaching, he is conceited and understands nothing. 1 Timothy 6:3-4
The world is being divided: not simply between good and evil - but between definitions of good and evil. Believe me when I say, the most EVIL people in the world are convinced their wicked plan will accomplish a much greater GOOD.
The real battle is between worshiping the God of Heaven and Earth, or the "god" of this civilization.
Choose This Day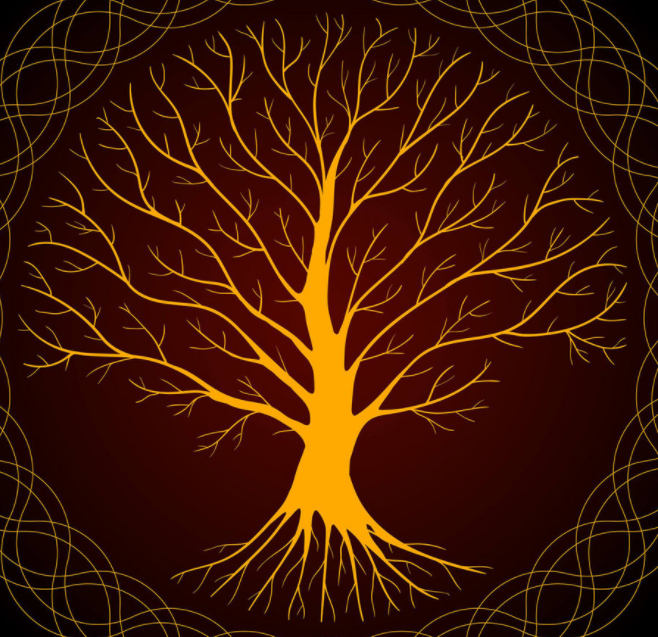 Do we accept the fruit of the tree of life, freely given? Or do we eat of the tree of the knowledge of good and evil, that has been stolen from the LORD?
And if it is evil in your eyes to serve the LORD, choose this day whom you will serve, whether the gods your fathers served in the region beyond the River, or the gods of the Amorites in whose land you dwell. But as for me and my house, we will serve the LORD." Joshua 24:15
---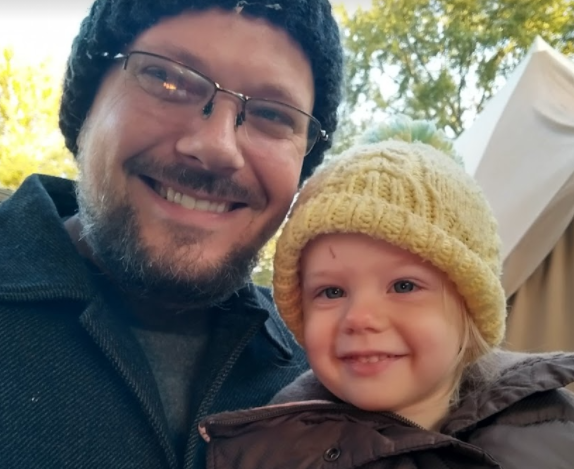 Benjamin Turner: God fearer. Rooted in Messiah. Husband of @lturner. Father of SIX (!!!) wonderful children. The guy behind the camera. Blockchain enthusiast.
Bless the Most High!

---
---