Introducing dCity.io: A Fun Way to Earn SIM Tokens and HIVE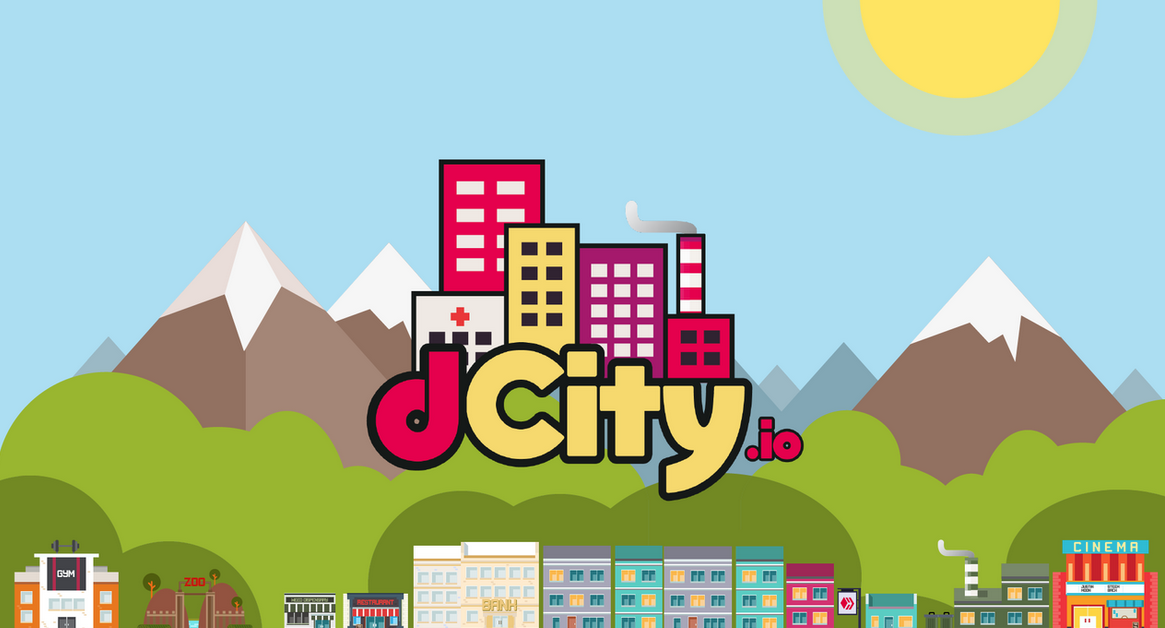 Imagine a Virtual City That Rewards HIVE
dCity is a Virtual Blockchain City game, that rewards you for building an efficient and prosperous city. It's an addictive and fun investment style game, essentially building a city that mines SIM tokens that can be re-invested or sold for HIVE. Once your city becomes big enough (top 200), you will begin mining HIVE and STEEM tokens daily!
What a fun and potentially profitable game!
How Do I Begin building My City?
You begin by visiting dCity.io

If you haven't already installed the HIVE keychain, follow these instructions.. Once Hive keychain is installed and your private and active key is added to the keychain, you are free to log into dCity.io by simply typing in your HIVE account name.

Begin Building Your City
Once you're logged in, simply purchase your first cards! I saved up at least 4 HIVE on my @monsterplayer account, so I'm going to purchase 1 CITY card to begin my city!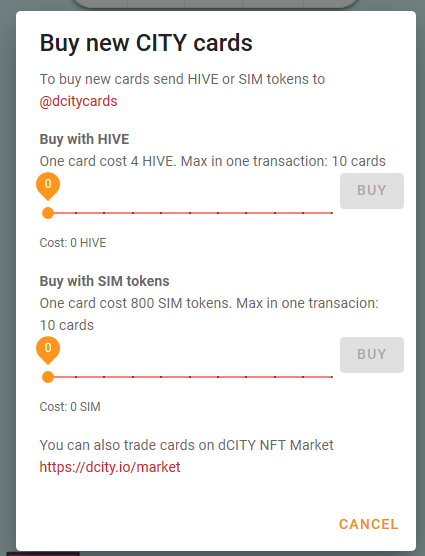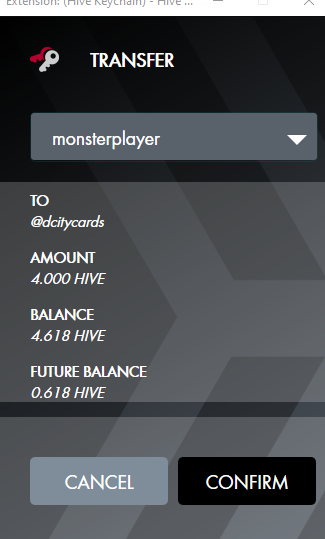 The SIM Token on HIVE ENGINE
Another way to build your city is to purchase SIM tokens through hive-engine.com. Just deposit your HIVE into Hive Engine, and purchase SIM tokens. 800 SIM tokens can be exchanged for a city card!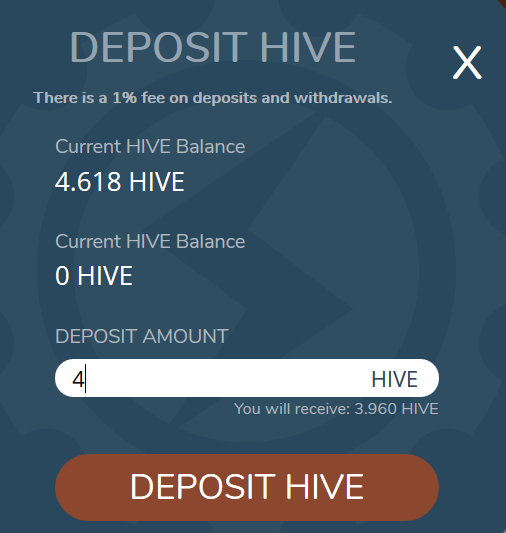 Once your HIVE is deposited, you can purchase 800 SIM on HIVE ENGINE. Click on "Tokens" and type in "SIM"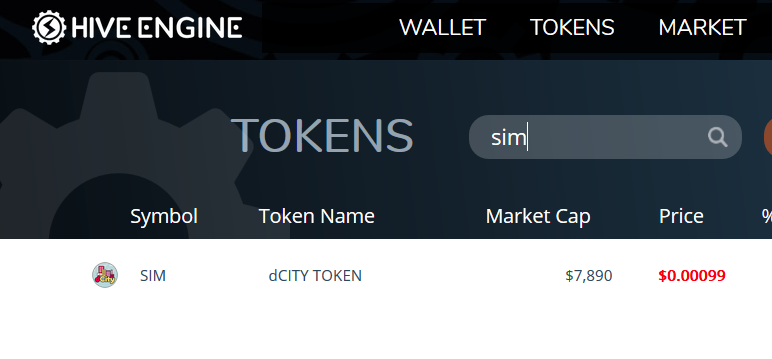 Click on the TRADE icon and you can purchase SIM with your deposited HIVE. What? SIM is less than 0.005 HIVE each? Good deal!
Purchase 800 SIM with about 3.2 HIVE. That's a 20% discount. SWEET! (Subject to market value, prices may have changed)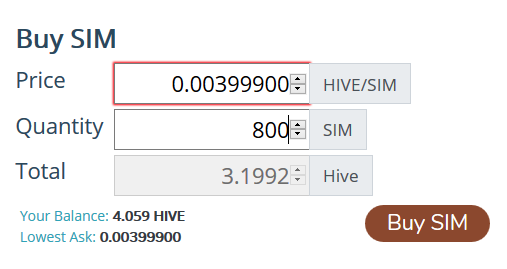 Once you purchase your 800 SIM, go back into dCtiy.io and purchase your FIRST CITY CARD!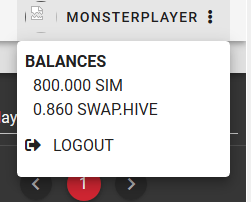 Purchasing Your FIRST City Card
Now that we purchased 800 SIM, we can test our luck with a RANDOM city card. Hope it's something VALUABLE!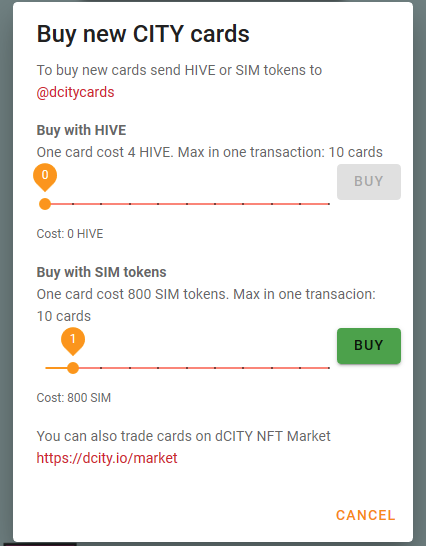 The Beginnings of a New City
Purchasing my first card, we have a basic home, which gives us a population of "4" and SIM income of "1". That means, every day I will earn "1" SIM token!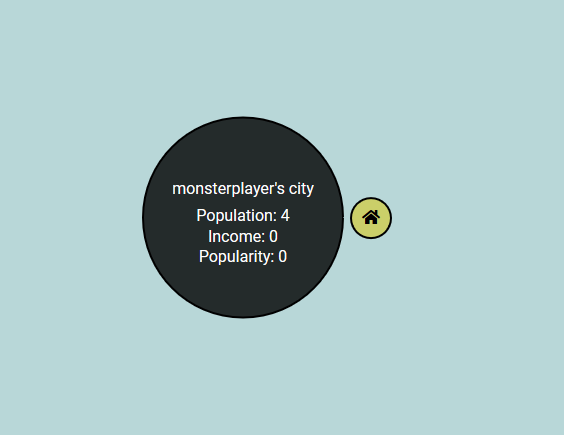 But we have a little problem. Because of "unemployment", our "1" income is deducted. We need some industrial or commercial activity to employ our population!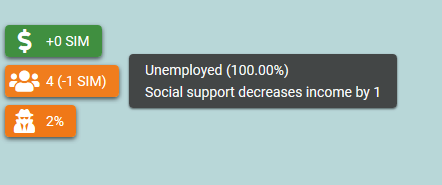 Let's see what's on the market to get my little guys working!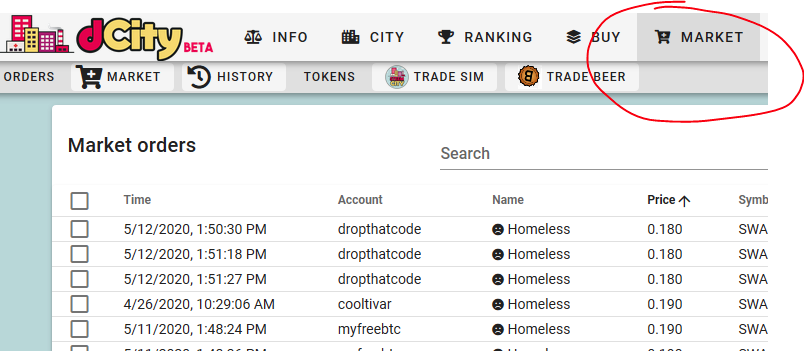 What could employ my little guys? How about a gym? Employs 6 Simians. The russianalcoholic is selling on for 990 SIM. Good deal!

Let's buy some more SIM to purchase a GYM!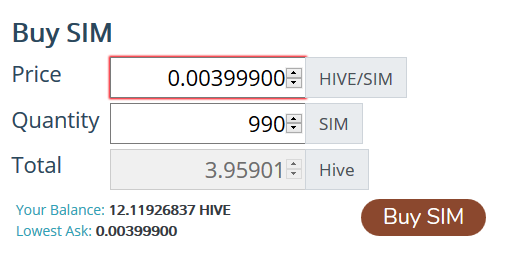 Still less than 4 HIVE! 1% discount (market prices can vary)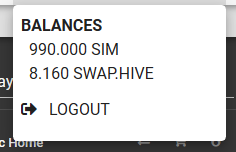 Alright! Let's do this thing! PURCHASE a GYM!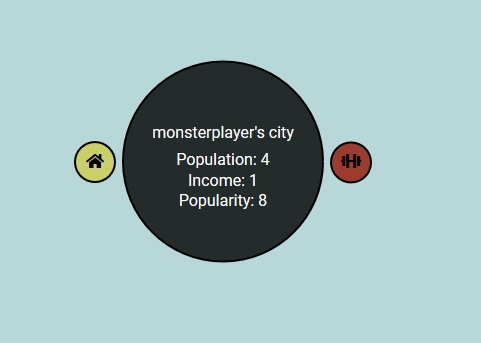 WHOO HOO! INCOME 1 SIM PER DAY!!
One more little problem: We need 6 simians to employ our new GYM, but we only have 4 total in our basic home.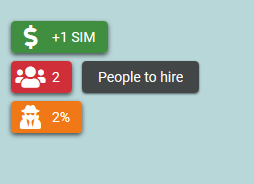 We need just 2 more simians to run the joint... where could we find some more people to run our GYM? I know, hire some illegal immigrants!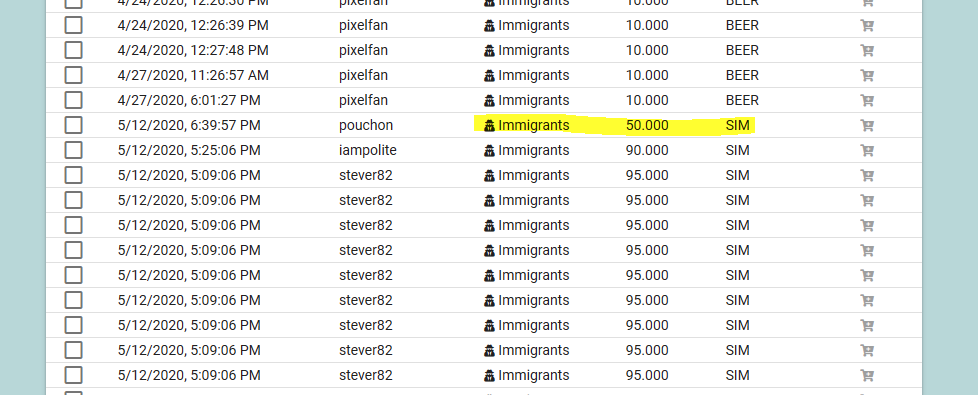 Found one for only 50 SIM. Let's do this!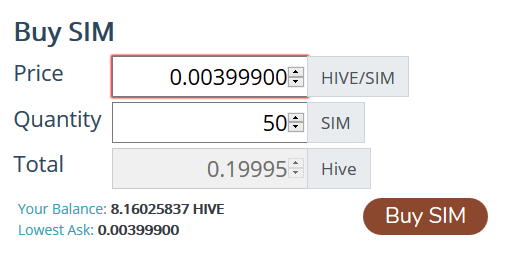 Our City with One Home, One Gym and One Immigrant
So we have created a SIM miner, everyday @monsterplayer receive 6 SIM automatically!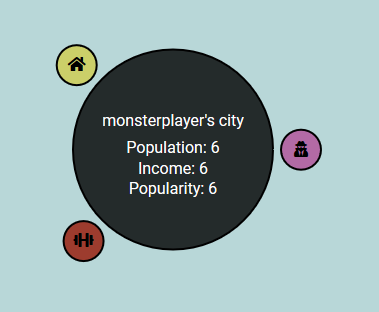 Our gym, basic home and hard working immigrant are mining SIM tokens for me. Happy days! Every day, I also have a small chance (2%) of acquiring new population, either another immigrant (+2 population) or homeless (+1). They will lower my popularity, but right not that's not a big concern.
That means my city population will grow on it's own, while continuing to earn SIM tokens! Once I have enough SIM tokens, I can purchase more buildings and grow my city.
How Do I Begin Earning HIVE and STEEM?
Based on population, the top 200 cities will be granted daily STEEM and HIVE payouts in addition to SIM tokens!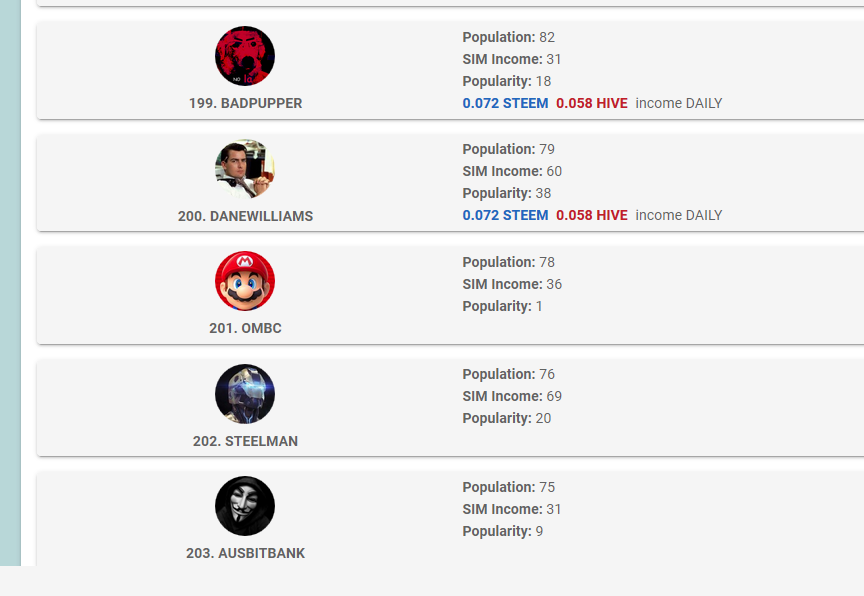 If I continue building my city and bring the population up high enough (currently about 80), I will begin receiving STEEM and HIVE bonuses every day!
The Mega Cities are EARNING Big Time!
At the top of the rank, are the big players. They are earning some nice HIVE every day because of their dCity investment!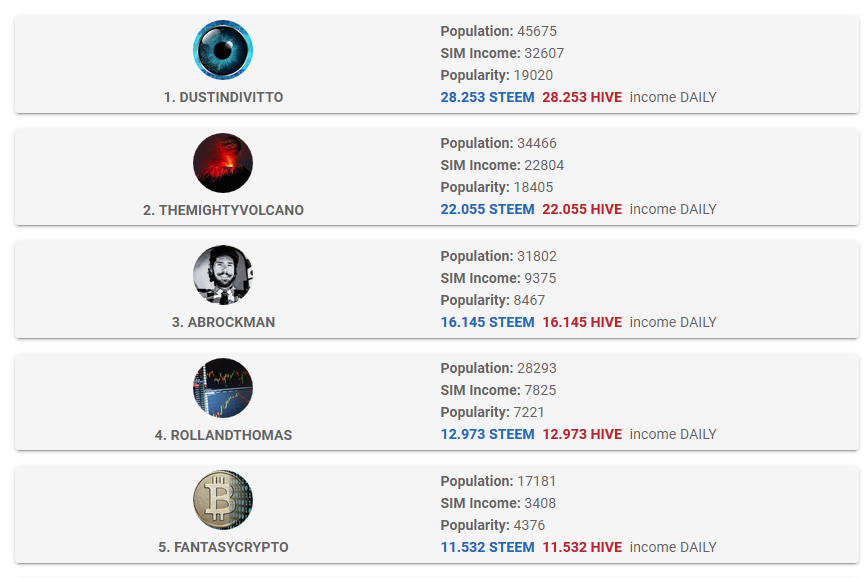 The top city is mining over 30K SIM and 28 HIVE and STEEM DAILY! Whoa!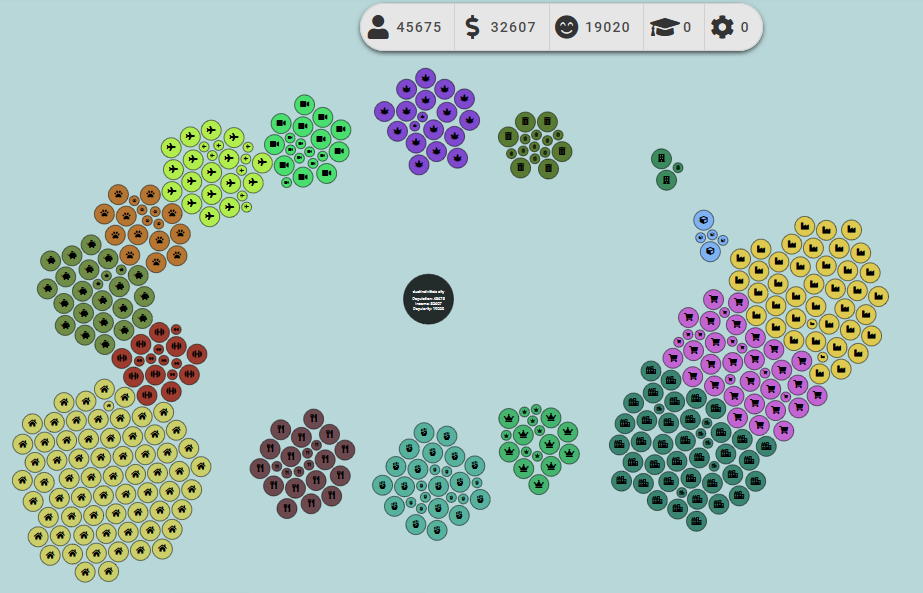 Conclusion
dCity is a very fun and addictive way to invest HIVE tokens into a game / investment that is fun to manage and optimize. As new city cards are added, new options and dynamics are added to the game, including crime, education, welfare, popularity, etc.
Once you begin your city, you will tweak and optimize it to maximize it's ROI. Most purchases will pay back in full in about 90 to 120 days.
---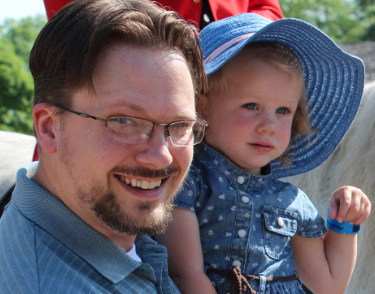 Benjamin Turner: God fearer. Rooted in Messiah. Husband of @lturner. Father of FIVE wonderful children. The guy behind the camera. Blockchain enthusiast.
Bless the Most High!

Teach Your Children Liberty from Sin
We encourage parents to teach their children principles of Godliness, beginning with the Word and an understanding who God is and what His Son has done to form a relationship with us.
No one can lay a foundation other than the one already laid, which is Jesus Christ. If anyone builds on this foundation using gold, silver, precious stones, wood, hay, or straw, his workmanship will be evident, because the Day will bring it to light. It will be revealed with fire, and the fire will prove the quality of each man's work. 1 Corinthians 3:11-13
Teach Your children Liberty from Tyranny
Second to this is the principle of self-determination and freedom, lest we loose the ability to teach our children the first principle in future generations. Our children read the Tuttle Twin books, specifically to learn libertarian principles, which most people learn later in life. These books are useful for our family, and yours, to teach children concepts that seem complicated, but are made simple in these books.
For a limited time, use coupon code FORTY for 40% off your purchase! Check out the books here.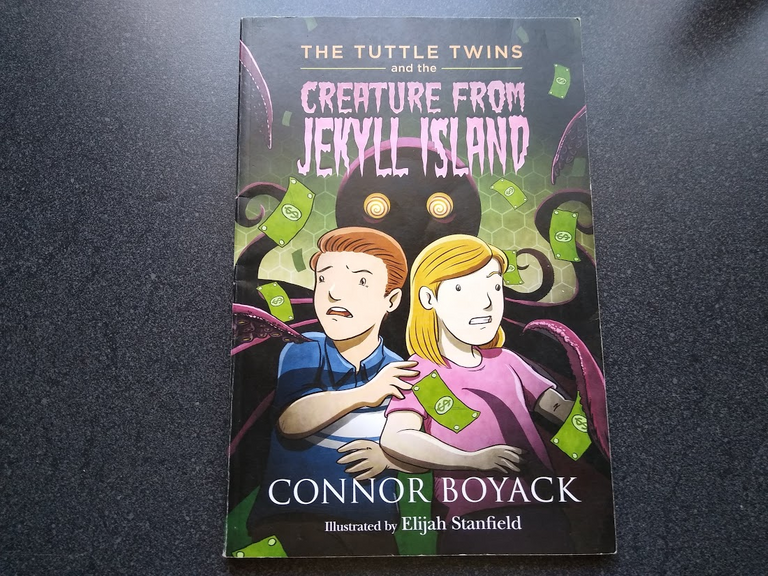 "SMART PEOPLE today are figuring out how to trade without the creature being able to control them - using things like gold and silver products, garden co-ops, online bartering and digital currencies such as Bitcoin."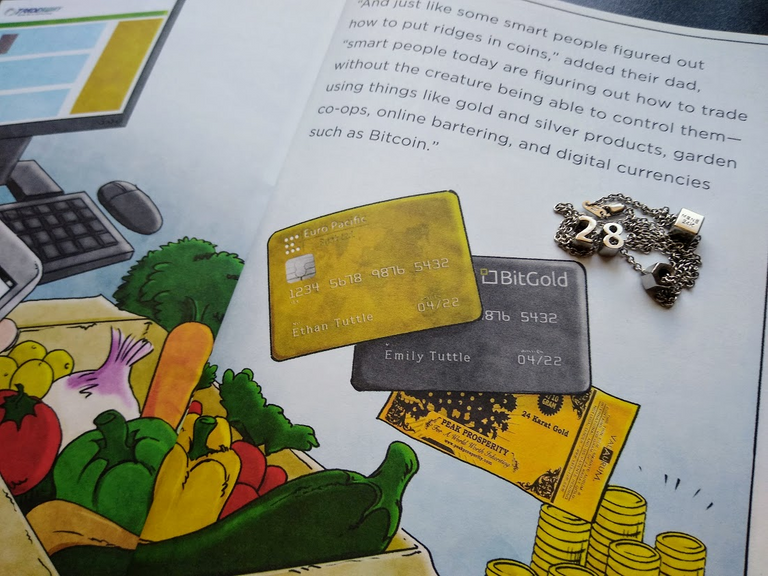 ---
---