How Much Will a Stack of Silver Dimes Be Worth?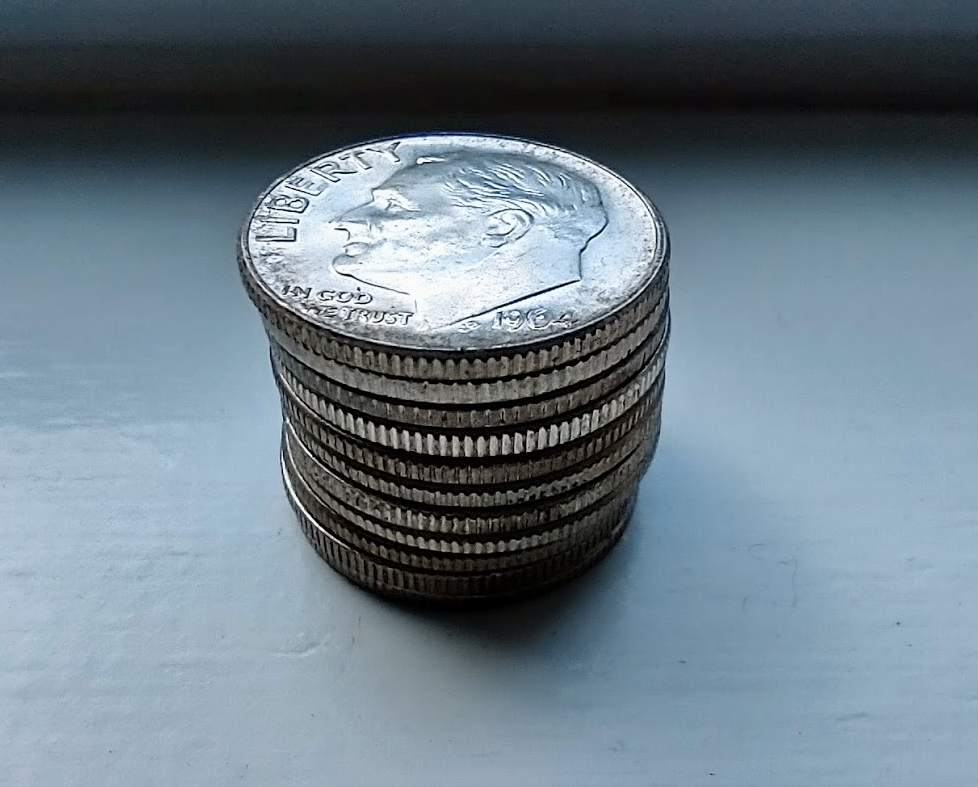 Great Value in a Small Package
It may look like loose change, but this tiny stack of coins may be enough for a week's worth of groceries someday. In 1964, this little stack was $1.10, in today's money just under $10.00
But amazingly, the silver MELT value is more like $20.00

This is about the value of $1.10 in 1964. You could go to the grocery store and pick up milk, eggs, bread and other ingredients and still be less than one dollar. This is similar to today, we can go to the store for basic items (a light grocery shopping trip) and check out around just under $20.00.
The Official Inflation Numbers Are Wrong
The "official" CPI inflation number are known to be misleading, as the real buying power in 1964 has changed drastically when compare to modern times. Things were overall MUCH more expensive in 1964 and things are MUCH cheaper now 57 years later in 2021.
If we had the buying power of 1964, with the cheap prices of 2021, we'd be SHOCKED by the wealth we have in our pockets. We'd have less money, but it would go a lot farther.
This is to hide how much value our money has lost over the last few decades.
The Silver Price is Wrong
I've written at length how silver is about to undergo a massive correction as supply begins to dry up. When the bank vaults are emptied into the hands of collectors, industry will have to either reduce demand or find more unusual sources for their industrial metal.
This little stack of 11 silver dimes contains about 80% of a troy oz. There is speculation (I said speculation) that we may see silver shoot up to over $50.00 / oz before the end of the year. Traditionally, silver goes up when oil prices go up and vice-versa.

Undervalued silver is to hide how much value our money has lost over the last few decades.
The Future of Prices?
Some may laugh when I suggest $300.00 / oz silver. They should laugh, that's outrageously conservative. If we experience hyper-inflation, we will see silver calculated in the MILLIONS of dollars per ounce.
(We have no sense of perspective of what hyper-inflation really means, we throw that word around like it's just another economic term.)

A time may be coming that a handful of dimes will be worth a small shopping trip at the grocery store. What I mean is that if we experience large-scale inflation, a gallon of milk will be on sale for $49.00. A loaf of bread for $29.99. Eggs will not be available. Pick up a candy bar on the way out for $5.00. You'll find yourself spending $1.10 in 1964 money and getting about $20 worth of groceries, like you would in 1964.
Only the receipt will read $220.00
Hodl on to Those Old Dimes
This stack of silver dimes has retained it's buying power from the day it was minted. It had about $20 buying power then and it still has about $20 (or more) buying power today.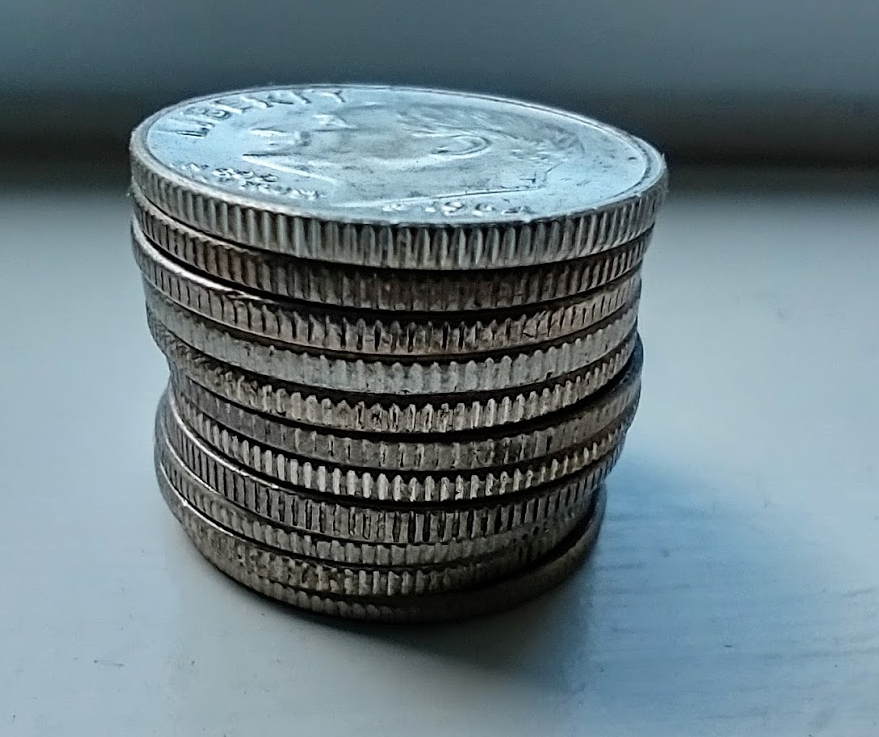 Cheap silver dimes are available on ebay, if you want to pick some up for a good price.

Posted Using LeoFinance Beta
---
---