Rising Star. Day 159. 100k STARBITS or 12 Card Packs
Good day, Rising Star family!
Thursday, Day 159 with Rising Star Game.
I am super happy!!! I finally did it! I still can't believe it but yes! I did it!
But let me show you something first....
That is what I had just an hour ago... 1% of Energy, 0 pizzas, 0 coffee and 67 missing starbits to make it 100,000!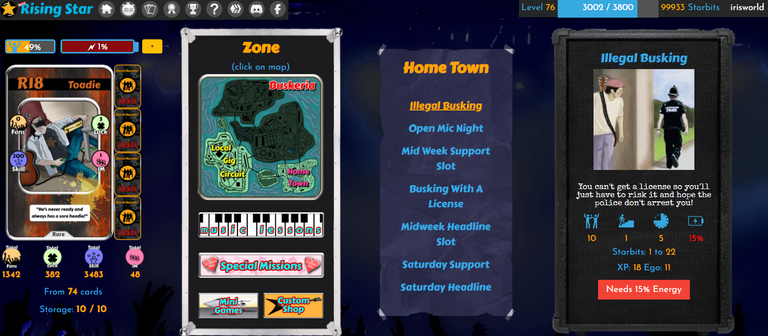 I was waiting until my energy bar show 15% and I was starting Illegal Busking mission! So per each played Illegal Busking I was getting and around 12 Starbits and 11 egos!!! I played too many illegal busing gigs today...
But I didn't go to sleep until I bought my 12 packs! Are you ready to look at them? :)
But one more thing first :) I found the post with my first 12 card packs. It was 3 months ago! So it took me 3 months to make another 100k of Starbits! It means that I need at least 30 months to earn my first 1 mln of STARBITS xDDD
---
Oops...Nope, it seems I will show you my cards tomorrow... It is already 1 hour passed buy I still didn't get my 100k of Starbits at my Hive Engine account :)

So, stay online and wait for my new 36 cards!!! :)
---
Do you know that I host a Rising Star giveaway?

Good luck! Have a nice day!
---
If you don't play Splinterlands yet, try it now and win a free card or earn DEC tokens.
If you don't play Rising Star yet, try it now and win a free card or earn STARBIT tokens.
---
The post was published via @Ecency. Ecency is one of the best communities and posting platforms on Hive Blockchain!
---
FOLLOW ME HERE
---
---