Cryptobrewmaster. My first 100 CBM earned

HELLO
Русская версия публикации "My first 100 CBM earned"

Day by day I learn more about Cryptobrewmaster game.
After I received the passport I started selling ingredients on market. And my sales already brought me 100CBM!
For example, I made a Green Colour 2 Row Barley Malt and I spent 7.3CBM to do it, and then I sold it for 10CBM. Of course, you should to check the market prices because they fluctuate.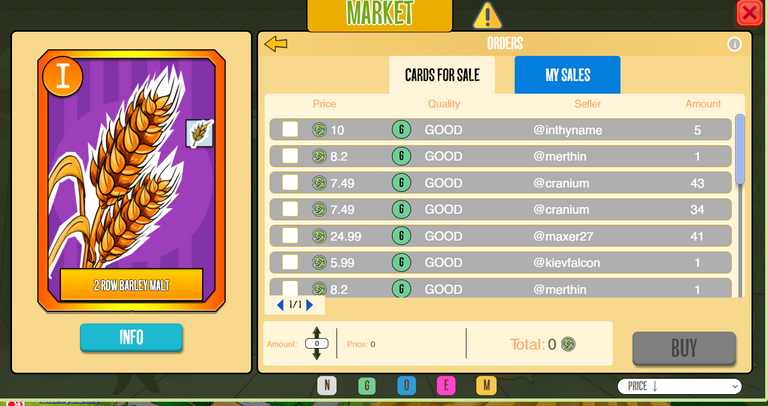 Most part of my earnings I reinvest into the game to strong my account.
Generally, I complete simple DQ tasks which don't require CBM, i.e. free DQs. And usually, you get neutral cards for those tasks. But on another side, if you complete paid DQs, you get NFTs of better quality, thus you can brew a better beer or sell those ingredients for a higher price.
My next goal is to learn more about Building Rent. I am waiting for when I will have a day off, so I can spend more time on it. I don't know what is renting is yet, and I don't want to waste my CBM.
Join Cryptobrewmaster game and brew the beer with us! :)
Also, don't forget to check events organized by @cre47iv3. You can win a passport of Cryptobrewmaster or NFT card! BTW, a passport costs 1,000 ASH, and it is around $15!
Good luck!
---
Other useful posts
---
If you don't play Splinterlands yet, try it now and win a free card or earn DEC tokens.
If you don't play Rising Star yet, try it now and win a free card or earn STARBIT tokens.
If you don't play CryptoBrewMaster yet, try it now and win a free card or earn CBM tokens.
---
The post was published via @Ecency. Ecency is one of the best communities and posting platforms on Hive Blockchain!
---
FOLLOW ME HERE
---
---