FRIED RICE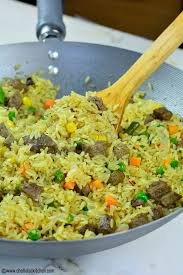 Source
Fried Rice is a very simple and delicious food. This version relies on a ton of fresh vegetables, Beef Liver, and a little bit of oil for crisping it up. Adding beef liver gives the fried Rice a nice taste, this is why it is one of the most popular choices in some countries. Though you can also use Shrimp or any protein you'd like.
fried rice is entirely different from Asian Chicken Fried Rice because the depth of the taste in the later comes from the Soy sauce while the depth of taste of the later comes from the Curry powder, Thyme, Seasoning cubes, and of course the abundance of vegetables like Carrots, Green beans, Peas, sweet corn, and Onions.
Achieving a good result when making fried rice is to allow the freshly cooked rice to cool slightly before using it. The rice should be cool to the touch before adding it to the pan. If you are short of time, simply spread the rice on a sheet pan so that the steam can easily escape or just place the cooked rice inside the fridge for a few minutes.
Remember it's important that you always wash the rice before cooking it. It will help to remove the excess starch on the rice, which can cause the rice to be clumped together.
Thanks for visiting my blog ...
Follow to know more about Fried Rice .
---
---