UCL QUARTER FINAL FIRST LEG ANALYSIS; Chelsea vs Real Madrid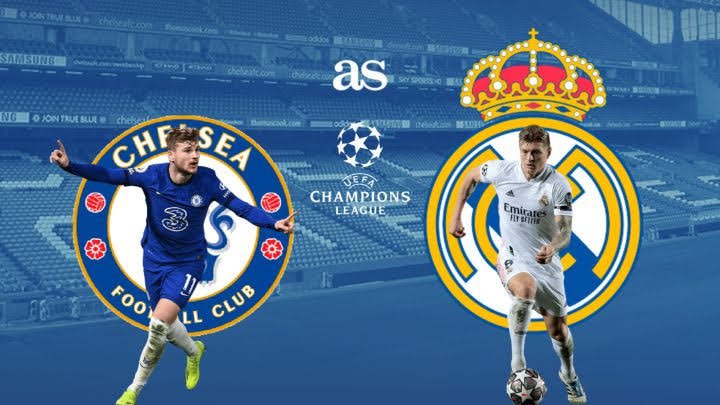 Source
It's Matchday 2 of the UCL Quarter final first leg.
Just like yesterday, 2 other fixtures are scheduled to go down today.
Chelsea will be hosting Real Madrid while Bayern Munich will be paying Villareal a visit.
I bet no one needs a soothsayer to know which of these games will be the focus of every football lover's attention.
Without further delay, let's proceed to our star match preview proper.
UCL (CHELSEA):
Head To Head: Our first point in favor of the Blues.
Both teams have faced off against each other in a UEFA Competition 5 times before today.
However, it's the home team who have remained unbeaten, winning 3 and drawing 2 in the process.
Pretty cool, isn't it?
You can bet they will be looking to keep this record intact.
UCL Home Record: A more impressive fact in favor of Thomas Tuchel's side.
Do you know they've not lost or drawn a game in the UCL at home this season?
What makes this stat more impressive is the fact that they've scored 11 unreplied goals playing at home.
You don't need anyone to tell you Carlo Ancelotti and his men will be having a tough test today, do you?
Think about these facts as we look at points favoring the away team.
UCL (REAL MADRID):
UCL Away Record: Almost as impressive as the point given in favor of the Blues.
Bar their 1 nil loss to Paris Saint-Germain in the Round of 16, Los Blancos have been undefeated away from home this season in the UCL.
And in the cause of that unbeaten run, they've managed 9 unreplied goals.
Impressive as well, isn't it?
Revenge Mission: Looks more like a morale booster to me.
After their bitter exit to this same opponent last season in the Semifinal of this competition, getting a revenge looks like the number 1 thing in the mind of everyone related to Real Madrid.
Fortunately, they've got fortune on their side considering what Chelsea and Coach Thomas Tuchel are going through presently.
Can they take advantage of this situation, only time will tell.
Is this point valid to you?
CONCLUSION:
I guess it's time for me to sit on the fence once again and enjoy this game rather than pick sides.
Let's get your take and predictions guys.
---
---