Daily Analysis Report : Tokens on Hive-Engine Platform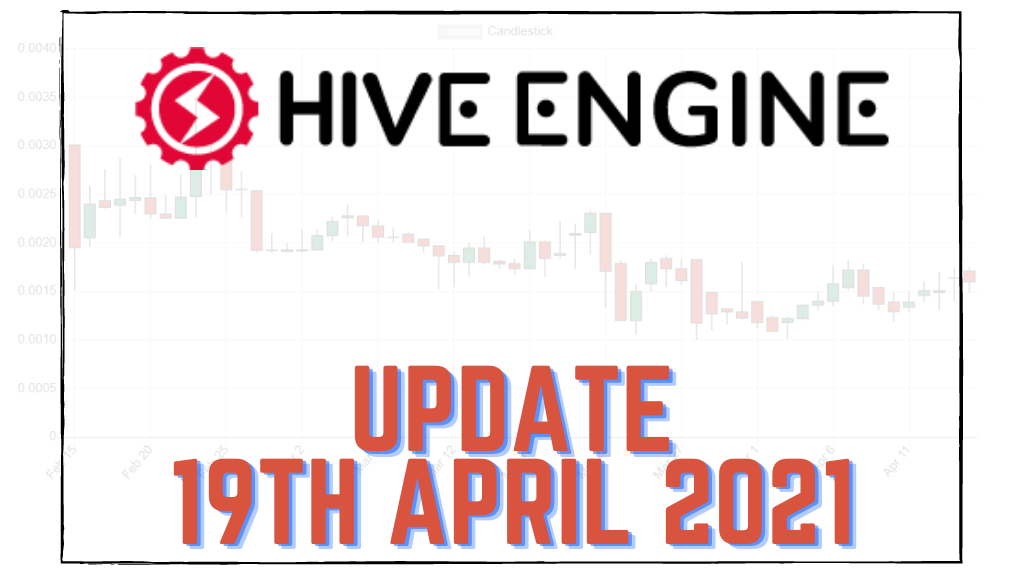 Hello World

Welcome to our Hive-Engine Series where we talk about the best-performing Tokens on the Hive-Engine Platform.
Have a cup of coffee and read this update, specially made for you by gathering information from many articles and analyzing many points to keep your investment within your radar.
Today the crypto market seemed to recover slowly from yesterday's bloodbath
Bitcoin still in hangover mode and trading at $55,657/-
Today also the most surprising fact was that DOGE gained 24.9% in this hangover of Crypto Bloodbath and trading at $0.3956. Now we'll give a special eye on it and would come up tomorrow with its detailed analysis and reasons behind its continuous growth despite the market in Red.
HIVE also seemed to recover where the price up by ~6.84% trading at $0.5551 and HBD price is in recovery mode still low by ~0.65% trading at $1.51
Tokens of the Hive-Engine platform performed well with a total trade volume of $25,393/-
Now without wasting any time let's check today's Top 10 traded tokens of the Hive-Engine platform.
Top 10 Traded Tokens on Hive Engine in Last 24hrs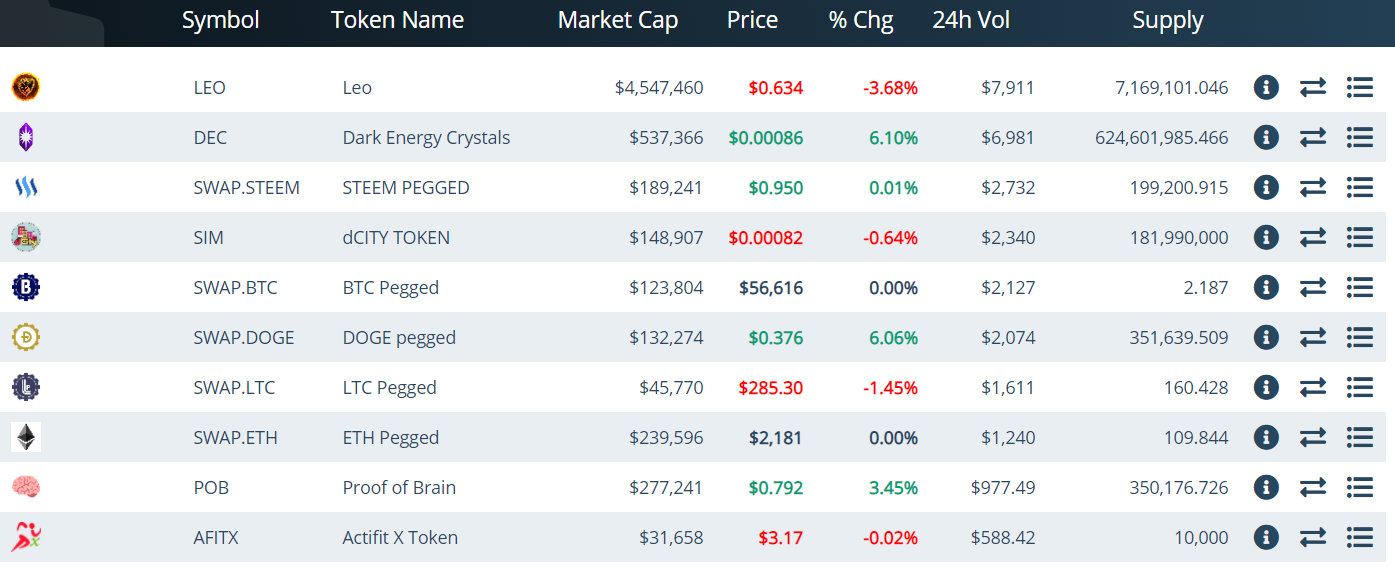 Today's Top Traded Token was LEO with a total Traded Volume(24hrs) of $7911 surpassing DEC by ~14.28% and surpassing its previous day trade by 60%
The second most Traded Token was DEC with a total Traded Volume of $4960 which is decreased by ~19% from the previous day trade volume
There is an entry of SWAP.STEEM after so many days on 3rd place with a total Traded Volume of $2732 which was ~65% less than LEO Traded Volume.
Now it's time to analyze a little deeper into our Top 3 most Traded Tokens

1. LEO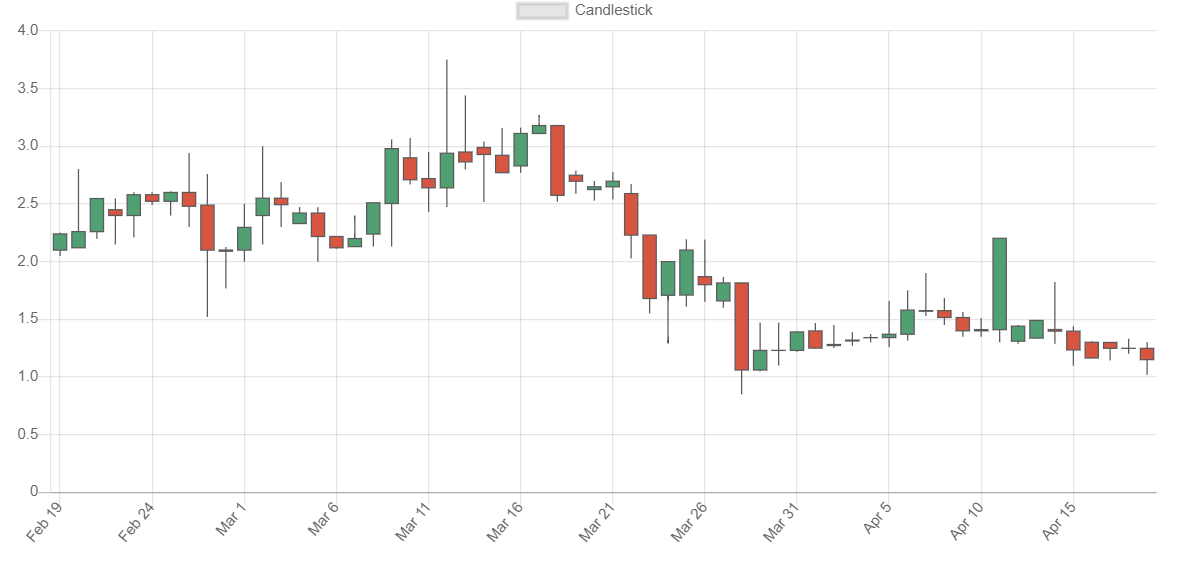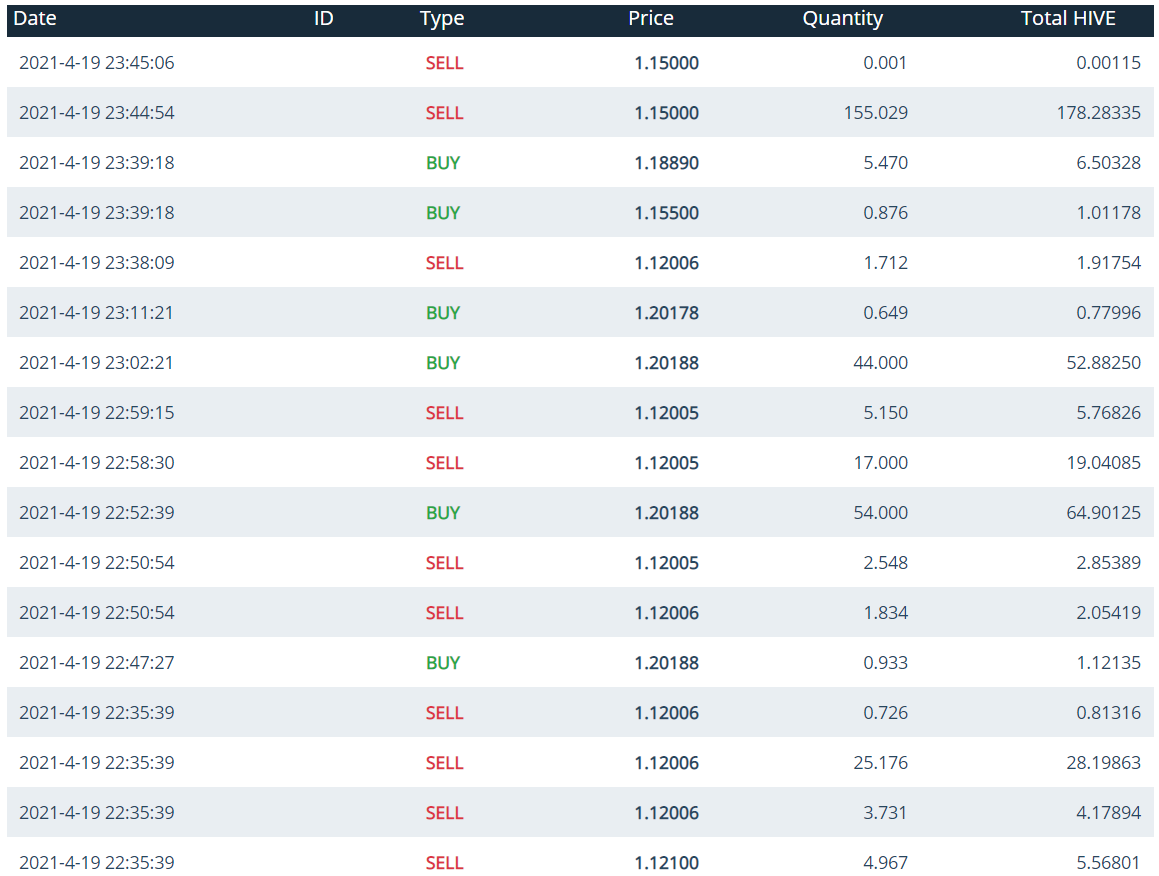 Comparing it from yesterday's volume then we can definitely say that the overall volume is increased but as we discussed yesterday that we might see the price come down due to high supply and small accounts eager to cash out. We noticed so many bluff orders to bring the price down, orders of quantities like 0.001 LEO which is very unethical and dangerous for the future of LEO so we have decided that we'll track these transactions from tomorrow and would give a special shout out to them on our post so that Tribe would know who are they!
Yesterday we recorded the last traded price of 1.23 which today fell down to 1.15 which is a drop of 6.50%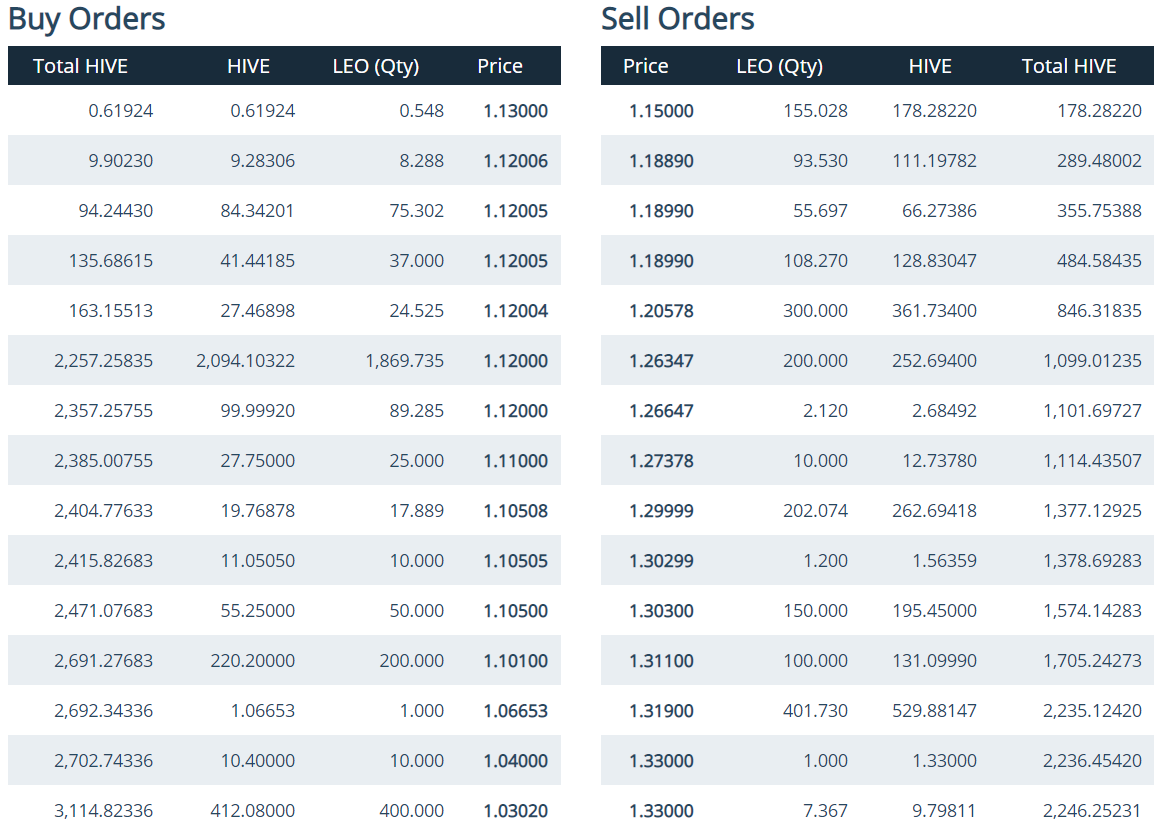 Now by analyzing the Order Book, we can clearly say that there is an increase in demand as compared to yesterday's and a decrease in supply as well which is good for its price to move upwards.
We recorded demand of 2404 LEO and a Supply of 1730 LEO, Today
For the past few days we are noticing that there are small consecutive transactions happening to bring the LEO price down, it seems like some kind of strategy! but we can't confirm it yet and we promise you that we'll now keep a continuous eye on LEO.
Whereas the gap between the min bid price and max ask price is~33% which is also high from yesterday's price gap.
Yes, apart from the low supply every stats are pointing towards the fall of its Price.
We can see good support at 1.12 with minor supports at 1.101 and 1.030 whereas there is a resistance at 1.31 with few minor resistance at 1.20578, 1.26347 and 1.2999
By analyzing this whole report we can say that the price might tough the upper resistance of 1.31 if we don't see bluff orders pulling the price down intentionally.

2. DEC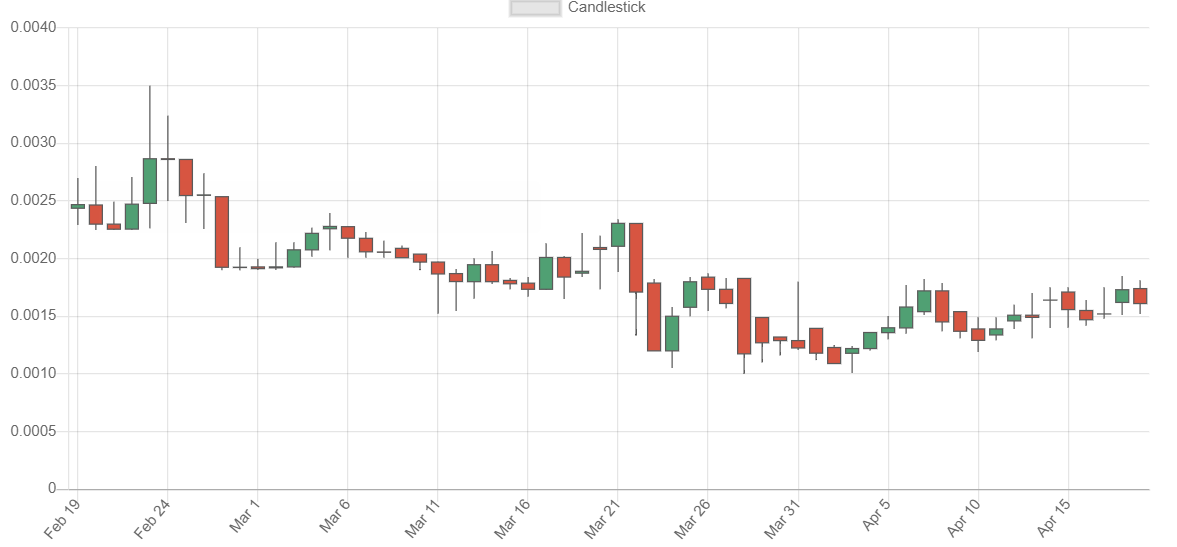 DEC is also performing well continuously and it's already reached a point where we could see a jump or a fall very soon. Let's analyze the books before reaching any point.
Today's total trade volume was $7126 which is less than yesterday's by 3.12%
With maximum buy order on a most traded price of 0.00174 shows the strength of its demand.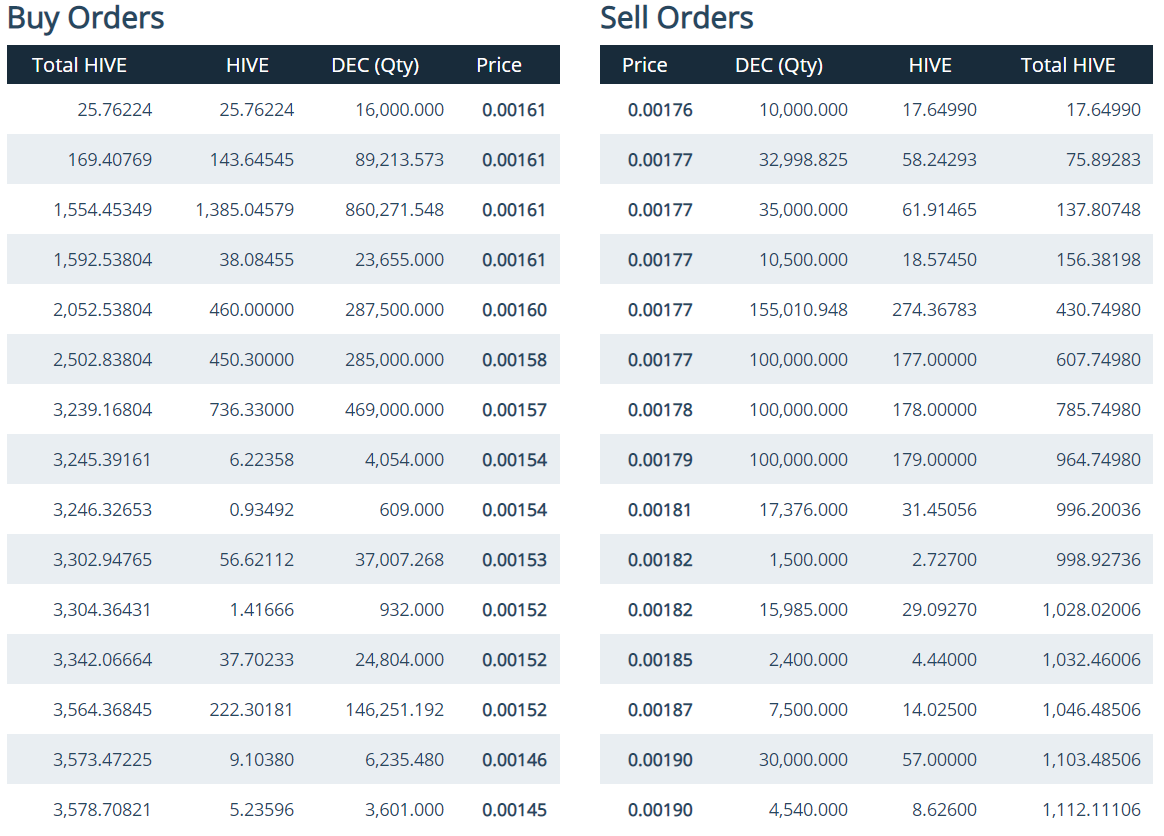 By analyzing its Order Book can say that demand is high with a low supply by ~280% as compared to its demand.
We reordered an open demand of 3,194,187 DEC and an Open Supply of 1,203,472 DEC
The gap between the min bid price and max ask price is ~25% which is the same if we compare it with yesterday's
We can see good support at 0.00161 and there is no such big resistance available right now, yet few small resistance at 0.00177 and 0.00179
Overall all we can say and predict that the price would move up by 3-4% in the coming days.

3. SWAP.STEEM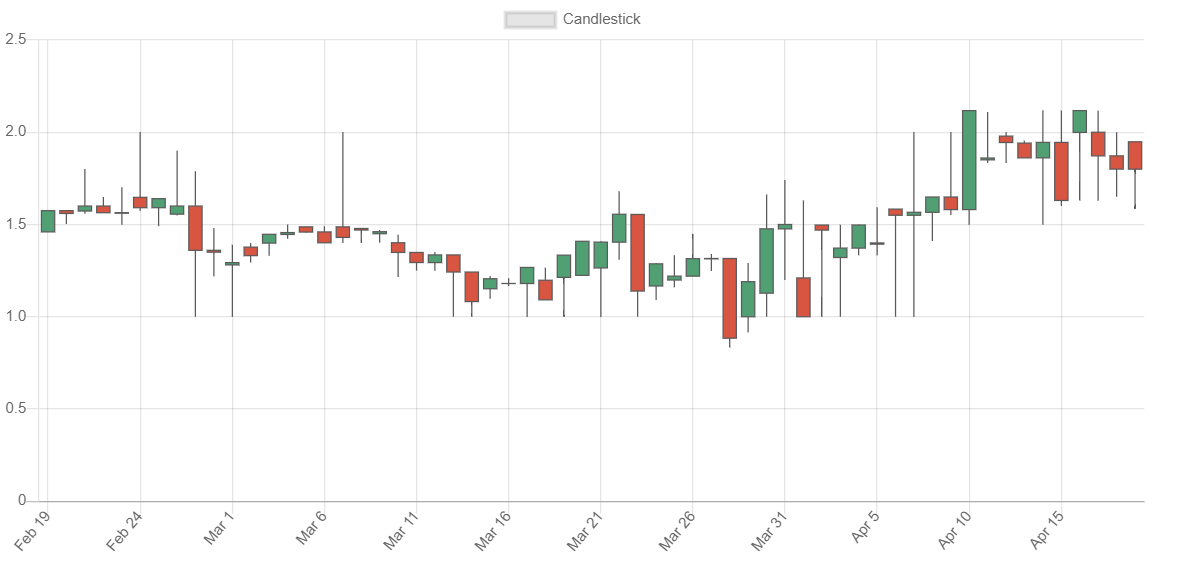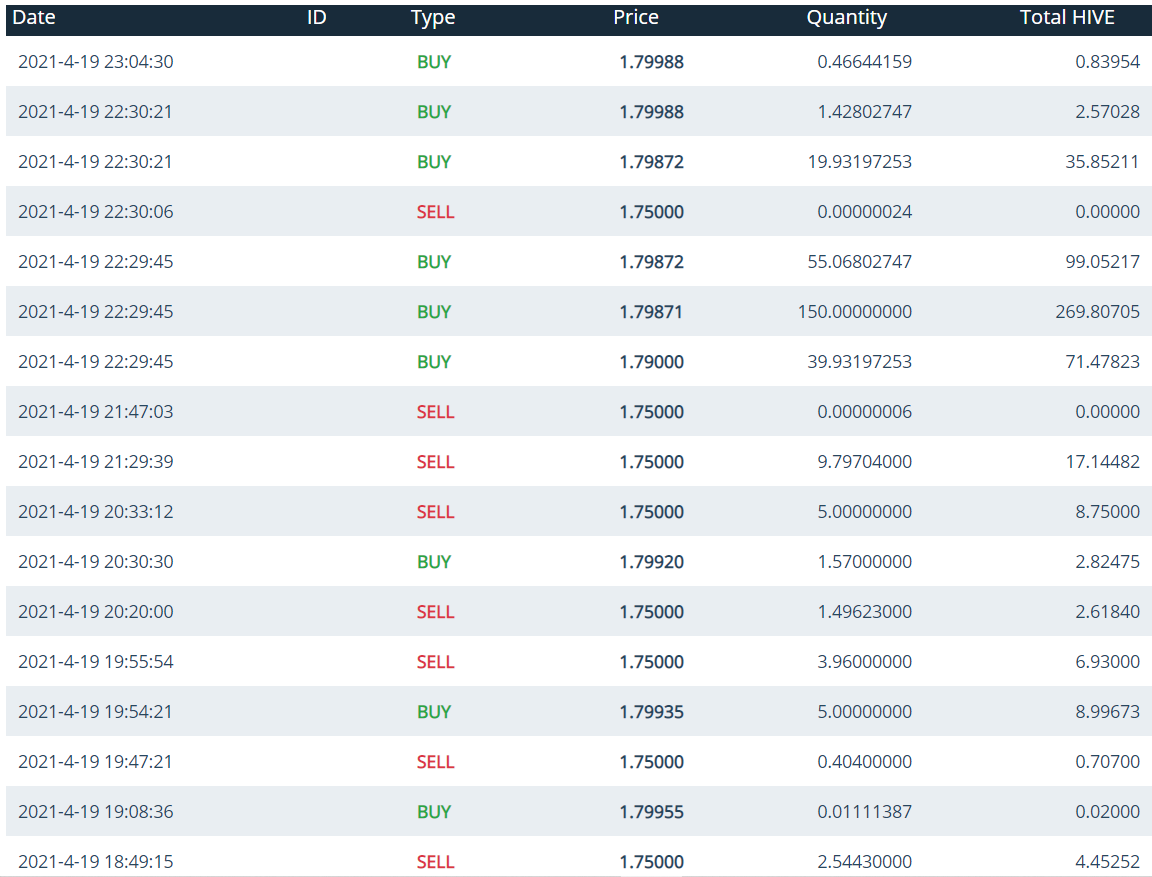 A little surprising entry for us, the more surprising was to see lots of buy orders got executed, showing people selling their hive on ask price for steem. It seems they still believe more in steem than Hive. May be or Maybe Not!
With a total trade volume of $2775 which is around 35% of LEO Trade Volume.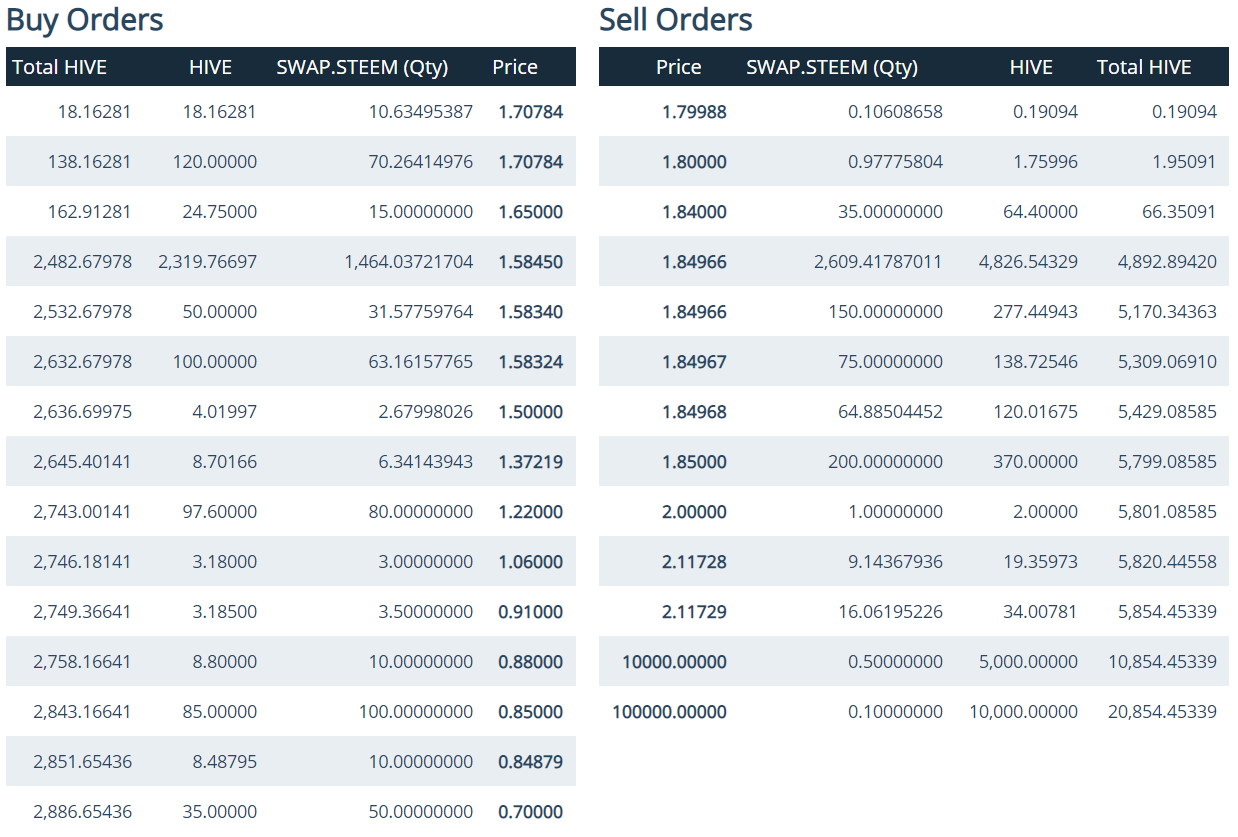 By analyzing the Order Book we can see some imaginary ask prices though we can see good support at 1.58450 with a good resistance at 1.84966
---
That's All for Today's Update On Top Traded Token on Hive Engine
We'll meet again tomorrow with new updates, I hope this post worth your time.
Thank You for Reading
Stay Home - Stay Healthy, Wear Mask - Wear Life

Posted Using LeoFinance Beta
---
---