Hypnotism's Weird History #3 - The Comic in Which Lois Lane and Lana Lang Were Hypnotist Pedophiles

A recent video on the Cracked YouTube channel mentioned a story in which Lois Lane and Lana Lang hypnotized a baby Superman. Of course I had to investigate that further!
Starting around the 1:40 point the video gives the gist of the story. The story referred to is from a comic book titled Superman's Girl Friend, Lois Lane volume 1 issue #57 published in May, 1965. The story is titled "Lois Lane -- Super-Babysitter!"
I am going to skip over the non-hypnosis part of the story. Yeah, the story is as bizarre as the video claims.
This mostly takes place at a hotel. in one of the hotel rooms "Auntie Lana" has a babyfied Superman in her lap. Rugrat Superman and Lana Lang are watching a television set as Lois Lane is standing in a doorway behind them wishing she thought of that and now Lana was going to smother baby Superman with affection all evening.
On the TV screen is a man named Professor Mills. A videotape recording was played showing that a month earlier the professor had given a young boy a post-hypnotic suggestion that he would pour a pitcher of water on himself at precisely 8:25 P.M. a month later. At 8:25 P.M. on the broadcast the young boy involuntarily poured water on himself not knowing that was what the post-hypnotic command given to him was.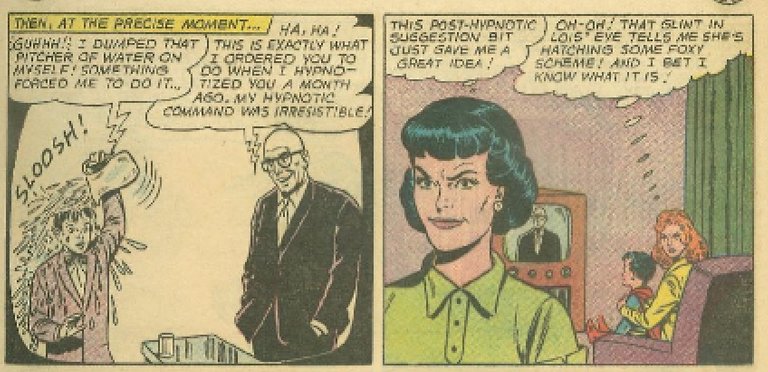 Image Source: Superman's Girl Friend, Lois Lane
That's when Lois Lane decided to become both evil hypnotist and an anachronistic MacGyver. Lois called hotel management to "test the service" of the hotel and ordered glue, chalk, a small round mirror, an electric fan and a baby crib to be delivered to her suite.
The next day the items were delivered. There's also a blackboard in her suite. I guess maybe adding blackboard to the list would have raised a red flag with hotel security so she went out and bought the blackboard herself. Isn't chalk but no blackboard supposed to be the weird inconsistency? Lois glued the mirror onto the electric fan and plugged the fan in.
Did they give instructions on that TV program how to do this? Clearly this wasn't a B.B.C. broadcast. (see Hypnotism's Weird History #2 - The B.B.C. Experimented With Hypnosis Through Television)
"Auntie Lois" goes to get Superbaby to play a "little game". Lana Lang eavesdrops as a baby Superman hypnotized by the spinning mirror writes "ME LOVE LOIS" over and over again on the blackboard.
That's when Lana Lang decided to become an evil hypnotist, anachronistic MacGyver and an identity thief. Lana called hotel management impersonating Lois' voice ordering a gallon of ice cream along with a can of red paint and a mechanical toy top to be delivered. Is the Daily Planet expense account paying for all this and a hotel suite?
Lana painted a spiral design on the toy top and between hypnosis sessions Lana fed baby Superman ice cream. Lois eavesdropped as Lana made a hypnotized toddler Superman put a ring on Lana's finger while saying, "LOVE YOU, LANA!"
Lois goes down to the hotel kitchen and makes a rush order for 50 cupcakes. Each time Superbaby kissed Lois on the cheek he would get a cupcake.
As baby Superman was getting ready for bed both Lana and Lois gave him the same post-hypnotic suggestion. At the Daily Planet party next Thursday (April 19th) after the youth-restoring effect wears off Superman will propose marriage. Lana's post-hypnotic suggestion added the engagement ring bit.
Remember that episode of The Simpsons in which they introduced Poochie and the show get rid of the character by sending Poochie back to his home planet? That's sort of the way this Superman story ends. The toddler Superman was from a parallel Earth. A youth-restoring device he was experimenting with exploded and sent him to their world. At least that's the "probable origin" Superman's visual computer projected along with a scene of the Superman in his parallel dimension proposing to both Lana and Lois' doubles.
Superman's computer stated with virtual certainty that bigamy was legal in that parallel world. I don't know how the computer would access that information. This issue's story was rather crazy and you can't reason with crazy. The story is what it is and it's a thing that happened. Let's just leave it at that.
---
---