Doctor Cloud (Indie Film about Making an Indie Film about an Unethical Hypnotherapist)
Do you like indie films? Do you like absurd mockumentaries? Do you like the TV series The Office? Don't mind liberal use of coarse language? Here's something you'll probably enjoy then.
Doctor Cloud is an independent film that was posted on YouTube in the summer of 2009 as 10 segments and since then doesn't seem to have gotten much attention. The YouTube description states the film is "Currently seeking a film distributor." It doesn't seems to have ever succeeded with that. The Youtube descriptions also states that the film had the former title "Life On Mars" and that's how the film is listed on IMDB.
It's on the DoctorPsychedelic channel; presumably a reference to an alias that the Doctor Cloud character had used according to his sister. Except for YouTube and IMDB I can't find much more references on the internet about the film.
This is how the YouTube description puts it:
Sex, drugs, murder and suicide...and that's just behind the scenes of an Indie film shoot! A story within a story, as life imitates art, imitates life. First time actor-filmmakers, Michael and Suzy, have a script they'd like to direct, produce, and star in. Shouldn't be difficult, right? Except for an evil DP, who steals their camera. And a sex-crazed leading man, a strung out leading lady on LSD, and a gun-slinging actor on the verge of a breakdown.
This "mockumentary expose" jumps between the so-called "reality" of low-budget Indie film making, and the fantasy world of the movie they're trying to create. The struggles and temptations of the characters they've written mirror the struggles of the filmmakers themselves.
The A Plot is about making the B Plot's film. A producer named Michael Johnson (Richard Pierce Liberman) and a screenwriter/co-producer named Suzy Hunter (Rochelle Vallese) are making their first independent film. They have the usual problems of making an indie film. One of their issues was that the original director of photography left for a better paying opportunity in Spain so they had to find a replacement. The new director of photography they hired turned out to be a scam artist named Duwayne Fux (Scott Anthony Leet) who targets emerging independent filmmakers. Since the production is low budget Fux also rents them some equipment. On the back of the receipt for the rental was a hidden contract that Fux used to try to claim the copyright on their film.
The B Plot is the film itself. It's set around the turn of the millennium. A rock musician named Johnny (Johnny Mask) is about to have his dreams of getting a record deal come true just as his band is breaking up. His manager makes a deal with BS Music (later in the film bought by Fourth Reich Records) and Johnny has to try to find replacement band members or get the other former members to come back.
While Johnny is stressing over his situation he also moves in with his hippie girlfriend Crystal Beryl (Rochelle Vallese). To help make ends meet Crystal goes to work for Doctor Darius Cloud (Richard Pierce Liberman). Publicly Doctor Cloud is a respectable new age hypnotherapist. However, after Darius Cloud's sister Damien (Wendi Winburn) comes to town unexpectedly she reveals through exposition that Darius' past was rather shady and far less reputable. Apparently being a scofflaw runs in their family.
Doctor Cloud professes to have cleaned up his act and reformed. He relapses back to being unethical after Damien pressures him to hypnotize Crystal to leave Johnny for him so Damien can hook up with Johnny.
Overall I'd recommend watching it at least once. It's not a terrible story. It has some comedic humor. Maybe if you're German it might be offensive due to the stereotypical way the Hans (Ozman Sirgood) and Luther (Carl Crew) characters were portrayed.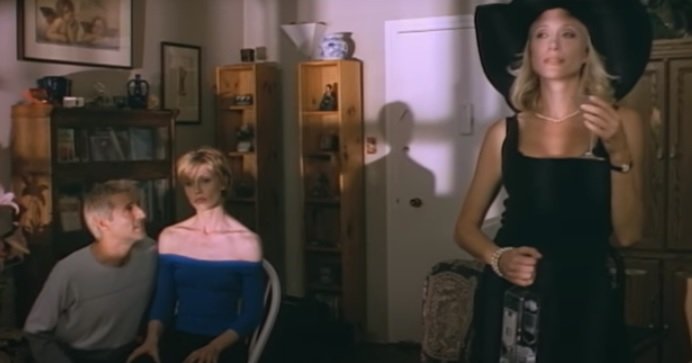 Image Source: Doctor Cloud
---
---