HiveFest⁷ meetup in Amsterdam is next week. Be part of it and get your badge.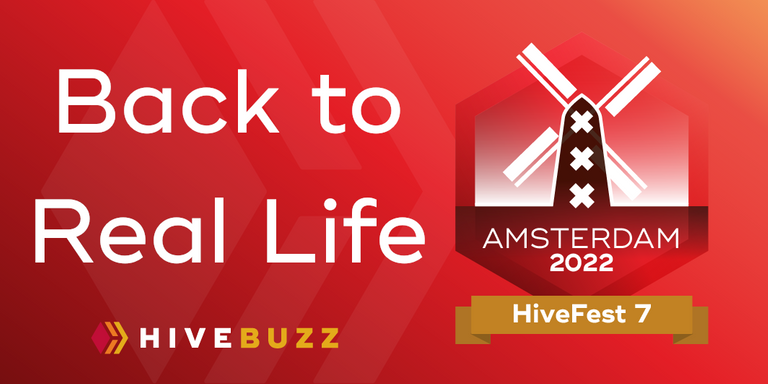 HiveFest… HiveFest… the word starts to be on every lip and we all are really excited by the forthcoming event.
As you all know by now, HiveFest⁷ will take place from September 15-18. If you missed the announcement made by @roelandp, you can read it here.
Since the announcement, around 200 posts about the event have been published. Among the most prolific authors, we have @mochita, @leogrowth, @anomadsoul, @ynwa.andree, @steevc, @smooms, @arcange, @karinxxl, @actifit, @alexvan, @felixxx, @soyrosa, @louis88, @rmach who wrote several posts about HiveFest⁷. Hopefully you will be part of it and meet them in Amsterdam.
Are you ready for HiveFest⁷
The @hivebuzz team is actively preparing for the event too and the commemorative badge is now ready and waiting to appear on your board.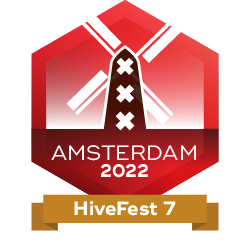 How to get it?
That's really easy! Book a flight to Amsterdam (any other mode of transport is also valid), book a room in Amsterdam, and book your ticket for HiveFest⁷ in Amsterdam (more info on the official HiveFest website. Hurry up! The clock is ticking and as of Friday 9 September, pre-sale closes and last minute ticket price will be higher).
With these 3 sesames, you just have to register at HiveFest (in Amsterdam). Et voilà... you will automatically receive your badge a few minutes later.
The badge will be displayed in your personal tab on your board.
Are you a HiveFest regular?
Did you travel and attend one of the previous editions of SteemFest in Amsterdam (2016), Lisboa, Krakòw, or in Bangkok? Good, HiveFest in Amsterdam will be your second experience! You deserve a special badge:

Your HiveFest badge will pop up with 2 stars so your friends will know you're no more a Hivefest newbie.
Are you a HiveFest lover?
Did you travel and attend two of the previous editions of SteemFest?
Even better! Your commitment entitles you to a 3 stars badge.

Are you addicted to HiveFest?
Do not worry, we know you're a bit addicted to the Fest but you're not the only one and we won't tell your mom. She will be proud of you when you will come back from Amsterdam with your 4 stars badge.

Are you a HiveFest veteran?
OK, you made them all … Amsterdam (2016), Lisboa, Krakòw, Bangkok. You wouldn't miss HiveFest for anything in the world and now you're back in Amsterdam. You are part of the elite and the event has no more secrets for you (but who knows, there might still be some surprises for you though)!

Your HiveFest⁷ badge will pop up with 5 stars so you can proudly show it to all your friends.
Do not forget the Travel Reimbursement Fund
The Travel Reimbursement Fund (@t-r-f) is still open for funding! The purpose of the fund is to support fellow Hive users attending HiveFest to make it to Amsterdam and to lower their travel expenses
@hivebuzz support this initiative and released a new badge for the Travel Reimbursement Fund Donators. Read the announcement post .
The @t-r-f already collected 1731 HIVE and 88 HBD thanks to 23 generous contributors who got their deserved badge.

The travel fund is still open and your support is welcome.
---
We can't wait for the event to kick off and distribute as many badges as possible.
See you soontm in Amsterdam
---
Useful links:
HiveFest⁷ - announcement
Travel deals for HiveFest 2022
Tips 'n Hacks for event tickets, travelling and staying in Amsterdam
HiveFest⁷ - t-r-f announcement by @roelandp
---
HiveBuzz is a project created by @arcange
---
---