Launch of the Hive Bootcamp Hub - A Native Hive Learning Hub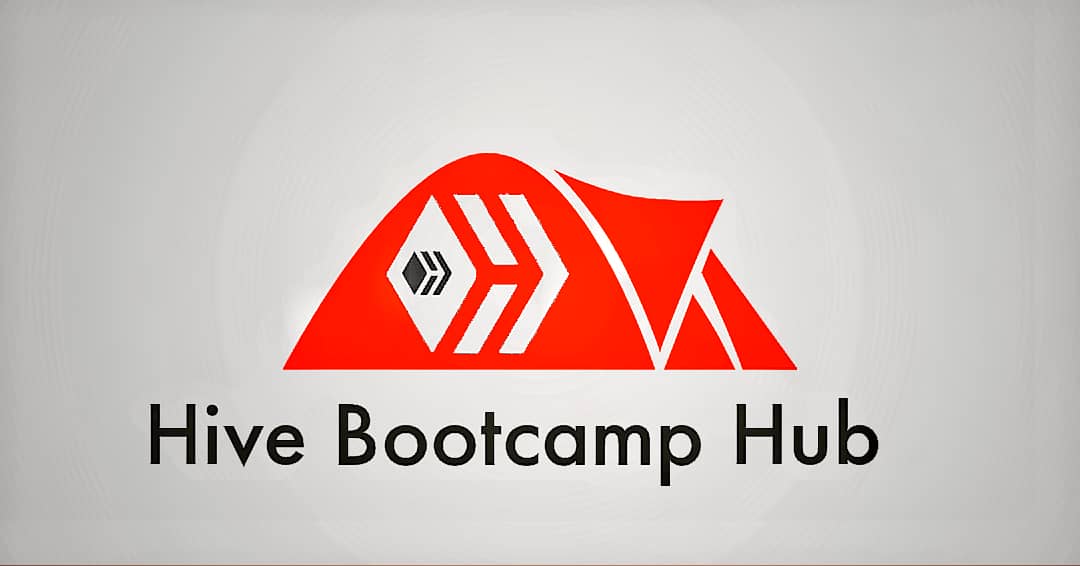 designed by @promzyelisha
Dear Hivers,
This post looks pretty long, and I will be very glad if you read through so that you can get a full understanding of what the project is about.
A Little Information About Me

---

I have been a content creator, crypto trader and blockchain enthusiasts since I joined Steem over 2 years ago. I have leveraged quite a number of social media platforms apart from steem and am glad to be here on Hive.
Educating people on things they find difficult to understand has always been my passion from college days, and I haven't stopped treading that path since I joined the blockchain and crypto space.
The great community spirit and unity shown by Hivers so far especially with the likes of @ocd , @theycallmedan , @anomadsoul , @gems , @project.hope , @threespeak , @travelfeed gives me motivation and I believe so much in the future of HIVE as a blockchain-based social media platform.
I never had the intention of making Hive Bootcamp Hub official. But I had to do that after I came across the POSH initiative post published by @anomadsoul since the mission of the Hive Bootcamp Hub aligns with it to some certain extent.
So, What is Hive Bootcamp Hub About?

---

Hive Bootcamp Hub is a Native Hive learning hub designed to help onboard new users on Hive and also promote the Hive Blockchain to africans and the African community at large.

@hivebootcamphub is focused on:
Onboarding new users (especially Africans),
Educating them on how the Hive platform works,
Helping them get started as content creators on social media, and
Promoting Hive blockchain to the masses (POSH).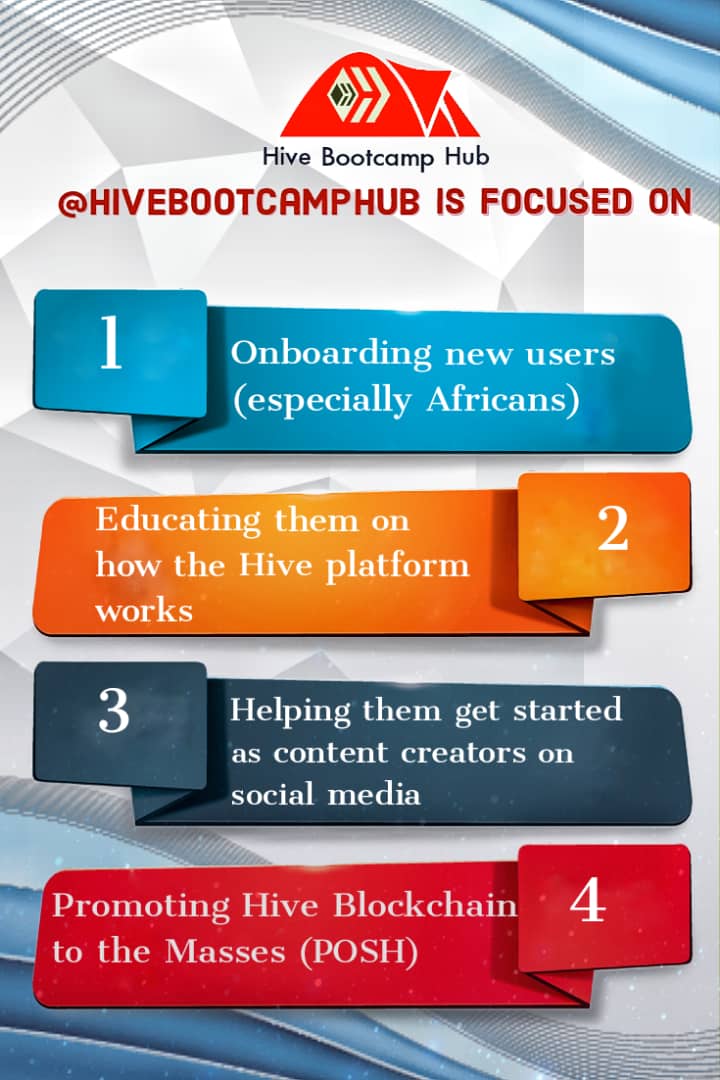 designed by @promzyelisha
What Birthed my Emergency to Helping People get Things Right on the Hive Blockchain?

---

Hive Bootcamp Hub is a project I started after some of my colleagues and friends on a whatsapp group kept asking for help on how the Hive Blockchain works. A good number of them kept nagging about this. So, I decided to offer a helping hand by creating a whatsapp platform and asking them to join after which I gave a lecture that lasted for about 2 hours on the necessary things they need to know about the Hive platform.
At first, the intention was just to give them a lecture about Hive and put a stop there. But the number of people that kept joining the group on daily basis to learn about Hive platform was encouraging that I had to recreate it to be a permanent hub where we onboard new users, teach them how the Hive platform works and support the POSH initiative.
A Recap of All Activities on the Hive Bootcamp Hub So Far

---

I think it would be fair enough if I share a recap of all the activities that have taken place in the Hive Bootcamp Hub so far.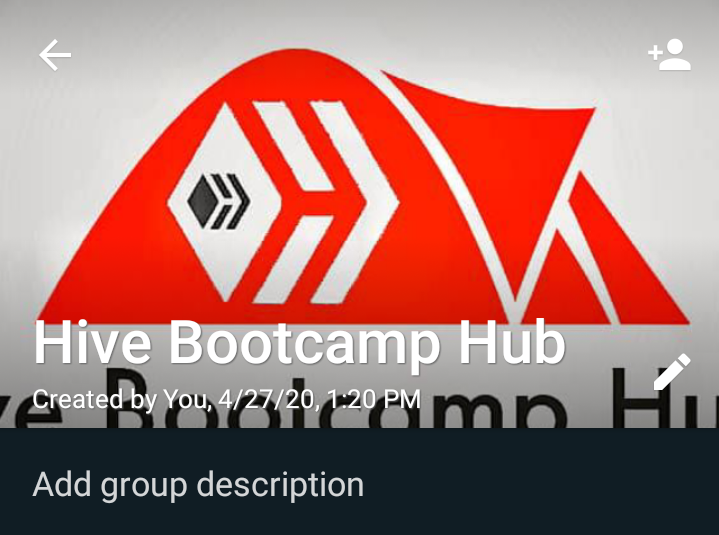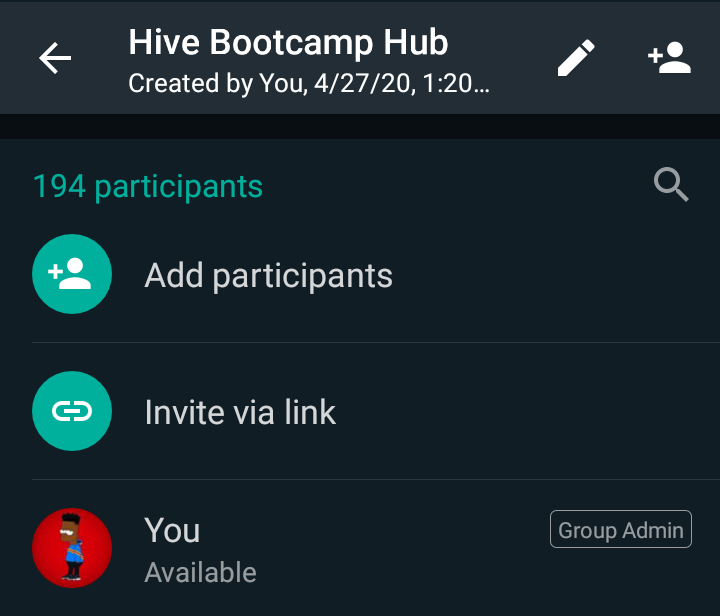 A lecture which lasted for 3 days (1 hour per day) was taken by @prechyrukky on the 13th of May on the following topics;
Hive rules and security,
How to write and what to write, and
How to publish your quality contents on Hive
A good number of the Hive Bootcamp Hub students have made their introductory post, here are the links to some of them:
The Hive Bootcamp Hub Roadmap

---
We plan on hosting a tutorial class every Saturdays of the week.

More effective measures to onboard new users and promote the Hive Blockchain will be put in place as we progress.

There are plans to move our classes to Telegram in the future due to the limited number of participants whatsapp can take.

A weekly or bi-weekly publication of our activities will be published to the Hive community.

We plan to hold webinars to facilitate our Hive Bootcamp classes in the future.

There's also the plan to organize contests and giveaways for newbies using part of the funds generated from post payout of @hivebootcamphub Hive account to encourage them
The Hive Bootcamp Hub Team

---

We can't do it all alone, Kindly show Support by rebloging!

Special appreciation to @rok-sivante and @r2cornell for their support.
Our Social Media Channels

---
---
---