Ultima Online le MMORPG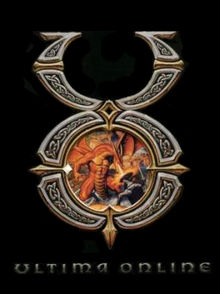 Connaissez-vous l'univers Ultima ?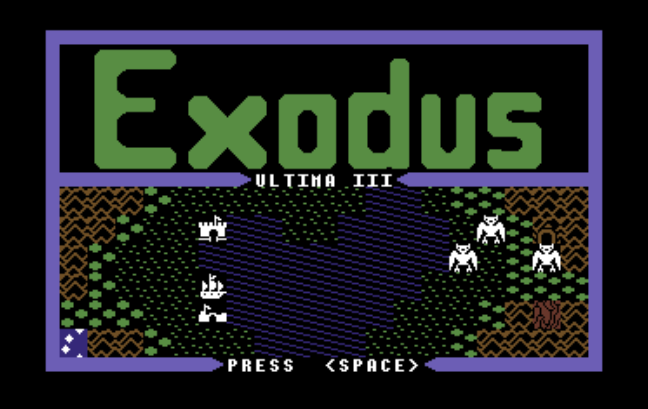 Alors attention pour les jeunes, cela va piquer les yeux, mais à l'époque c'était cela nos meilleures capacités graphiques, donc oui, même un minecraft semble beau :-)
J'y ai joué un nombre incalculable d'heures en SOLO sur mon ordinateur, un apple //c.
Pourquoi je parle de ultima III, pour faire transition vers le premier MMORPG auquel j'ai participé, j'ai nommé:
ULTIMA ONLINE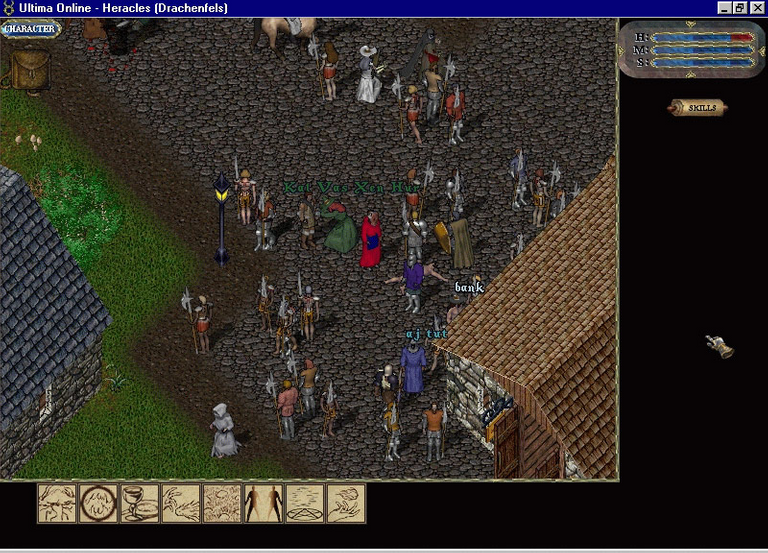 Rien à voir avec le premier screenshot me direz-vous et oui c'est fait exprès, du coup cette image-ci vous paraît bien plus sexy... Alors que vous l'auriez trouvée abominable si je l'avais montré de but en blanc.
Enfin, nous avions des couleurs depuis quelques temps déjà comme vous l'avez vu pour Ultima III, rappelez-vous que j'ai commencé sur un écran VERT sur fond NOIR et aucune autre couleur disponible avec comme jeux WIZARDRY constitué de seulement quelques lignes simulant un labyrinthe...
Nous avions, enfin, un peu de qualité graphique qui nous permettait de nous imaginer les mobs et les décors mais qu'avez des sprites...
MAIS maintenant, et surtout, nous pouvions jouer entre humains, il y avait de l'intelligence dans les rapports sur le jeu puisque ce n'était plus seulement du code que nous combattions mais d'autres JOUEURS
Depuis, l'univers du jeu n'a cessé de s'améliorer.
Vous pouvez jouer en 4K dans des mondes graphiques difficilement discernables de photographies ou de films.
Les personnages sont plus vrais que nature rivalisant dans les détails et les émotions affichées...
Et la taille des mondes de jeux sont parfois si grands que les développeurs annoncent que même si chaque joueur explore une partie de la map seul sans jamais revenir sur un monde déjà visité, et que si tous les autres joueurs faisaient pareil, il faudrait, malgré tout, plus d'une vie pour tout visiter.
Alors oui je suis un peu nostalgique des mes heures passées sur les jeux que j'avais étant enfant, mais je suis aussi admiratif du progrès réalisé.
Sources: les images ont été prises dans les archives google
---
Pourquoi Ce post : Concours, participez-y vous aussi.
Cher membres de la communauté, nous avons décidé comme vous le voyez ci-dessus de participer à un concours sur les jeux : Notre premier jeu en ligne. Le descriptif est noté dans le lien sur la photo et rien n'interdisait de participer en Français. Nous vous laissons ce lien, si vous aussi désirez y participer.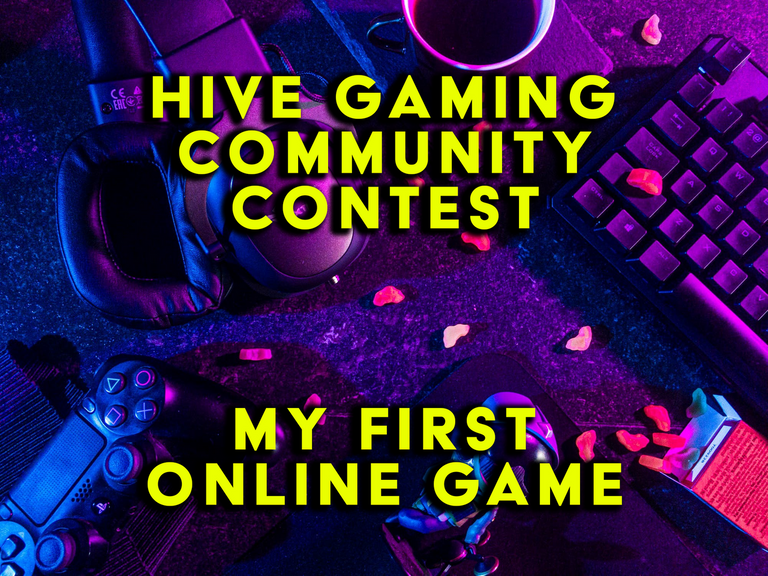 " NOTE: This post was declined in the hive.gaming contest just because it was not in English "
" They refused to cure it, and decided it would not count as an entry in the contest "
" Thus, more than probably, very last time we post in that community "
---


ENTR'AIDE - Communauté de IGNET
Grandir ensemble... C'est notre devise.
Discord : Discuter ensemble (Oral et écrit)
Lives : Notre chaîne Twitch
Monnaie Taverne : https://peakd.com/fr/@hive-143869/la-taverne-les-ducats-et-les-rangs
Instant Gaming : https://www.instant-gaming.com/?igr=itharagaian
Delegations :
Délégations en un click: 10 HP | 50 HP | 100 HP | 500 HP |1000 HP | 5000 HP
Pour une délégation autre, copiez le texte et notez le nombre de HP à la place du mot montant.
https://hivesigner.com/sign/delegateVestingShares?delegator=&delegatee=hive-143869&vesting_shares=montant%20HP
Pour annuler vos délégations, vous pouvez remplacer montant par 0 dans la case HP, mais nous serions triste de ne plus plus vous compter parmi nos généreux délégateurs...
---
---