Macroeconomic Conditions Are Not Favorable To Bitcoin's Recovery
Bitcoin reclaiming a new all time high won't be easy as said, as the king crypto has several challenges to face on it's road to recovery. Looking at bitcoin's bottom which is similar to that of 2018 with macroeconomic conditions which are less favorable than back then which has made this recovery a difficult at this time.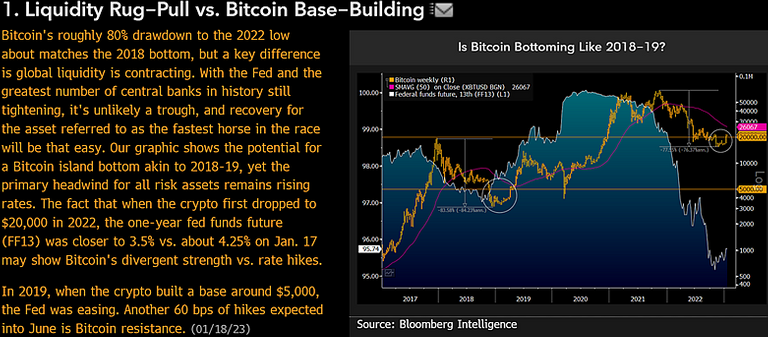 source
Bloomberg Macro Strategist tells he's twitter followers in one of it's twitter session that;
"Bitcoin's roughly 80% drawdown to the 2022 low about matches the 2018 bottom, but a key difference is global liquidity is contracting. With the Fed and the greatest number of central banks in history still tightening, it's unlikely a trough, and recovery for the asset referred to as the fastest horse in the race will be that easy."
With Feds interest hike which doesn't seem to be over anytime soon, as it's been projected that they will remain hawkish through out the second quarter but he's playing he's card in respect to bitcoin that bitcoin will survive.
If you see this post on a Web2 ecosystem and you have no clue about what Leofinance is here is a brief definition;
LeoFinance is a blockchain-based Web3 community that builds innovative applications on the Hive, BSC, ETH and Polygon blockchains. Our flagship application: LeoFinance.io allows users and creators to engage and share content on the blockchain while earning cryptocurrency rewards.
Over here we refer to users as lions, so are you ready to be a lion here is my referral link
Also don't forget in contributing to the pHBD-USDC pool, and from statistics it looks like we will be able to archive the set target in a few months, let's do our own part in growing the pHBD-USDC liquidity and also take out time to participate in the Leo power up challenge which happens every 15th of each month.
Let's also connect on some of the web2 platform.
Twitter:Hironakamura
Posted Using LeoFinance Beta
---
---