Bloomberg's Thought Process On Bitcoin Cover Coming This Current Bearish Market With A Price Drop
The current bearish market which would say have lasted spanning over like six months now, might come to an end with a slight market pump.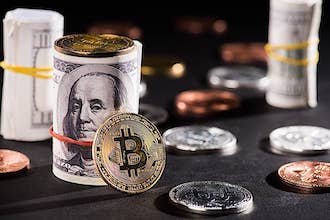 source
In an interview with one of Bloomberg finest analysts Mike McGlone, he is saying that the primary crypto asset bitcoin is poised on coming ahead after the current bearish market as he list a potential global recession which he says might be the determinant for bitcoin price.
"Our bias is that Bitcoin is more likely to come out ahead in most scenarios, but if the inverted yield curve is an indication, economic growth will ebb sharply, with implications for all assets. The benchmark crypto could revisit good support at around $10,000-$12,000 before resuming its enduring upward price trajectory.
A key difference from a year ago is the Federal Reserve and most central banks might be forced to start easing on the back of deflationary forces from declining asset prices."
If you see this post on a Web2 ecosystem and you have no clue about what Leofinance is here is a brief definition;
LeoFinance is a blockchain-based Web3 community that builds innovative applications on the Hive, BSC, ETH and Polygon blockchains. Our flagship application: LeoFinance.io allows users and creators to engage and share content on the blockchain while earning cryptocurrency rewards.
Over here we refer to users as lions, so are you ready to be a lion here is my referral link
Also don't forget in contributing to the pHBD-USDC pool, and from statistics it looks like we will be able to archive the set target in a few months, let's do our own part in growing the pHBD-USDC liquidity and also take out time to participate in the Leo power up challenge which happens every 15th of each month.
Let's also connect on some of the web2 platform.
Twitter:Hironakamura
Posted Using LeoFinance Beta
---
---