Introducing the new HELIOS "Universal UI!"🚀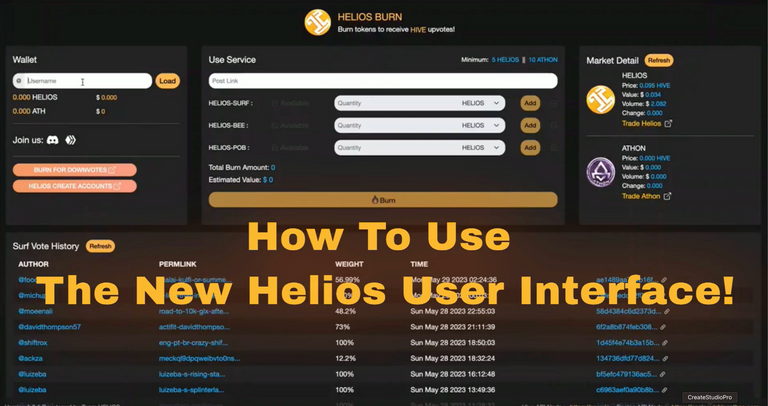 Due to popular demand, the team at HELIOS has created a "Universal UI" where all the HELIOS functions can be found in one convenient place. Basically this update added the ability to burn for hive post boosts, BEE boosts, and Proofofbrain (POB) boosts all from the comfort of one keychain transaction located at https://helios.surf!
How to use the new HELIOS User Interface!
Step 1:
Select the account that you would like to Burn HELIOS from.
Step 2:
Paste in your post's link and the UI will verify which tags will be supported.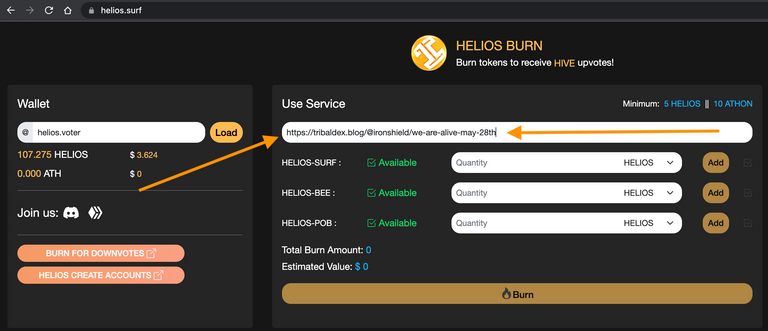 Step 3:
Fill in the amount of HELIOS you would like to burn for available tribe. HELIOS-SURF is for HIVE boosts, HELIOS-BEE is for the tribaldex tribe BEE costs, and the HELIOS-POB row is for the proofofbrain tribe.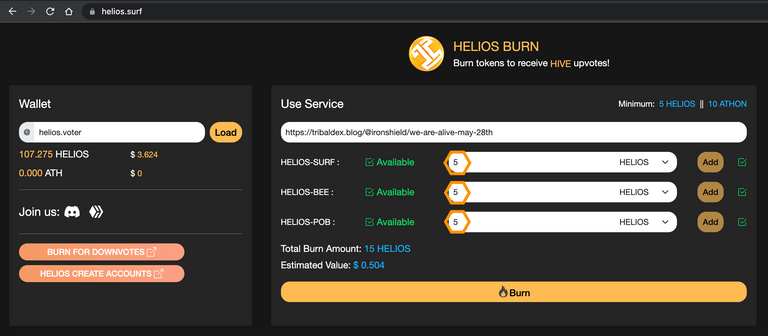 Step 4:
Once you fill in the amounts, click add on each row to finalize the tally before burning.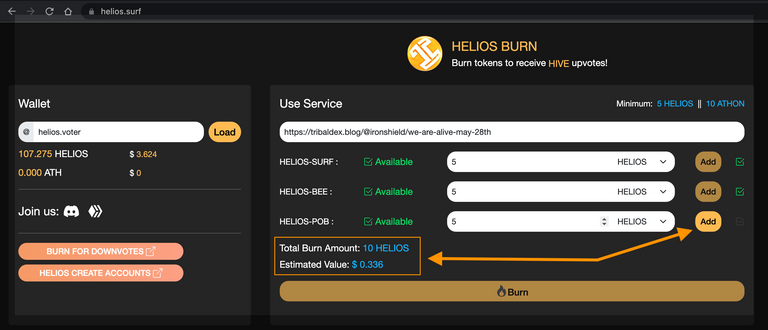 Step 5:
Click Burn and initiate Keychain to confirm your burn!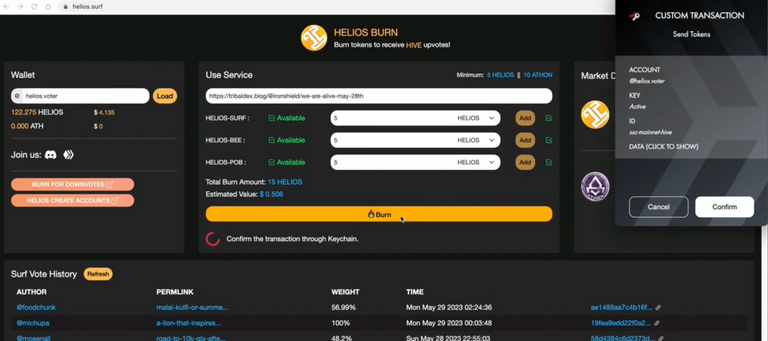 And that's all there is to it. Please keep in mind that Bee Posts require either the #hive-engine tag or the #tribes tag...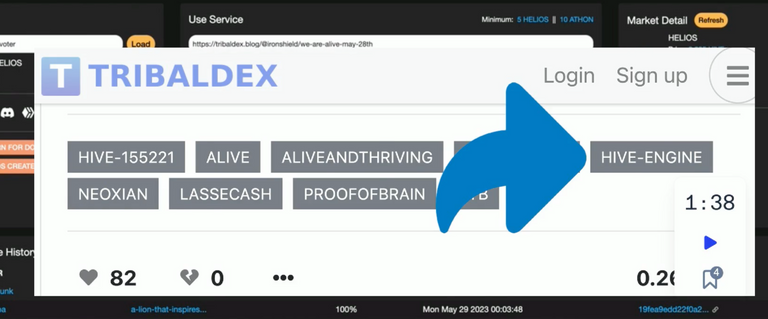 or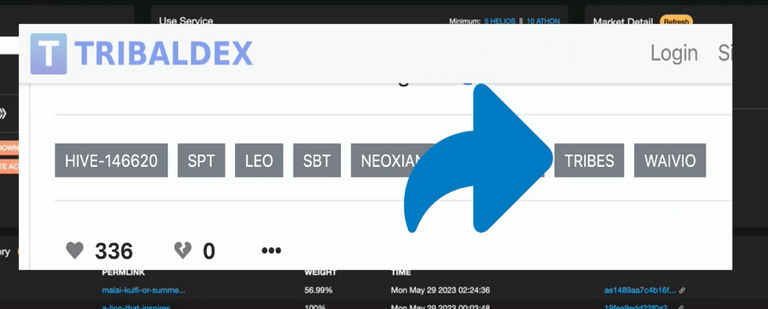 ... and the proofofbrain tribe requires the #proofofbrain tag or the #pob tag!

or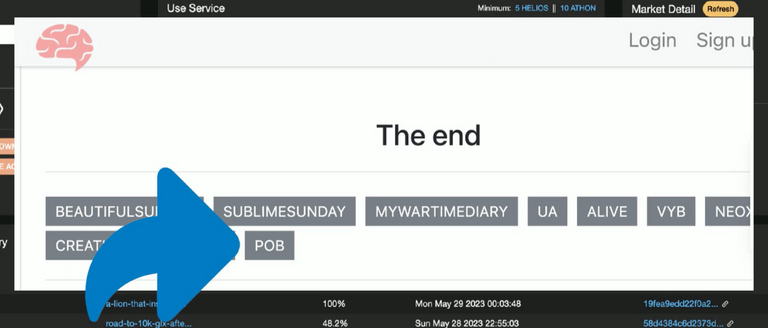 Other Updates:
In addition to consolidating the various tribe boost features that we offer, we added a few more functions to the site, such as manual api switches for hive and hive engine. If anyone has a node preference then they can simply click the link at the bottom of the page and select the desired node.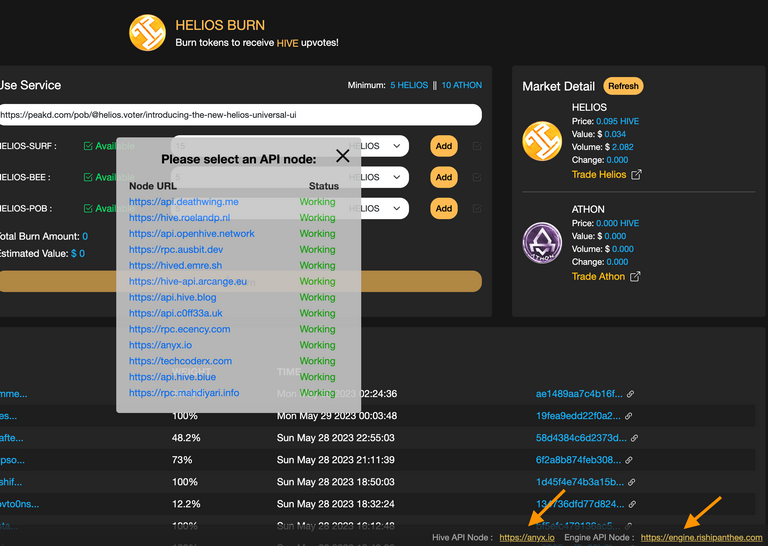 Future Updates:
Next we plan on addressing the issue of post comments. We are aware that now we may generate u to three comments per post, one for each community that has been boosted. Since we don't want to purposely spam anyone's comment section and leave more room for valuable comments, we have come up with the idea of creating a simple automated daily post where all the boost comments will end up. This will help to create a centralized area for all the helios-generated reply comments, keep users' posts cleaner in the comment section, and also provide a great way for us to engage with the community on a daily basis by supplying dynamic project statistics and information.
We are very excited to bring this simplified UI to our user base and hope that everyone will find this update beneficial. We welcome any feedback regarding this update, please leave any questions, or concerns in the comments section below. If you find this information helpful, please be sure to upvote this post and follow helios voter for more!
For a live example of using the new HELIOS UI, please check out the video below:
---
---