Erik Ten Hag Should Run.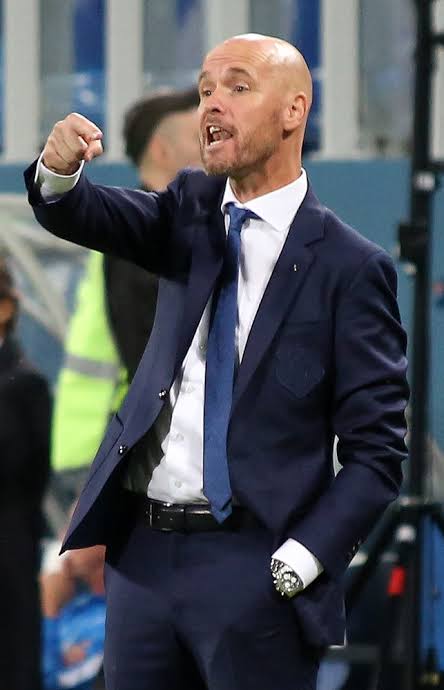 Image Source
---
I stand by my statement but this team knows how to make good coaches look ordinary. It takes someone with strong mettle to take on this United side and I am not so certain they won't make this incoming coach look so ordinary.
I have run out of words to describe this team and I sincerely have no excuse to give them anymore. They are terrible, shambolic and not growing. They keep getting worse season after season, game after game and their decline is obvious for everyone to see except themselves. They are living on past glory, on borrowed life which everyone knows but themselves.
Their performance against Liverpool yet again would always make any incoming coach worry about how things would be going forward if watching Norwich wasn't enough. They lacked energy and fight and I saw how that academy boy; Hannibal Mejbrias chased the ball as if his life depended on it despite being 4-0 down. I don't mind seeing the academy team mixed up with this team for the game against Arsenal because if care is not taken, Arsenal would beat us black and blue and we would be holding on by a thread.
There is an obvious gulf in class between Manchester United and Liverpool, Manchester City, Chelsea and I am not wrong to even quote Arsenal and Tottenham in the mix. West Ham would do a better job against Liverpool than Manchester United did over the two legs. They lost 5-0 at home in the first leg and now got hammered 4-0 in the second leg. Mohammed Salah had a filled day because he has scored 5 goals in both games and it couldn't have gotten any worse.
A lot of dead woods need to leave this team. Phil Jones got thrown into the game after not playing any game for so long. A formation that has never been used before by this coach for used against Liverpool. Liverpool game isn't the time to start trying things out like Jones and that formation. A lot was said about Pogba who didn't even attempt to push further and it was said that he dodged the game and quickly got out as early as he can with a fake injury since the first goal went in so early.
A lot of players have disengaged from this team and this team need players that would play their heart out for the team but certainly not these lots. I don't know what new ideas this new coach wants to bring especially with these current crops of players except he is allowed to give a massive overhaul of this team and keep only a few selected players but if that is not the case, I would suggest that this new coach shouldn't even bother coming because they would make light of his work and send his reputation to the shreds.
I would run away if they asked me to work with these players because their hearts are somewhere else and not with the team. They keep looking like they are helpless to the current plight of the team but they are not because they are not running after balls. They play as though they just want to get the game over with and fulfil all righteousness. I would never be coaching a team with this mentality and Ten Hag shouldn't either.
If they allow him to sell off 3/4 of the team while getting the players with the right attitude, it would help but no team can overhaul 3/4 of his team and remain the same again. It would take a lot of getting used to because they would have players that haven't been immersed into the culture of the club and also players that would be in a transition period where they have to first get familiarized with their surroundings, their teammates and the club and we know that in the Premier League, there is no easy game, so they would be punished yet again.
If they can take 3 seasons of pain I believe it would help them going forward but the problem is they don't want to do that. They are focused on the financial aspect like how the stocks would plummet, how the merchandise would dwindle and the sponsorships that might be lost which is why they are living on past glory. They are more of a commercial club right now than a Premier League team. This is why Erik Ten Hag would do well to stay with his young and hungry Ajax side and not allow Manchester United to drag his reputation into the mud.
Cheers.
Gingered Up! ❣️
---
---