Venezuela: New Monetary Reconversion vs. inflation
In Venezuela, we are on the verge of a new monetary reconversion, the third one in only 13 years. But, as in previous years such as 2008 and 2018, it would only be a ruse to "solve" cash shortages and accounting problems that usually occur in the country. It is just a make-up of the sick economy we have.
This new reconversion is not a means to solve the serious problems of our economy: hyperinflation, devaluation, economic recession. This is the point where many economists and financial analysts agree.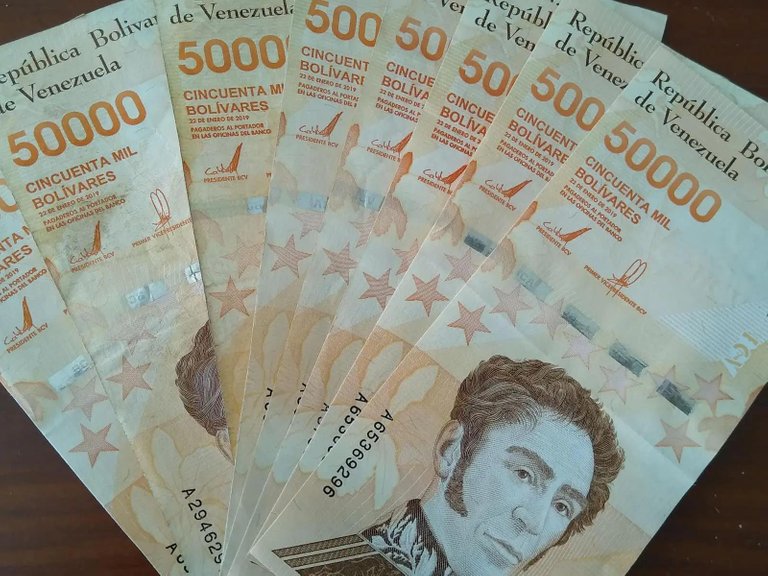 Source: link
Awaiting official announcements
A new monetary reconversion is on the horizon and we know it since at the beginning of this year the Superintendence of Banking Sector Institutions known as "SUDEBAN", requested the presence of the country's banking representatives to discuss the issue, however, no official report has been issued. Many rumors speak of the elimination of six (6) zeros to the currency and in turn reduce the existence of physical money.
However, the only thing that has happened so far is the introduction of new banknote numbers such as 200,000, 500,000 and even 1,000,000 Sovereign Bolivars (VES), as well as the interest of the executive to initiate a digitalization of the Venezuelan currency.
Therefore, national banks were authorized to open savings and current accounts in foreign currency so that citizens could make payments in such currency at the equivalent exchange rate set by the Venezuelan Central Bank.
Where is the BCV?
May represented a month in which the leaders of entities such as Consecomercio and Fedecámaras, institutions recognized worldwide, will request the BCV to carry out a new monetary reconversion with the sole purpose of solving problems in accounting and business and financial operations.
Not only is there a payment difficulty due to the exaggeratedly long amounts, but also the machines for labeling products cannot generate such large amounts. Felipe Capozzolo, former president of Consecomercio, said. He also indicated that it is visible in the population how people themselves subtract up to three zeros from their products to facilitate processing, but that this in turn has generated misunderstandings and inconveniences at the time of serving the public.
"The reconversion allows leaving more rational and understandable numbers for Venezuelans."
Consecomercio also indicated to us that this reconversion should bring with it measures that help to decrease hyperinflation and create stability in the value of the national currency.
"Hyperinflation is a high risk problem, this affects both the merchant and the consumer to a great extent as income is pulverized day by day. In order to generate a positive change, this problem must be addressed and thus remedy the causes of our inflationary roots," stated Tiziana Polesel, president of Consecomercio.
Without structural reforms, there is no way out
It is necessary to reform the structural economy to remedy the hyperinflation we are experiencing. For this, the most important thing is to return autonomy to the BCV. "It is necessary to stop the monetary financing processes within the deficit fiscal management. It does not matter how many reforms they make, as long as the BCV does not have its full autonomy", said Leonardo Buniak.
The inflationary issue is so complex that the three banknotes introduced in the monetary cone only a few months ago, no longer have any value whatsoever.
In 2008 and later in 2018, two reconversions were carried out that did not strengthen our currency. It is clearly visible that the devaluations experienced after both reconversions have surpassed any that Venezuela has gone through in past centuries.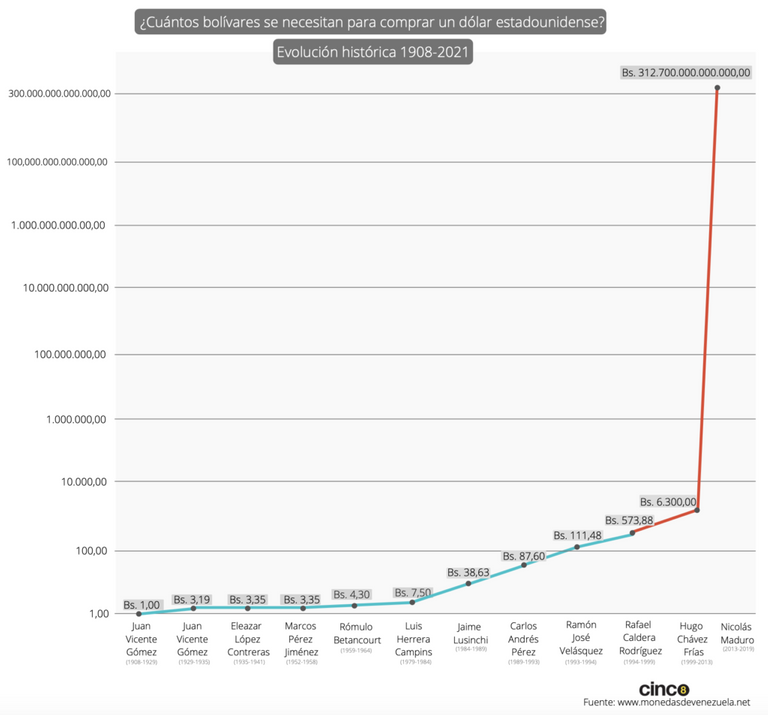 Source: link
In 1999, when the late President Hugo Chávez first became President, one US dollar could be bought for only 573.8 Bolivars. Currently, the price of the dollar is equivalent to 39,895,000,000,000,000 bolivars.
The current official exchange rate is 3,895,000 sovereign bolivars per dollar, but this sovereign bolivar does not have the eight zeros it had in 1999 due to the two monetary conversions carried out by the Chavista and Maduro administrations to "suppress" inflation (Chávez suppressed three zeros to the bolivar in 2008 and Maduro five in 2018).
"The strong bolivar was born weak and the sovereign bolivar was born without any kind of sovereignty". There is no stability that would allow convertibility between bolivars and dollars. There are no economic reforms to create stabilization plans, and monetary issuance continues to finance public spending plans and economic subsidies.
Many economists believe that Venezuela should go through a formal dollarization process. However, since this is a political decision, it lacks viability due to the differences of such nature between Venezuela and its neighboring countries in the Americas. In any case, a plan is needed to create programs to stabilize the national economy.
The only real benefit that an economic reconversion would bring before the end of the year would only be of an operational and accounting nature. Disturbances in payment systems, transactional accounting, financial statements, cash operations, invoices, will be the only beneficiaries, but in terms of the bolivar as an instrument with financial credibility it means nothing.
A currency in extinction
Our currency is basically in extinction. There is nothing to support it or give it credibility. Ecoanalitica, an economic consulting firm, estimates that at least 70% of financial and transactional operations are carried out in foreign currency, a proportion almost 12 times higher than in 2012.
The current minimum wage of 10 million bolivars is equivalent to only 2.5 dollars per month, according to the exchange rate published by the Central Bank of Venezuela. Meanwhile, the basic food basket, according to the Center for Documentation and Social Analysis of the Venezuelan Federation of Teachers (Cendas FMV), costs an average of 1,280 million bolivars, equivalent to 321 dollars; approximately 64 minimum wages are needed to be able to eat properly.
The official rate managed by the Central Bank of Venezuela (BCV) managed to go from 60 sovereign bolivars per dollar, on August 20, 2018, to 3,983,700 sovereign bolivars per dollar, on July 30, 2021, when this note is written. This means that the Venezuelan currency has achieved a devaluation margin of over 99% since the country's last monetary reconversion in less than 3 years.
Probable scenario: third quarter
Considering the upcoming elections to be held in the last quarter of the year, many economists comment that the most probable scenario is a reconversion in the next few months, this being the third quarter of the year.
Public and private banks are ready to assume a monetary change and adapt their systems to a new reconversion. However, other economists assume that this reconversion will be more visual than practical, due to the fact that Venezuela has a de facto dollarization and the use of foreign currency is more widespread in economic activities.
"Venezuelans already resolve their affairs in dollars, bolivars are usually used only for the payment of public services. A reconversion will not solve the problem by itself."
Econometrica, a financial advisor in the city of Caracas, indicates that a reconversion alone will not do the job. Clear measures are needed that will reduce inflation. They estimate that the country's economy will continue to contract and is already eight years in recession.
Three years or less?
It seems unheard of, but in only three years we have already gone through a reconversion. Reducing inflation is not an easy task.
"For anti-inflationary policies to be completely effective, you must not only attack the monetary factor, you must also be able to trust the governing body of the economic area. In this way, national production and productivity would rise. But with the current policies it would be almost impossible."
When asked about the number of zeros that the executive plans to remove from the bolivar, many people talk about six zeros, however many economists see this as an absurdity since there is no means to generate payments of fractions of currency in some services.
"It would be logical to remove six zeros to give validity to the currency, but payments such as public transportation would be reduced to 0.3 bolivars and there would be no way to pay for that."
In turn, we do not know if there will be a new cone of bills or if we will keep the current system.
---

Posted Using LeoFinance Beta
---
---