Crypto Portfolio update June 2021
June was crypto wise a real roller coaster. We did see it all, market going south for a few days, did hit the resistance and going north again. But in the end the month was more or less sideways for BTC! But some of my tokens did got hurt during the past month!
June for me personally was a breakthrough month. Finally decided to stake some coins so that they could earn interest! I should have done this ages ago! Due to the fact that I did have to move some coins, the transfer fees are noticeable in some of my holdings, but still I do think that it was a smart decision after all!
Overall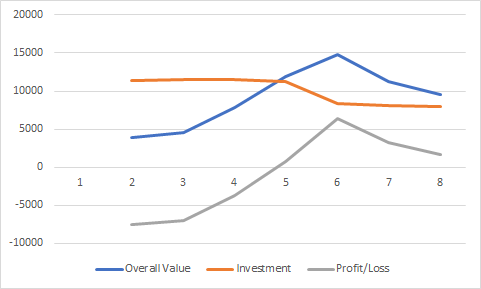 (Orange line) While it was a rather negative month, I still was able to decrease the fiat investment a little bit. It did only decrease with a miserable 1.7%. But it is another step in the good direction!
(Grey line) Still surprised that I am still in a virtual profit zone. I did expect maybe a virtual loss. The virtual profit did decrease with almost 50%. This proves that having some stable coins in the wallet really does help. The only problem I do have now, in what to invest them and maybe more important when to invest them again. Or should I just withdraw then back to the real life!
(Blue line) Not a surprise that the blue line is almost following the same path as the grey one. Not big investments were made in June, only did buy a small batch of Fun tokens, but that was about it!
Share pie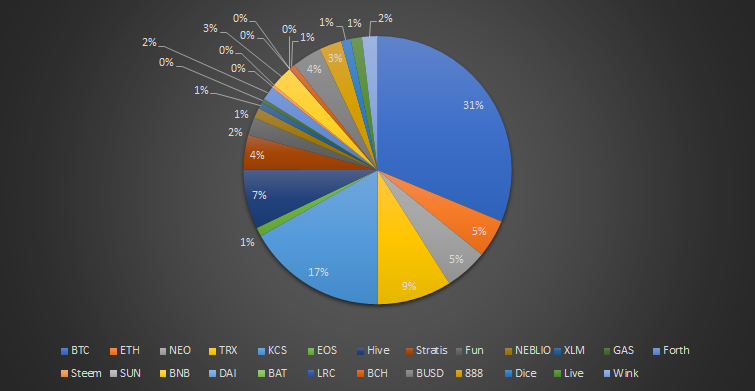 As expected the BTC share did increase this month from 26% to 31%.
The top 3:
BTC -> 31% (+5%)
KCS -> 17% (+3%)
TRX -> 9% (+2%)
Lots of my Forth was sold during the month of June, which explains why the top 3 did increase so much. Last month Forth was representing 12% of my portfolio, now it only holds 2%.
Let's have a look at some individual coins!
BCH
Let's start with the newcomer BCH. I only discover read and noise.cash this month. And I do have to admit that the community has been generous to me. In the past month I was able to collect 0.15 BCH, which can be considered a great start!
It now has a 0.68% share in my portfolio but I wouldn't be surprised it this will jump to 2% next month!
Bitcoin
Bitcoin was one of the coins I did start staking. Only a week ago, but still I was able to increase my BTC holding with 4%. This result is the combination of some faucet incomes and the interest I am getting on the stake BTC. It is a slow start but could turn into a giant snowball running down the mountain!
KCS
Well I do have this coin almost since the beginning of my portfolio and always had it on Kucoin. At the start I was just accumulating but during it's peak I did start to trade it up to a point where all my investment in KCS were paid off. So now free money is earning me some free money. In the past month I did again got 1.5 KCS for free as interest. Who I am to complain.
BNB
Almost forgot to mention this. Shame on me. During June I did use some of the funds after selling Forth, to finally become part of the 1 BNB club. BNB is one of the best pupils in the crypto class and by the looks of it, everything it touches turns into gold. So, while late at the party, I didn't want to miss this. The BNB is staked at Binance and does start to earn some interest. In the past month this was only 0,003007 BNB but will increase next month a little bit. Not too much due to the fact that it is locked staking. Will have to set a reminder that I will lock it up again just after my holiday!
BUSD
Another newcomer in the portfolio, but it is more a replacement of Tether. I do have my tether staked on Binance and did notice that the staking plan for BUSD was more rewarding. With the recent FUD again about USDT, I decided to swap those 2.
Next month!
I don't expect any big changes to my portfolio. I do hope that I can double my BSH and that the passive income will be noticeable in the portfolio. Most of my major holdings are long term investments. The other are just sitting in the wallet to be sold. I really should decrease the different number of coins in my portfolio!
Guess this is enough for now!
Cheers,
Peter
---
---