Crypto Portfolio overview: July 2021
The portfolio for July 2021 will be closed and evaluated 2 days earlier than in a normal month. This due to the fact that the last day of the month is within the upcoming weekend! I didn't expect lots of changes but I was wrong!
July was a strange month with up and downs. But Splinterlands had a big impact overall. Not only with the release of their governance token, the increase in value of the cards, but also on the value of Hive! More about that later!
Overall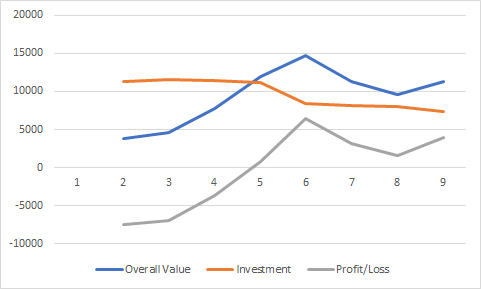 The overall value of the portfolio did grow with a mighty 18%. I would sign for it, if this would be the case every month. Which is also a great improvement is that I was able to reduce the fiat investment with another 7.23%. If I do compare this with the fiat investment which I did have in the beginning of the year, the fiat investment has decreased with a little more than 36%. So that is on the right track. And for sure because the value of my portfolio isn't hurt that much.
Most of this is profit taking and buying back some tokens at a lower price. After which the profit was returned to real life. Most fiat withdrawal were sales of the splinterland assets.
So, the only thing I have to look at overall is the virtual profit/loss.
There is still a healthy virtual profit. In the past month virtual profit has more than doubled up. This is a massive improvement compared with the start of 2021, when there was still a major loss! The loss back then almost did touch $7.5K.
My complete crypto value is actually much higher than the value reported here. The theoretical value of all my splinterlands assets is valued at $18K. But I do consider this to volatile to include in the value of my portfolio. So I do leave it out deliberatly. Just like in the past, I will try to take some profit out of Splinterlands. The profit will be used to decrease my fiat investment even more and increase my holdings in some coins!
Portfolio share pie
In June, BTC has still the major piece of the pie with 31%, followed by KCS with 17% and TRX with 9%. Well I do expect some changes. Let's find out!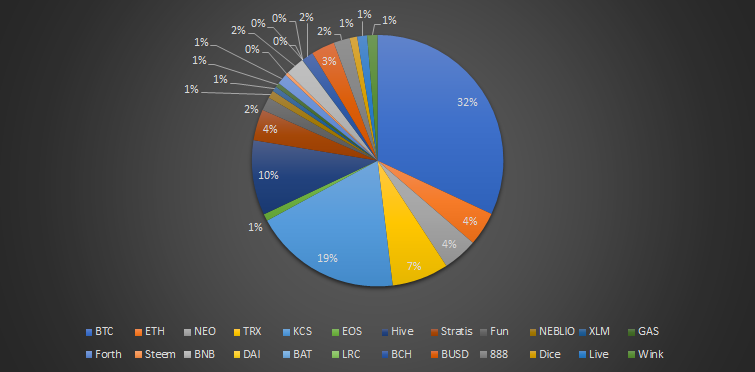 It looks like the leader BTC, did increase his portfolio dominance with another 1%.
KCS also does take a bigger share of the pie, with 19% increased by 2%. And here is the surprise I did expect, Hive does take bronze with a 10% portfolio share, due to the increase of value of the token.
BCH is still on the move. Its share did grow from 0.68% towards 1.51%. Curious how far it can get!
Individuals coins!
Let have a look at some coins which do take a major share in my portfolio.
Let's start with the godfather of them all BTC.
BTC
During the past month I did increase my stake into BTC. Most of the money used was profit from splinterlands. My BTC holdings did increase with 6.4%. The overall value of my BTC holdings did increase with a whopping 21%. Like I did write above, shouldn't all months be like this?
Probably next month some small pieces of Satoshi will be added but some other tokens will get some more attention. I will have to make sure that the dominance of BTC in my portfolio doesn't become to big. Not the type of guy who does want to have all eggs in the same basket!
TRON
I am getting a little bit worried about TRX. In China more and more government regulations are in place considering crypto. And TRX does have some kind of partnership with the Chinese government. So I will try not to increase my holdins into this one too much. In the past month my holdings did grow with 1.5%, while the overall value did decrease with 4.12%.
KCS
Still on of my favorite currencies. The best things in my portfolio for KCS is that during the past year it has become a risk free assessment. During the bull market I did some selling and buying back, which did gave me enough profit to have recuperated all the money invested into KCS.
In the past month, the holdings did increase only by 1% (mainly interest) but the value did increase with 34%.
BCH
How can I write a portfolio report with one of the fastest growing coins in my portfolio? I can't!
My holdings did increase with a mighty 153% and the value did rise even more with 162%. Most of the increase is thanks to the generous people on read and noise! Thank you all.
But also did some some splinterlands profit to increase my holdings, so that I can beat my ETA of reaching the 1 BCH club.
Next month!
Just like last month I do have the plans to decrease the number of different cryptos in my portfolio. But it is hard to say goodbye to some. Still this would make my life a little but easier crypto wise. Like written in my last post, I am in a vicious circle of questions who I do keep asking myself!
Let's see if I can have a breakthrough next month!
Cheers,
Peter
---
---