Betfury Olympic Games! $150K prize pool. Giving it a shot!

Like always Betfury isn't shy of another festival! This time there festival is devoted to the Olympic Games in Tokio! This Olympic Games festival will last for 3 weeks. This festival will last for 3 weeks and had a prize pool of $150.000!
An Olympic Box!

The first thing I did was to purchase the Olympic BNB box. This is a BNB box. The purchase price of the BNB box is 0.01 BNB, but after one month I will get 0.02 BNB back. So doubling my money. I know that it isn't a lot but free money is free money!
Next week they will offer a ETH box, followed by a TRX box in week 3! Not so interested in the ETH box, because I don't have a lot of ETH on Betfury, but will try to grab one of those TRX boxes.
The Olympic Spin!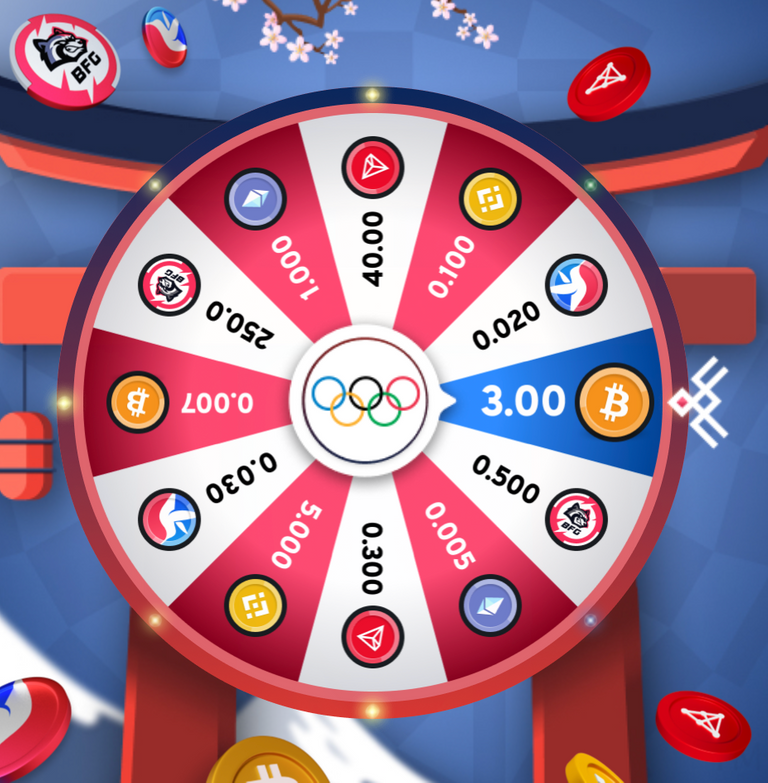 This is what does interest me the most. Even up to such a level that I decided to upload 2500 TRX, to get some spins at their Olympic wheel. The main prize in the wheel is a whopping 3 BTC! I have no hopes or dreams that I will get that prize.
The earn a spin at their Olympic Wheel, you do need to gamble of course. Hence that is why I did upload some TRX to Betfury. For each $100 wagered in BTC or the equivalent in other coins, you do get a spin at the wheel.
Main prize: 3 BTC
You can see the other prizes at the wheel above!
Already earned myself 2 spins. The first spin did give me 0.5 BFG and the second one 0.02 BSW. Both have a value of around $0.01.
Be aware that wagering at sports only counts for 50%.
Special battles
Of course they also did increase the daily and weekly battle prizes. The weekly battle does involve special slots and will have a prize pool of $7K in BTC each week. Divided among the top 100 players with the biggest wagers.
The daily battle is an -in-house battle. Here the daily prize pool is $7K and is shared for the top 200 players with the biggest wagers.
Due to the fact that I am a low stake gambler, both aren't interesting to me!
The plan of attack!
As mentioned earlier I did deposit some TRX. I will only play with TRX and only their dice game. I will play as safe as I can, hoping not to loose my deposit, which is of course possible.
To prevent myself from getting too much burned, I will withdraw each evening the amount of TRX above 2500, regardless of how much that is. At the end of the festival I will leave the TRX behind on Betfury and will use it for sportsbetting during the coming football season (soccer that is for me).
Feel free to join me in trying to catch as much spins as possible at:
https://betfury.io/?r=602e3adb18edfa1999ca8264
If you thank, but gamble with care and only with the money you are comfortably loosing, because it is possible to loose it all!
Cheers,
Peter
---
---