Investing in Sorare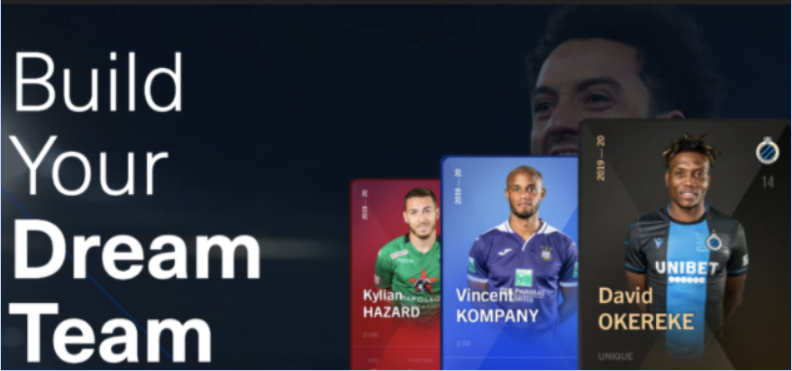 What is Sorare
Sorare advertises itself as a global fantasy football game where you can play with officially licensed digital cards (NFT's) of 100+ football clubs and win prizes every week.
I see Sorare as a football manager game. You can select a team of your players twice a week to compete in different competitions.
The 5 players you select earn points for the results they have in the real life games they play.
If one of your players scores a goal; you get extra points. If one gets sent off points get withdrawn.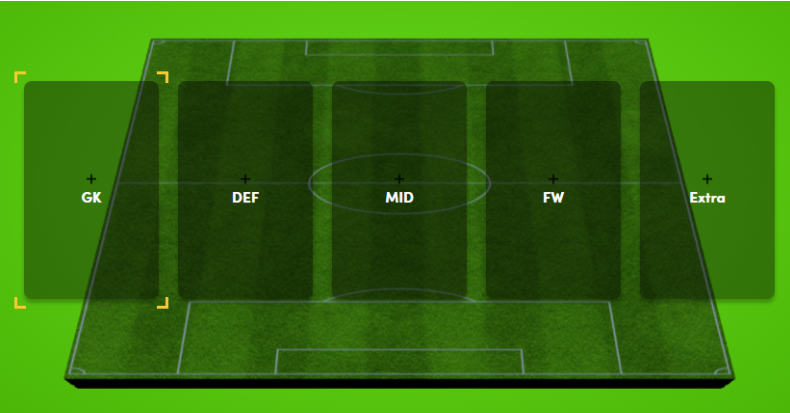 Player cards
The player cards are NFT's. There are four different types of cards: Unique (1 copy), Super Rare (10 copies), Rare (100 copies) and Common.
The cards represent an in-game value that is driven by a market.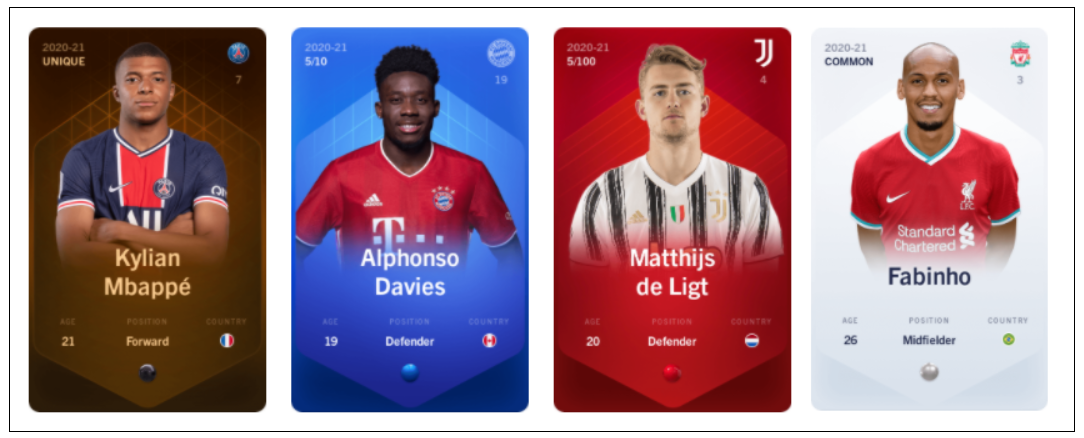 You can collect the cards to use them in the game or in 3rd party games. The NFT's can be used across multiple games. So did Ubisoft just release a game based on Sorare cards.
But you can also see the cards as an investment. If you buy a player that is improving his form, his price will go up.
Play for free
A question I often get is whether the game can be played for free. And the answer is yes!
You can register an account at Sorare (here's my referral link ) and you will get an amount of money to spend on a team. With this team you can join the Rookie League where you can test different strategies. In the Rookie league you will be able to win
common cards.
The downside of this is that you cannot sell common cards in the game, so you cannot actually earn money with it.
But you can play the game and try out some tactics to see whether you like it or not.
Investing
If you want to earn money with this game you have to invest some ETH to buy some rare (or super rare/unique if you are very rich) cards.
You can use these cards to join the different other leagues. All leagues have different rules. In the Global All Star league you can play with players from all competitions. But there are also leagues for Under 23, Asia and Europe.
All leagues allow you to select one common card. So you have to invest in at least four player cards to join these competitions.
But you can win very nice prizes with it: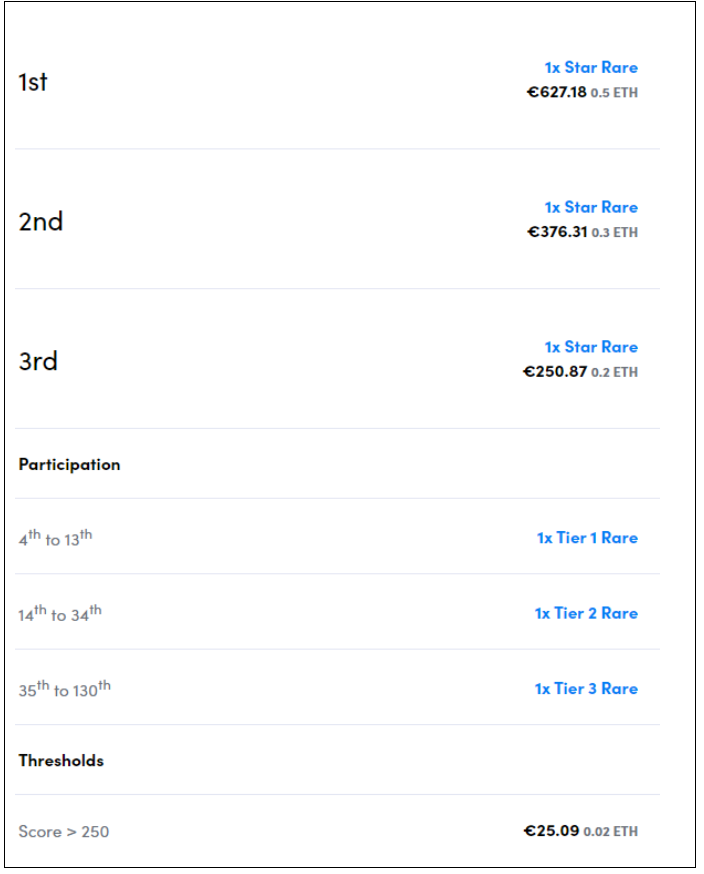 How to buy player cards?
There are two ways to buy player cards.
Sorare puts new player cards in the game every day. You can find them under "Market - New Signings". In these auctions you compete with other managers to buy these cards.
The prizes at the auction are a bit lower than the market prizes, but I found it quite difficult to get the highest bid. And most cards are way out of my budget for now.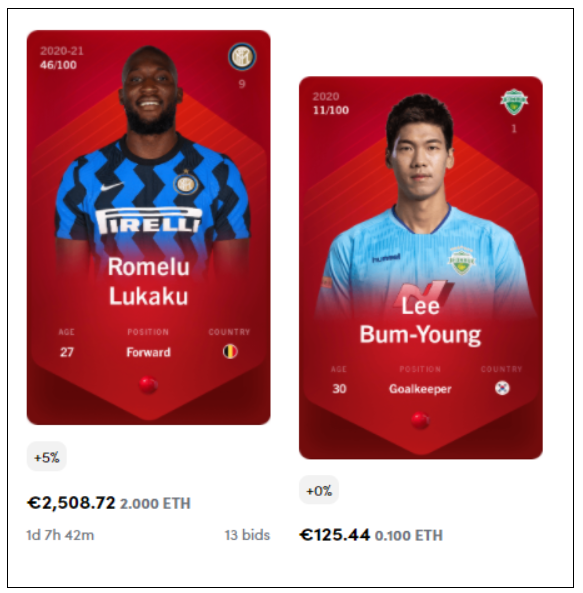 To the left we see world class striker Romelo Lukaku beïng sold for 2.000.
To the right is the first player I managed to buy on the auction; Lee Bum-Young for 0.061 ETH
I hope this substitute goalkeeper of Jeanbuk Hyunday Motors FC will get some playing time so I can sell it on the market for a higher price.
As you can see I put him on the market for 0.1 ETH. Let's hope someone will buy him for this price.
The Transfer Market is the second place where you can buy cards. And you can also sell your own cards there as well. Sorare players put their cards on the market for the price they want to get. As a buyer you can buy the card directly or make another offer for a lower price.
How to choose your players
If you want to join the competitions you have to look for players that actually play their games.
When I started Sorare I bought one common goal keeper from the Russian league (which was paused) and my second goalkeeper was a substitute.
When you look for players I advise to use Soraredata.com
This website has all information of all players in the game including whether they are starters or substitutes, the average points they have scored in their last matches, the current market price and the average market price of the past weeks.
This gives you enough info whether you should buy a player.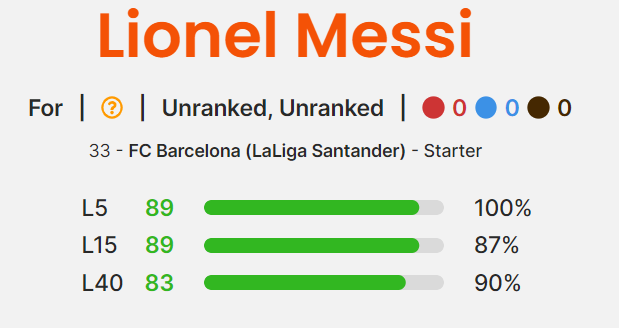 How I play the game
When I started this game I was enthusiastic about the manager options. I've played many football managers in the past.
After playing a couple of weeks with my common cards I decided to invest some money. I took 0.06 ETH and managed to buy 4 Rare player cards with that. Together with one common card I could join the Global All Star league.
But my team was just too weak to score enough points to win prizes so I switched my tactics.
I sold my player cards for a little bit more than I bought them for. My amount of ETH in the game had increased.
Good thing to know is that the transfers in the game do not require any gas!
With the money I bought some more expensive cards. I now buy cards and sell them for a slightly higher price. I hope to accumulate more ETH this way so I can finally buy some better players with which I can compete in the competitions.
I think this tactic works pretty well for now. My complete selection exists of the following two cards: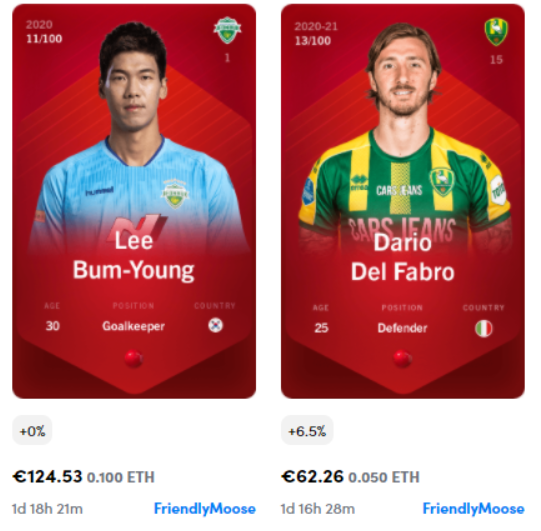 These cards have a 3 day average price of 0.065 and 0.045 ETH. This means my 0.06 investment since January is already worth 0.11 now.
As you can see I try to get more out of it by selling the cards for way more than their average market price; 0.1 and 0.05 ETH.
If I manage to sell them for these prices I have 2.5 times my investment.
The prizes are quite high, but if no one buys them after two days I might lower the price a bit.
I really like the game so far. It's exciting to wake up and see your players being sold, buying a good player for a nice price or winning an auction. I'll continue with my tactics to see what it brings me...
Interested?
Are you interested in this game? Please consider signing up with my referral link. If you buy five player cards in the New Signings then you will receive a 6th one for free: sorare.com/r/friendlymoose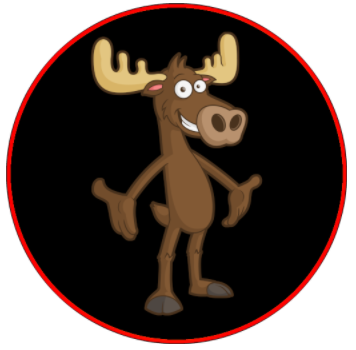 ---
About FriendlyMoose
I'm crypto and security enthousiast with a passion for photography that likes to play games.

---
Follow me on noise.cash: FriendlyMoose
My photos on Wax: wax.atomichub.io
I play Cryptobrewmaster
I play Sorare Fanstasy Football
I'm using Binance to trade crypto
Posted Using LeoFinance Beta
---
---