Mason greenwood the future soccer star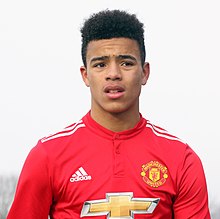 Manchester United is a football club have been on fire recently over the last few weeks due to their undefeated streak of up to ten games......
They were also able to win Manchester city....on Sunday at old trafford.....
While the season is going far,Manchester United tend to be performing better and better everyday.....
The awesome football display by players like Martial Anthony, by scott McTominay and also by new signing "Bruno Fernandes " has been able to help make the Manchester United team to do well....
Well However, one person that will never go that unnoticed is Mason greenwood who is a fantastic player that have done so well at the club....
Though many Manchester United fans still believe that Mason greenwood can do better which is true....
He is a player that keeps improving and also willing to grow and that is a great traits that great players do have....
Mason Greenwood have been able to register up to 11 goals and also two assists in up to 35 games which was played across all competitions, and that is including 16 starts......
That is honestly a good heavy number of minutes for a kind of player who' is just going through his kind of first professional campaign.....
He is just 18 years old and there is still a bright future for him if he does not stop becoming hardworking and determined.....
---
---