Day 1647: 5 Minute Freewrite: Tuesday - Prompt: freedom fighter / Freiheitskämpfer
Hello everyone.
Today, too, the given task is very interesting.
Freedom fighters are known to all of us from our history.
Especially since we have the Internet, we have the opportunity to inform ourselves comprehensively.
Under freedom fighters you can find, for example:
Garibaldis Einzug in Neapel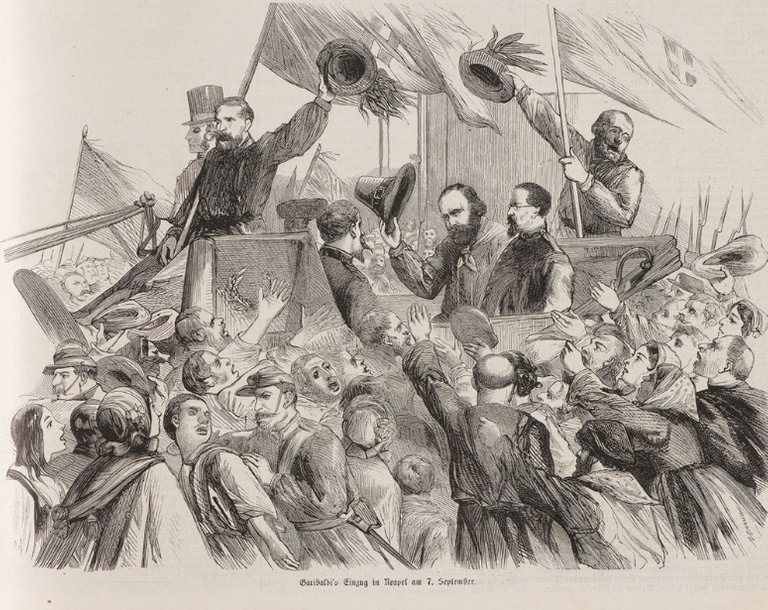 Leipziger Illustrirte Zeitung, No. 35 (1860), p. 229
Leipzig, 1860
Graphic
© German Historical Museum, Berlin
Inv. no.: ZB 20-35, 1860 II (Bibl.)
There are also plenty of adventurous film adaptations of freedom fighters and, of course, female fighters.
But what about us?
Do we only pull ourselves up by adventures and dreams of freedom or do we also fight for it?
Why is freedom a lie?
Because we lie to ourselves with it.
It is indisputable that we need rules, behaviors and of course also laws for a social living together.
Now it is unfortunately also in such a way that since invention - conversion and coming into force of these laws there are humans, who do not feel thereby any longer free.
Already begins unconsciously a rebellion.
If also in the hidden - but it ferments.
Freedom is therefore "actually" only an interpretation, or?
There are people who live freedom within these laws - and there are people who do not see themselves free through this and rebel.
So freedom remains a matter of opinion or interpretation.
If we want to fight for freedom, we should start by disciplining ourselves.
For freedom! - which is entitled to each of us!
I do not have to explain this now, since everyone judges his liberties himself.
Besides, the 5 minutes are long ago rum, but that is simply everything so out of my mouth.
Thank you for reading.
The Filosof
Translated with www.DeepL.com/Translator (free version)
DEUTSCH
Hallo Allerseits.
Auch Heute ist die vorgegebene Aufgabe sehr interessant.
Freiheitskämpfer sind uns allen aus unserer Geschichte bekannt.
Besonders seit wir das Internet haben, besteht für uns die Möglichkeit uns umfassend zu informieren.
Unter Freiheitskämpfer findet man zum Beispiel:
Garibaldis Einzug in Neapel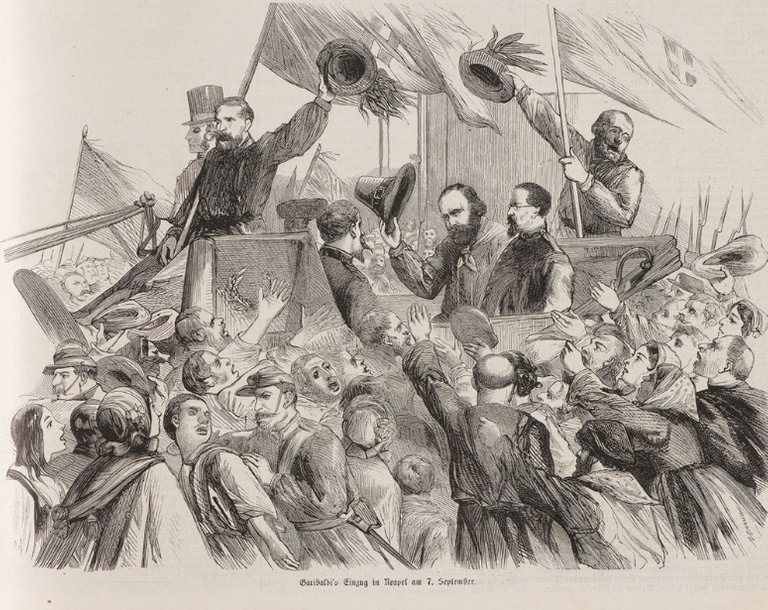 Leipziger Illustrierte Zeitung, Nr. 35 (1860), S. 229
Leipzig, 1860
Grafik
© Deutsches Historisches Museum, Berlin
Inv.-Nr.: ZB 20-35, 1860 II (Bibl.)
Auch abenteuerliche Verfilmungen von Freiheitskämpfern und natürlich auch Kämpferinnen gibt es genug zu betrachten.
Was aber ist mit uns?
Ziehen wir uns nur an Abenteuern hoch und Träumen die Freiheit oder kämpfen wir auch dafür?
Warum ist Freiheit eine Lüge?
Weil wir uns selbst damit belügen.
Unstrittig ist, dass wir für ein gesellschaftliches Zusammenleben Regeln, Verhaltensweisen und natürlich auch Gesetze brauchen.
Jetzt ist es leider auch so, dass seit Erfindung - Umsetzung und Inkrafttreten dieser Gesetze es Menschen gibt, die sich dadurch nicht mehr frei fühlen.
Schon beginnt unbewusst eine Rebellion.
Wenn auch im verborgenen - aber es gärt.
Freiheit ist also "eigentlich" nur eine Interpretation, oder?
Es gibt Menschen, die innerhalb dieser Gesetze Freiheit leben - und es gibt Menschen die sich dadurch nicht frei sehen und rebellieren.
Freiheit bleibt also eine Ansichts- oder Interpretationssache.
Wenn wir für Freiheit kämpfen wollen sollten wir damit anfangen uns selbst zu maßregeln.
Für die Freiheit! - die Jedem von uns zusteht!
Erklären muss ich das jetzt nicht, da ja Jeder selbst seine Freiheiten beurteilt.
Außerdem sind die 5 Minuten längst rum, aber dass ist mir einfach alles so aus dem Mund gefallen.
Ich Danke Euch fürs lesen.
Der Filosof
---
---