Chelsea Team Took The Cup
Hello guys, it been a while I haven't been blogging about Sporttalksocial but the match between Chelsea and Manchester City at Estàdio do Dragão Stadium on Saturday got me gasping for air. As if Chelsea's victory wasn't enough, Chelsea fan all over the world would not stop celebrating Chelsea for winning the UEFA CHAMPIONS LEAGUE 2020/2021.
Because of all the victory and celebration here and there, I just couldn't stop myself from writing about their win. Well, I must say that it was an unexpected win although it was obvious that after Thomas Tuchel, the Chelsea coach came into place, the Chelsea team have taken a new level of performance.
It was said that the natch was going to be a tough one, but nobody expected what they got except for the Chelsea fans who have been praying and fasting to carry the cup. Those who believed in the Manchester City win that day felt it was going to be possible for the City because they won the Premier League cup match but became devasted and depressed after the match came to an end and they realized that the trophy has already been taken by the Chelsea team.
Chelsea players have done an amazing and incredible job this season as they seal their second Champions League crown by defeating Manchester City in Porto. I guess this isn't a game of luck but a game of work. Chelsea got what they worked hard for over this season as we saw them moved from their lowest form slowly into the current firm they are now which helped them get the UEFA Champions Cup. Even in the Premier League match, we could see how they tried tirelessly to retain their fourth position till the end of the game.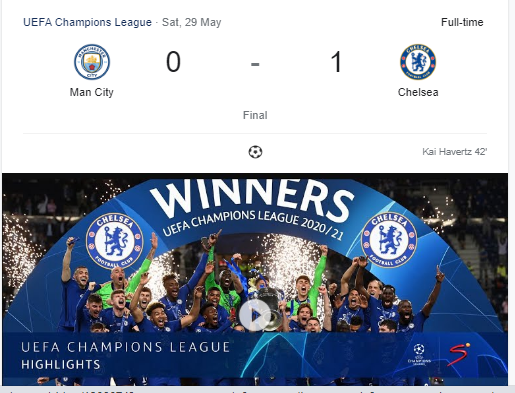 Image Source
The players were awesome on the field although they had their flaws one thing that makes them outstanding, is been able to come out victorious which they did, and kudos to N'Golo Kante for his superb and incredible work on the field. He remains the man of the match. He has shown us that he loves his team no matter what and has put all his best to make sure the team comes out among the best.
The Chelsea team did a great job by being able to squeeze City's player and leaving them drained before throwing the ball into the net at the forty -two (42) minutes which was scored by Havertz. This is one of his reasons why I always say, football is an unpredictable match, anything can happen at any time.
It would have been a golden opportunity for Manchester City to have carried the Premier League cup and the UEFA Champions League trophy but unfortunately, they missed just at the end of an excellent season for them and all their effort came crashing down at their very own eyes as they watch the Chelsea team carry the silverware trophy.
An impressive one for Thomas Tuchel as he triumphs the season after losing at last year's final with Paris. It sure is going to be an exciting year for him this season. Kai Havertz's score indeed shows the player great quality and how strong and determined this guy is to make sure his team carries the trophy.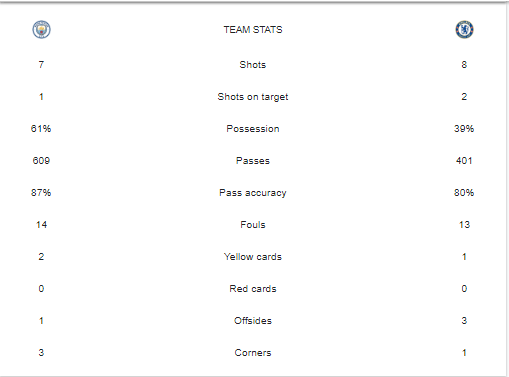 Image Source
The Manchester City team, unfortunately, lost three games against Chelsea before and I am sure this is one of the reasons why Chelsea players felt they could come out with the trophy and they did a great job to put the Manchester City team at the back making them insecure and not putting all their effort in the game like they should have done.
Manchester City coach Pep Guardiola I think messed up from the beginning when he chooses the wrong starting lineup and this spoilt their formation until in the second half when they were able to look a lot well-formed but not after giving Chelsea players 45minutes of their time.
The Champion League indeed remains a nightmare to Pep Guardiola and the Manchester City players as Tuchel and Chelsea players wipe their asses and cleans off their faces full of pride.
The Manchester City team have now tasted what it feels like to lose just at the end of an exciting season and I hope both the players and their coach learn and make corrections where necessary to avoid this next season.
---
---