The First Craft Market After Lockdown
It's been three months since the last mini craft market in my city. Then the lockdown happened and all the markets, fairs were cancelled. After the restrictions were lifted, there was just about time for these markets, fairs to happen again. Yesterday was the first one that was organized under certain conditions and I could not miss it, obviously.
We're facing some rainy rainy weeks, there's no day without raining, showering a few times a day. Yesterday was no different. In the morning I went to the grocery store to get some things and saw that the sky is clearing out, so I thought if I am fact, I can visit the market. Took my umbrella and walked to the market.
Wearing A Mask
There were two conditions set by authorities. One was social distancing, visitors and vendors should have respected the minimum of 1.5m between them. The other was the obligatorily face mask. For me this is obvious, don't need to be told, regardless of regulations or not, if I'm in a place where there are many people and know I can't avoid them, mask is what I'm wearing.
I believe it was around 10 am when I arrived to the market. At the entrance there were two cops, that's probably the protocol, they have to be present in case something happens. Many of the vendors were just unpacking their products as there was raining in the morning.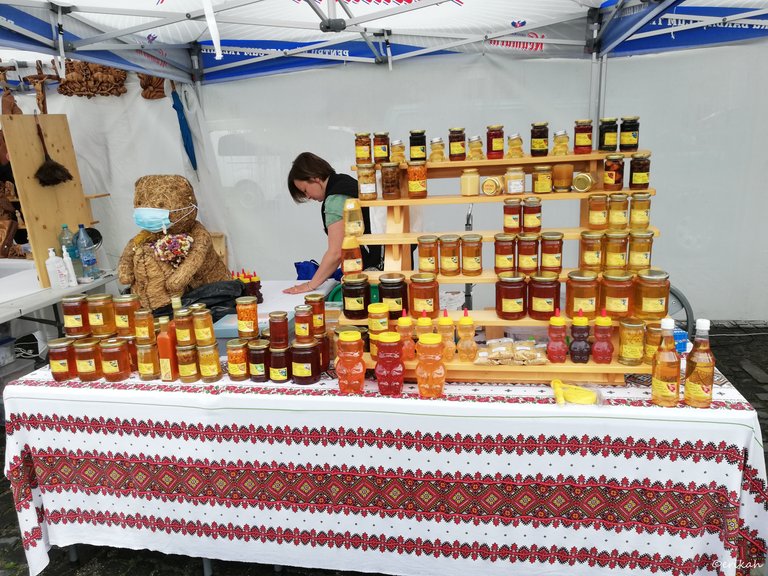 This was the first one that had almost all the products set up and ready for visitors. The first thing I saw was the cute bear with a face mask. I could not resist and told the vendor poor bear, he has to wear the mask!. The answer I got kind of described what was going on on the market. The lady said someone has to respect the rules, so they put the mask on the bear. And believe it or not, the bear was pretty much the only one from the vendors wearing a mask. You'll see on the photos.
Honey
Honey is something that can never be missing from any market. There are plenty of bee keepers in my country so you can buy good quality honey basically everywhere. As you can see, the shelf is full of different types of honey, stating from acacia to poly flora and pine. They are selling pollen as well, which is a natural immune system booster. I bought some last year at the last market and used to stay away from influenza during the winter.
Please note the little teddy bears in the middle of the table. This is an old design from my childhood, maybe older. It's a good way to attract kids, not that they need any encouragement as every kid loves honey. I remember we had several when we were kids, our parents always bought us one. In the right corner of the table there are two plastic bottles, those are apple vinegar with honey. I use apple vinegar but have never tasted this one with honey. Maybe I should.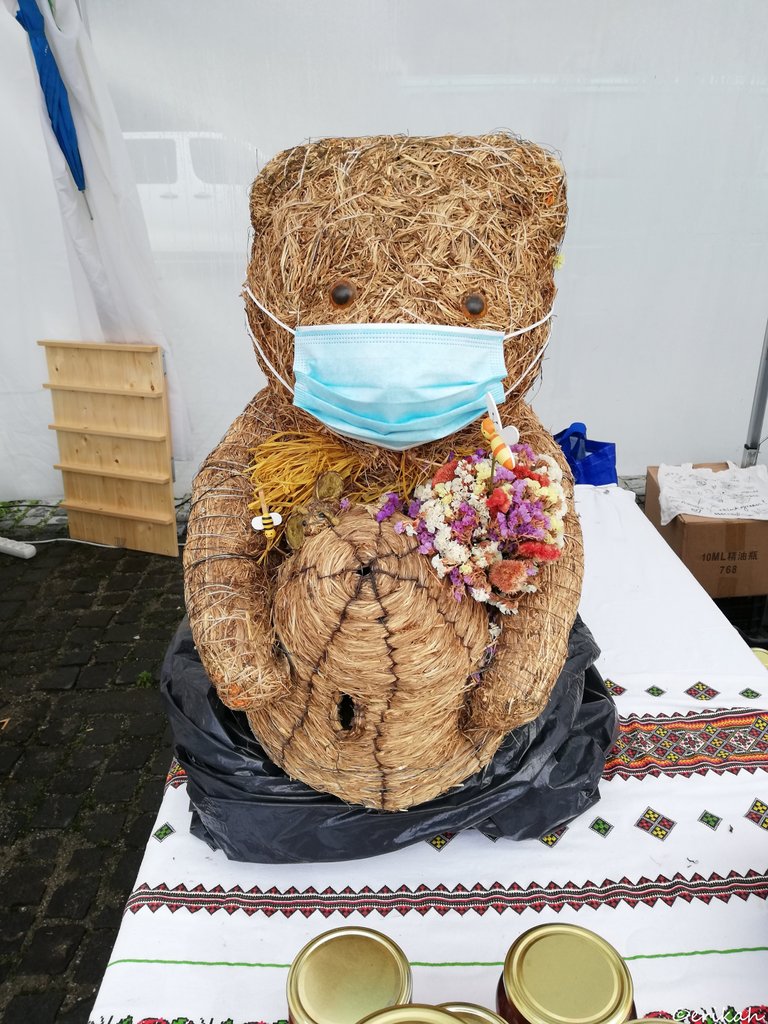 Look at the poor thing! He had no say in this! Good thing when I passed by the vendor the mask was off.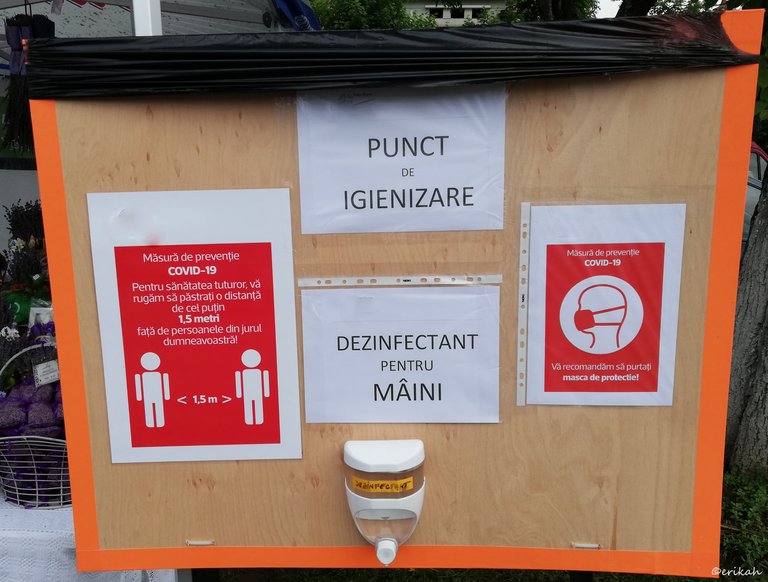 I don't think I have to translate this. Even if you don't know Romanian, the message is obvious. Now ask me how many have respected these.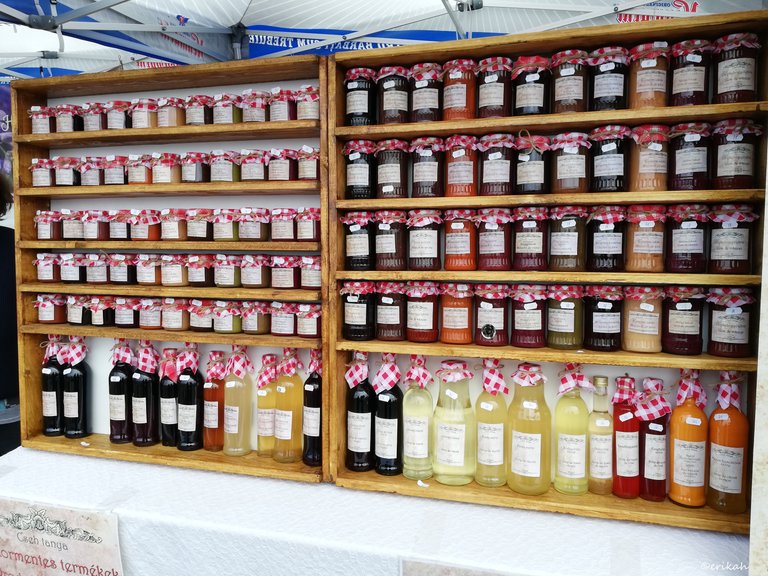 Jams And Syrups
This was another cool place to spend time and money at. Homemade jams and syrups. On the right side you could find products with sugar and on the other side without sugar but with artificial sweetener. Strawberry, apricot, rosehip, blueberry, plum, cherry, rhubarb, quince, raspberry, you name it. I was tempted to buy the plum as it was made in a cauldron and those are amazingly good but I have so many at home.
Those big bottles are syrups. Blueberries, blackcurrants, elderberries, cherries, lemongrass, mint, acacia, pine, sea buck thorn, just to name a few. I bought black currant for my dad as that is good for anemia.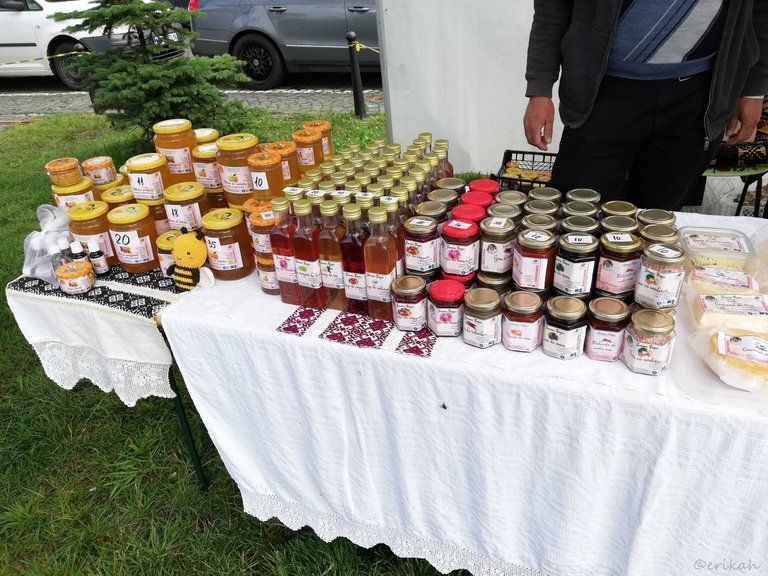 Another honey vendor, with a bee this time :) I don't know about quality but these prices were actually good. I would have bought some, the polyflora looked really good but right now I have plenty of honey. Lucky me. He also had different syrups at a reasonable price and jams, interesting ones like rose petal jam, and salt with dry vegetables. Those were a bit expensive though.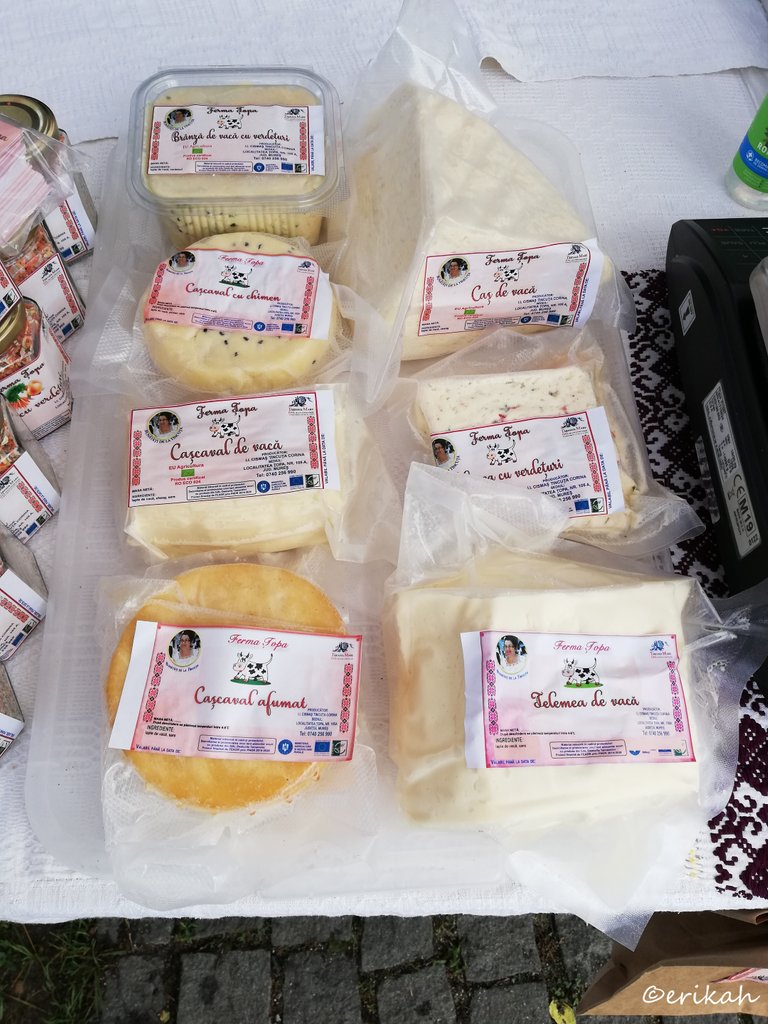 Cheese
He also had a great variety of interesting cheese. Smoked cheese, simple cheese with different maturation time.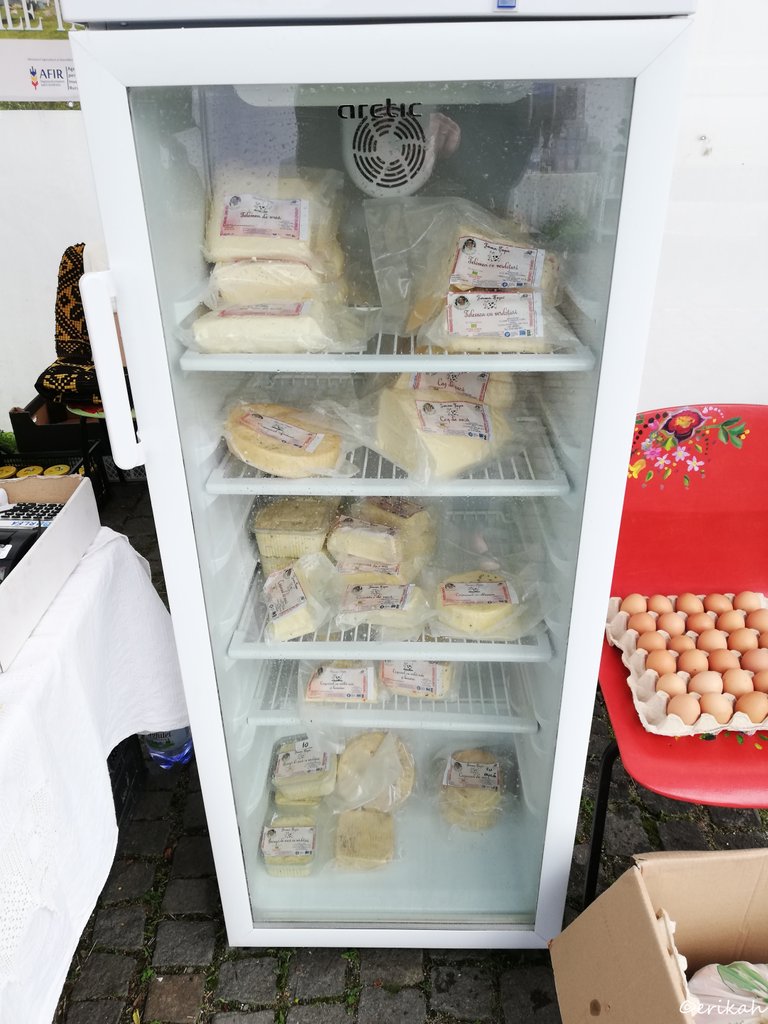 I love cheese and always open to new things but just like the other products, these were also not cheap.
Life After Covid-19
The subtitle could suggest covid-19 is behind us, which is not true actually. Unfortunately the new cases are more and more every say and the government is thinking of new restrictions.
The lockdown has damaged the economy pretty badly and the effects are yet to come. all the markets were closed in March and these vendors were forced to come up with new ideas in order to sell their products. Some could deliver the orders themselves but even though, it was not the same as having a selling point at a busy market.
Learning from what's happened, I took a few business cards yesterday and talked to them to learn a way to buy their products in case there will be another lockdown. I was happy to find out most of them are delivering to the customers home.
What you see here is just a little part of what I saw, so stay tuned as there are more #MarketFriday posts to come in the upcoming weeks. This post comes late again as the fair was yesterday but @dswigle, Denise is ok with that :)
---
---