How Leo Finance Posts Get Rewarded in TRIBALDEX with BEE
When I joined Leo Finance a week ago, I stumbled upon a post written by @token-thx where he mentioned something about curation rewards return on BEE staking. Well, I was curious and commented "What is BEE, some kind of DAO ?", I had that kind of thought when it came to staking rewards.
Then, he explained to me how an author of posts and comments could be rewarded using Leo Finance Platform.
Smart Tags in Hive Engine
As you know Hive Engine is one of the most smart rewarding system when it comes to distribution of rewards in a cross-platform system, it is the beauty of this system. The system looks for right keywords and those post can be read in other platforms.
Basically, the tags mentions in a post are smart keywords, Hive Engine turns these tags into tag rewards, and post with smart tags appear on various connected platforms, if someone vote that post or comment, the author will be compensated with rewards in native currency of that platform. This means the author's earning is not limited to one platform but across all connected platform where the post appears.
Here I give you an example how my comments were rewarded in #TribalDex :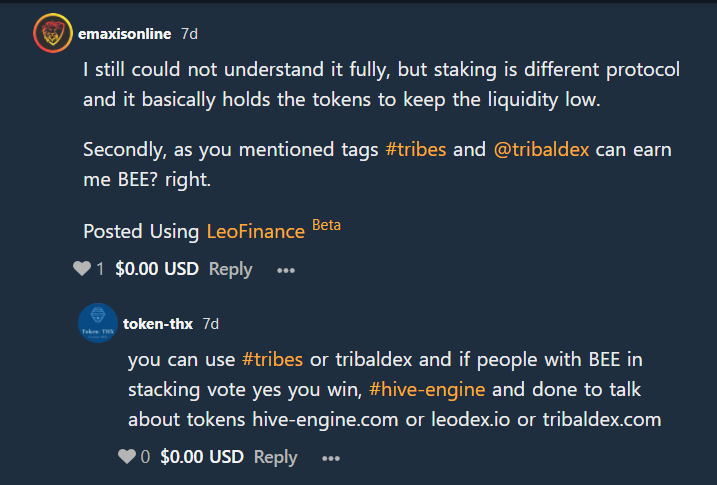 You can see in above image my comment did not earn anything in LeoFinance.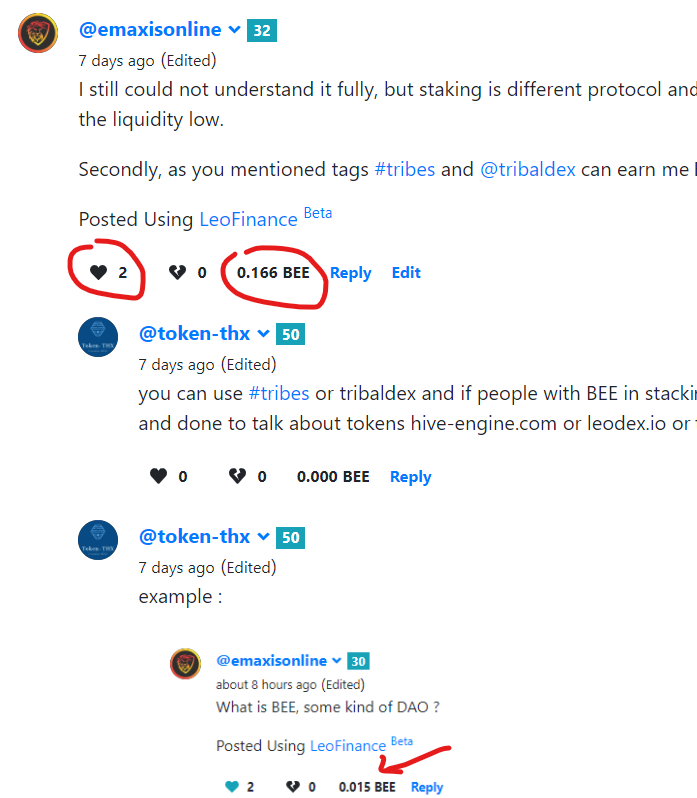 Now, have look at this image, you can observe readers voted from TribalDex platform and my comment was rewarded in BEE tokens. Because the author had used smart tags, which enabled the post to appear on TribalDex.blog.
So, this is obvious that posts get rewards in cross-platform environment when tagged properly if the post is relevant to that platform or subject.
Hive Engine is simply a unique rewarding system, I have ever observed in blockchain industry, which is built on one engine and provides rewards on connected Tribes and platforms under one roof.
Posted Using LeoFinance Beta
---
---