Do Investors Still Trust PolyCub After Declining Price?
Yesterday, I was observing that there had been more PolyCub posts than ever, and those had lots of comments concerning the sharply declining price of PolyCub token, which is obvious due to the fact that sudden price drop raises anxiety among investors.
Since, I have a teeny weeny share in PolyCub staking A.K.A. xPolyCub, I regularly follow price change and updates from PolyCub project team. A few days back PC price was around $0.70 when I bought some PolyCub and staked into xPolyCub with ratio of around 1 xPCub = 16.5 PCub.
The current ratio of xPC/PC is around 1 : 18.46 while writing this post, which means my investment may yield me more PolyCubs even if I remove the xPC now. So, regardless of talking about the price I am actually holding more PolyCub token than invested.
The Bigger Picture
As we all know this project is in early stages, and it requires some time to get to a level where project's maturity kicks in and vested Polycubs start to make actual gains for investors. With the current scenario, if investors hastily remove liquidity due to volatility or early incentives/quick profits, even in small quantities may further disengage the price control mechanism.
I quote an excerpts from the article posted a day ago by #LeoFiannce Why Would Anyone Buy POLYCUB 1 Year From Now?
POLYCUB isn't designed to be predictable in price in the short-term - as we see now, there is a lot of volatility - but it is designed to be predictable in price in the long-term.
and then excerpt from PolyCUB How to Value PolyCub
PolyCUB is designed to act like "the BTC of Yield Optimizers". The token flips deflationary in the long-run which means that hodlers staking xPOLYCUB will benefit greatly from the future of the platform as it collects Management Fees and Autocompound Protocol Owned Liquidity.
Considering above statements, it is obvious that the nature of the token can turn 'Deflationary' in nature in long-run, one major reason of it can be providing buying power to new investors and to fill the gap of pulled out LPs.
Trust Level
Yesterday, I checked PolyCub stats on Polygon explorer, and found that around 66% allocation of PolyCub was put into staking (xPolyCub) contract. But to my surprise, today it has increased to almost 70%. Which depicts an uptrend, more investors are entering into xPolyCub staking regardless of declining price trend.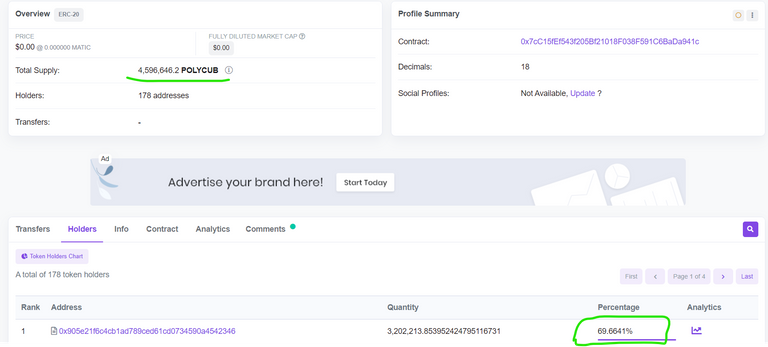 (Source Polygonscan.com)
Let's have a look at the graph chart, which is moving upwards despite the price drop.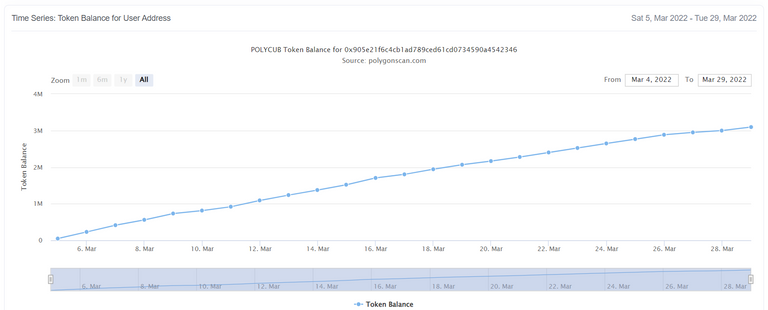 (Source Polygonscan.com)
Conclusive Remarks
Investors' trust level seems high at the moment despite a sharp decline in price of PolyCub, which gives a gist of how PolyCub and LP token holders are firmly gripping the project for long term success.
Meanwhile, the project team should devise a strategy for price control mechanism in the long run of the project and stable future of PolyCub.
Posted Using LeoFinance Beta
---
---