Someone explain to me again what the benefit of stacking is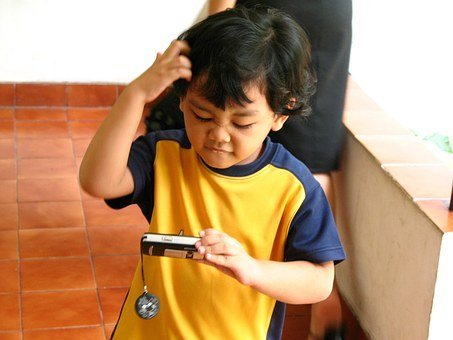 Source
We have been talking about it for a while now. And it seems a lot of people still don't understand why their hard earn token should be staked instead of exchanged.
Listen.
The benefit is that it gives you a voting value
This means when you vote for a post, the owner is happy if your value is tangible.
And you know how it works, 50% of your voting value comes back to you
That means when that person is happy, you are happy too. It is a game for two, no one is missing out.
So if your voting value is 20 POB, and you upvote 10 posts a day. That means you'll earn 100 POB daily as curation rewards
Look at the picture below so you understand what I mean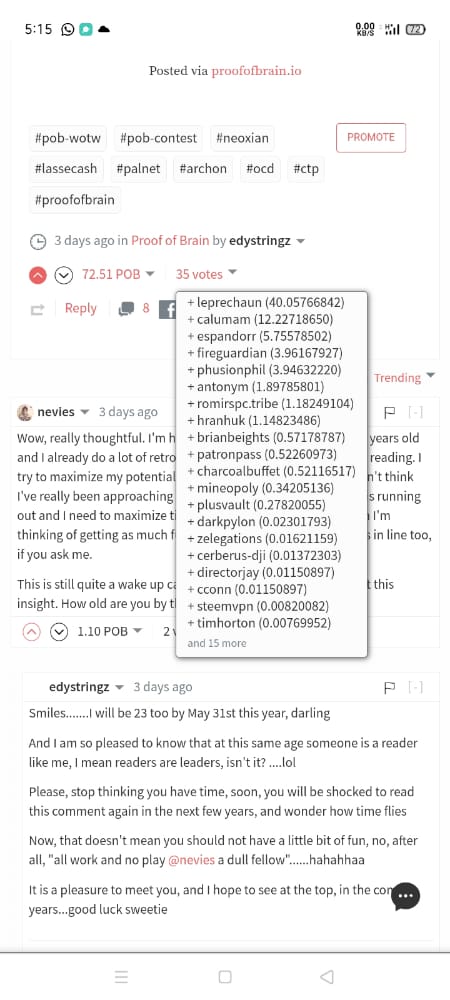 Now that is the curation on my post when the various person voted. Notice that as at that time when this post was curated, @leprechaun gave me a 40.05766842.
Now let's approximate this to 40POB.
Also, let's assume that the 40POB is on his 100% vote. And he decides to vote 10 posts daily with 100% voting value.
Remember, I said, you get half of whatever your vote is? Right
Now @leprechaun on account of this arithmetic will get 20POB for voting various posts
IF your multiplication doesn't fail you, Multiply 20POB by 10 POsts daily. That means he earns 200POB on a daily curation.
20POB *10 POSTS = 200POB
The same goes for the rest of the people that voted on my post. If they did so on a 100%, and it gave me the different numbers. They get half of what I got, multiple by how many posts they vote on a single day.
How do you know what your voting value is?
Well, try voting someone's post on a 100% or whatever percent you wish, then you will see the value as shown in the picture above.
That's why people strive to get bigger stakes. So they don't have to stress about creating content every day. They just vote and earn
This is what the taste of freedom feels like, baby.
Imagine if you are someone who is able to create content every day, and engage as well. Then no one has to tell you how much you stand to benefit.
You don't necessarily have to vote 100% on posts. That means you are not restricted to voting only 10 posts daily. It is just that the more you use your voting power, the more it drains, and reduces the value you give out
So most people vote a few posts in the morning, allow their power to recharge, then return to curate more in the evenings.
But if you love the space so much and you desire to read lots of posts on a daily basis while dishing out rewards in the process, then you have no worries
All you have to do is to reduce the percentage of your voting power.
This means votes every post 50% in order to be able to dish out rewards for 20 posts
And 25% for access to 40 Posts.
You can split it around, any way you want it. You will be still benefiting
So the lower the percentage you use, the more posts you can upvote without killing your power
In this space, value isn't a parasitic relationship but a mutualist one. Everyone is benefiting from the actions taken by one another.
How do you know when to stop curating for a certain period in a day in order to recharge?
You can use leodex.io to watch your power movement, you should never allow it to go before 90.

This picture reflects what I mean. Here you will see all the tokens and their power charge, as long as you have some quantity stacked
How do you navigate to this point?
It's on Leodex.io under the rewards tab, just log in with Hive signer
Wait a minute! This staking and earnings applies to every coin including hive tokens right?
Yes. As long as the tag is there on the post and you have the tokens staked. It doesn't matter the interface you are using, the tags used are what matters the most.
Like if you should log into your account on leofinance.io and you vote a post there, and that post happens to had used Proofofbrain as a tag, you will be giving the person POB as well and you'll get your share in 7 days as usual.
Now that you know the benefit of staking your tokens, what are you waiting for?
Go ahead, earn some tokens, stake them, and watch your rewards come in various tokens, and coins at the end of 7 days.
Cheers
I am pretty sure I did not touch everything. If you have additional information around staking, please share it with us in the comment box. Thank you
---
Posted via proofofbrain.io
---
---