I'll keep putting my best foot forward... how about you?
I have always wanted this notification from @hivebuzz
You have been a buzzy bee and published a post every day of the week
I envied those who got it, most especially @katerinaramm. She seems like an alien to me because she always had posts up every day. And by the end of 7days, @hivebuzz will give her that notification.
I went round and saw others earn this badge, and I wondered when I will be able to create good content every day of the week.
I wanted to be a busy bee too, it was a wonderful name, because, I will have the satisfaction, of being able to accomplish something.
No matter how hard I tried, I couldn't get it, I will get posts up for 6 days, and within the week, something makes me skip a day. It was painful but I never gave up.
At some point, I began to wonder if I should use my Sundays and write down posts for every day of the week. In my head, I thought it was a wonderful plan because I could focus on engagements and then leave a post before going to bed.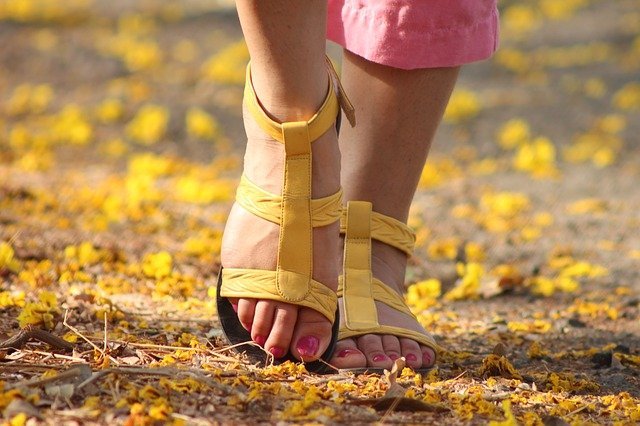 I'll put my best foot forward
As I tried doing it, I realized, the writings may be up to 7, but, they will all be shabby, dull, and probably not worthy of proof of brain as a community and a frontend.
At other times, by the time, I am done writing one, I would be so exhausted, I can't even carry on to the next one.
Those days, when I read a lot of posts and make comments, are often the worst, because, I will be drained, tired, and need to rest.
Until, two weeks, ago, I vowed, I wouldn't give in to my laziness anymore. I saw taskmaster engage qualitatively and still puts up educating posts, and I figured, if he could do it, I can do it too.
After all, I have always reminded myself, of a phrase, I read somewhere, and I always affirmed it to myself. I applied it to every area of my life that seem difficult, and I see it work like magic.
So, with Hive, and getting congratulatory messages from hivebuzz, I told myself, time, and time again that;
I can learn to do anything that anyone else can do.
And it worked
16 days ago, hivebuzz, gave me that message, 9days ago he had notified me again. I was so pleased to have been a really busy bee. And you guys have always been supportive through your upvotes, and comments.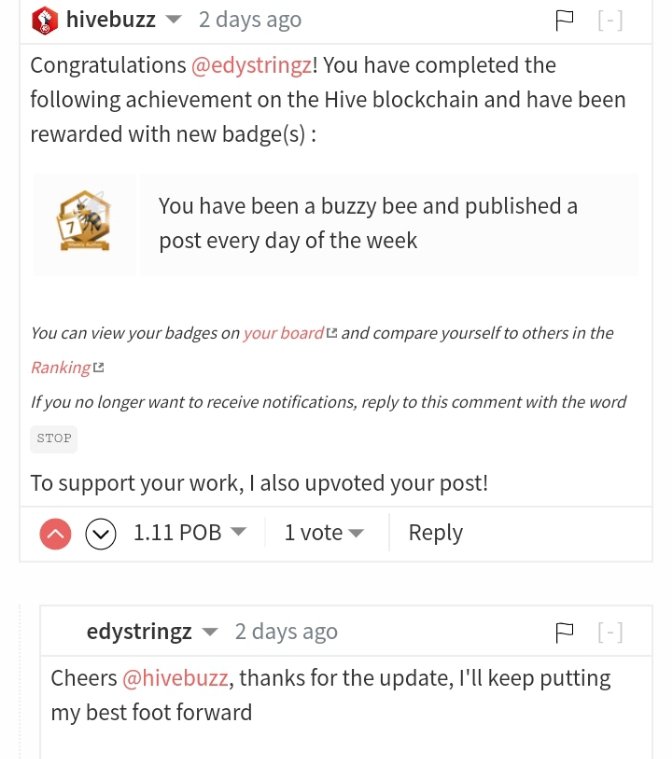 I just planned my week to involve posts about the POB community on Sundays, POB word of the week on any day of the week, Wednesday Walk on Wednesdays (if I have pictures from a trip), and then write about other encounters of mine or fictional stories for the rest of the week.
I may not stick to this routine in the nearest future, but, I will always try to bring in something worth reading.
It has been a long journey, and I will keep putting my best foot forward.
The thing is hivebuzz notifies us about a lot of things. And every time I received his message, I am always motivated to do more. With each new notification comes the willpower to gain more badges.
I have realized that we all can do anything, you just need to put your mind into it; put your head in the game, and every obstacle will only be a walkover.
Even though you may be having difficulty writing about something, the community has already allowed you to write about anything.
All you need to do is turn your everyday encounter into lessons-filled articles, and you are good to go.
Create unique content, but, try, to make it something, someone out there can relate, and refer to their personal experiences. It motivates them to leave a comment behind at all times.
Share your story, your challenges, how you overcame them, and allow someone to learn a thing or two.
You want to turn anonymous because you do not want your life to be open book, take a deep breath, and turn your story into a fictional one. No one has to know it's you, if you don't want to reveal it.
If you are still struggling with what to write, join contests, they usually have topics, that touches those spheres of life that will encourage you to write.
Set your writing target, and see to it that you perfect, and master, them. Watch how far you can go with it, if you feel you need more fuel, add to it.
The more, the merrier, they say.
---
Posted via proofofbrain.io
---
---