And the taste went from delicious to delightful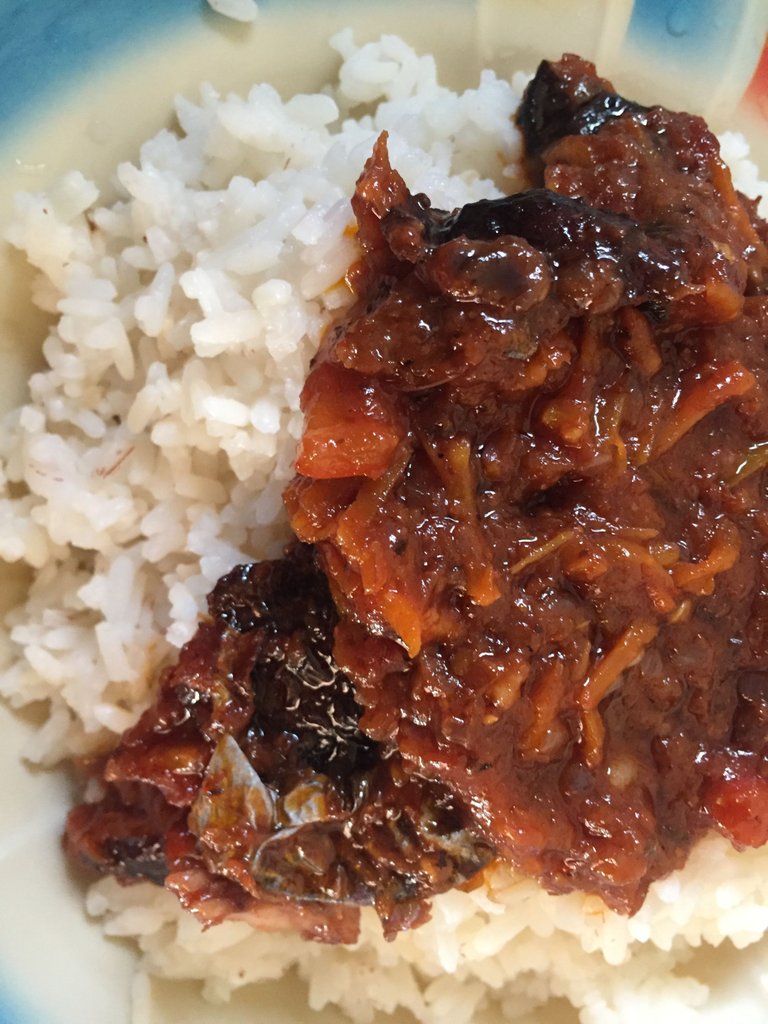 It was a Sunday morning, while I was cleaning out my room, I perceived the scent of pepper soup coming from my neighbor's kitchen; I wanted some of that.
So I asked a friend of mine, who loved cooking and was great at it, to prepare some for me. I said it playfully, but he took it seriously and told me how much it would cost me to have it done.
When I saw he was serious, I immediately asked for his advice on which food to prepare, whether pepper soup rice, or rice with stew or soup.
He looked around and told me I should go for the rice and stew, and I agreed.
I requested his account details and transferred the sums to him. Yesterday, which was Sunday, was his birthday, and instead of being the one preparing food for his celebration, I gave him the task..…lol
He got up, and went to the market, buying all the necessary ingredients, and returned home.
I politely asked him to take pictures of the process for me, so I could it with all my friends in Foodies Bee Hive.
He objected and wanted me to do it. But I knew I am not so good at taking photos, and that he had an iPhone….another advantage.
So he was in a better position to take those shots. He said NO, and I didn't doubt him, I left him to do his cooking while wishing secretly he will be kind enough to get the pictures for me.
Did he? Yes, he did. I am so honored to share my first food post on the Foodies Bee Hive. Although he did not take all the process, I was grateful for the few he did.
Right here, and now, I will be giving shots of the process involved in Nigerian Making Rice and Stew.
While on the way to the market, I told him over the phone that I would prefer fish instead of meat in the stew and so he bought dried fish
Dress and debone the fish.
Wash and slice the carrots with a veggie slicer.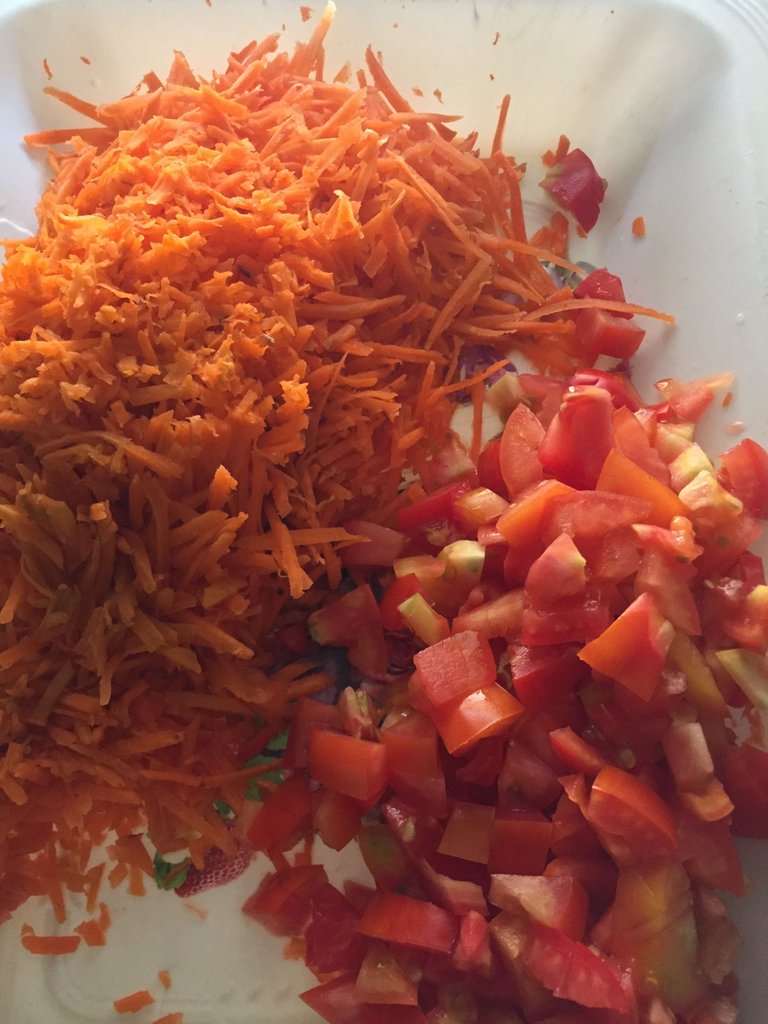 Wash and slice the onions.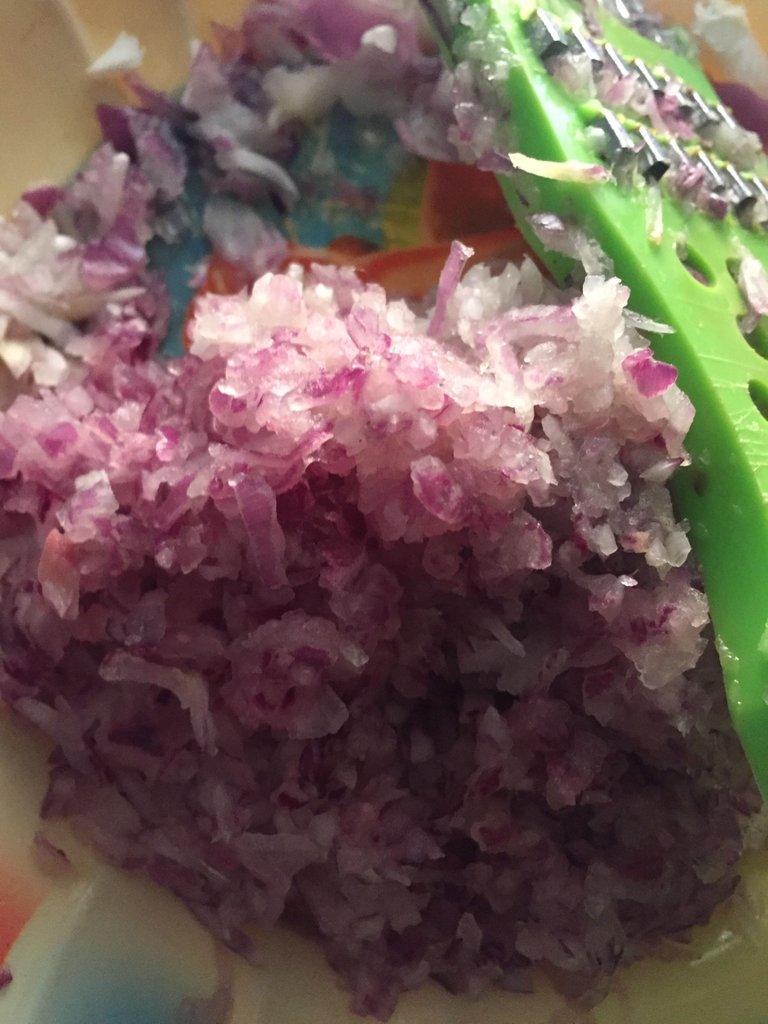 Wash and chop the fresh tomatoes.
In deep oil, fry the fish till desired color and texture.
Add the onions and mix with the fish.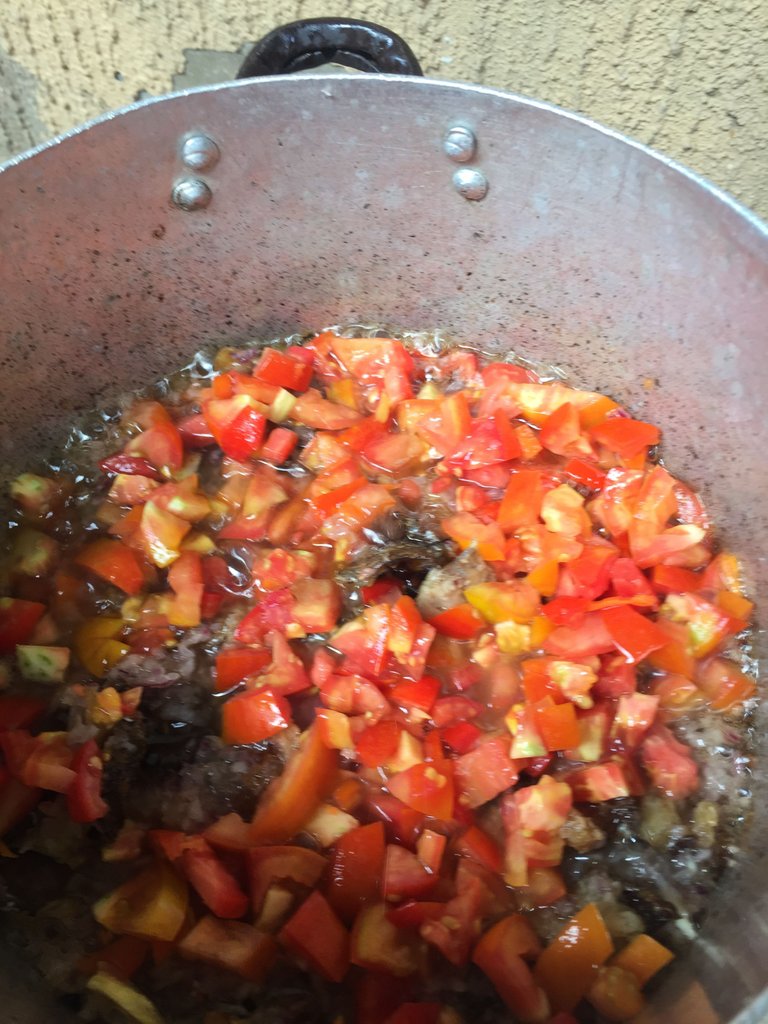 Add the fresh tomatoes and cook for three minutes. Remember to turn often.
Add the carrots and the tin tomatoes and stir thoroughly.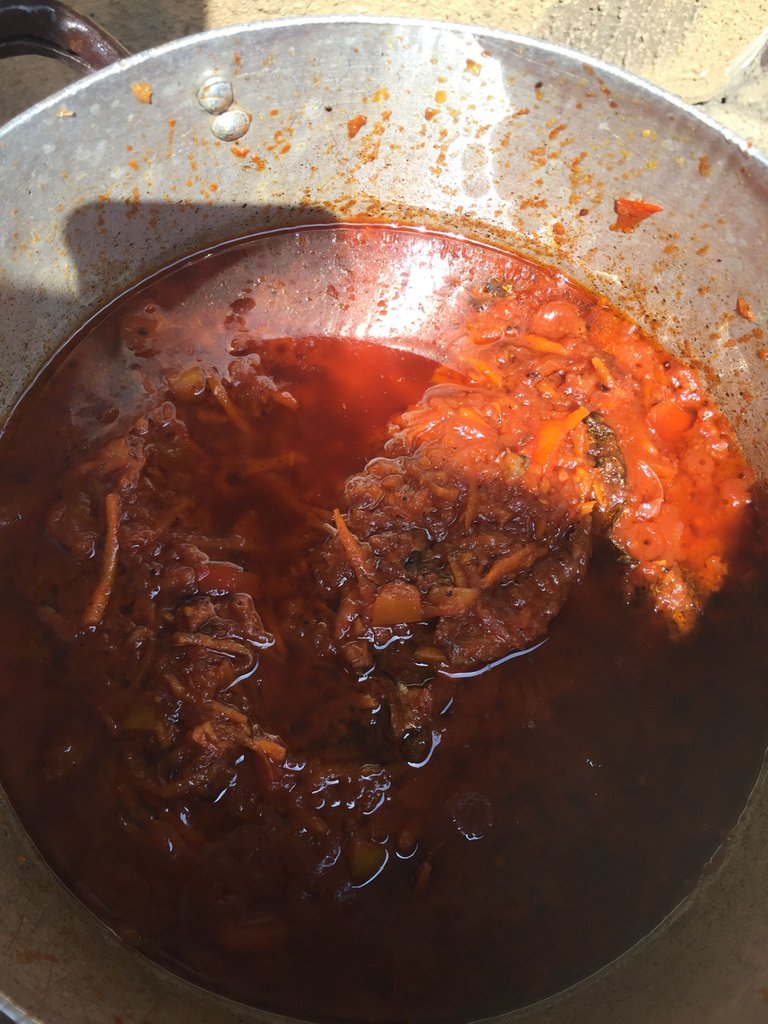 Add curry, salt, seasoning cubes, pepper, and every other seasoning you wish to add up
Continue stirring till the tin tomatoes mix properly and lose their sour taste.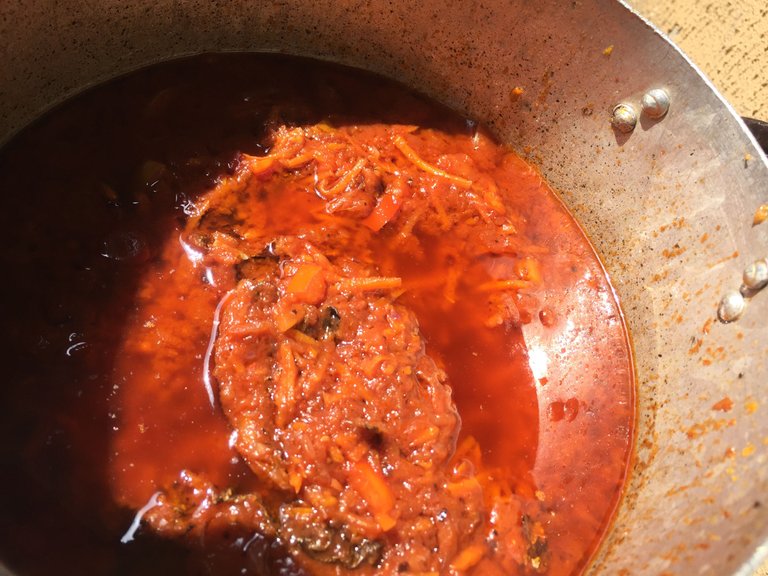 Allow to boil for a minute or two and bring off the fire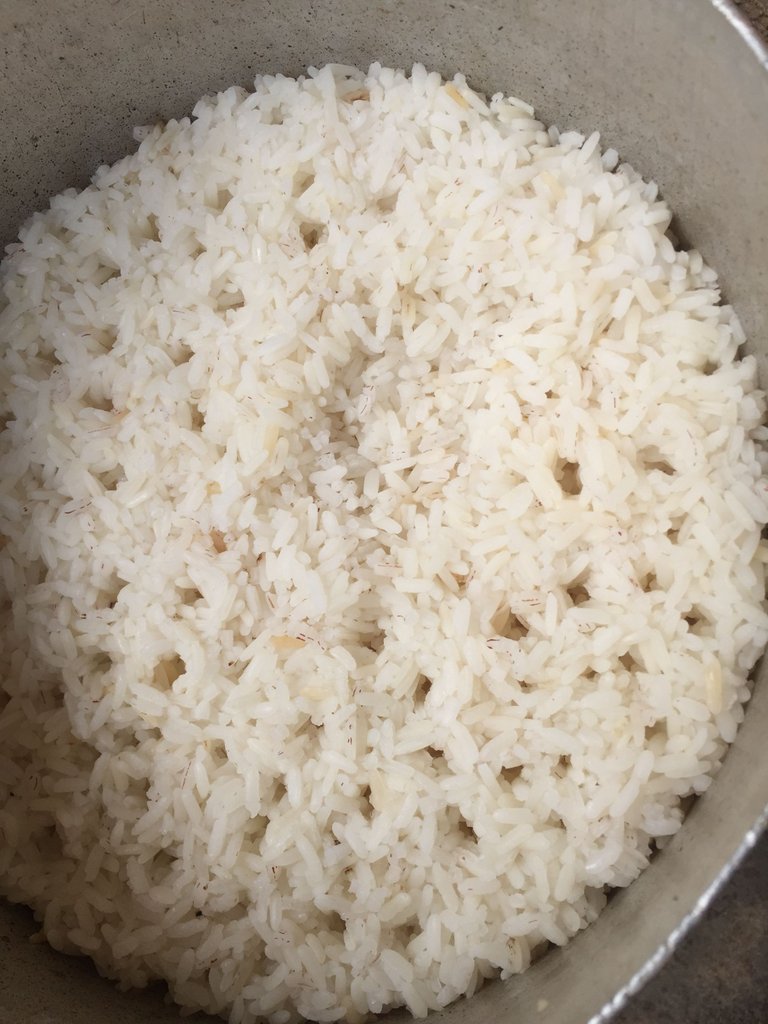 From here you parboil your white rice and add salt to taste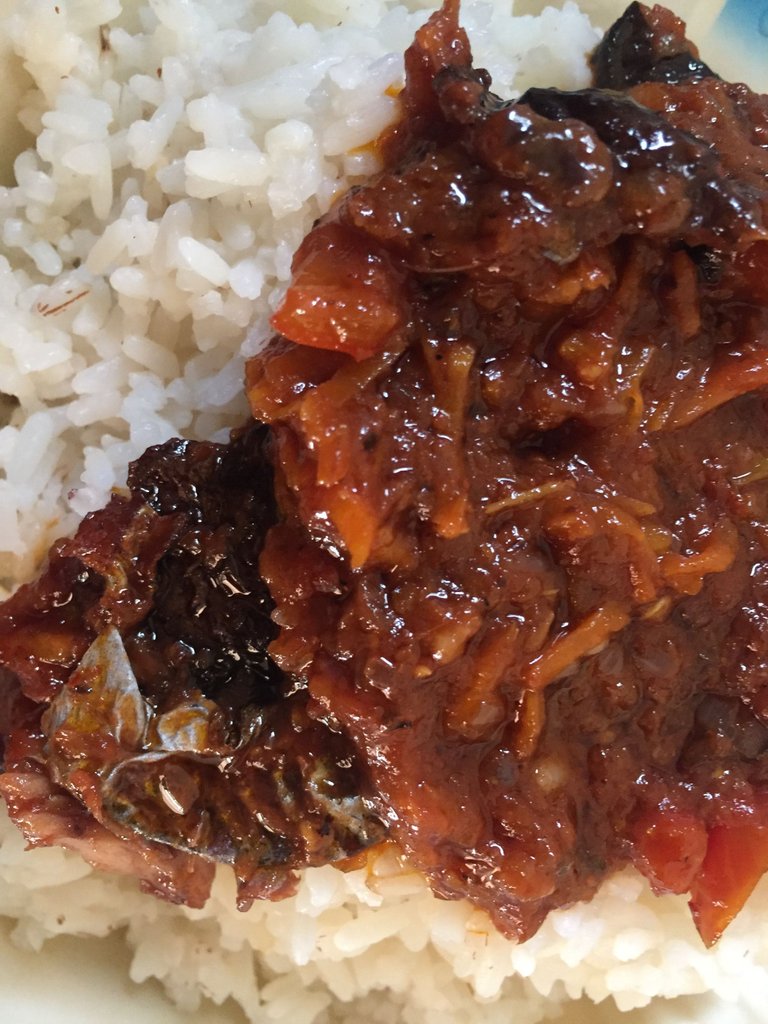 Once it is ready, serve with any drink of your choice, or chill water
We both ate to our satisfaction, and it was both delicious and delightful because we were basking in the spirit of his birthday celebration
You are welcome to try this recipe at home, and let me know how it turned out.
I am sure you will love it. Cheers.
---
---