An eye for an eye......The Outrageous Bystander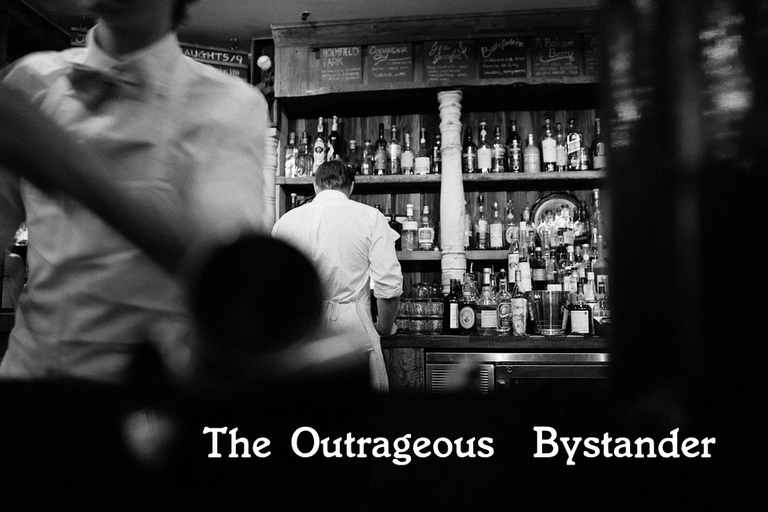 source
Cars came to a halt. A whole street worth of dense traffic angrily responded to the abrupt crash at the crossroad. They wanted to move on with their businesses, unaware of the lives mercilessly being taken to the afterlife, their souls drifting away, sip by sip. It was nobody's fault. Those who had seen the accident happen had trouble believing the amount of bad luck involved in the situation. Of course, some people around it hadn't seen the full picture, so they quickly started to throw blame.
A reality shock overcame every eyewitness, spreading out as curiosity lured in from afar those who had been sane up to the moment they'd also set their eyes on the corpses. The most common reaction was being incredibly nauseated. Second, from the top was screaming and running away. Elders would weep, somewhat less impressed than others, despite feeling awe they hadn't felt in decades.
Comparable to a nightmarish character's ending from a Final Destination movie, the gruesome view lasted for what seemed to be hours. Close by, a man sat at a bar. His eyes didn't show discomfort, disgust, or revolt. Nobody would be able to guess his own kin were the ones who died. His life as he knew it was over, but there was no shock, no feeling. When everything was over, he walked away. Like the unsettled drivers before being interrupted, he still had business to take care of.
Once home, he put a call through. "It is done, thank you," he said to the receiver who smiled happily at the other end. With a click indicating the end of the call, he walked off to his bar and took yet another brand of wine. Pouring himself a glass, he sat to recollect the events as they took place before the accident.
His son had just graduated from college, and the family business of tobacco was waiting for him to take charge. The celebration and homecoming were spectacular. Everyone was particularly happy about his success, and so all the guests found their way around congratulating both his son and the father.
They had both invested so much in this success. He had invested his money and connections, his son, invested his time, brilliance, and brains. The victory was worth celebrating.
"We will be discussing the family business by daylight, son." He said, amidst joy and laughter. His son had nodded in agreement and wished him a good night's rest.
The meeting was never held. For he had sent the servant to call his son up and was found dead in his bedsheets. No one knew what happened. He was paranoid. His hope of leaving the family business in the hands of his son, and finally joining his dead father had just been shattered
His son's death did not feel ordinary. Someone had murdered him, peacefully, but skillfully as well. He shouted in rage, he wanted all the food and drinks that were served, tested, and confirmed of poison. He wanted the culprit found, else, everyone will have to give their life up.
As he paced up and down the whole room, he tried remembering every step taken by anyone who had attended the celebration. Every hug, every smile, every touch, every movement, every eye language, he tried remembering them all.
He had a glimpse of the laughs, the congratulations, the dance, the jubilation, the toast, the silent whispers, the instruments, with soft music in the background.
No movement. Nothing that looked out of the ordinary. Nothing. Then it struck him. It is an ordinary thing that killed his son.
There, the switch.
His brother, his son's uncle was in charge of the toast. He had switch the wine glass with a smile, urging his nephew to take the new wine convincingly with a nod.
Then he took his memory, few seconds backward, and remembering seeing his brother tap the wine glass with his fingers.
There. They had both being assassins in the past. Right before, he retired and started his tobacco business. They had been trained to kill without raising a bullet. Death with no sound.
All they needed was to drug a target's drink with a tap of their fingers. A finger dug into a pile of drugs(meant to kill). At a tap, the particle drops from the nails into the drink.
His blood rushed to his head as he remembered, how skillful his brother had been at those tactics than he was. Now, he had used it to kill his only son; his own nephew
It was outrageous. The question is why? Why would he do that to me? He thought
We were buddies from that time past, always having each other's back. Why stab me in the back in such an outrageous manner. He thought aloud.
No, I will have to take my pound of the flesh, he said, cursing under his breath
With that decision, he made a call that changed everything for him.
"We will create an accident, it will be an ordinary death, just like that of your son was played out. It will be an accident, that takes the life of his son too" The hired killer had said to him while they were discussing the terms of the deal in his diner.
"One more thing, I want to be there while it happens, just the way he was when he took my son's life," He said
Deal
As he sat, remembering the incident in his study, he heaved a sigh of relief, called his brother up, and whispered;
NOW, WE ARE EQUAL IN DEATH
PS:
@felipejoys and @wrestlingdesires, I felt I should join in the fun as well
This one is just for the fun of and not an entry to #pob-wotw contest. I had already sent my entry in.
Good luck to you both in the contest
---
Posted via proofofbrain.io
---
---