Why We Shouldn't be Worrying About Hive Price
It's ridiculous to see when authors spend some time trying to write a good post but then you see that your post gets unanswered, which means that it is not rewarded what it deserves.
While others posting low content posts and still receive some high rewards. Don't know for what reason but this is what the reality here is.
But anyway, I am not going to waste my time here discussing this non professional attitude towards the low paid posts while I know it's sort of frustrating. But probably you may receive some good upvotes when you have a good amount of Hive Power in your wallet.
I feel sorry for those good authors whose posts are not rewarded and don't get the exposure they deserve. I myself on my part try to support them but as I don't have much upvote worth so probably won't make a difference for them.
Yeah, I will keep continue to try post regularly to this platform and earn even as little as I can and HODL it as there is a saying that little drops make an ocean.
Now that with the recent spike in Hive price getting over $2, it will get a little difficult for low paying authors to collect the amount of Hive as it was before because you know that when a thing gets expensive, it doesn't come to the hands of everyone easily like we have the example of Bitcoin.
So for guys like me, I am not in a hurry to see Hive going up so fast. I want to collect more as I can while it's pricing low.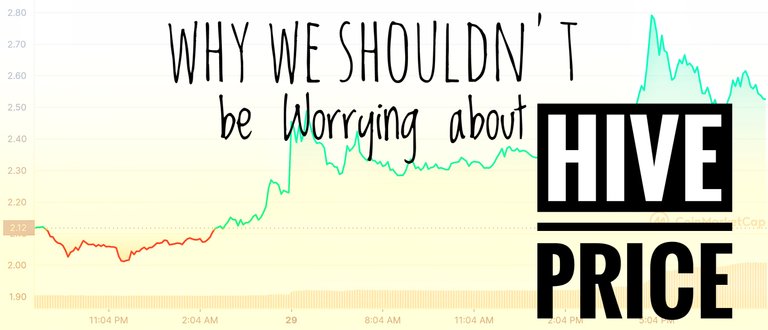 Hope that I get to 100K Hive Power some day. I know that looks a huge task but it's not impossible either.
Hope that me myself gets in the radar of a few whales and things get moving smoothly and handsomely for me ;)
But yeah, don't let yourself down when you see prices of Hive down, because Hive is just a new born baby and it has a long way to go. Just focus on earning as much Hive as you can.
It's still the start of Hive and we are seeing some cool additions to it, imagine things after a few years.
---
---