Feels Good to be Safe Investing But Yeah I Think We Should Also Try our Luck with a Little Savings

It feels good to be at the safe side in investment without risking much of your money. I myself am not interested and you can say feel hesitant investing in other cryptos.
Out of the crypto world, I have been investing in different online businesses that I didn't succeed loosing all my investments. Well yeah, it was my dad's money so probably that was the case I couldn't hesitate much investing or probably I was much motivated to do something.
Now that I am not relying anymore on my dad and doing my job. Although I am paid less like less than $230 a month for my 9 to 5 job, I don't get any savings so that I may invest my savings into other things.
But thankfully that I got here on Steemit Hive and was able to collect some Hive tokens and stake it. Now I am not earning that much but still good for me to save some Hive with me for the future.
Hive have also provided me a little bit of chance to look into the crypto market outside and see if I could also invest a little bit of money into that as well.
Now that Hive is thriving and it's prices are surging Hive this November and expecting some cool developments throughout the Hive platform, it has motivated me to be as active as I can and earn some more Hive for the future.
At the same time, I wanted to look into the crypto market and see if I could buy a bunch of other cheap coins with as little Hive as I can. So for this reason I bought a bunch of Shiba Inu coin for my 3 Hive tokens. The reason I bought some Shiba Inu coin is that it is now pricing very low like around $0.00004499 on coinmarketcap.com as of now I am writing this post and also is on the 12 number on the list on coinmarketcap.com.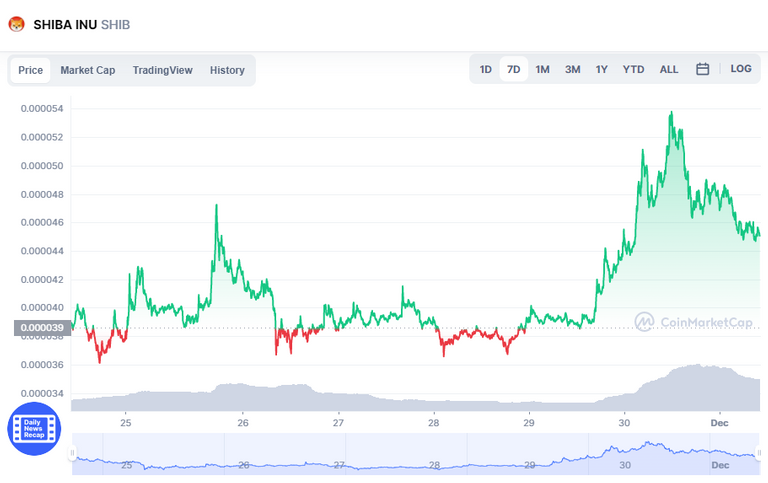 So, I don't think so there is anything wrong to invest a very tiny bit of your money into something that is selling cheap and try your luck.
Now, that doesn't mean that I am getting ridding of my Hive. No way, I am still Hodling my Hive and will continue to Hodl because I have hopes for my future with Hive.
Note: This is not a financial advice.
Posted Using LeoFinance Beta
---
---