Updates from Eddie-Earner - Miners, current ROI increase and future

Helle EDSer's. It's been a minute since I did a post about EDSminers to give you guys a few updates and I thought I'd show you some results and give a look into the future.
The weekly HIVE income payments for EDS token holders has increased from 13% per year to 20% and still growing., The more miners sold, the higher the ROI on EDS tokens. With half the EDSM tokens now sold, miners are enjoying ROI's of around 40%. This ROI will continue to decrease until all EDSM tokens are sold and miners are earning 20% per year on average. I work out by the time all miners are sold, EDS tokens will be producing an ROI of 25%+ per year.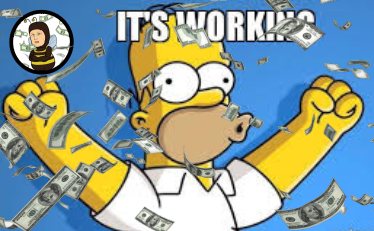 What are EDMS tokens?
EDMS tokens mine EDS tokens
What are EDS tokens?
EDS tokens are HIVE income tokens that are pegged to 1 HIVEp. All earnings produced by EDS is HIVE POWER based with all EDS token holders receiving a weekly HIVE income payment based on 12% of the total @eddie-earner HIVE POWER balance every Monday at 8 pm UTC (no staking required). Until now the EDS token has been soft capped to a circulating supply of 20,000 and produced an ROI of around 13%. Since miners have been released, this is up over 65% and still growing since EDS miners were released.

Updates
Almost 50% of EDS miners sold
It's been just over 2 weeks since the launch and people seem to like these and the feedback has been really good. As EDS miners or set to issue 5000 EDS per year into circulation, miners are currently receiving double mining rewards and making the most of being the early worms.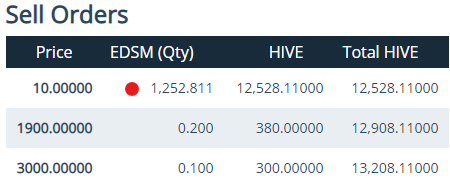 In fact, we've sold almost exactly half. 1252 left for sale
Exchange link - https://hive-engine.com/?p=market&t=EDS

Powered up over 12,000 HP
The EDS (@eddie-earner) HIVE POWER balance has increased by more 12,000 HIVE in the past 2 weeks. Remember, EDS is 100% HIVE focused meaning all incomes from tokens sales, all incomes, all airdrops, all anything is converted to HIVE and powered up. There is currently 34,000 HIVE powered up and 2000 LEO (free loan from SPinvest) staked earning some curation rewards.
Remember that EDS income payments are based on 12% of the @eddie-earner HIVE POWER balance so the higher the HIVE POWER balance the higher the payout. There is currently 34,000 powered up and 20,200 EDS tokens in circulation. 12% of 34,000 is 4080. This divided by 20,200 equals a 19.61% ROI.

Buying back and burning EDS tokens
I have started to build a small buyback wall for EDS tokens at 1 HIVE per token. Im adding 10-30 HIVE to it per day and it's nice to see others coming in with buy orders of 1.05. To date i have bought back 112.42 EDS tokens, the @eddie-erner account is blacklisted from receiving weekly HIVE income payments so no worries about doing token holders out of payments from the inside. I'd rather burn them and reduce the circulating supply.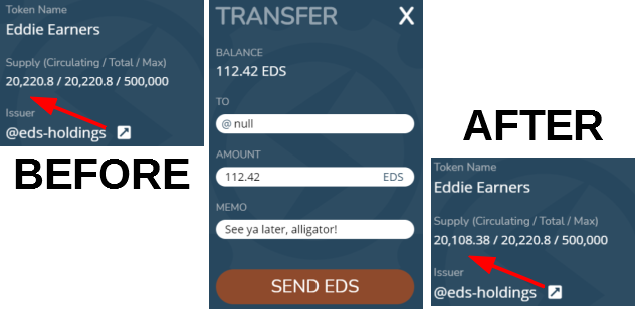 Everyone's HIVE income payment for next week has just increased by half a per cent

What happens when EDSM sell out?
We move onto phase 2 of EDS miners which is releasing another miner token. There will at least 2 more EDS miner tokens, an x2 miner for 20 HIVE and either an x4 miner for 40 HIVE are a small miner for 2 HIVE each. The aim for each miner will be to collect 20,000 HIVE. An x4 miner would cost 40 HIVE with 500 being created and a small x0.2 miner would cost 2 HIVE each and see 10,000 being created.
Why?
EDS tokens have a hard cap of 500,000. There are 20,000 circulating, EDSM inflates this by 5000 per year. That's enough to pay out mining rewards for almost a century so I can say we have a few tokens to play with. Remember, all monies from miners sales is powered HIVE and the higher the HIVE POWER balance, the higher the ROI for EDS tokens. Let's looks at a quick example. Fast forward one year and EDS has created and sold 3 more miners, say 1 miner every 3 months.
selling out of 3 miners would collect around 60,000 HIVE in sales and the EDS account would have over 95,000 powered up
There might be around 27,000 EDS tokens in circulation
12% of 95,000 HIVE POWER is 11,400 HIVE
11,400 HIVE split between 27,000 EDS tokens represents a 42% ROI
Each year, there would be an inflation of 17,000 EDS tokens minted. 5000 from EDMS and 4000 each for EDSM X2,X4 & X0.2.
I believe that I can get the EDS weekly HIVE income's to produce a 40%+ ROI for EDS tokens holders based on the model im using and the results I gathered from running a few simulations. EDSM are just step 1 and as each new miner is released, more and more people will see the increasing ROI of EDS tokens being mined.

That's a wrap
So now you know what the plan is, we're gonna grow out EDS to have a 100,000 HIVE POWER balance and produce some awesome hive income's for EDS tokens holders but creating more miners. If you are an ROI whore, you know its best to buy miners as soon as they are released and you'll 2 or 3 more chances from EDS to stack up and build a massive holding at a discount rate by being the early worm. I have also started the small buyback wall and I'll burn EDS token weekly and current ROI for EDS tokens is 20% and growing. It's been a good week and thank you to everyone for the support and investing in EDS miner tokens.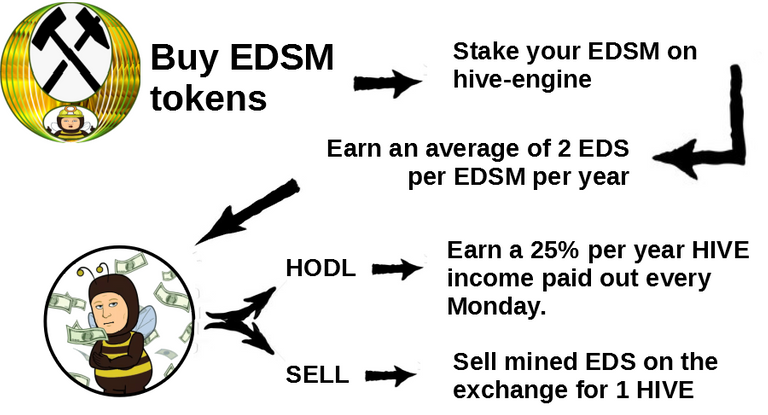 https://hive-engine.com/?p=market&t=EDSM
Posted Using LeoFinance Beta
---
---