The early miner profits the most
Hello people, yesterday I launched EDS miners and im back today to tell you why now is the absolute best time to buy them. I've also powered up over 3000 HIVE in the past 24 hours thanks to selling 335 EDSM tokens so thank you to everyone that has bought some.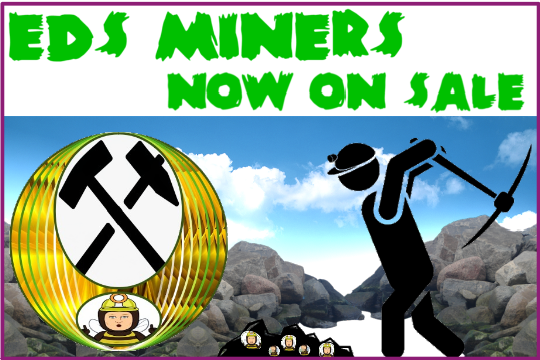 Today i would like to show you why now is the best time to invest into a weekly HIVE income mining token. The EDSM mining rewards pool is set at 20% based on 2500 EDS miners being staked. This currently represents inflation of 5000 EDS tokens per year.
Because the mining reward pool is set, 5000 EDS tokens will be distributed to EDS miners regardless of if there is 100 are 2500 EDSM staked. The result is 5000 EDS split between either 100 or 2500 EDSM tokens yearly, the same reward pool is paid out every 8 hours. If 2500 EDS miners are set to earn a 20% ROI and there are currently 335 EDS miners issued, what do you think the current ROI is for those that have EDSM staked? Let's look.
EDS miners are set to earn 2 EDS token per year based on 2500 being circulating and staked.
Currently, 335 are circulating. This represents 13.4% of all EDS miners
Because the mining reward is set, these EDS miner holders have an 7.46 better chance to win a prize in each draw.
20% x 7.46 = 149%
BUT there's more
Mining rewards are only paid to those that have staked their miners
229.27 EDS miners of the 335 circulating are staked so...
9.1% of 2500 are currently staked at the time of writing
That is a 10.98 better chance to win a mining prize
Those that have EDSM staked right now are earning an ROI of around 219.6%
Damn, I had no idea. I might buy some for my personal wallet, haha. When I set out to write this post I knew what I was gonna write and i knew the current ROI for EDS miners was over 50% but I never it was this high. So currently 220% is the ROI for EDSM tokens.
Now you have heard the sells patch, if you would like full details about EDS miners (EDSM), you can check the post i uploaded yesterday by clicking here and reading through that post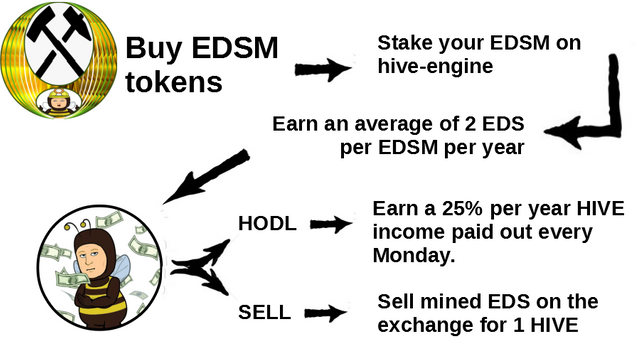 EDS token update
To those that have been holding EDS tokens and those that are new owners through miners, tonight's HIVE income payment will increase to roughly 15% APY, up from 13% last week. As more EDS miners are sold, this number will keep increasing until it levels off at around 25% by the time all miners are issued.
Peace out
Thank you for reading this post, I hope you can see the opportunity that EDSM token offer. Questions are welcomed below.
LeoDEX link to the exchange
https://leodex.io/market/EDSM
Hive-engine link to exchange
https://hive-engine.com/?p=market&t=EDSM
Posted Using LeoFinance Beta
---
---