HASHKINGS pre-sale - Only a few plots left for sale
Hello, has everyone heard about this new game coming to HIVE called hashkings?
Im looking forward to this game which is currently in its presale. Word on the street is the game will launch in around a week from now. Im excited about this as there are many different ways to play this game depending on the time you have, your budget and what sort of game plan you come up with.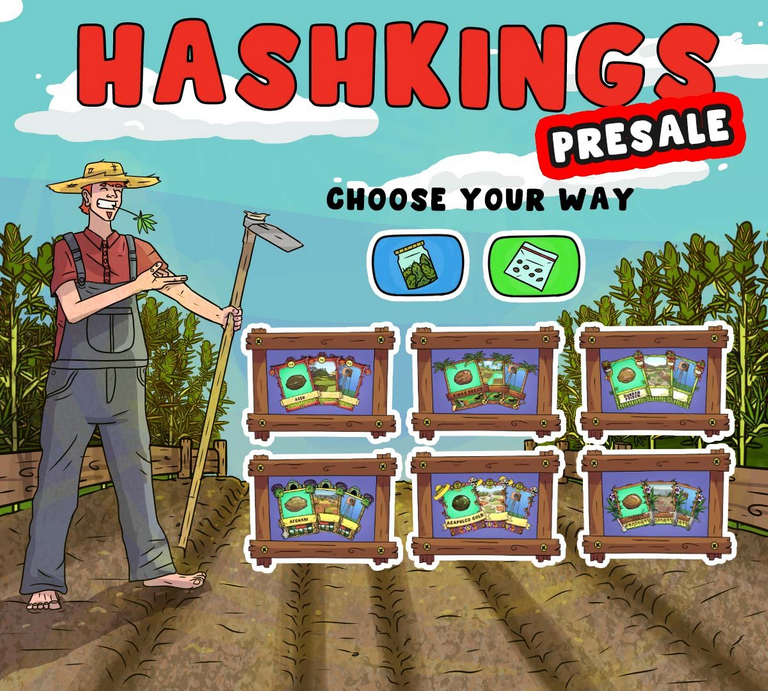 What is Hashkings mon?
Hashkings from my eye looks to be a weed farming game. They have a map which is split into 6 regions. Each region consists of bundles that or being sold off in this presale. Each region can produce specific strains of weed which will produce different amounts of bud. Asia is the most expensive region and seeds grown in this region will produce the most bud. South America is the least expensive but strains grown here will produce the least amount of bud. The top 3 regions have sold out already but there are still around 1800 plots for sale on the lower 3 regions. No more new plots of land will be released, once they are sold, they will only be traded on the secondary market. Please see the stats table below ,copy/pasted from this post

Players looking to get involved with the presale can buy bundles of regions. Each bundle includes 1 plot of land, 1 seed from that region and a level 1 water tower. Each region has a different amount of plots, coming from Asia with the lowest numbers of plots (40) to South America with the most amount of plots (1300).
The in-game currency MOTA is only minted into existence through burning buds that farmers grow. There is a certain of MOTA to be minted every day, players send BUDS to a deposit account which is burned. This means the more bud you can burn the better your chances of getting a larger slice of the MOTA mintage for that day.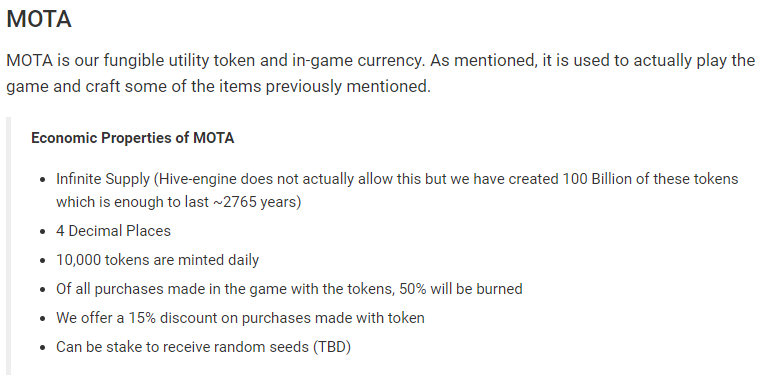 Types of players required!!
Farmers
Farmers are the backbone of the game with the main focus being on producing BUDS. Once they have BUDS, they can sell them, burn them for MOTA and then stake that MOTA to mint new seeds, rinse and repeat. A farmer can create consumables that are boaters to speed up bud production are increase yield.
To be a farmer, you will need a few plots of land, seeds and water towers.
Seed Producers
Becoming a seed producers is a more passive way to get involved with the game. New seeds can only be produced from staking the MOTA token. To become a seed producer, you would be required to simply buy MOTA tokens from the exchange and stake them. Once seeds have been produced, the players can sell those seeds for HIVE to a farmer.
Land Barons
The operators have plans to split each plot of land into 10 parts that can be used for different things. They have said they will start to develop this when all plots of land are sold out. This means that each plot of land could be used by 10 different players if each sub-plot of rented out.
To be a land baron, you would be required to buy a lot of plots, as many as you can really. If you were to buy 50 plots of Mexico, you would have 500 subplots. If rented out at 50 cents per subplot per month, you'd be bringing in $250 per month. If you lucky enough to get Asia in the presale, you might earn $2-3+ per month per subplot.
Being a land baron is just that and requires you to stay on top of tenants of your subplots.
The posts are very well written and anything is explained well. If you only look into 1 post from them, please make it "Hashkings 2.0 Beige Paper" released around 2 months back.
Im looking very forward to this and want to spread the word as I think others will enjoy this type of game. Even if they remove the fact that it's a weed game and thinking if it as just farming, the tokenomics are very well thought out and from what I can see, everything flows from 1 place to another creating a never-ending cycle of rewards through mintage and burning.
This is one to watch and maybe throw a few HIVE at.


Aisa, Jamaica and Africa are all SOLD out
Visit - https://www.hashkings.app
Posted Using LeoFinance Beta
---
---