Beating the bookmakers and creating extra income 🤑💰🔞
Hello everyone, all my fans and token holders. Did you see the post my Aunt @susie-saver release on Saturday 2 days ago? If you missed it, here's a link. She has started the Saturday savers club with Sussie-Saver. It's a simple saving plan for 1 year that anyone can do, it can be done alone but it's better if more people take part and get involved. I have personally done this myself a few years back for 2 years running and both years i saved over £1000 from spare pocket change. I bought 4 gold sov's the first year and the second year i did it, i bought myself a 3 baht (1.5oz) 23 carrot (96.5% gold) Thai gold chain. Both are worth around 60% more than i paid for them and i look like a baller when im wearing my chain. Point is small saving can add up to large amounts.
Go and check out that post from 2 days back, the link is above. I saved each day and added a few extra rules for myself. In the UK, we have £2 coins and the first year plastic £5 were entered into circulation so I decided to add every £2 coin and every paper £5 I got into my kitty to give it an extra boost. Also in the beginning when I had to save 15p or 52p that day and I had £2.13 in a change in my pocket, all the change went in. It's a fun challenge and adds up without you seeing the money going out. I got almost 2.5oz of gold for the 2 years I did it, it's deffo worth looking into.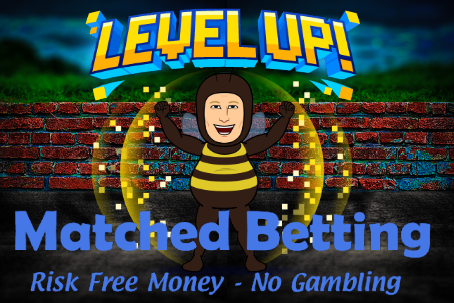 Ok, so by now you have checked out Saturday post from Susie, printed off your penny a day sheet and slammed the post with a massive upvote, let's talk about something else. Ya'll heard of "Matched Betting"? you might know it as bonus whoring from bookmakers.
What is Matched Betting?
Matched betting is a perfect, easy and quick way to boost your side income. It's a hustle and ole Eddie's been hustling from before your father was a man. The goal is to produce an extra income by turning bookmakers free bets into free money by placing bets but not gambling. Yeah, I said it, not gambling. This is not a scam and 100% legal, it's a betting technique that exploits bookmakers welcome bonuses (same bonuses that suck in gambling addicts) and lets us convert 70-90% of the offered bonus into hard cash. It sounds complicated and complex but after you do it, you see it's actually very simple. There are hundreds of bookmakers out there all offering free cash ripe for the picking. Offers range from £10- £250 and everything in between Its something you can do in the spare time, as and when you please. But deffo an easy £2000 for the taking.
Matched Betting: Here's How It Works
I am going to explain to you how you can 'buy' £50 for the cost of £10. I will show you how can make £40 in a few minutes using a betting technique called matched betting. And by using online back & lay bet calculators, will do this at amazing speed.
Bookmakers offer new and exciting customers free bets and bonuses to sign up and deposit. In general, it's a straight-up ''Bet £50 to get a £50 free bet''. When you sign up a new account and make an offer, your first bet would be your qualifying bet. By betting on every possible outcome, you minimize losses to a few pence. This sounds complicated but its only 2 bets. You will know before placing any bet how much it will cost. After your qualifying bet has settled, you will receive your free bet of £50. Repeat the same process again this time using the free bet, this will yield around 70-80% the value of the free bet.
Still, confused? I will go through it in greater detail below. Once you learn to do this, you can repeat it over and over at different bookmakers and even when you have completed all the sign-up, you have reloaded to do.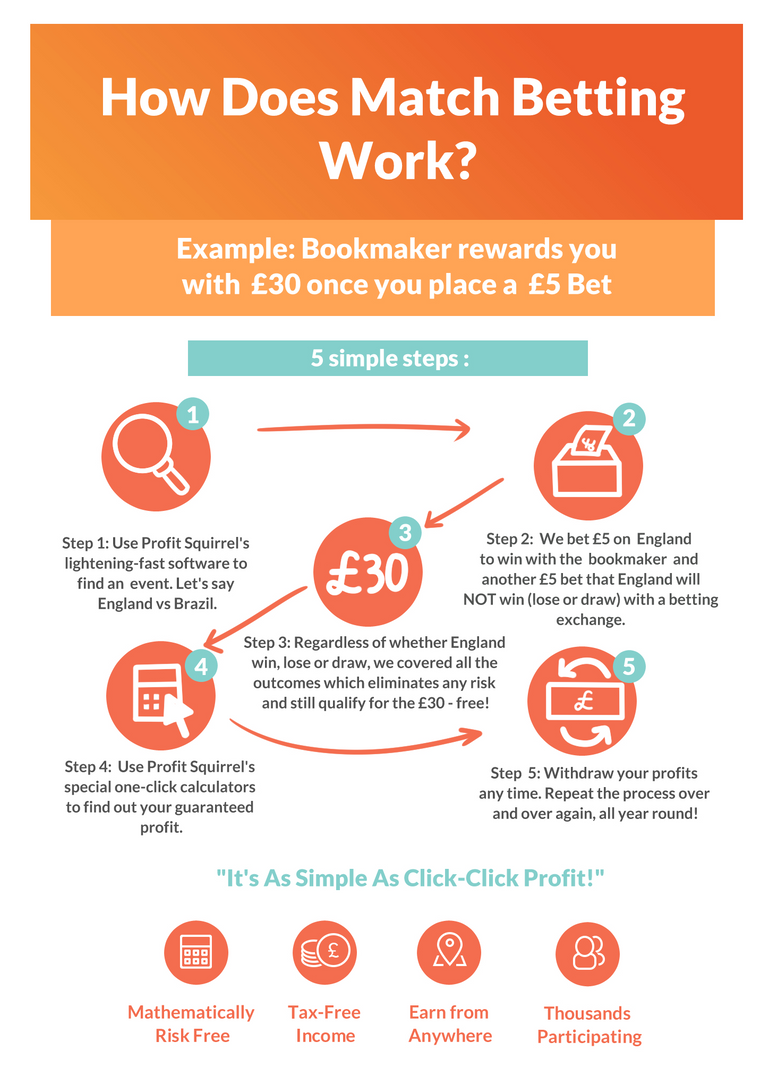 The Art of the ''Backing and Laying'' technique
To put this simply, this is stating that an outcome will both happen and not happen. In everyday English, this is called hedging your bets. You will always be right and wrong at the same time.
When you make a bet at the bookie you are betting that something will happen. This is called 'Back Bet' and is the most common form of betting.
Another type of bet you can place is one where you bet on something to not happen. The is a called a 'Lay Bet' and are normally made on using Betfair and another betting exchange.
A back bet means you what it to win, a lay bet means you want it to not win. When you back and lay the same choice and cover all outcomes, you cant lose. If you back Man United to win the FA Cup, you must lay Man United to win the FA cup
This is important to remember and understand

Qualifying Bet
In order to take advantage of these bookmakers offers. The bookmakers will specify that you must make a bet with them first before you are rewarded with your free bet. By backing and laying your first bet which is you qualifying bet, you will have made a back bet at the bookmaker and a lay bet at a betting exchange covering all outcomes and losing a few pennies, I aim for nothing more than 5%. If doing a qualifying bet of £50, I would aim you lose no more than £2.50 overall. When your qualifying bet has settled you will have won 1 bet and lost 1 bet. In effect, you win and loss has cancelled each other out and you lost a small percentage. You are now rewarded with a free bet. The trick is to get back odds and lay odds to the same value. The closer the odds are, the better the match. Always try and find a match where you lose no more than 5% of your back bet. I use an online back and lay calculator to work out my lay bet. trickybet.net
Free Bet
Once you have received your free bet you will be looking to cash it out. You basically repeat the same process over again except this time you will be using the bookmaker's money for your bet back. I tend you bet on higher odds of around 6/1 are higher. I do this because most free bets are stake not returned meaning you get the white meat. You are aiming to make a min of 80% of this bet. Thankfully most lay and back calculators will have an option for this and this will adjust your lay bet stake. So, do you back bet using your free bet and place a lay bet and the betting exchange and when the bet is settled, you will have just converted a free bet in free cash waiting to be withdrawn? Its that simple, and you can repeat it over and over at different bookmakers. I have had nights where I did 6 bookmakers sign up bonus in 1 night.
How did i get started
It's fairly simple to get started. I opened a new bank account to keep it separate, but nothing wrong with the account you already have. You will need a min of £300 to get started, the more the better but I think I could start from £300. You need money to fund back bets and money in your betting exchange account. I would suggest £100 in the bank and £200 in a betting exchange to get started
You will first off need to sign up to a betting exchange. Betfair seems to be the biggest one and I its the one I have used the past 9 years. Their others but to start out, 1 is enough. Next up I would learn how to use Betfair and understand how to place a lay bet. Each bet has 2 prices, 1 blue and the other is pink. Blue is normal back bet and Pink is a laid bet.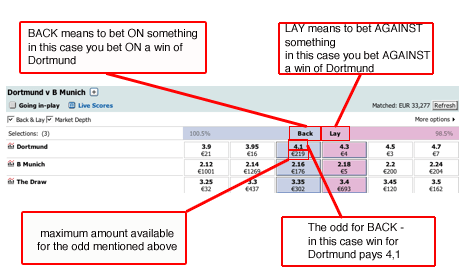 Next, you will need to select a bookmakers offer, I suggest going for the lowest offer you can find. There is always a £10 offer around so that say you find a £10 offer and its a free £10 sign up bet.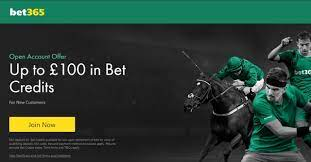 You will need to write the terms and conditions. This is where you will find out what the min odds that your bet must be, bets that are not acceptable, free bet conditions etc. I can not highlight how important is to read the terms and conditions before signing up to any bookmakers offer. I have read and known all the UK bookmakers terms down to the finest detail, years of wasted time :D
Sign up to the bookmakers and search for a close matching bet. Let's say using decimal odds to find a horse that is running in 30 mins with back odds at the bookmaker of 2.12 and lay odds at the betting exchange of 2.14. After inputting a £10 bet, 5% lay commission (Betfair cut) and the odds in the calculator, it's showing the result of a loss of £0.37 either way by placing a lay bet of £10.14. In this bet, you will have used £10 from your bank account to fund the back bet at the bookmakers and have a liability of £11.56 on Betfair as you offered someone else a bet of £10.14 using them odds of 2.14. This is why you need money in both bank and Betfair accounts. That say for talk sake, the horse falls and we win are lay bet. We lose the £10 at the bookmaker and gain £9.63 at Betfair with is the £10.14 stake take away 5% comm. You qualifying bet has cost you £0.37.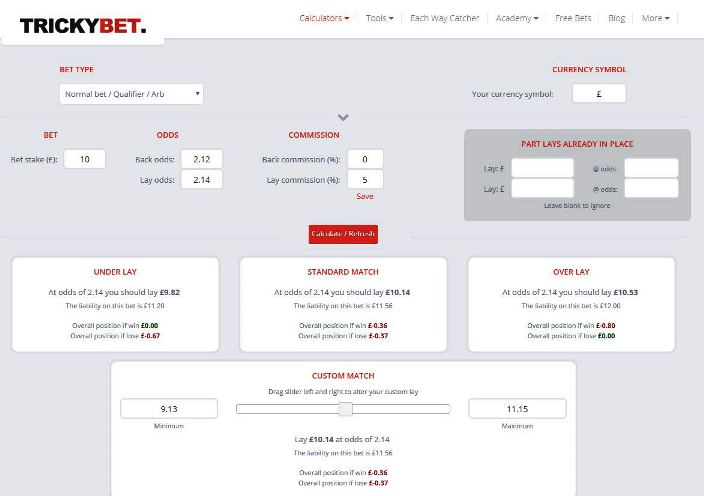 Now you have your free bet. You repeat the same process, but this time you are using the bookmaker's money and as it is not stake returned, you must place a back bet selecting higher odds of 6+. So there is a football game starting I find close odds on the correct score market. My selection has back odds at the bookmakers of 7.4 and lays odds at Betfair of 7.6. I use my free bet to make this bet at the bookmakers. Then after entering into the calculator £10 bet, 5% lay commission, enter in the back and lays odds and finally select the Stack not return option. My result is an £8.48 lay bet which I make at Betfair. I have no expensive at the bookmaker and my liability on my lay bet was £55.97 as I offered odds of 7.6 for £.48. Let's say you win at the exchange again. You lose nothing at the bookmakers and you gain £8.06 at Betfair after comm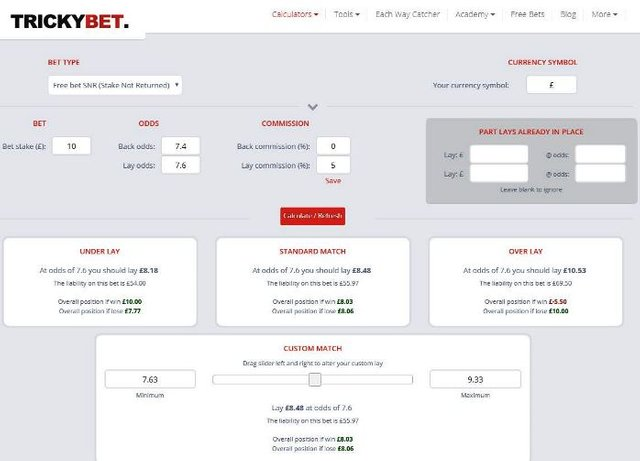 What have you just done?
You will have just made free money for pretty much no work. Let's break it down, your qualifying bet cost you £0.37 and you gained £8.06 with your free bet. That's simply £8.06 take away £0.37 which gives you £7.69 clear profit. If you had started with £100 in a bank account and £200 on Betfair, you would now have £90 in the bank and £217.69 in your Betfair account. Rinse and repeat till the cows come home.
Always Read Terms and Conditions
Always - Always place back bet before the lay bet
Always double check your numbers on the calculator
Always refresh odds before placing bet
There you have it folks, another way to bring home the bacon. It does require some time and learning but the techniques and disciplines learned can be transferred into arb trading techniques on any market in the market and discipline is always good to learn. Matched betting was very profitable about 10 years back when you could pull in £1000 per month from it but as with anything, it's gotten harder but not hard enough that it's not worth doing.
Posted Using LeoFinance Beta
---
---