Film Review: Victor/Victoria (1982)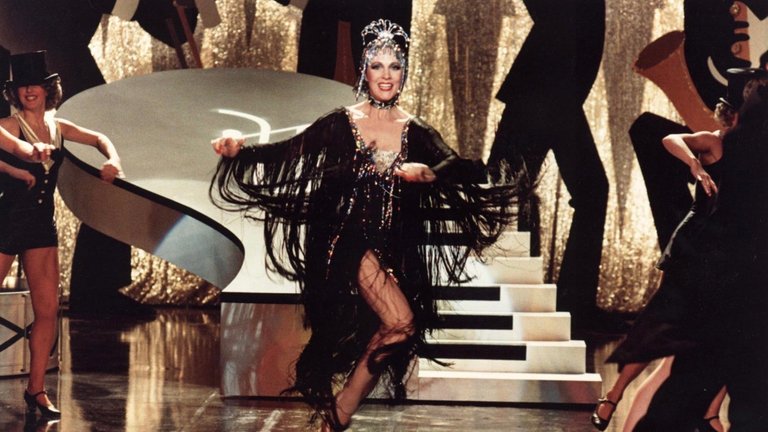 While today's films that deal with gender fluidity and similar issues tend to do so with utter seriousness, in good old days Hollywood and other cinema industries took much lighter approach, preaching tolerance towards alternative forms of sexuality through films that were entertaining, funny and popular. One of the best examples is Victor/Victoria, 1982 musical comedy written and directed by Blake Edwards, itself a remake of 1933 film Viktor und Viktoria, one of the last films to be produced in Weimar Germany.
The plot is set in 1934 Paris. The protagonist is Victoria Grant (played by Julie Andrews), English singer who is down on her luck and is literally starving. One of the few people who recognised her talent is Carroll "Toddy" Tood (played by Robert Preston), old night club entertainer who is also gay. He bring her to his home where she, after seeing her clothes shrunk after being exposed to rain, takes Toddy's clothes and is mistaken for a man by one of Toddy's lovers. That gives Toddy an idea – Victoria would start new career as female impersonator under guise of Toddy's gay lover, Polish Count Victor Grazinski. The plan works, "Victor" gets job in the best night clubs and becomes toast of the town. One of such clubs is visited by King Marchand (played by James Garner), mob-connected night club owner from Chicago who is impressed by Victor's performance and, much to his horror, begins to fall in love with Polish count, unaware that he is actually attracted to a woman pretending to be a man. Things are further complicated when King's bimbo girlfriend (played by Lesley Anne Down) and his faithful bodyguard Crash (played by Mark Karras) begin to realise that something strange is going on with King.
Victor/Victoria, made entirely in Pinewood studios, looks exactly like old those Classic Hollywood musicals. Yet, unlike film makers from that era, Blake Edwards was unconstrained by the censorship of infamous Hays Code and could openly deal with issues authors of films like Some Like It Hot could had only hinted at. The film in many ways depicts interwar Paris as more relaxed and open-minded place compared with puritanical tyranny of Middle America where even organised crime looks unfavourably towards what was once described as "the love that dare not speak its name". Toddy is openly gay, Victoria openly pretends to be gay and large part of film takes part in gay bars or night clubs featuring drag shows. Edwards is clearly on the side of sexual freedom, but he doesn't preach it to the audience and instead uses homosexuality and cross-dressing as a tool for extremely entertaining and effective farce.
Edwards' main asset is his wife and muse Julie Andrews, who used this complex and potentially dangerous role as a way to finish her transformation from the embodiment of saccharine family friendly entertainment into serious and mature performer. She is splendid both as comedienne and in spectacular music and dance numbers which allow her to display her magnificent vocal skills. Robert Preston, a veteran of Broadway and classic Hollywood musicals, hired as replacement for tragically deceased Peter Sellers, is also wonderful in his role of sympathetic gay man who transcends the stereotypes. Lesley Anne Warren also shines in stereotypical and thankless role of a bimbo and Edwards allows her too to display her great singing and dancing skills. James Garner, an actor specialised for the role of tough guys with a heart, is very good in the role of macho man forced to question his sexuality and former NFL star Alex Karras also gives good impression as his tough bodyguard with secret of his own. Although the quality of humour oscillates and Edwards too often ends scenes with massive bar fights that are supposed to be funny, and although the film is slightly overlong, farcical irreverence of Victor/Victoria looks refreshing compared to today's Hollywood and this film could be recommended even to the audience that cares little about gender and similar issues.
RATING: 7/10 (++)
Blog in Croatian https://draxblog.com
Blog in English https://draxreview.wordpress.com/
Leofinance blog https://leofinance.io/@drax.leo
Cent profile https://beta.cent.co/@drax
Minds profile https://www.minds.com/drax_rp_nc
Uptrennd profile https://www.uptrennd.com/user/MTYzNA
Hiveonboard: https://hiveonboard.com?ref=drax
Rising Star game: https://www.risingstargame.com?referrer=drax
1Inch: https://1inch.exchange/#/r/0x83823d8CCB74F828148258BB4457642124b1328e
BTC donations: 1EWxiMiP6iiG9rger3NuUSd6HByaxQWafG
ETH donations: 0xB305F144323b99e6f8b1d66f5D7DE78B498C32A7

---
---