Film Review: Daisy Miller (1974)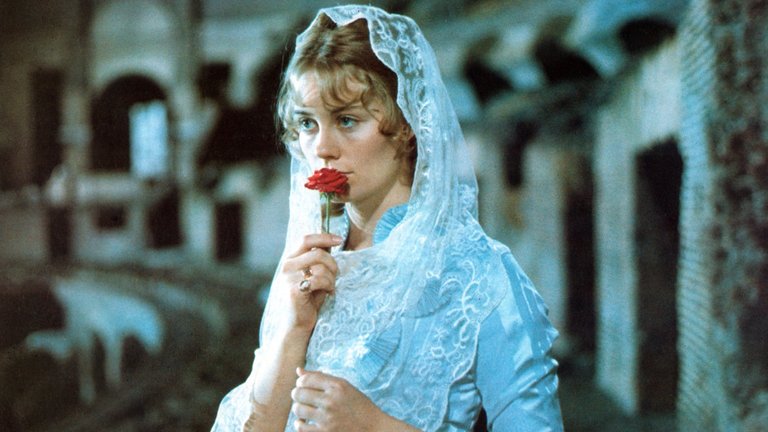 Many great artists experience the point in which the career takes unmistakably downward trajectory. Few such examples are as clear as in the case of celebrated New Hollywood director Peter Bogdanovich and his 1974 period drama Daisy Miller.
The plot, based on the eponymous novella by Henry James, begins in 1870s Switzerland where Frederick Winterbourne (played by Barry Brown), young aristocratic member of American expatriate society, meets family made of his countrymen. It is led by nouveau riche and clearly unsophisticated Mrs. Miller (played by Cloris Leachman), her obnoxious 9-year old son Randolph (played by James McMurtry) and her older and beautiful daughter Daisy (played by Cybill Shepherd). Winterbourne is immediately attracted to Daisy's beauty and her flirtatious nature, but he also becomes aware of her unfamiliarity with high society's mores and unwritten rules of conduct, which could lead to scandal with potentially devastating consequences for her social standing. Some of those fears appear to be justified when he meets her again in Rome, where she, against his advice, begins spending time an Italian named Giovanelli (played by Duilio del Prete).
Daisy Miller is actually not that bad for something with reputation of career-wrecking film. It could be argued that the main source of Bogdanovich's misfortune is that it was made few decades too early. It is easy to imagine Daisy Miller getting rave reviews if it was produced by Merchant Ivory or earning "Oscars" and other prestigious awards if promoted by Harvey Weinstein. Bogdanovich, who was talked into adapting James' popular novella by his friend Orson Welles, directs his film adequately, providing the audience with 1870s Europe carefully recreated through elaborate costumes and props. The cast, apart from Barry Brown as cold socially-conscious protagonist whose fears appear to be justified, doesn't do anything to write home about but is nevertheless adequate. Even Shephered, who was Bogdanovich's girlfriend and muse at the time, is much better than the way it was judged by contemporary critics, who savaged her alleged lack of acting ability with too much enthusiasm. Main source of failure for Daisy Miller is uninspired script by Frederic Raphael, which was too faithful to literary source, thus making what looked interesting in James' prose utterly bland when presented on screen. In the end, it was the audience and not the critics, that turned its back on such blandness, and it is hard to imagine that the audience react differently now.
RATING: 4/10 (++)
Blog in Croatian https://draxblog.com
Blog in English https://draxreview.wordpress.com/
Leofinance blog https://leofinance.io/@drax.leo
Cent profile https://beta.cent.co/@drax
Minds profile https://www.minds.com/drax_rp_nc
Uptrennd profile https://www.uptrennd.com/user/MTYzNA
Hiveonboard: https://hiveonboard.com?ref=drax
Rising Star game: https://www.risingstargame.com?referrer=drax
1Inch: https://1inch.exchange/#/r/0x83823d8CCB74F828148258BB4457642124b1328e
BTC donations: 1EWxiMiP6iiG9rger3NuUSd6HByaxQWafG
ETH donations: 0xB305F144323b99e6f8b1d66f5D7DE78B498C32A7

---
---