May 28th 2021 - Are We In for the Tech?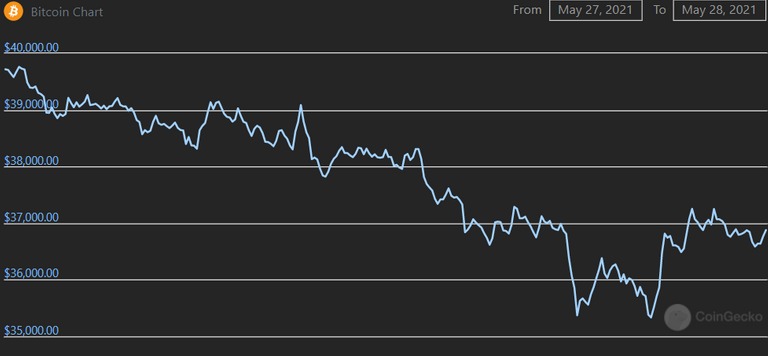 In his latest Youtube video, Ivan on Tech told most of his viewers that if they stay in cryptosphere, they are most likely to stay for the tech. In other words, most of our involvement with cryptocurrencies will be motivated more with the belief that the technology will change the world and, presumably, our lives in some kind of foreseeable future. Those who entered cryptosphere with the sole motivation of getting rich quick are likely to leave very soon, because it is, at least according to Ivan, getting increasingly likely that we have entered bear market or something very much like the bear market.
That means that 100 000 US$ for Bitcoin is not likely to happen in a time for enterprising crypto investors get their Lamborghinis before Christmas. That means that whoever aped in various altcoins is likely to lose 80-95 percent of their bags. That means we are likely to again see Hive below 10 cents and continue at this or perhaps even lower levels for a long times.
Is this dark scenario going to happen? It might or it might not. But, whoever is here for the tech is likely to stay even under such conditions. Anyone who experienced long crypto winter of 2018 should have known that its repeat, in one way or the other, is in the cards. And anyone who endured those trying times, either through HODLing, through hard work and determination, is likely to appreciate what technology can do and also likely to endure another such ordeal.
Blog in Croatian https://draxblog.com
Blog in English https://draxreview.wordpress.com/
Original Hive blog (Film & TV) https://hive.blog/@drax
Minds profile https://www.minds.com/drax_rp_nc
Uptrennd profile https://www.uptrennd.com/user/MTYzNA
Hiveonboard: https://hiveonboard.com?ref=drax
Rising Star game: https://www.risingstargame.com?referrer=drax
1Inch: https://1inch.exchange/#/r/0x83823d8CCB74F828148258BB4457642124b1328e
BTC donations: 1EWxiMiP6iiG9rger3NuUSd6HByaxQWafG
ETH donations: 0xB305F144323b99e6f8b1d66f5D7DE78B498C32A7
Posted Using LeoFinance Beta
---
---