HIVE DOLPHIN FACTORY

Dolphins are coming to Hive!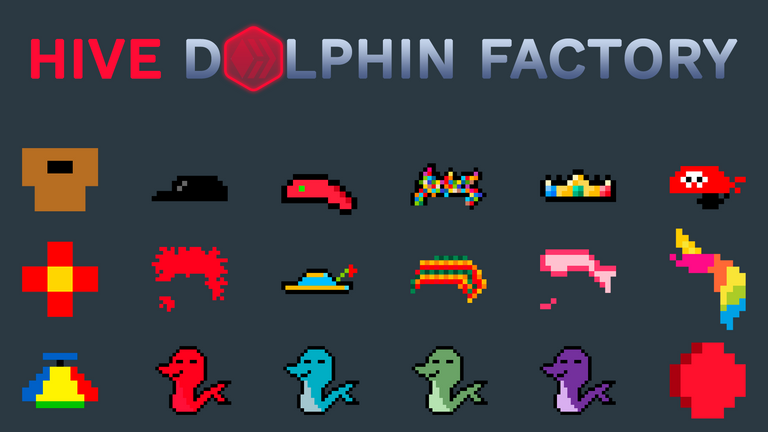 What is the HIVE DOLPHIN FACTORY?
HIVE DOLPHIN FACTORY is a NFT minted in Nftshowroom that comes with an unlockable rar (compressed) file that will help you to build a Hive Dolphin.
NFT LINK
https://nftshowroom.com/doze/gallery/doze_hive-dolphin_hive-dolphin-factory
There are 50 Editions of HIVE DOLPHIN FACTORY NFT, 12 SWAP.HIVE each.
When you buy HIVE DOLPHIN FACTORY you will be able to download a rar file with 114 files inside, 11 png images of a dolphin, 101 png images with unique dolphin pieces, 1 png image with a dolphin build by myself with dolphin pieces and 1 txt file with info and instructions how to build a Hive Dolphin.
All pngs have the same size and transparent background.
All unique dolphin pieces are positioned on right position to fit on Dolphin image.
IMPORTANT INFO
Due not possible to include a rar file as unloclable file in NFTShowroom, there are a link available to the buyers to download location of the rar file. 


How to build a HIVE DOLPHIN
All you have to do is use any image editor software at your choice, able to use layers (GIMP, PHOTOSHOP, Mobile APP, etc).
Import a Dolphin pgn, add a background layer at your color choice or texture, import to new layers png files with pieces of Dolphin.
Everything will fit in place, and you just have to play with different pieces/layers to build your Hive Dolphin.
You will get a square image as final result that you can use as your Hive image profile if you want.
👓🎩🐬 The Funny Part 🐬🎩👓
My first and unique intention with the HIVE DOLPHIN FACTORY is to push by Hive user's creativity and the NFT WORLD.
Build your unique Hive Dolphin, share it with us, and I also encourage you to create a NTF in NFTShowroom (https://nftshowroom.com/) with the Hive Dolphin built by yourself (or many, depends on how many Dolphins you want to build), and sell it.
Here is an example of a Hive Dolphin built by my self using png dolphin pieces and a Mobile App with layers feature (PicsArt App for Android).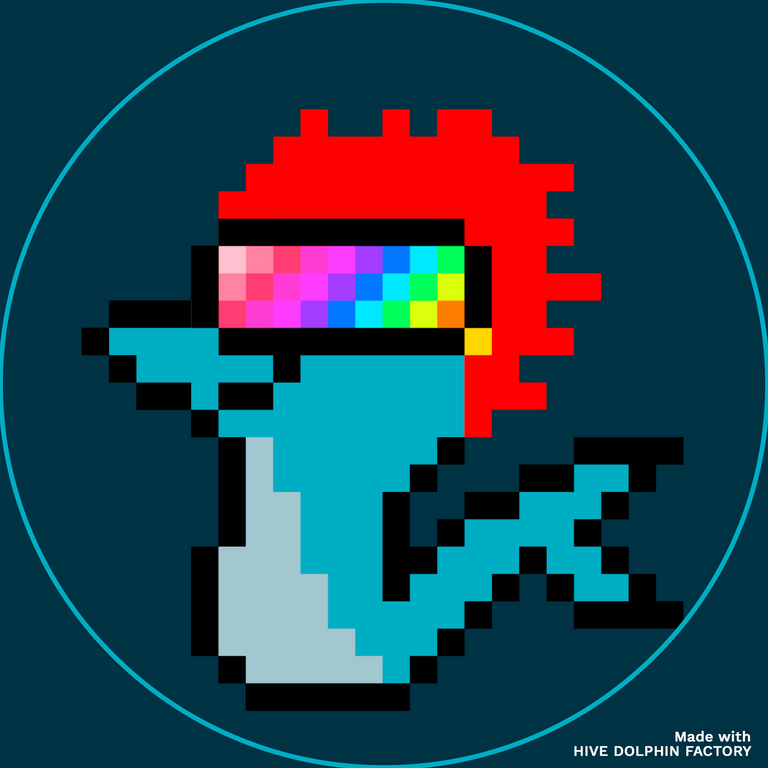 If you have any doubt or not able to build a Hive Dolphin, don't hesitate to contact me.
All related Hive Dolphin publications will have #hivedolphin hastag, i encourage you also to use this #hivedolphin hastag.
Let's have FUN!
---
---