Another Day in Rising Star Game....finally got the millionaire card

Hi everyone!!!
Back here today to post about Rising Star Game, and sharing some insights on my journey to virtual stardom 😁 finally i received my millionaire card, that is (explained for the Hiveans who have not played the game but they definitely should be) a card that is given once you have reached level 50 in the game and also you have staked a million starbits on Hive Engine which grant you for a daily mission rewarding 10000 starbits that is at current prices a whooping 1.20 HIVE or 1.81$, you can do this mission once a day but that can be increased with other types of missions a day...finally patience and hard work has made me a virtual millionaire in my way towards the Rising Star Olympus....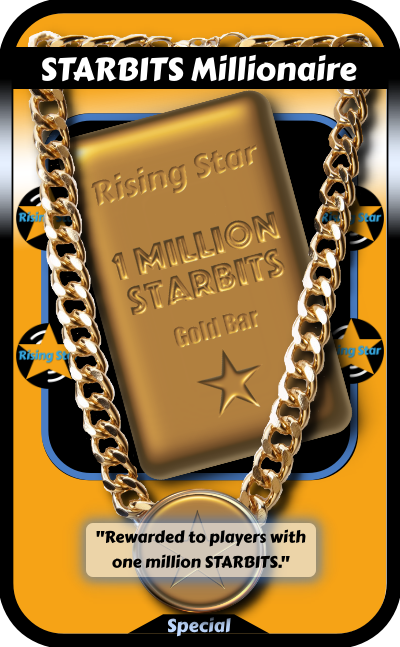 A QUICK RECAP OF MY JOURNEY IN RISING STAR
I started the game about 3 months ago, I knew about it since the start of the development as I am part of the atom collector records gang for a long time but it caught me in a moment of a break from social platforms, when I came back ready to start my journey in the blockchain once again...I asked jux for a 12 pack and got several surprises the most notable, my main character Sky a girl that will make you stop feeling blue right away and she is my main character to date, here she is....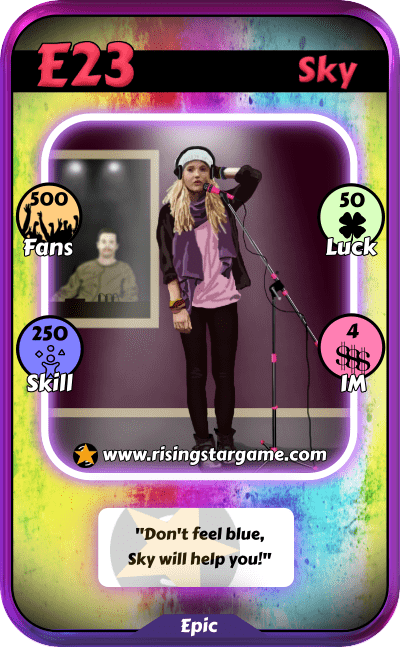 and also I got my first Epic vehicle a Epic Faux Rari here it is a real beauty...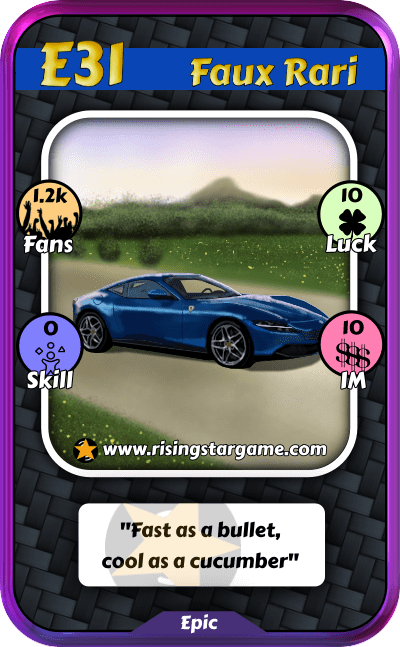 The rest of the cards were ranging from rare to common, too many to mention and a good mix... happy as a cucumber I was at first with my two epics as I grinded through the first missions up to level 15, when EGO kicked in and I wasn't that happy no longer, a hard lesson indeed, my cucumber coolness turned into despair as I saw the EGO bar all the way to the middle (this for the ones who don't know reduces the starbits earned in each mission...dammmmm it...all that Epic coolness faded away....
Until.... thanks to the wonderful people on the Rising Star discord I got to learn a few tricks and decided to counter all this EGO with music skills, I had several guitars from the first pack and decided to follow the guitar music skills path, I started acquiring all the guitar cards that I could afford and raise the luck and skill points for each of my music class level, my days turn into music lesson grinding and in no time the bar was being reduced until it was almost at 0, so I turned to make missions again and waiting for those pretty tasty pizza slices coming from heaven that help you gain more energy and hence do more daily missions...
So little by little I managed to go into the second map and aquired really essential pizza boxes and whiskey bottles for your degenerate drunken fans that raised your EGO for 24 hours...Here I missed one essential trick that i should have known better if I haven't been so distracted wit lowering EGO, I forgot to acquire cold pizza slices these beauties increase a 100% your energy and you can have as many as you want, i was confused with the pizza boxes i thought it was a card that was consumed and not to be able to use again...damm my eyes!!!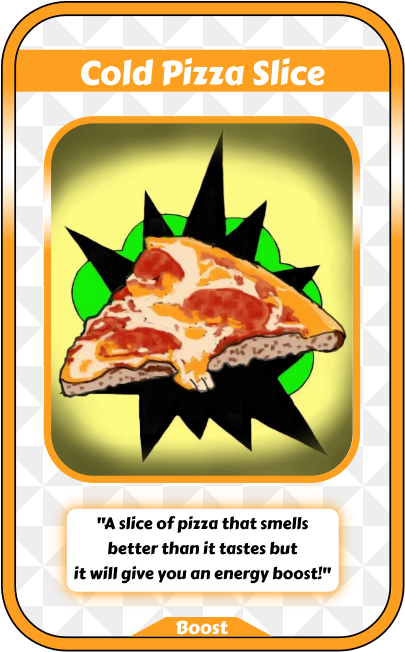 This error certainly cost me time that I should have invested into more missions...so guys remember if you are new, buy this first 2 or 3 and used them through the day, also remember to buy a couple of pizza boxes for those pesky slices given through the daily missions and also buy a small storage card in case you got the same problem than me if you got lots of fans due to your epic cards, you can always use them later....
Now still in the second map almost ready to do the last mission before being able to create my own band .....
My STATS currently LEV 52, 5347 Fans/ 783 Luck /6651 Skill/ 46 Mill Income Modifier....
My music NFT and Royalty rewards in Emanate still up...
I have a music NFT of the track above up in the Rising Star record store, this card count as a unique card for the daily reward pool, in my last post I explained how you can get more rewards by buying this NFT, you will get lifetime royalty streaming rewards for the last 10 NFT's bought up to 50% shared with me, for the ones who are not familiar with these royalties is money paid for each time a song is streamed, in Emanate a new blockchain music streaming service royalties are paid in real time, so if you buy the last 10 NFT's you will share a 50% off the money produced through this and watch them grow in real time just like starbits....
ONE LAST CRITICAL THOUGHT...
The game still in development and am sure many more features will be added even though it is a fantastic well thought of game, for slow paced browser type games, as an artist though I would like to see some other features added to the game and also maybe redesigned such as the NFT record staking feature, I think the fact that minting a batch of 25 NFT's cost about 30 $ and most of those are converted to starbits in a reward pool, that players earn by just staking their starbits there without losing them.
Although I have to say that I managed to sell quite a few of these, and make some profit, the system is a bit unfair to the artists, as minting an NFT costs basically nothing on HIVE, and artists historically have been the most damaged by the entire industry, so basically paying for players to listen to your music although it is not an entirely new idea I think it also put a strain on new artists to join and share their music in the platform. A more desirable system in my opinion would be to give the music record NFTS a new life within the system by adding stats to them that can enhance missions just like skill or luck does. At the moment they only count as a unique card and not many people are enjoying this feature as only the top 10 players or so will get any benefit for acquiring music NFT's...and other players would not bother to go and buy these from the market.
Anyway, this is wishful thinking, I would still enjoy the game and recommend to everyone as it is...Thank you for reading and see you in the stage at Rising Star Game
Thank you very much for reading and...
Please Follow me on:
https://twitter.com/DownwardSpiralM
https://emanate.live/downward-spiral-mantra/china-nights-21
https://songwhip.com/downward-spiral-mantra/china-nights-21
https://audius.co/downwardspiralm/china-nights-21
---
---