The Nigerian Real Estate Sector Is Being Transformed by Digital Marketing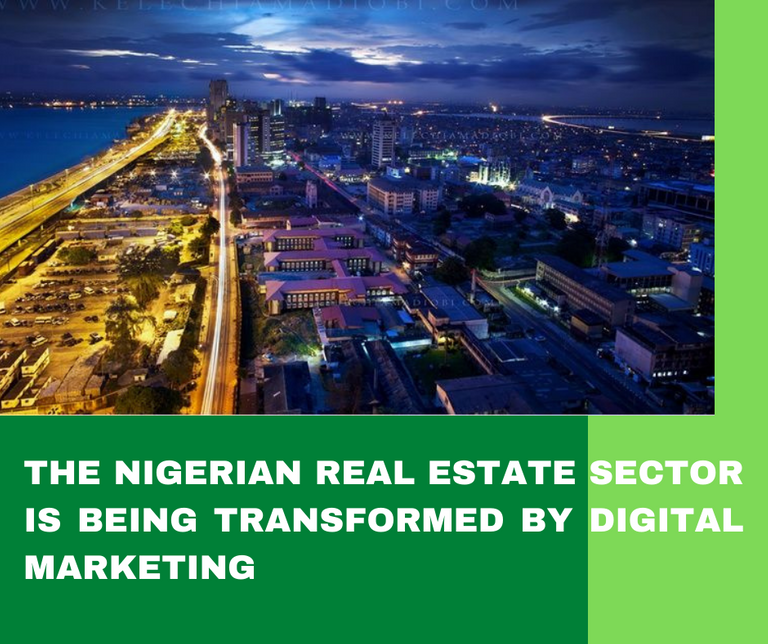 When was the last time you watched a movie or the news on your television instead of a laptop or a mobile device? How frequently do you see people these days reading newspapers or flyers, gazing at billboard advertisements, or turning on the radio? Almost seldom, if we may say. Online marketing has supplanted traditional marketing strategies, so brands and businesses prefer to promote online, create social media profiles, submit content to search engines, and develop their brands in this way.
The real estate market in Nigeria rose by 1.77 percent in Q1 2021, up from 2.81 percent in Q4 2020 and -4.75 percent in Q1 2020, according to the Nigerian Bureau of Statistics (NBS). This can be ascribed to the quick switch to digital marketing, the restart of residential and commercial projects that were suspended during the global epidemic that pushed us into lockdown, as well as the complete recovery of the economy.
The global digital transformation that is taking place cannot be avoided by any organization. Today, it is standard practice across all industries to adapt marketing and sales strategies to a world of online markets and sales. In Nigeria's real estate market, a comparable tendency may be observed. Modern technology is being used by tech-savvy real estate firms to enhance customer satisfaction, increase sales, and enhance operational effectiveness.
The ability to access more clients online, which is a must for success in digital marketplaces, is perhaps the biggest benefit of digital technologies. In order to draw customers, increase consumer interaction, and increase website traffic, Fine and Country West Africa uses visual material in a variety of methods. More benefits are highlighted below;
---
● They help save time and money
Proper representation of the properties and their features is essential to help potential clients see what they want and make certain decisions. Clients also make use of their digital tools to access the property online, book available time for viewing at their convenience, and could even participate in virtual tours organized by the real estate company. That way, time and money will be saved on both ends. Virtual content gives them an idea of what the property looks like before they go ahead and schedule a meeting.
● They help boost brand exposure
One of the biggest advantages of digital tools is reaching more customers online which is a prerequisite in digital markets. As a real estate company, we make use of visual content in different forms to generate more leads, which will also improve customer engagement and drive more website traffic
Strategic distribution of content will also help create brand awareness on social media. Hence, creating a stable brand for trust and transparency, which are the core value or major quality of selling online.
This assertion just backed up an obvious claim that digital has somewhat found a way to embed itself into our lives through one of even the simplest tools, the "mobile phone".
Finally, the Nigerian real estate sector has over the years come to embrace digital marketing and its tools that not only save time and money, but also bring them closer to their target clients with ease via
● A keyword-based content strategy: This helps to know what terms your potential clients use. If they belong to a particular generation, you can be certain that the words they use differ.
● Social Networks: Facebook, Instagram, Twitter, LinkedIn and YouTube to mention but a few are platforms that allow you to be close to your target audience and get them to know and trust your brand.
● Search Engine Optimization: This gives visibility to your business as keywords that relate to your real estate brand or ad are being searched for on search engines.
● Email Marketing: Enabling you to deliver content that eases the passage of prospects to conversion.
---
---