Writing A Business Plan As An Entrepreneur.
A Business plan is a written description of your business's future. It's more like a document that shows what you plan to do and how you plan to do it. In that wise, if you jot down a paragraph at most describing your business strategy, you've written a plan or at least a germ of one.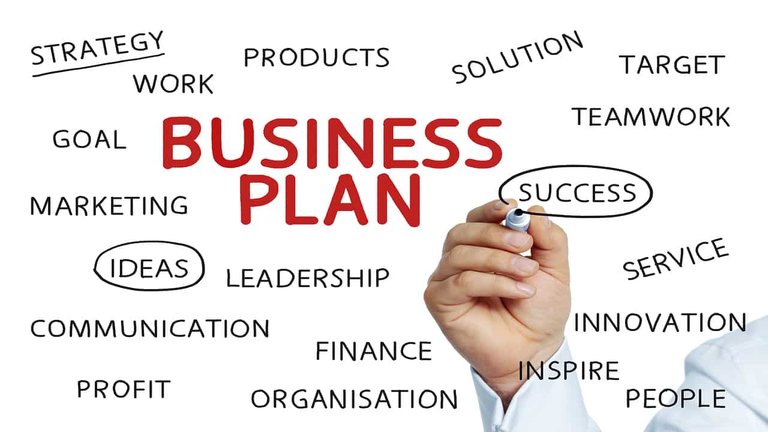 credit
In writing a business plan for your business, you have to be strategic and it has to be systematic also in such a way that, if you start at a point today, you must have the mind of getting to a point in the future with some important capabilities and resources. With that, your plan will show how you intend getting to that point where your business grows in the future.
A business plan must have a business description which most times begins with a short details of the business, describing the present state of the business and the future of the business. Not that alone, there's something called design and development of a business. This section of the business plan gives anyone [prospects] that wants to invest in your business what your business is producing, how to market the produce as well as a budget [development] that will assist or help your business to reach it's intended goal [s].



As you and I know that no business can survive without finance. It's of utmost importance that you keep this section in mind when writing a business plan because it's the back-bone of any business that wants to thrive in any economic situation.
There's another factor you need to put into consideration when writing a business plan and that's the market strategy or market opportunities of your business. It's a type of analysis that deals with the aspect of the market that will position any business in a way that will make it to thrive in getting shares of sales. This analysis will help the business owner to evaluate what's called customer purchasing habits, the demographics of the customer and buying circles. You can't start a business that deals with the sales of stationery items in a demographic that has a lot of event centers and recreational centres. Though, there might be some sales but it won't be as much as starting up a business that deals with the making of pizza, sharwama, creamy ice-cream etc in this type of customer's demographic.



Having a well mapped out market strategy will help business owners to know what the size of the market they want to target is and know if the market is a growing market, stable or the market is declining.
One more key to put into consideration when writing a business plan is what I termed competitive analysis. You might be wondering what's the use of this type of analysis.
Competitive analysis will help to determine the strength and the weakness of the competitors within the market a business owner is targeting and it will give the business owner the strategies to implore in having a plan that will help his or her business to thrive and grow beyond the barriers that wants to prevent his business from entering market.
Thanks for stopping by!
---
---