Final Post of 2022 - 12/31/22
Man. What a year, and what a week. I am happily leaving 2022 behind.
This end of the year feels a little different than others for me. 2022 was rough but frankly, the past almost three years have been rough.
Many years I avoid resolutions or reflection at the end of calendar year because it can feel silly. 'Make a change now, don't wait for a symbolic passing of the year' is a saying I hear a lot during New Year's. I typically agree.
But this year feels different. I feel my age seriously. I'm definitely getting old and I have little to show for it. Not beating myself up but just something I recognize.
I'm sort of proud of myself though. I have been through some tough times this year. Not incredibly tough. Many of my tough times are sort of self inflicted. But I think I've learned a lot. Not everything is my fault, and I also can't always point fingers. Both are true I guess.
I feel horrible a lot. Miserable. But I think the cold slap of time is hitting me and I'm just gonna try to like, be active be happy be consistent. Save money and improve life for myself and my family. So many what if's and fears but those things aren't even real. I just gotta act and hope for the best. The alternative is awful.
I'm alone this New Year's but that's ok. It's peaceful and I'm alive and bills are paid. Hopefully one day I won't be a slave and I can live free and help my whole family, perhaps grow it. That'd be cool.
Had some Greek cookies thanks to my Papou. Super delicious.
Kourabiedes on the left, and Koulourakia on the right. I so need to learn how to make these!!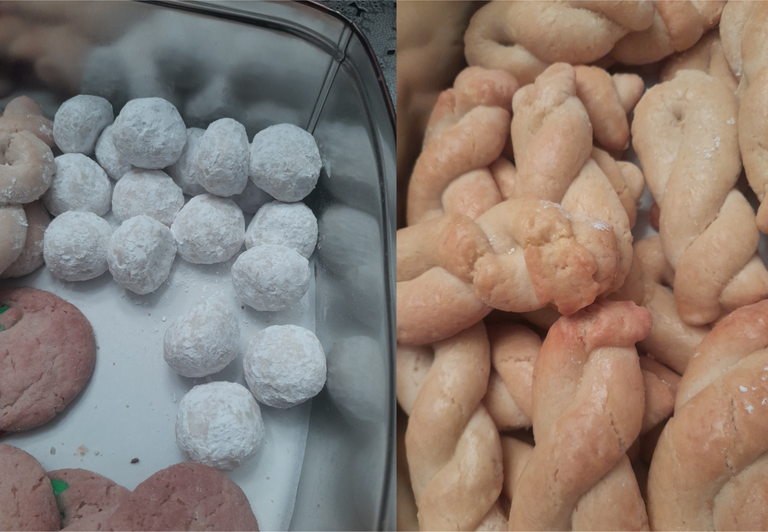 HIVE ON FOLKS. Hopefully 2023 is fantastic!
---
---