Community Contest #6: Show Us Your Home Library and Tell Us Your Favorite Book!!! This was fun!!
Man what a cool little contest! So glad I found out about it! I love books man. Just love them. My goal is to absolutely be a published author one day. I keep putting it off like a coward LOL. But as each day passes, I think about it more and more.
Anyway, my collection used to be a lot more legit, but as I have moved frequently in the past decade, unfortunately some of my books TRAGICALLY have gotten lost in the shuffle I guess. Nevertheless I still have a good portion of books, and I still own my 'Big Three' series, which is sort of like a 'Big Four' but I will elaborate more on that later.
Here is my collection as it currently stands today!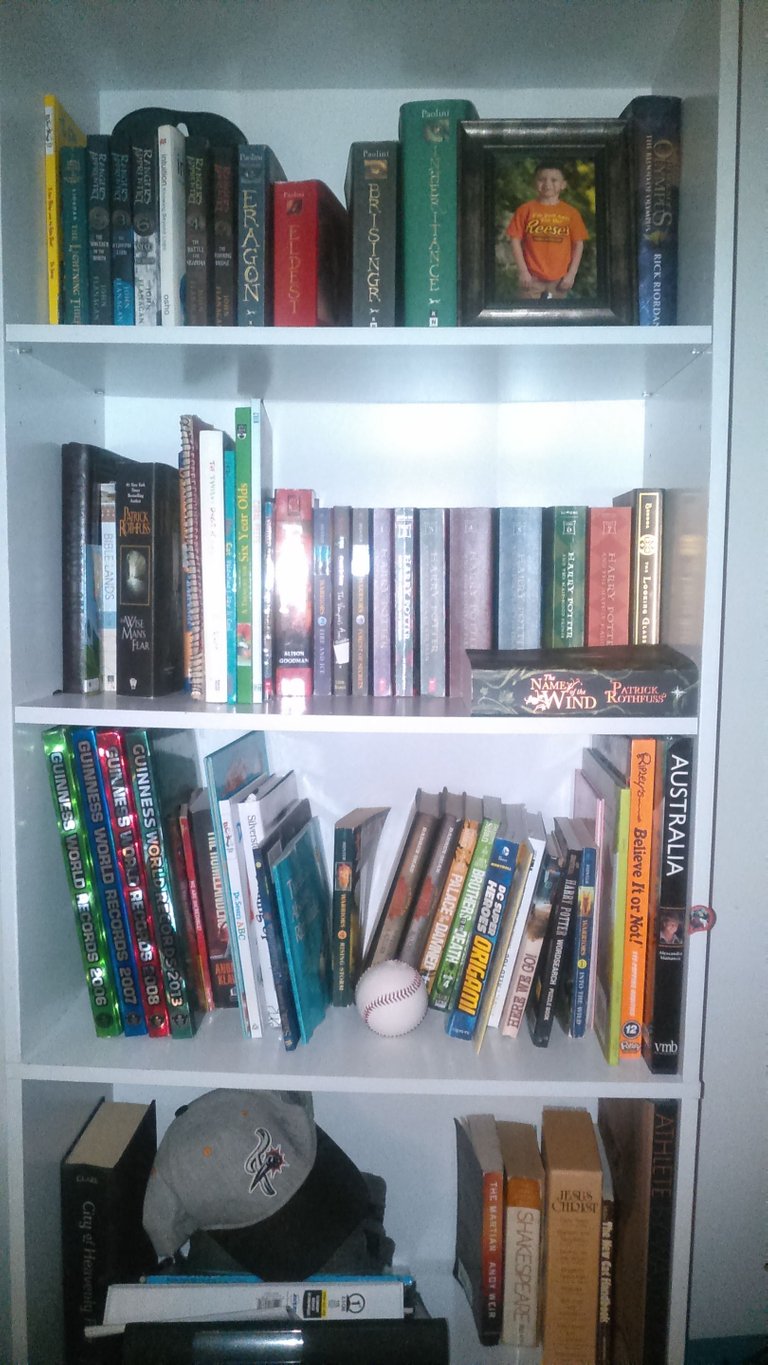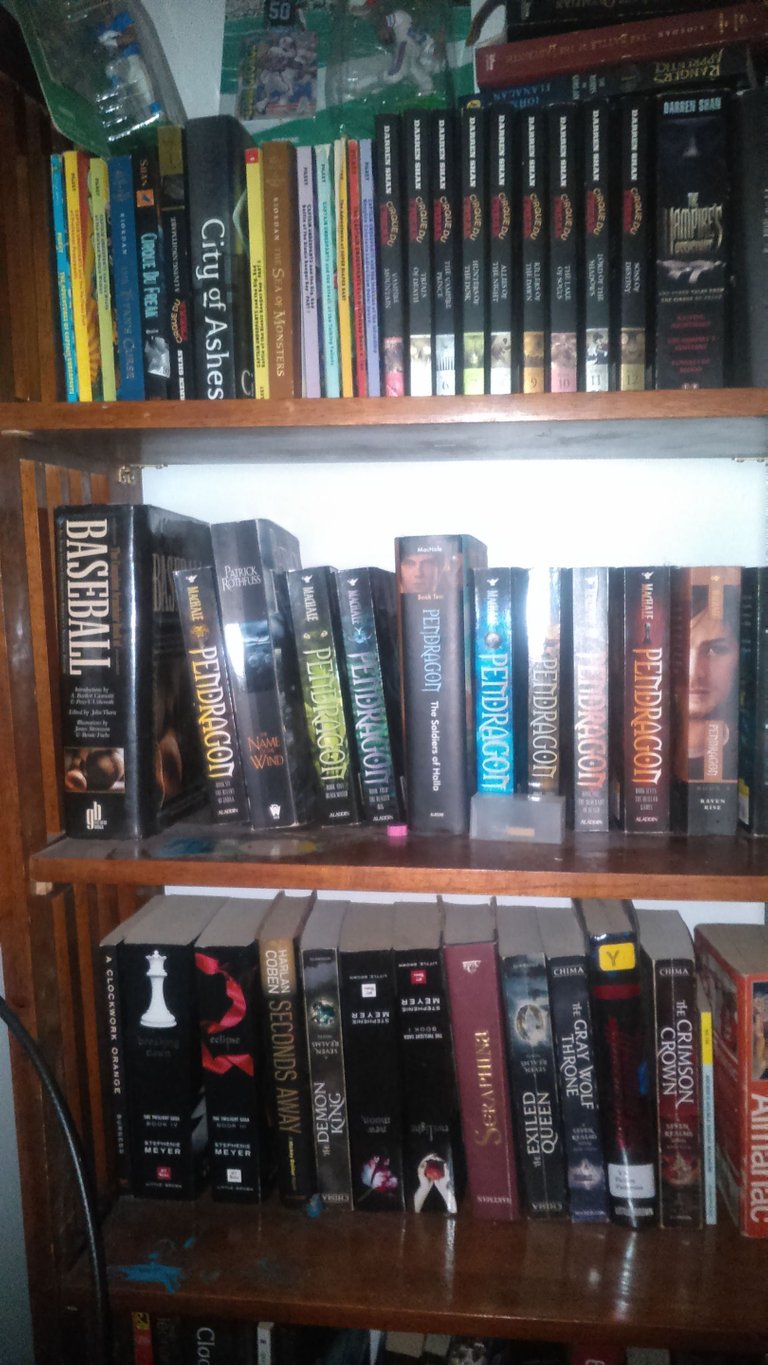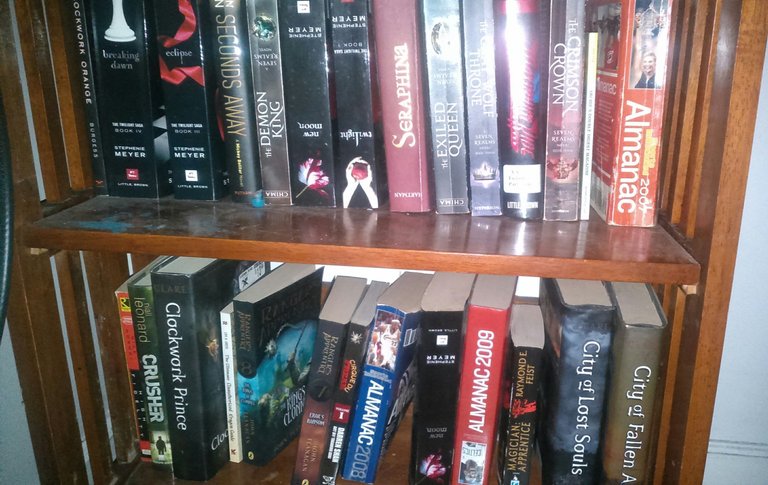 Yeah, a bit unorganized and dusty, but it is what it is I guess.
This dusty old book shelf is special though. I believe I have the faintest of faintest memory of my mother assembling it. I turn 28 in March, I believe this shelf is easily roughly 25 years old. I have a pretty good memory when it comes to like, remembering my youth. Might be my oldest and most prized possession, kinda wild. The shelves still fold up and like, collapses when it must be transported. Old reliable.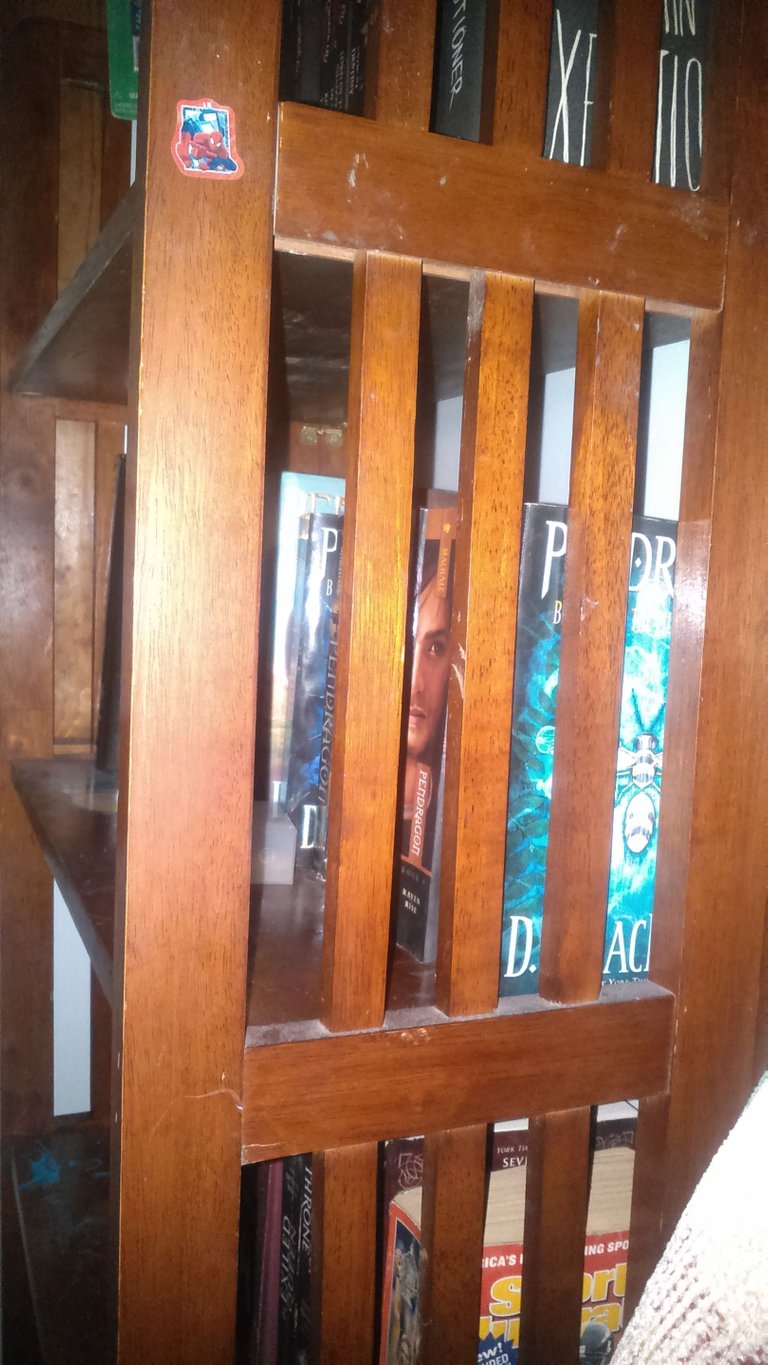 ---
My 'Big Three' Favorite Series!!! In no particular order, I could never rank these:
The Harry Potter Series by J.K. Rowling. Anyone ever heard of these? LOL!!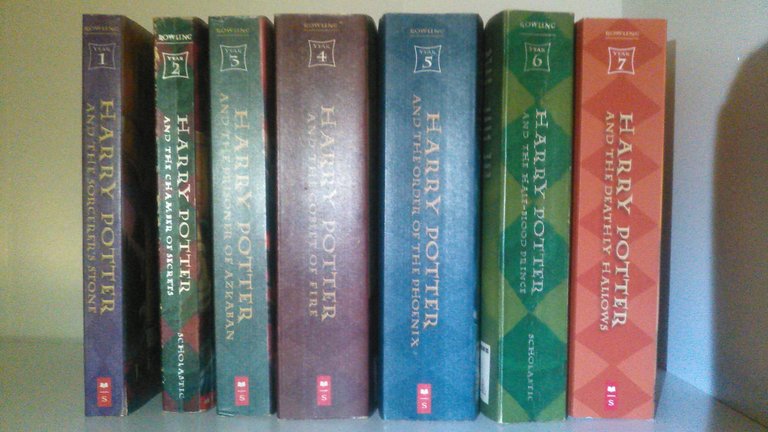 The Inheritance Cycle by Christopher Paolini. Series about Dragons and Magic! This series is going to be a live action series on Disney+!!! Look out for it!!

The Cirque Du Freak Series + The Saga of Larten Crepsley by Darren Shan.
Man, I really love this series so much man. Seriously holds a special place in my heart. I can vividly remember where I was, and what I was doing when I discovered these and decided to read them.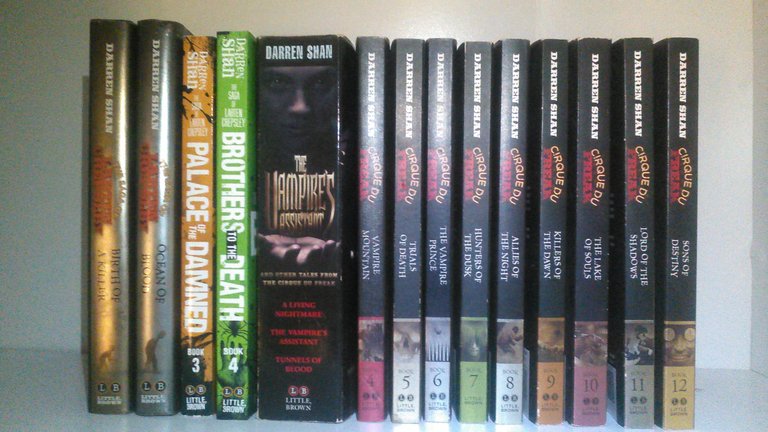 So, the originally published series starts after the green book, the Cirque Du Freak series. The first fat book, which is the start of it, is actually three books packed into one. Cirque Du Freak has a total of 12 books.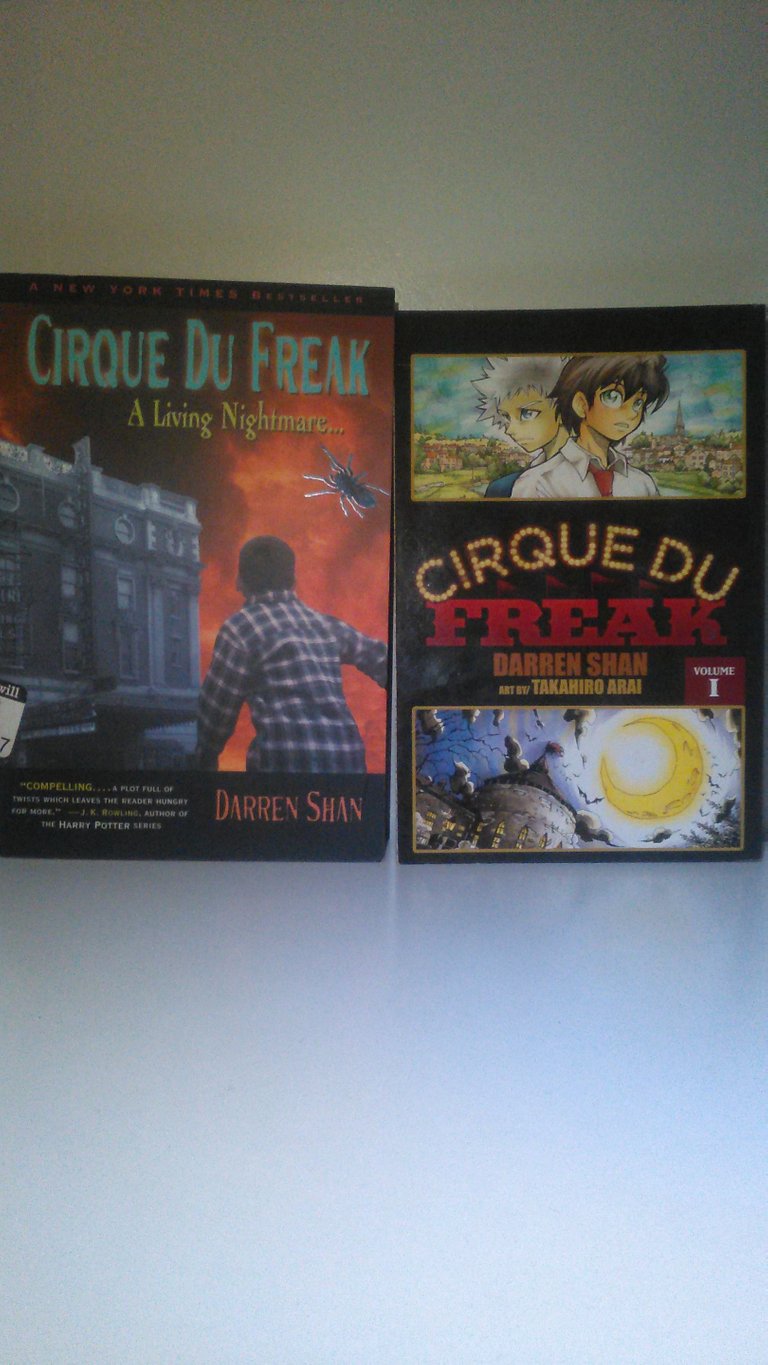 I love Cirque so much, I have a copy of the OG cover of book one, pictured on the left. Looking at it gives me goosebumps, I feel like I'm in eighth grade again. Wild.
On the right, is the manga copy of book one. I don't really read those types of novels, but I think it's pretty cool to own.
Speaking of the OG cover, that book is a U.S. first edition unless I'm misunderstanding this. Not an Irish/European first edition, still pretty cool though.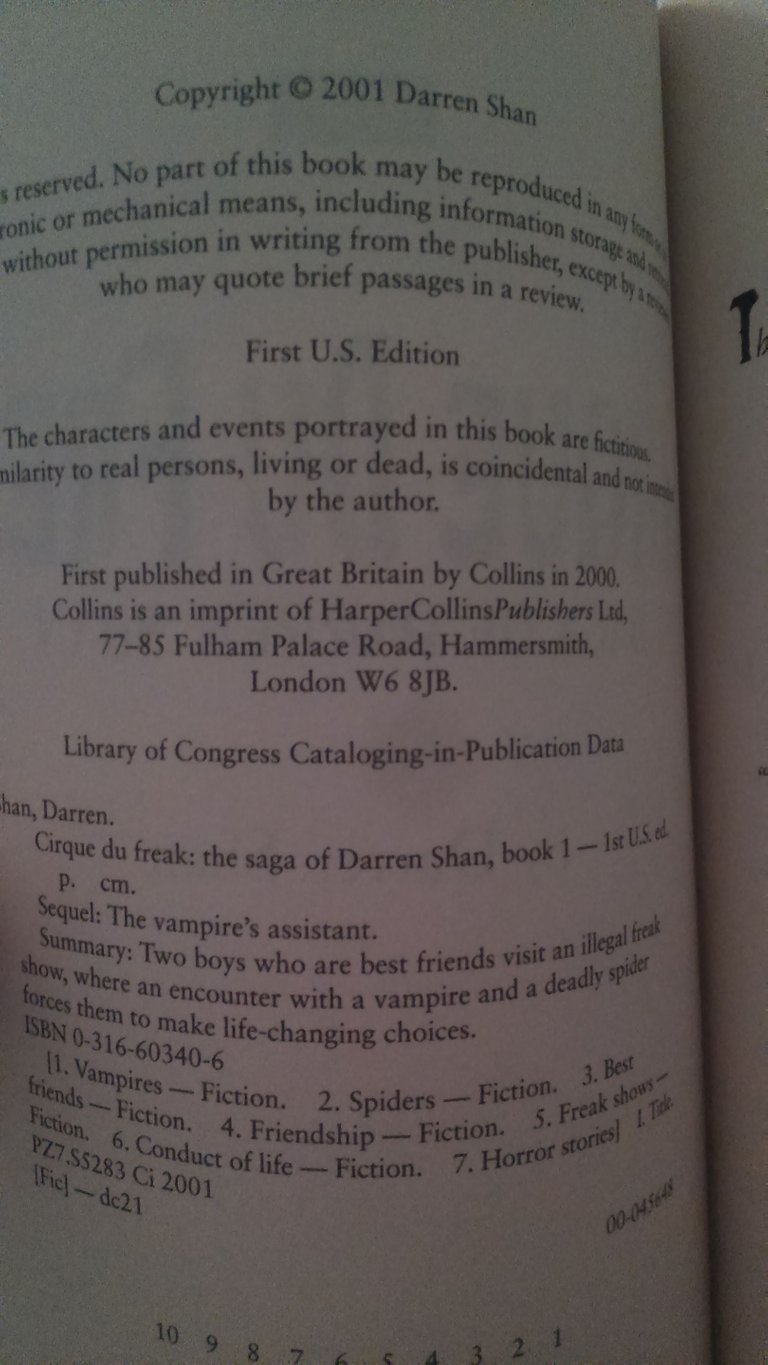 This copy of book six is a next gen cover or whatever, but it is so badass nevertheless. I have this tatted on my arm!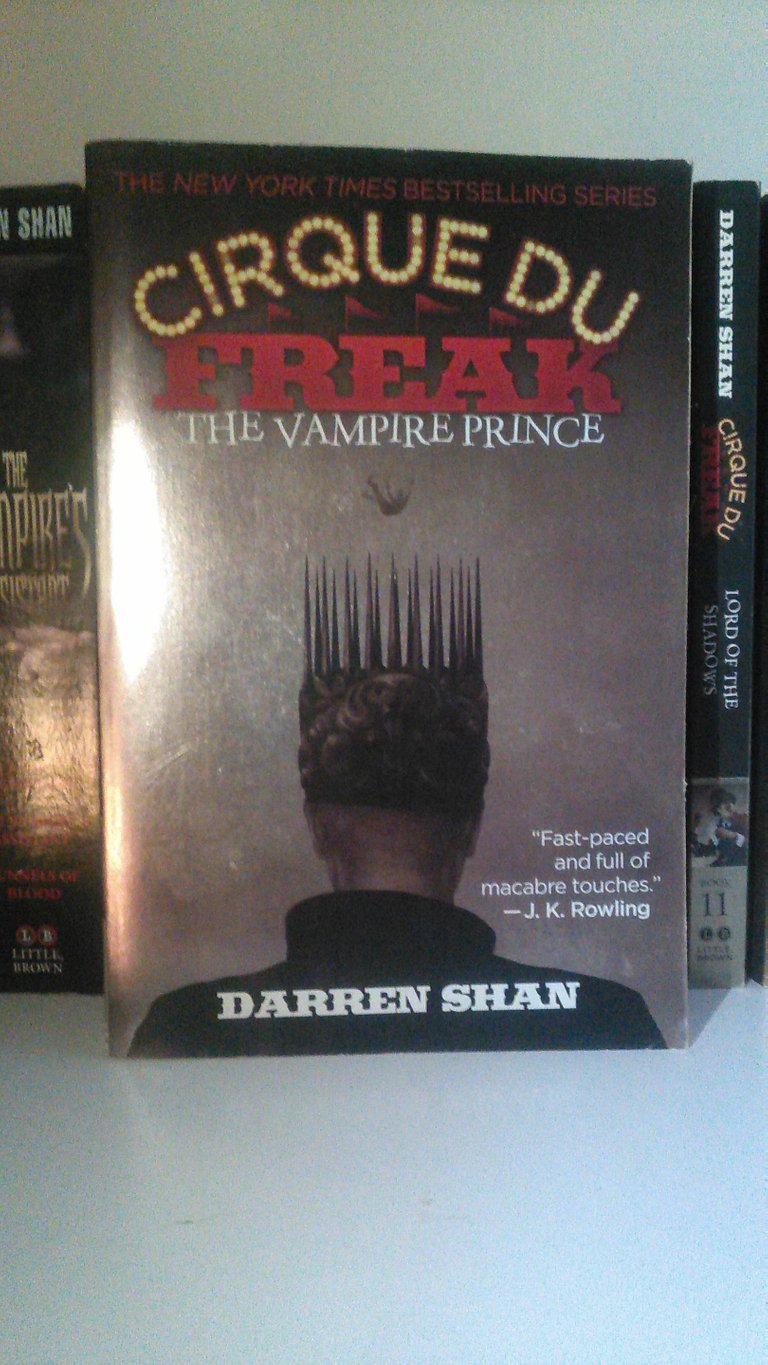 Later on, Shan published a fantastic prequel series called 'The Saga of Larten Crepsley'. Those are so amazing. Larten is such a fantastic character!
So yeah, that's why I mentioned earlier in the post that my 'Big Three' favorite series is sorta kinda a 'Big Four'.
I can't recall if I have read all sixteen books in chronological order yet, I really want to! How cool is a sixteen book series?!?!
These books develop so well man. Cirque Du Freak seriously slowly transitions from like a children's vibe, to a full blown adult feel by the final three books. Just fantastic.
---
Now, I'm not too proud to admit this, but there are a few books in my collection I haven't even read yet! Ugh, I am so ashamed of myself. But also, it's sort of fun to have books to look forward to reading, unknown adventures waiting to be read....
Next on my list are these bad boys!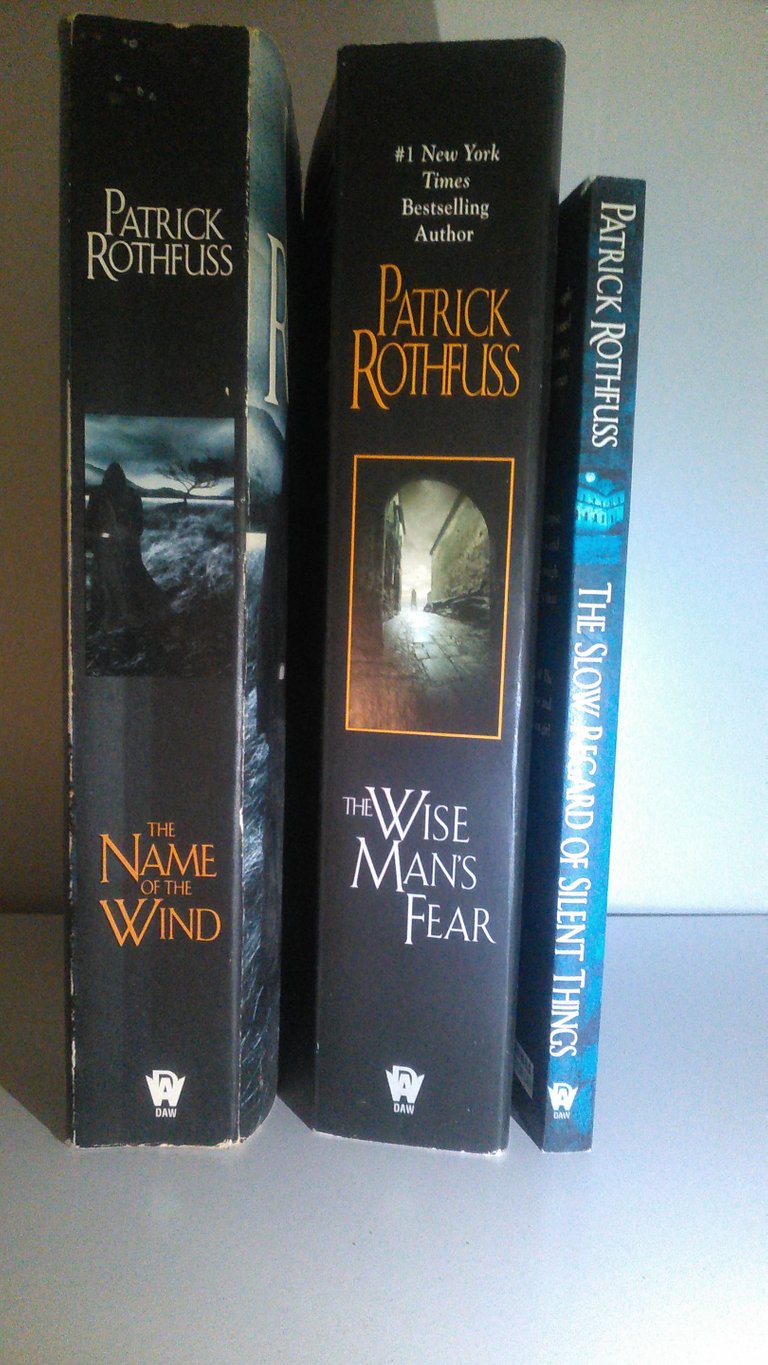 ---
Some notable series I owned once upon a time that have been TRAGICALLY lost are:
The Artemis Fowl Series by Eoin Colfer.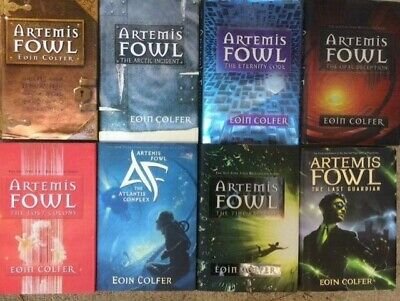 The Mortal Instruments by Cassandra Clare. The OG first three are absolute FIRE 🔥 I think I have one of them, and like perhaps 4, 5, and 6 but City of Bones and Ashes are sadly amongst the missing. Those first three are just so special!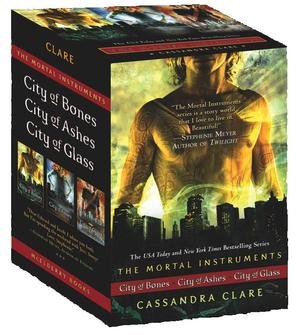 The Demonata Series by Darren Shan. Darren Shan is the GOAT, enough said. Sucks these are missing.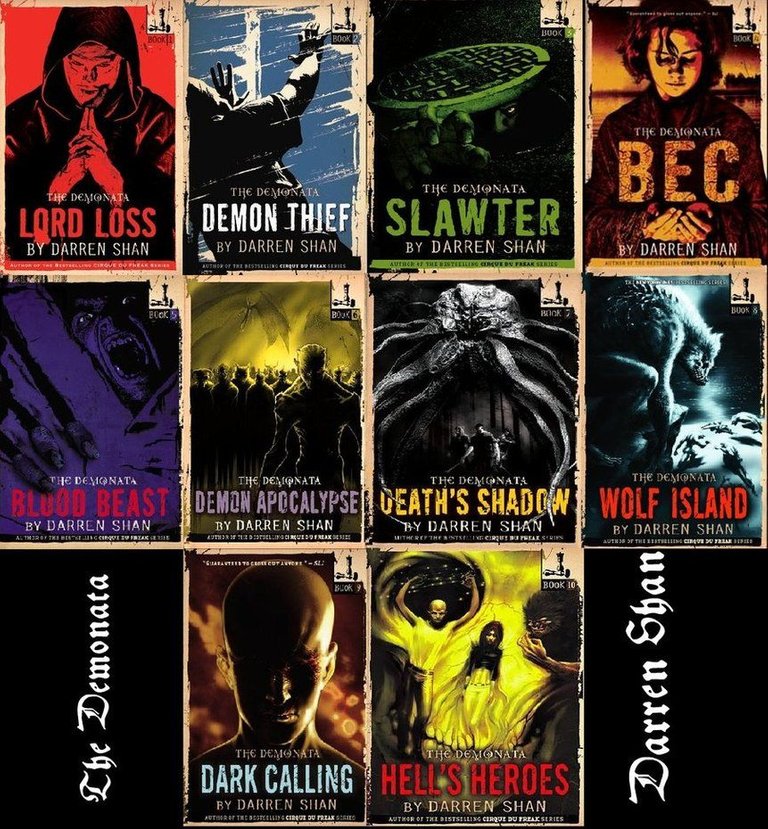 ---
Ultimately, I'd love to regain my books that have been lost. In addition, I picture having a big room full of books, basically my own personal library. Maybe a fireplace nearby... LOL. Not too close to the books though LOL.
Man, what a fun little prompt! Talking about these books got me a little bit emotional even! NOTHING beats a good book. The way they make you escape into a whole different dimension is unreal.
Books are a drug, the best drug!
Also, I think I want to re-read these books and write up some book reviews? Not just these books either, my other books and many others! Probably wouldn't even be a review, more like me just fanboying out about them HA!
#hivebookclub I invite @dkid14 and @zahidsun to participate in this contest!
---
---