Introduction: CraftInk - play2earn2support - NFT-TCG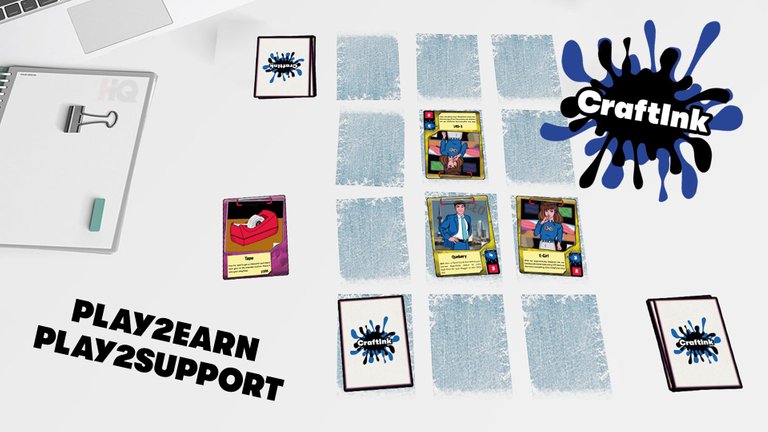 We have been on the blockchain for a long time now. Also for a long time we have been trying to find a project to be able to immortalise ourselves in NFT form on the blockchain. It was clear to us from the very beginning that the NFTs should also have a use case. We didn't want to just be images that anyone could copy and paste at will. And booster packs. Of course, booster packs were also a must. What could be better than a pack opening? And the NFTs should also be playable.
So we put our heads together and came up with a card game. At one of our RL meetings we made cards and tried out the game mechanics - the game worked and we had a lot of fun. So it was clear that we would make our own game. Thematically, it deals with our everyday life on the Hive Blockchain. One or two users will also be immortalised on a card. (Read more about this below).
In HiQ №25 we already gave you a small insight and with this post all initial questions should be clarified. If that's not the case, then just drop us a comment or chat to us in Discord.


Team
We are the core team of HiQ - The Hivestyle Magazine, which can be read once a month under @hiq in German and under @hiq.magazine in English. Once a week there is our editorial post at @hiq.redaktion. We also run a Witness Node and the @hiq.smartbot. In addition, we brought in @bubblegif for the artwork (who has been making the gifs for @hiq.redaktion for two years now) and @ravenmus1c for the sound and music design.
CraftInk Founders:
@smooms (programmer, game designer, layouter & @mary-me annoyie)
@mary-me (organiser, copywriter, social media and community manager & maid-of-all-work)
@quekery (programmer, game designer, finance and tokenomics & lots of coffee drinker)
Designer:
@bubblegif (NFT art designer & lore keeper)
Music artist:
@ravenmus1c (soundtrack designer & sound design designer)

Game idea
CraftInk will be a play2earn & play2support NFT trading card game. In the style of TCG battlers like Yu-Gi-Oh and Magic The Gathering, we are aiming for a turn-based card game in the finished version. Even though we took inspiration from existing trading card games, CraftInk will still offer unique game mechanics.

Card classes
The characters are initially divided into 5 classes, with which the play style is to be kept variable. These 5 classes being:
Blogger
Artist
Gamer
Developer/Hacker
Entertainer
Within these card classes, the cards are further divided into different types:
CEOs
These characters should only exist once per deck. They have a special ability which, depending on the class, should bring a certain advantage for yourself or a disadvantage to the opponent.
Characters
Independently of the CEO (which you don't have to have in your deck), you can also vary the classes here. It is not like in some other trading card games on blockchain basis that a card determines which class you can play in the deck. This is to ensure that Hivians with smaller wallets can also get into the game. The respective characters of the individual classes are figures that you can see every day on Hive. However, cards of real Hivians can and should also be available in the future.
Item/React
The Item cards are, as in other games, like spell cards and can be played immediately. React cards are special item cards that can be used as traps or counters during an opponent's turn, if they are already on the field.
FillInk
FillInk cards are similar to mana or energy cards. To be able to play cards, you need a certain number of FillInk cards.


CEO, character, item, back of the cards (in progress...)

INK
The ingame token for CraftInk is appropriately named INK. In the game, there will be the possibility to earn INK through missions (e.g. dailies and weeklies). There will also be special in-game assets (e.g. INK-exclusive booster pack editions) that can only be acquired with INK.
Before the first game applications for INK are available, we will distribute INK in various ways such as giveaways, diesel pools and sales.

Initial INK Sales
We have placed 420 000 INK on the Hive Engine market in a shadow drop at a price of 0.01 SWAP.HIVE. This is the first phase of the Initial INK Sales.
There will be 3 Initial INK Sales:
420 000 INK at 0.01 SWAP.HIVE each (sold out)
420 000 INK at 0.02 SWAP.HIVE each (running since 8th December 2022)
420 000 INK at 0.03 SWAP.HIVE each
The 2nd and 3rd phases will start as soon as the previous phase is sold out. In addition, there will be an INK budget of 280 000 during each phase, which will be distributed for marketing and airdrops.
75% of the sale revenue will be used to pay the CraftInk team and to cover costs such as Tribaldex fees (pack manager, INK diesel pools) and server costs.

Play2support
With the remaining 25% of the income from CraftInk, we want to provide HiQ - The Hivestyle Magazine with money to better monetise the collaboration on it. Also, the Hivians who make it onto a card are getting a share of the income. So an essential part of the concept of CraftInk is also 2 support HiQ and the contributors.

Marketing
During the 1st phase of INK Sales we will add 60 000 INK to the HIQS:BEE Diesel Pool. A budget of 70 000 INK is planned for other diesel pools and giveaways.
The 2nd and 3rd phase also include a budget of 280 000 INK each for marketing and airdrops.

Airdrop
Shortly after this post is published, every HIQS Stakeholder, HiQ subscriber and CraftInk team member will receive an airdrop. More will follow in phases 2 and 3.
Each HIQS Stakeholder will receive 3 times the value of their held HIQS in INK.
Each HiQ subscriber gets 200 INK.
Each CraftInk team member gets 10 000 INK.
Note: The amount of INK that HIQS stakerholders get is roughly equal to the amount of INK we add to the HIQS:BEE Diesel Pool.

Roadmap
Q4 2022
Fundingphase

INK Presale (started)
INK Airdrop (started)
Diesel pools HIQS:INK and SWAP.HIVE:INK

Homepage
Q1 2023
Q2 2023
Q3 2023

Giveaway
As we see all our projects as community-driven, the same should apply to CraftInk. So if you want to be a part of CraftInk, then you could contribute to HiQ or CraftInk. Another opportunity is that you can become a CraftInk card through this competition.

Conditions of participation
You must own INK at Hive-Engine. Every INK you hold is a giveaway ticket!
Write "I would like to become a card of the category [enter your desired card category here]" in the comments!
Tag 2 friends!
Deadline is 7 days after the post is published. We will take a snapshot of the liquid INK after the payout of the post has taken place. The more INK you have in your wallet, the more chances you have to win!

To never miss an update, follow @craftink, @hiq, @hiq.magazine and @hiq.redaktion :)
Anyone who is stylish and smart has subscribed to us: @adedayoolumide @adedayoolumide @adncabrera @akida @alex2alex @alucian @andy-plays @andy4475 @atra-aranea @balte @bananofarmer @bechibenner @beeber @bitandi @blue.rabbit @btcsam @carolinmatthie @chaosmagic23 @chappertron @chrislybear @cloudlynx @coldbeetrootsoup @cultus-forex @dafusa @danielhuhservice @dauerossi @dieradikalemitte @ditsch @dragon-ti @dynamicgreentk @dynamicrypto @ervin-lemark @failingforwards @flamo @florian-glechner @fredfettmeister @ganjafarmer @hannes-stoffel @hatoto @hiq @hiq.magazine @hiq.redaktion @hive-loto @ischmieregal @jeenger @joseph23 @kadna @kaeptn-iglo @kenechukwu97 @kheldar1982 @klausklaus @konstice @kryptodenno @ksam @kvinna @lammbock @lauchmelder @leosoph @louis88 @madame-cyntaia @manncpt @mario89 @markus.light @mary-be @mary-me @miketr @mima2606 @misan @mrdalle @mryoung1979 @mwfiae @nessos @nkemakonam89 @noctury @oceanbee @oesterreich @photomoto @platuro @points-fr @powerpaul @pundito @queker-bee @quekery @quelled @querdenker @r0nny @rachaeldwatson @ravenmus1c @reiseamateur @remotehorst23 @saffisara @satren @schmidi @sebescen81 @shakkei @simsibee @smooms @smoomslive @sodom @solarwarrior @solymi @stickupboys @stresskiller @syalla @tengolotodo @thatcryptodave @thatgermandude @thetimetravelerz @thoth442 @tibfox @trading-tokens @tribemieregal @twicejoy @twinner @untzuntzuntz @utopia-hope @vasupi @vugel @ynwa.andree @yoshi-and-family @zockerpeine
---
---