Why we shouldn't plagiarize with AI! 👟👟👟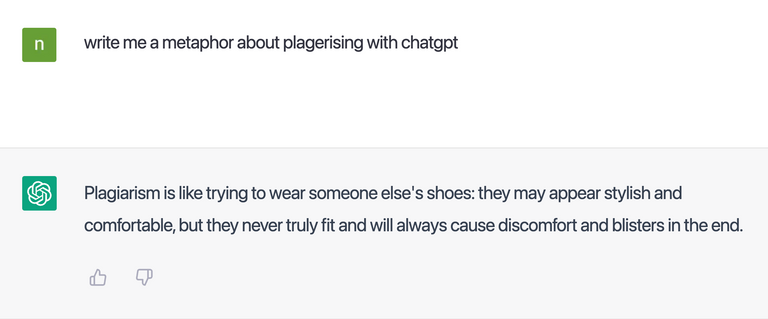 Today I was having a discussion with a disgruntled HIVE user who was accused, by the HELIOS @hive.defender team, of a mild case of paraphrasing plagiarism.
Initially, we decided not to flag the user and told him it was only a warning right off the bat, however, just the sight of our simple warning triggered him to go on a barrage of repetitive question spree resulting in a slew of insults & ending in a metaphor involving a donkey and me.
Basically, this user couldn't wrap his head around how an ai could write his personal experiences, when the answer is simply by "paraphrasing". That's what this whole incident stemmed from in the first place. We were simply warning the user that if he's using GPT or another gpt-based paraphrasing tool to rewrite his personal point of view, then he should definitely be aware that it could trigger, @hivewatchers, or @ecency too.
At the end of the day when cooler heads should have prevailed, instead it was head butting time.
Since I had become irritated by the users inept understanding of the word paraphrasing, & partly because I had to spend so much time replying back and forth in between insulting appeals which were much ado about nothing, I decided to send him a courtesy flag. Now at least he could have something to complain about.
The moral to this story is that if you get a simple warning about something, whether or not you are right or wrong, it might be better to take the moral high road and "Let it roll off your shoulder!" Getting triggered about a flag or a warning here on hive and escalating the situation in a true troll fashion will rarely ever solve anything and only dig a deeper grave for you to sleep in.
This whole situation should have been avoidable, but one good thing I got out of it was this metaphor that I posted as my thumbnail to this post. I had chat gpt create a metaphor to encapsulate this idea about plagiarising with chat gpt since the antagonist of this story is so fond of metaphors.
Plagiarism is like trying to wear someone else's shoes: they may appear stylish and comfortable, but they never truly fit and will always cause discomfort and blisters in the end.
-- Chat GPT
No AI was used in the creation of this post. The only AI used was for the metaphor in the QUOTE above which is also the article's thumbnail. Follow @coininstant for more!
---
---